Title:                TRAILING NEW TRACKS,
Author:                        JULIET MINIMAH, PORT HARCOURT:
Publisher:        HELPMATE CONSULT LIMITED, 2011.
No of Pages    48pp
Reviewer:        TELLE DANDESON AYASUK
AFRICAN CENTRE FOR EDUCATION                                       AND DEVELOPMENT, PORT HARCOURT
Writing in The Da Vinci Code, Dan Brown stated that "men. go to far greater lengths to avoid what they fear than to obtain what they deserve". Probably driven by similar opinion, Juliet Minimah has confronted the age-long limitations that generations of potentially great men and women have placed on themselves dying unsung with loads of untapped mental, physical and even spiritual resources. Lots of work has been done in books, journals, documentaries, public lectures, seminars, media events, movies, music, etc to motivate people to achieve by giving expression to their God-given talents and abilities. Yet far too little success has been recorded as many still pine away with inconceivable endowments.
Trailing New Tracks is a motivational piece of work aimed at reawakening millions of people world-wide, who have lost the confidence in brining their natural endowments to fruition. It is a call to action in which the author challenges everyone in this situation to "break new grounds, chart new frontiers and see yourself as a trail blazer". Juliet Minimah sees this as one certain way to address "the various social, economic and political ills that confront the world today".
Theme
In Trailing New Tracks, the author explores the theme of Regeneration and Attainment Through Conscious Effort. She sees hope in a world hampered by crises of all kinds, shapes and magnitudes. She attempts to re-engineer attitude through uprightness, conscious effort and the exercise of self-will. In her views, "the adversities of life teach us more lessons than the prosperities of life".
Philosophy
Minimah attempts, in this work, to communicate with her audience through an elevated art form. The sub genre of philosophy is by no means the easiest way to communicate any message. Credit must be given to this author for her boldness, audacity and fearlessness.
Language
The author employs simple, persuasive and concise language to motivate with ease. She uses the first-person point of view to break down barriers between her and her audience. Mention  must be made of the rich use of biblical allusion.
Audience
Minimah obviously writes to a youthful audience but recommends (in chapter 7) the same sense of activity and attainment to every age. Also, she writes to a universal audience.
Summary
Trailing New Tracks is a motivational piece of art written in a forty-eight page volume in which the author attempts to inspire action towards achievement in a world where confidence and determination are almost completely eroded. The work may be divided into three main parts.
Chapters 1 to 5 persuade the reader to develop a good mind-set devoid of greed and selfishness. The fifth chapter attempts to inspire confidence.
The next two chapters inspire the reader to dream big and be visionary. They emphasize the importance of good company in the realization of good dreams and visions.
In the last twelve chapters, the author canvasses action through uprightness and focus. She warns against the evil of procrastination and fear. She urges the reader to set a pattern for himself and society, take advantage of opportunities as they present themselves and get some extra knowledge and information. She charges the reader to rise above limitations, find hope and the will to achieve and be a problem-solver, a Trail Blazer.
Like every other work of art, there are a few weaknesses which this reviewer must not fail to point out in this work. For space and time, we shall take just three of them.
For a philosophical work, Trailing New Tracks is rather too small in volume and lacks the depth to stand shoulder-to-shoulder with other philosophical works in world -class libraries in Nigeria and universally.
It is the view of this reviewer that the author should have localized her audience and injected aspects of our cultural, social and philosophical ethos which would have made this work more relevant to the African, or indeed, Nigerian reader.
This reviewer also identifies a few grammatical and semantic inconsistencies which could be attributed to the now-popular (printer's devil." Particularly, the expression: "Trail New Blaze" (in the introduction) should actually read "Blaze New Trail(s)" (brackets mine) as obtained in the first paragraph of chapter 18.
Conclusion
Juliet Minimah's Trailing New Tracks is without doubt a great attempt by a young African woman at reaching out to young people and even the older ones to dig deep into their mind and realize the potential hidden there. She challenges them using achievers like Barrack Obama of the United States of America, the first black president of the world's most powerful nation, and even our own Pat Utomi, who became Presidential Adviser at twenty -seven years of age, to inspire this and other generations to rise to their talents and make new and amazing contributions to their society.
To the extent that Minimah has effectively communicated to her audience, inspiring every reader, irrespective of age and class, I consider Trailing New Tracks as a monumental success and recommend it as a must-read for everyone who aspires for unparalleled greatness.
Title:    ORDEALS OF A BABY MOTHER
Author:            JULIET MINIMAH, PORT HARCOURT:
Publisher:        SUNNY ALADE PRINTING PRODUCTION
No of Pages    46pp
Reviewer:        THANKGOD EMEKA EGBUCHU (JP)
PRINCIPAL ASSISTANT REGISTRAR,
RIVERS STATE UNIVERSITY OF SCIENCE
& TECHNOLOGY
INTRODUCTION
May I inform the esteem audience here today, that I am here to appraise the monumental work done by Miss Minimah Ishmeal Juliet, titled "Ordeals of A baby Mother".
As we all are aware and I know that Minimah Ishmeal Juliet hails from the Ancient City of Opobo in Opobo/Nkoro Local Government Area of Rivers State. Born in the family of Mr. & Mrs. Ishmeal Minimah. Being the first and only female daughter of six children of the parents, graduated from the University of Port Harcourt with a Bachelor of Science Degree in Political and Administrative Studies.
As a template to all her growing contemporaries of  the  female folk in Nigeria, Minimah Juliet, had additional colour on her academic pursuit by possessing a Diploma in law from the Rivers State College of Arts and Science and a proficiency certificate in management from the Nigerian Institute of Management.
Miss Minimah Juliet seem little but mighty and mature intellectually in the field of academic spectrum.
In her book, "Ordeals of a Baby Mother" chapters I to 5 deals with convincing themes, which delved into "Who is a baby mother, Is motherhood a curse, why rejection and ageing forcefully rather than gracefully", serves as an eye opener which creates awareness needed by mothers and baby mothers across the country over motherhood.
Similarly, chapter six to the last, deals with implications of early motherhood, More advantages for unequal opportunities, Refuse to be a school dropout, Being a baby mother turns you into one true life stories and a word of note, serves to show positive measures a baby mother should take to avoid being victim of the circumstance.
DICTION
Minimah Ishmeal Juliet was very careful in choosing her words to convey the intended action in the book which all levels of individuals can understand easily to read.
The sequence of the chapters flows naturally to the sense of would-be readers of the book. This has demonstrated maturity of articulation of words by the author.
However, we must expect as a matter of fact that the production of this book may experience minor errors, which she accept entirely all the faults to herself but form the basis for her further encouragement to produce the best in her life.
Lastly, in my opinion, the book, "ORDEALS OF A BABY MOTHER" has served the purpose for what it was addressed.
I strongly recommend the book to all ages of womanhood to read,  especially students in secondary schools and higher institutions across the country.
Dean Tasks New Law Students Exco On Service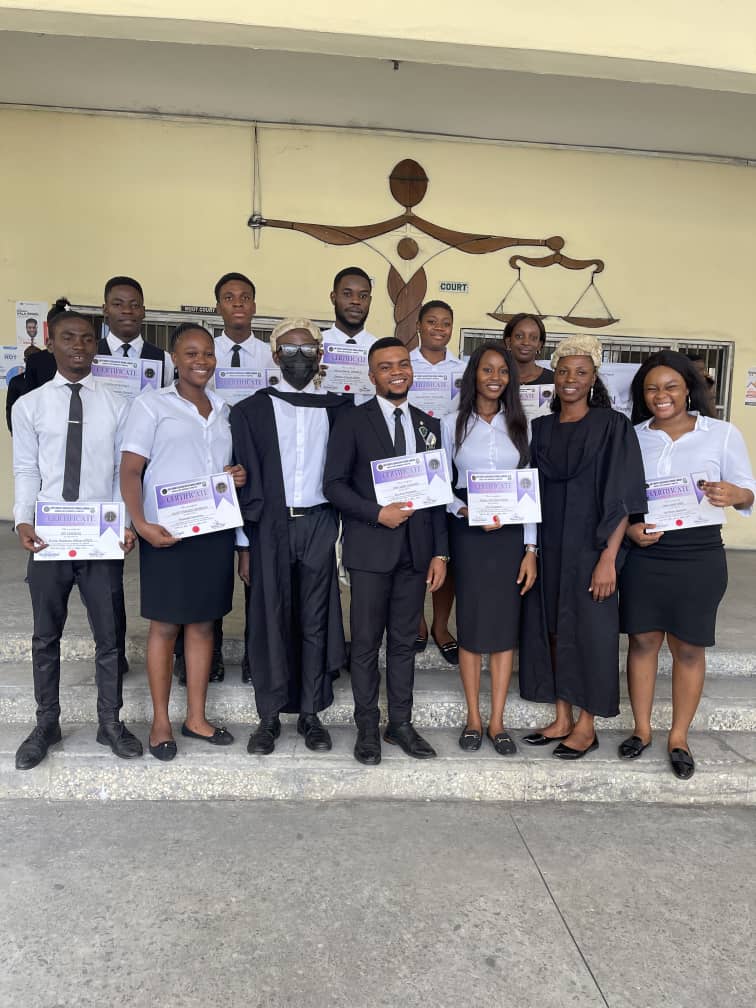 The Dean of the Faculty of Law of the Rivers State University, Prof. Ovunda Vincent Okene, has urged the new executive members of the Law Students Association of Nigeria (LAWSAN), RSU Chapter, to live up to expectation and give academic and social welfare of members top priority, as well as discharge their duties with a sense of responsibility, to justify their choice.
Okene, who gave the charge during the inauguration ceremony of the new executive at the university campus in Port Harcourt on Wednesday, said the faculty has existed for over 40 years, describing it as the pride of the university and even one of the best in West Africa, having the best learning facility, and challenged the new executive to add value to the faculty.
The university teacher also stressed the need for the law students to imbibe the spirit of cleanliness and dress code compliance, for which the faculty is known, contending that it is incumbent upon them to comport themselves on campus in such a way that portrays the Law profession as a noble profession.
In his response, the new President of the Law Students Association of Nigeria (LAWSAN), Rivers State University Chapter, Mr Ken-Saro Chukwu assured that the new executive would put the association first in all it does, saying, the new normal has begun.
While thanking God, the Dean, the Eleco and the members for the opportunity to serve and for ensuring a hitch-free election, Chukwu said the members of the association should "expect value and utility in everything we do".
Other members of the executive include Victoria Isikinma, Vice President; Juliet Francis, Financial Secretary; Nimi Amachree, Secretary General; Kendrick Iyalla, Director of Socials; and Princess Amadi, Auditor General.
Others are Treasure Sam-George, Treasurer; Eze Chinedu, Public Relations Officer; Nsinem Bob Essiet, Assistant Secretary General; and Henry Howells, Provost.
The occasion was also graced by the Associate Dean, Faculty of Law/Head of Department of Jurisprudence and International Law, Prof. C.C. Wigwe, Head of Department, Business Law, Dr. Nwuzi, Head of Department, Private and Property Law, Dr. Felix Amadi, and Prof. S.I. Orji, among other dignitaries.
Don't Say Something You Regret Out Of Anger
There once was a little boy who had a very bad temper. His father decided to hand him a bag of nails and said that every time the boy lost his temper, he had to hammer a nail into the fence.
On the first day, the boy hammered 37 nails into that fence.
The boy gradually began to control his temper over the next few weeks, and the number of nails he was hammering into the fence slowly decreased. He discovered it was easier to control his temper than to hammer those nails into the fence.
Finally, the day came when the boy didn't lose his temper at all. He told his father the news and the father suggested that the boy should now pull out a nail every day he kept his temper under control.
The days passed and the young boy was finally able to tell his father that all the nails were gone. The father took his son by the hand and led him to the fence.
'You have done well, my son, but look at the holes in the fence. The fence will never be the same. When you say things in anger, they leave a scar just like this one. You can put a knife in a man and draw it out. It won't matter how many times you say I'm sorry, the wound is still there.'"
Culledfrom thoughtcatalogue.com
Celebrating Day Of The African Child
On June 16th, 1976, thousands of black students from Soweto, South Africa, took to the streets to protest the disparity in the education system that preferred quality education for the whites over the black population in Africa. Today, millions of children in Africa do not receive proper education and the onus just doesn't fall on the world leaders but on every privileged member of the society to acknowledge that they deserve quality education to eradicate poverty in the country.
In commemoration of the Day of the African Child  (DAC) 2021, the AUC Department of Political Affairs, Peace and Security and Save the Children International, join Africans throughout the continent in celebrating this special day.
 This presents a unique opportunity to reflect on the advances made towards realizing children rights as well as remaining challenges.
Today, under the theme: "30 years after the adoption of the Charter: Accelerate implementation of Agenda 2040 for an Africa fit for children", we recommit to scale up the promotion of the rights and welfare of children of Africa.
Despite important strides made by AU Member States in realizing children rights, grave violations continue to be committed against children in conflict settings. A study conducted by Save the Children in 2020 revealed that the number of children living in conflict zones is highest in Africa.
Among the six major violations committed against children is the attack on education, which continue to have devastating impact on students and teachers, with particularly debilitating long-term consequences for girls and women. In addition, female students and educators suffer horrific acts of violence within their schools and universities.
To remedy attacks on education, the Safe Schools Declaration is a key policy tool towards ensuring safe education for All. The COVID-19 pandemic and the consistent attacks on schools have had terrible impact on children across Africa, but it's been worse for girls whose risk for gender-based violence or child marriage has been exacerbated. Hence, it is the responsibility of all stakeholders to ensure access to education and all children continue to learn while schools are closed through inclusive distance learning, that every child is supported to return to school when it's safe to do so, and no child is left behind.
Governments and partners should also invest more in education to build back better education systems for all children.
The AUC Department of Political Affairs, Peace and Security will continue to offer commendable support for the safe school's agenda as evidenced by AU Organs' commitment to implement the Safe Schools Guidelines.
In addition, the AUC PAPS Department will soon launch the Africa Platform for Children Affected by Armed Conflict (AP-CAAC) to drive action within at all levels.
The advocacy efforts made towards the implementation of the Safe Schools Declaration and Guidelines at the national level has created the momentum. The upcoming Fourth International Conference on Safe Schools to be held in Abuja on October 25-27, 2021, with the AU as a co-host with Norway, Argentina, Spain, and Global Coalition for Protection of Education from Attack, is another opportunity to concretize action in support of safeguarding the future of African Children.
International Day of the African Child was set aside to raise awareness of the importance of education for children in Africa. The day not only honours the participants of the Soweto Uprising in 1976 but also raises awareness of the imperative need for improvement of the education of African children. International Day of the African Child is celebrated on the 16th of June every year to highlight the economic strifes suffered by these children and the adverse effects it has on their right to good education in the country.