Adamawa
Governor Murtala Nyako of Adamawa State has described the N18, 000 minimum wage as too small.
Speaking with newsmen in an interactive session on Christmas day in Yola, Nyako said the amount was to meager to cater for a family man.
Nyako was, however, quick to point out that in spite of the small amount, many state governments would find it difficult to implement.
He said this was because of the states' sole dependence on the monthly federation account allocation.
Nyako said there was need for states to source for alternatives to oil money if they were to meet the growing developmental needs of their people.
He said it was the zeal to wean Adamawa from over dependence on oil money that his administration engaged in projects such as transforming agriculture by introducing commercial farming.
Bauchi
The wife of the Bauchi State Governor, Hajiya Aisha Yuguda, has distributed food and textile materials to various churches in the state to mark the Christmas.
The materials were presented to various churches by the representative of the governor's wife, who is also the Commissioner for Women Affairs, Hajiya Talatu Barwa.
At the presentation in Bauchi on Saturday, Yuguda said "this is just a token gift to the Christian faithful to assist you in this year's celebration. We pray that we celebrate the season in peace.''
She felicitated with the Christian community in the state and prayed for a peaceful celebration.
Receiving the items, Mrs Suzana Moses of St. Joseph's Catholic Church, Yelwa-Bauchi, expressed gratitude to the first lady and assured her that the gifts would be distributed accordingly.
 FCT
Alhaji Balarabe Musa, National Chairman of Peoples Redemption Party (PRP), has urged the Federal Government to carry out a total reform of the electoral process.
Musa, who made the call in an interview with newsmen in Abuja, said it would help to reduce tension in the country.
He noted that Nigerians approved a complete overhaul of the electoral process, to ensure transparent and peaceful elections in the country.
"The whole purpose for the electoral reform, every Nigerian agrees, is to ensure the electoral process is credible.
"It must be credible and capable of bringing about free, fair and transparent election leading to a legitimate government and solving the perpetual crisis Nigerians are facing, particularly after every national election,'' he said.
The PRP chairman decried the current trend in which candidates were imposed on the electorate without consideration for their freedom of choice.
Kaduna
Governor Patrick Yakowa of Kaduna State has advised Christians to see Christmas as a period for sober reflection and stock taking on their relationship with God.
Yakowa, in Christmas message signed by Mr Reuben Buhari, the Special Adviser on Media and Publicity and made available last Friday, felicitated with Christians and the entire people of the state on the event.
He said "Christmas is not only a time for celebration, but a period for sober reflection and stock taking of God's blessings.
"One of the areas we must reflect on is our relationship with God and with our fellow humans and therefore Christians and the entire people of Kaduna State must be committed to religious harmony, peaceful living and understanding of one another."
Kano
Malam Ahmad Abusalma, a Hausa film director in Abuja, on Sunday lauded Kano's Hausa film industry as it clocked 20, saying that it had come of age.
Abusalma, who gave the commendation in an interview with newsmen in Kano, said that the Hausa film industry would excel in Africa if was supported by stakeholders.
He recalled that the industry was founded by a few practitioners "who were then regarded as jobless and stupid", adding that due to their strength and courage, the industry had grown into a big one across the Northern states.
Katsina
Katsina State Rural Water Supply and Sanitation Agency (RUWASSA) has established water, sanitation and hygiene committees in 28 communities to ensure effective water supply and sanitation in the state.
The agency also established environmental health clubs in 12 secondary schools to promote environmental sanitation as well as ensure good water supply to the schools.
Alhaji Abubakar Gege, the Executive Director, disclosed this in an interview with newsmen yesterday in Katsina.
He said members of the committees and the environmental health clubs which were formed in the last three months had received training on maintenance, ownership and operation of all water supply facilities.
Gege disclosed that after inaugurating the three new rigs of the agency three months ago, the state government had released N158.3 million to the agency.
Kebbi
The Kebbi State Governor, Alhaji Sa'idu Dakingari, on Friday commended Christians for sustaining peaceful co-existence and lending support to the constituted authority.
A statement by the Chief Press Secretary, Alhaji Abubakar Dakingari, quoted the governor as wishing Christians a Merry Christmas and urging them to emulate the exemplary life of Jesus Christ.
"I enjoin all Christians to emulate the virtues of Jesus Christ and use this festive mood as a time for sober reflections with a view to improving our future," it stated.
He urged them to pray for peace, unity and successful elections in 2011.
He urged Christians further to pray for safe return of the Christian pilgrims in Jerusalem now performing their religious obligations.
NAN reports that the Christmas was marked peacefully with Christians attending church services and exchanged gifts and visits with friends, neighbours and relations.
Lagos
The Head, Test Development Division of the West African Examination Council (WAEC), Mr Patrick Modebe said by 2020 the examination body would conduct its examinations in the e-test format.
Speaking with newsmen in Lagos on Saturday, Modebe noted that the Council had begun the process to realise that objective, even before 2020.
Modebe, who would be retiring from the Council soon, said that adoption of the Electronic Examination method popularly called the e-test format by the Council, would be 'a vision come alive'.
"I also know that WAEC is working assiduously towards applying the e-marking method in its operation to facilitate early release of examination results,'' he said.
He, however, observed that the application of the electronic e-test and e-marking formats depended greatly on government's success in its National Computerisation Policy.
Ogun
Mr Poju Adeyemi, an Action Congress of Nigeria (ACN) chieftain in Ogun, said the party would take over the reins of government in the state in 2011.
Adeyemi, a former Secretary to the State Government (SSG) between 1999 and 2003, made the declaration in an interview with newsmen in Abeokuta.
He said that ACN had been put in good shape to win at all levels in the forthcoming general elections in the state.
Adeyemi said his optimism was based on the feelers the party was getting from all nooks and crannies of the state.
"The response we have been getting from our interactions with the people is that they are tired of the present administration. When the masses say yes, who can say no?
"The ACN is solidly on ground to provide a better alternative to what he described as a charade,'' he said.
Plateau
The Plateau State Government  has condemned those behind the planting of bombs which rocked some parts of Jos on Christmas eve.
Mr Gregory Yenlong, the Commissioner for Information and
Communications, in a broadcast on Saturday, said that the act  was heinous and condemned those behind it.
Yenlong said that the act also laid credence to several threats
by some unknown persons to make the state ungovernable,
"as a way of opposing the administration.''
He commiserated with families of those killed in the blasts
and wished those who sustained injuries quick recovery.
Our correspondent learnt that the first of the bombs detonated at about 7.30 p.m. around Kabong (Gada Biyu) , while the second was at Angwang Rukuba, at about 8 p.m.
Sokoto
An aspirant on the platform of the PDP, Alhaji Yusuf Abdullahi, has called on President Goodluck Jonathan not to allow PDP governors leave the party because of the electoral act amendment.
Abdullahi, who is eyeing the Isa/Sabon-Birni Federal Constituency seat in the House of Representatives, made the call in an interview with newsmen in Sokoto.
He said that the current controversy over the electoral act amendment should not be allowed to tear the biggest party in Africa apart.
"PDP has come to stay in Nigeria, Mr President should use his good office to settle with the governors because they are closed to the electorate who will contribute positively towards the success of the party at the polls,'' he said.
The Aspirant also advised President Goodluck Jonathan not to listen to Abuja politicians as "they have nothing to offer as far as getting eligible voters is concerned.
He pointed out that "those that matter are the governors who are with their people and who will work towards the success of our party.''
Osinbajo Tasks Judiciary On Technology, Innovation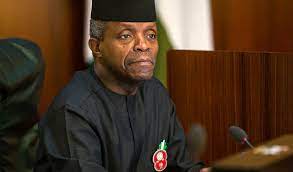 Vice President Yemi Osinbajo says the Nigerian judiciary must embrace technology and innovation for efficient service delivery.
Osinbajo said technology was imperative for the evolution of the profession and national development.
The vice president disclosed this in a statement by his spokesman, Laolu Akande, on Monday in Abuja.
He said when he delivered a pre-recorded speech as guest speaker at the 2021 Annual Law Week of the Nigerian Bar Association (NBA) Lagos Branch.
The theme of event is, "Disruption, Innovation and The Bar."
Osinbajo said that technology and innovation would ensure that the country's justice delivery mechanism was run on a system of enforceable, discernible laws and efficient institutions.
The vice president said that the country's justice delivery system could support critical investments in the current dynamic economy.
"Questions also need be asked about the readiness of our profession to engage in new markets as presented by the African Continental Free Trade Area(AfCTA).
" Already Nigerian Banks and financial services are crossing borders in Africa, acquiring banks in several African countries.
"So, the AfCTA will open new trans-border commercial opportunities, and our profession should pay attention to the rules of engagement for legal services and how they may propel our business."
According to the vice president, innovation in Nigeria's legal profession requires urgency to fit into the world which thrives on knowledge economy and jobs are threatened by digitisation and Artificial Intelligence (AI).
He cited the example of how continuous improvement in the quality of smartphone cameras disrupted global sales of digital camera.
"AI is commonly used to perform tasks such as legal research and due diligence, document and contract review, and the prediction of legal outcomes – these are tasks that would have been performed by lawyers.
"With the continuing progress in technology, it is only a matter of time before the time capsule catches up with us in Nigeria."
He called for continuous improvement in the institutional capacity of judges, court registries, court staff, and court infrastructure.
Osinbajo said that as digitalisation had already disrupted other industries, it was possible to predict that AI would go further and disrupt the business model of the legal industry.
"For example, the AI legal service called ROSS is an AI system that can research and offer legal opinions about questions that may be posed by lawyers.
"And ROSS is then able to provide an answer; a properly considered legal opinion, taking into account the case laws and statutory authority in order to be able to come to that conclusion.
"So, providing predictive legal opinion is no longer the exclusive domain of lawyers, and as the years go by, it will become even more so.
"We are part of the global marketplace for investment and legal services.
"So, the extent to which we can attract business to our country depends in part upon investor perception of the quality of our justice delivery system; If we are seen as inefficient and ineffective, we would lose out to more efficient systems."
On the issue of delay in the country's justice delivery process, Osinbajo said that the country's judiciary ought to find ways to tackle jurisdictional challenges, particularly delays in court judgments, among others.
"I argued an appeal at the Court of Appeal in 2013, only to learn yesterday as I discussed with former colleagues in the law firm where I worked, that the appeal at the Supreme Court is not even listed to be heard in 2021.
"As someone said; our problem is not access to justice, it is exiting the justice system with some credible result.
"Should we not be evolving a cost award system that recognizes the court as a finite public resource, and as such delays and other dilatory tactics are visited with deterrent costs?"
The vice president said that the Law week, as well as future engagements, provided an opportunity for some reflections by legal practitioners.
He suggested a hybrid approach to legal education in the country and urged the association to consider how innovation in technology would impact on legal education in the future.
"Even mock trials can be more effectively done online and courtroom processes can be put on videos and re-watched several times by students. Of course, we may still retain court and chamber attachments," he said.
Of 1,561 Candidates, 880 Graduate From Law School-DG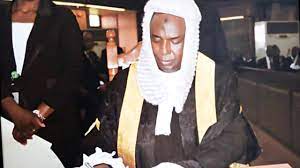 The Nigerian Law School says out of the 1, 561 candidates who sat for the December examination, 880 passed.
The Director-General of the School, Prof. Isa Ciroma, SAN, made this known yesterday in Abuja, while presenting the new wigs to the Body of Benchers at the 2020 Call to the Bar ceremony.
"Four others were from previous Bar examination,'' he said, adding that the new wigs had met all the required and set conditions by the Council of Legal Education.
"I am happy to affirm that they all have exhibited good manners and decorum during their training.
"They have also been groomed in the best ethics and ethos of our noble profession.
"The screening committee of our distinguished body carefully perused the records of each of the aspirants and found them worthy to be presented for the Call to the Nigerian Bar.''
Ciroma said that the school had begun a special remedial course for students from the National Open University of Nigeria (NOUN).
"The programme began on June 28, at the Nigerian Law School Headquarters, Bwari, Abuja. We thank all distinguished members of the Body of Benchers, for their support,'' he said.
The Chairman, Body of Benchers, Justice Olabode Rhodes-Vivour, congratulated the new wigs and charged them to adhere to the provision of rules regarding the profession at all times.
"As a lawyer, you are an officer of the court and accordingly, you are not to do any act or conduct yourselves in a manner that will obstruct or adversely affect the course of justice.
"The practice of Law is not a right but a privilege. It is a privilege that can be lost should you fail to live up to the requisite professional standards imposed upon you by virtue of your entry into the community of lawyers.
"You must, therefore, strictly adhere to the provisions of the Rules of the Professional Conduct and maintain best practices at all times.''
He stressed that the Body of Benchers Legal Practitioners Disciplinary Committee was always determined to discipline any lawyer found wanting or breaching set rules of the profession.
Rhodes-Vivour said that the committee had been carrying out its mandate "in a just and fair manner'' without giving any room for compromise or ill-will.
He said that between January and July, the committee disbarred six lawyers and suspended some for between two and four years, while one lawyer was admonished during the period.
Rhodes-Vivour advised the graduates to continue to update their knowledge on both statute and case law in order to attain more understanding on especially, international jurisdictions.
In 2020, the Council of Legal Education said that out of a total of 2,515 students who participated in the examinations, 1,864 passed the Bar Final Examinations conducted in January.
The director-general who described the performance as outstanding, said that among the 1, 864 students who were successful, only five made First Class while 632 others failed the examinations.
"Candidates graded in First Class are five, Second Class Upper 77, Second Class Lower are 633, those who got pass marks are 1,067 and those with Conditional Pass are 82.
"632 candidates failed the examination, 17 were absent and 2 results are withheld."
Chiroma further explained that only 0.2 per cent made First Class, 3.06 per cent made Second Class Upper, 25.17 per cent made Second Class Lower and 42.42 per cent passed.
He said other performances include a 3.26 per cent for those with conditional pass, 25.12 per cent failed the examinations, 0.7 per cent were absent and 0.8 per cent results are being withheld.
NGO Trains 300 Returning Migrants On Business Development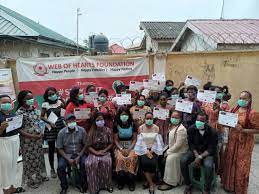 Web of Heart Foundation, a Non-Governmental Organisation, says it has trained and empowered more than 300 returning migrants, youths and internally displaced persons on job creation.
Its Executive Director, Mrs Bose Aggrey, made the declaration yesterday in Lagos at the graduation of its "Create and Start Module'' trainees.
The graduating trainees were awarded certificates and given grants facilitated by some investors and soft loans from banks after six months of training to identify and analyse business ideas and opportunities.
"We taught them how to articulate their business ideas into plans; introduced them to investors and equally assisted them to get bank loans.
"It is an opportunity for the participants to put themselves together either to get employed or to become employers,'' she said.
"We introduced investors to the participants when they were pitching and some of them are already getting grants.
"We are working with two banks so they can provide soft loans at low interest rates for the participants,'' she added.
In his remarks, Mr Peik Bruhns, Team Leader of the firm of consultants that conducted the training, said the company had reached out to train 5,000 Nigerians on Micro, Small and Medium scale Enterprises in six months
He said this was done in collaboration with nine organisations, including Web of Heart Foundation.
"I will like to stress the importance of working with returnee migrants because Web of Heart Foundation focuses on assisting them to reintegrate into society.