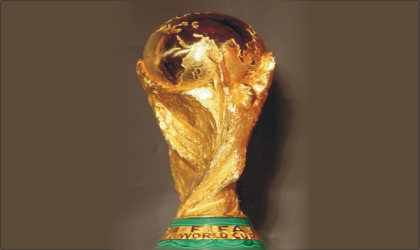 The 2010 World Cup, the first to be staged in Africa in the 80 years history of FIFA, will be rounded off today in South Africa with the final between the Netherlands and Spain in Soccer City, Johannesburg.
It has been a wonderful one month of football advertisement for Africa's ability to successfully organised major sporting competitions and opportunity for the world to change their stereotypes on the continent.
Preceding the potentially explosive and classic final match will be the formal closing ceremony in which advanced lighting technology, youth and music are expected to be on show. About 15 African heads of state are expected at the closing ceremony and Nigeria's Senate President, David Mark is already in Johannesburg to represent President Goodluck Jonathan.
Columbian born star, Shakira is expected to perform the 2010 World Cup Theme Song, the Waka Waka Song while Nigeria's 2Face is among African musicians that will perform in the 30 minute ceremony.
Indeed, the first World Cup on African soil has been unique in many fronts. Apart from throwing up two European nation's Netherlands and Spain, two footballing nations yet to win the mundial, as finalists and potential champions, it will mark the first time an European nation will emerge champion outside Europe.
It is also, the first time four players, David Villa of Spain, Wesley Sneijder of The Netherlands, Diego Forlan of Uruguay and Mueller of Germany will tie on the same number of goals (5) for the highest scorer's award, going into the final game of the championship.
Other major hallmarks of the 2010 World Cup include the "Hand of God" goal save, performed by Uruguay's Luis Suarez against Ghana in the quarter final, Ghana's Black Stars' run as only African side that made the knock-out stage and the inability of the host nation and defending champion, South Africa and Italy, respectively to advance to the group stage.
Also, the emergency of Octopus Paul, as a precise predictor of matches, especially, those involving Germany, has become another landmark of the 2010 World Cup.
The Octopus correctly predicted the outcome of Germany's matches from the group stage to yesterday's third place match, in which Germany beat Uruguay 3-2 to become the first country to win World Cup bronze medal in consecutive editions.
Overall, the 19th World Cup competition has been a resounding success for FIFA, South African and Africa.
As the curtains fall on the event today, the world will indeed leave the continent knowing that all the fears, worries and doubts about Africa's ability have been diffused, if not unfounded, afterall.