Ghana's Gyan Hungry For More Glory
It is ironic that Asamoah Gyan was once again being hailed as an unlikely hero throughout Ghana after scoring the late penalty that saw off Serbia 1-0 in Group D. It was not long ago that the Rennes striker almost walked out of the Black Stars team after overwhelming public criticism.
In the run-up to the 2008 CAF Africa Cup of Nations, Ghana, as hosts, were feeling all of the pressure of expectation, and despite being just 22 years of age, Gyan was singled out as the weakest link in the side. After things reached fever pitch, he had his bags packed and was ready to leave the team, only to be persuaded to stay at the last minute. And though he was clearly shaken, he set aside his nerves to score the first goal of the event from the penalty spot.
But then, the Accra native has been scoring significant goals for his country from the very start,  tallying on his international debut to seal victory in a FIFA World Cup qualifier against Somalia, just days before his 18th birthday. In fact, he has opened the Black Stars' account at each of the last four major tournaments, including against the Czech Republic at Germany 2006, Ghana's long-awaited first world finals.
"If you see the past record, I was the first guy to score for Ghana in the World Cup – ever," he told Tidesports source  proudly. "And I was the first guy to score in 2008 in the opening game. And I scored [Ghana's] first goal in the 2010 African Cup of Nations. This World Cup I was going there to just make sure I keep doing what I have been doing. I was saying to myself, 'if you score once again you can be the happiest man', you know. So when I was playing I was just concentrating, and I knew, I knew, I would score. I knew I would score, definitely."
Scoring is what Gyan does best, so it is odd that before every tournament, observers wait for another rising Black Star to take his place leading the attack. But a classy Cup of Nations earlier this year – he registered three goals, including two match-winners in the knock-out rounds, to be named in the team of the tournament for the losing finalists – and a fine season in Ligue 1 has left the former Udinese player brimming with self-belief.
"I've scored quite a lot of goals with my club and with the national team, and I've regained my confidence," said the man who now has a strike rate of one goal in every other one of his 40 internationals. "For a lone striker to be scoring all the time boosts your confidence."
Gyan is not only growing in stature on the pitch, he has become a one of the "elder statesmen" in what is the youngest team at South Africa 2010. But he sees his role as less task master than jester. "I'm the leader," revealed Gyan with a sly smile. "I'm the one who leads the singing. It makes people happy. I make people laugh to forget about football. Sometimes there might be pressure on you, but if you just forget it, you will gain confidence.
"We are really enjoying it because, for me, this is my second time at a World Cup and I'm the funniest guy in the team, you know. So I make people laugh, it's fun when we are together," he added. While saying that the relaxed attitude is what makes the team close – the players even keep tabs on each other via phone during their long European club seasons – Gyan is quick to point out that this version of the four-time African champions has a bite behind its smile. He credits the 3-0 second-round loss to Brazil at Germany 2006 with teaching the side a lesson.
"We learned a lot of things against Brazil," he said, when comparing this team to four years ago. "I think this time we went in calm and relaxed because we had studied before, so we knew what we were going to do. I think there is a big difference in that we've gained a bit of experience in the World Cup."
Gyan also dismisses the idea that pressure may now creep into the team after the surprise sprung on Serbia, a team many tipped as dark horses in the tournament. "We are better in the world now, too," he explained again looking back over four years of growth. "In 2006 we did quite well, we went to the next stage, but this time Ghanaians are expecting more from us. That is why we are also going like wounded lions. Like a wounded lion, you know? So I'm hoping we just qualify for the next stage and then we see what happens from there."
Adesanya Beats Vettori To Retain UFC Middleweight Title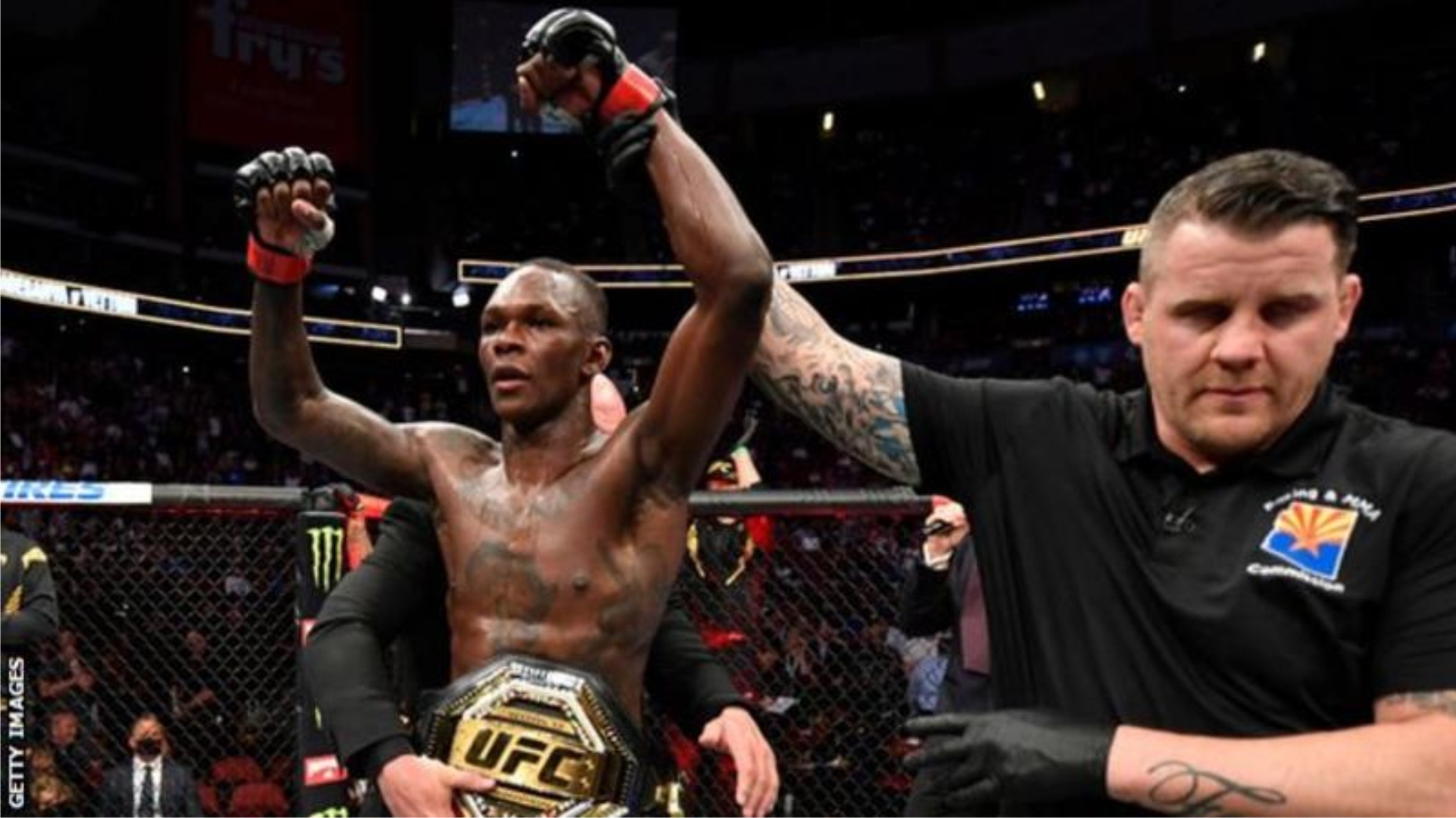 UFC middleweight champion Israel Adesanya cruised to victory over Marvin Vettori as he retained his undisputed 185-pound title in the main event of UFC 263 in Glendale, Arizona.
The pair had previously met, when Adesanya claimed a split-decision victory over Vettori in April 2018 in the Nigerian-born Kiwi's second UFC bout.
But in Saturday night's rematch Adesanya, 31, showed his class with a virtuoso performance as he picked apart the Italian over the full five-round championship duration at the Gila River Arena.
Vettori started the bout in aggressive fashion and landed an early takedown, but Adesanya soon settled into his work and dominated the striking exchanges, using repeated kicks to Vettori's lead leg to punish the challenger from range.
Adesanya's control of the bout caused plenty of consternation in Vettori's corner between rounds, as coach Rafael Cordeiro implored his man to be more aggressive in his pursuit of the takedown.
But Vettori simply had no answer for the champion, who looked in complete control as he cruised to a shutout decision victory with all three judges scoring the bout 50-45 in Adesanya's favour.
After the result was officially announced, Adesanya dedicated his victory to his teammate Fau Vake, a promising up-and-coming fighter who died in May from injuries sustained in an alleged attack in Auckland, New Zealand.
"I just want to say Fau Vake, Fau Vake, Fau Vake, I love you, man… This fight I dedicate to you, Fau," he said.
Adesanya then said he wanted his next title defence to come against Australia's former champion Robert Whittaker, but on the condition that the fight takes place in Adesanya's hometown of Auckland after Adesanya dethroned Whit-taker in Melbourne in their first meeting at UFC 243.
"We need to run that back in my territory this time," he said.
In the night's co-main event, Brandon Moreno completed a remarkable career turnaround as he captured the undisputed UFC flyweight title.
Moreno, 27, submitted reigning champion Deiveson Figueiredo via third-round rear-naked choke to capture the title.
But 'The Assassin Baby' battled his way back to the UFC in mid-2019 and climbed to the top of the flyweight division. His first shot at the gold came last December when he and Figueiredo, 33, produced one of the fights of the year in a bout that ended in a majority draw.
It demanded an immediate rematch, and Moreno produced the best performance of his UFC career to defeat Figueiredo and claim the undisputed 125-pound title.
Sports Minister Charges Usman To Develop Martial Art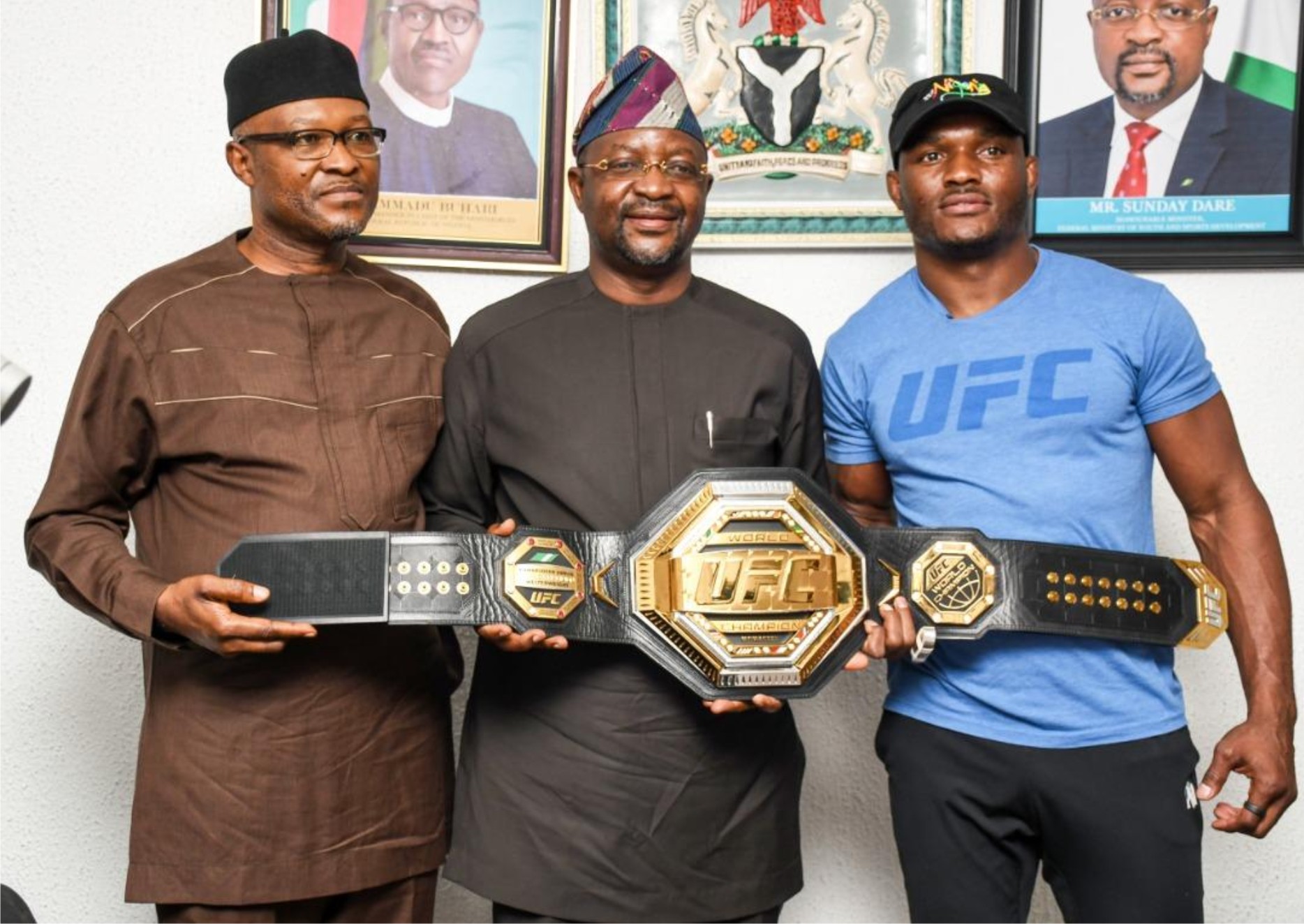 Minister of Youth and Sports Development, Mr. Sunday Dare, has charged Kamar Usman to use his clout to develop Martial Arts in Nigeria.
Kamarudeen "Kamaru" Usman (born May 11, 1987) is a Nigerian-American professional mixed martial artist, former freestyle wrestler, and graduated folkstyle wrestler. He currently competes in the welterweight division of the Ultimate Fighting Championship (UFC), where he is the reigning UFC Welterweight Champion. Usman was also The Ultimate Fighter 21 tournament winner. As of March 23, 2021, he is #2 in the UFC men's pound-for-pound rankings.
As a wrestler, Usman primarily competed at 84 kilograms and was the 2010 US University World Team Member.[8] Collegiately, he competed at 174 pounds and was the 2010 NCAA Division II National Champion, a three-time NCAA DII All-American, and a NAIA National qualifier
The Minister made this appeal on Friday when he hosted the champion in his office in Abuja.
"Today we just hit another notch of excitement as a ministry and as a country having Usman Kamaru, who is nicknamed "Nightmare" for his opponents in the octagon in the country.
Kamar, who has a staggering 19 wins out of 20 fights has established himself as a legend in the Welterweight category. Kamaru embodies two cultures; a Nigerian by birth and an American by immigration, moved to the USA at the age of 8 and is returning to the country for the first time as an adult.
The Minister said "it is commendable for you to have identified fully with your country and also the Ministry that has the mandate for Sports Development. The Ministry is concerned with a large number of Youth who are engaged in sports and are interested in your kind of sports because it has become a rave because it falls under the radar of the Mixed Martial Art and we are concerned about growing it. Having you here, as the champion, it will be great to have you headline that and start to see how at a national level and as a country we can work together to see your success remain and to see you get other youths interested in this sport."
"Your story is well told, you signify the Nigerian Spirit; that of being dogged and rising to the top the feats you have achieved is no mean feat. For me I can't say it enough; countries must leverage on their strength, not dwell and emphasise their weaknesses and you have signpost the good from Nigeria. As the Ministry of Youth and Sports Development, we celebrate you and thank you for being a true Nigerian and remaining patriotic not just to share your success but to identify with the country. The greatest beneficiaries of this visit will be the youth of the country, who are interested in the Mixed Martial Art."
Kamaru expressed excitement to be in the country. "I'm delighted to be here and above all during my visit to the country I aim at creating a long-lasting relationship. I represent martial art now and I want to work on making it easily accessible to everyone interested. I understand the responsibilities that I have with my platform and I want to put that to good use I want to be able to effect changes and part of being able to effect change is creating that foundation so people can actually see a future, different from what they are now, because I understand the restrictions. With my space, I want to be able to create something that will pull interested people out."
AFN Election: Committee To Hold Election, Today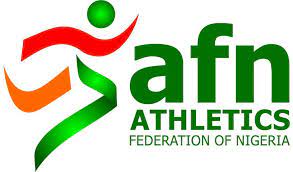 All is set for the 2021 Elective Congress of the Athletics Federation of Nigeria (AFN) in Kebbi State.
The Electoral Committee Chairman, Prince Jambright Sumanu told Tidesports source in Kebbi on Saturday that last minute preparations were in top gear.
Sumanu said that the election is significant in so many ways, hence the committee cannot afford to let millions of Nigerians home and abroad down.
The Elective Congress is set to hold today, for many, will not just unite the athletics family once again but will herald the dawn of a new era in the internal workings of the federation where the constitution trumps individuals or sentiments.
"All eyes are now on the AFN elections. Everybody is looking up to us for justice. With these reputable members of this committee, we are ready to do our best."
Speaking on the guidelines expected to be met by intending contestants, Sumanu said that the committee expects a full compliance in line with international standards.
"We expect that interested candidates must come with nomination forms from their zones while also meeting up with World Athletics guidelines, as well spelt out in the constitution of the AFN."
The Chairman affirmed that interested candidates with documented history of drug abuse, doping or convictions should do themselves the honour of staying off their radar.
Sumanu assured that a level-playing ground will be provided for all candidates with an option of an appeal for any contestant who is aggrieved or not satisfied with the outcome of the screening, election conduct or result.
"There is an electoral body in charge of appeal cases and we have Legal Officers who are on ground to handle their grievances.
"Due to the peculiarity of this electoral congress, the election will be safer and authentic than what we have had in the past because we are expecting people to submit their forms of intent to contest till midnight (Saturday, 12th, June)", the committee chairman stated.
"After that, we will download forms that were submitted online and collate with those who have submitted hard copies.
"We will not likely go to sleep from that 12th. We will go into the production of the ballot papers. That, is even a secret document. I need to say that we will not print the ballot papers until about 2 hours to the elections. This is to ensure that the ballot papers are not exposed until voting time" he said.