Absurdities In The Garb Of Beliefs
BOOK REVIEW
Book Title:        Belief: A Trail Of Blood
                        (Random Reflections
                         Volume Two)
Author:             Ikechukwu Nwanze
Pages:  496
Publisher:         Renaissance
                        Communications Ltd
Reviewer:        Boye Salau
Ignorance, according to Molly Ivins, is the root of all evil. And the legendary Martin Lurther King Jnr. also said "Nothing in the world is more dangerous than sincere ignorance and conscientious stupidity".
Regrettably, ignorance constitutes the quintessential elements of livelihood in our society. While ignorance and follies in the olden days could be attributed to backwardness, primitiveness, paganism and barbarism, ignorance in the modern world is rooted in religious beliefs, intolerance, extremism and destructive fundamentalism.
In the medieval ages for instance, ritual murder was a daily routine in many parts of the world. Thousands of innocent people were killed to make sacrifices, with the belief that by so doing they would appease the gods who they believed, were capable of providing them wealth, power, good health and long life.
Even in today's world of civilisation, high technology and religious awareness, certain irrational, obnoxious and mysterious beliefs, myths, superstitutions, traditional cosmology and foolish bravado leading to needless deaths still dominate some societies.
For instance, every failure, misfortune in African society is attributed to witchcraft. Whenever a man dies a sudden death, witches or enemies are blamed for it. Whenever business fails, it is attributed to witchcraft. Whenever car accident occurs, accusing fingers are pointed at witches, even when it is obvious that the driver was driving under the influence of alcohol.
In other words, witchcraft is made a convenient scapegoat for every natural and man-made disaster and misfortune.
These are some of the beliefs and traditions Ikechukwu Nwanze captures with a demur in the Volume Two of his Random Reflections which he titled Belief: A Trail of Blood.
Nwanze makes argument that most of these atrocious beliefs and traditions are rooted in human ignorance and follies. He justifies this through historical analysis supported with dates, employment of quotable quotes of great writers and authors like Martin Lurther King Jnr., James Michener, Molly Ivins etc, and by making references to Biblical verses and some mysterious happenings around the world.
He particularly devotes a whole chapter to some of these beliefs, and another chapter to some ancient practices and traditions, some of them still subsist till today, such as voodoism, witchcraft, reincarnation, ritual murders, supernaturalism and other mysterious happenings that are commonly found among the natives of West Indies, South America and ultimately among Africans.
Nwanze gives an historical overview of some absurd and dangerous beliefs and traditions from the medieval Europe to modern Africa and how these beliefs and myths have claimed millions of lives.
He writes, "Today, the world suffers the consequences of the actions of some groups that believe that if they wear vests laden with bombs, and blow themselves up along with numerous innocent people, they would be doing God a huge favour and earn His commendation and reward in heaven with multiple virgins and other indulgences in the eternal paradise of heavenly comfort…"
He argues categorically that these atrocious and stupid beliefs and fantasies are founded on sheer ignorance.
Although, Nwanze believes it is what a man professes that comes to pass, as in the case of the Rivers State governor, Rt. Hon. Chibuike Rotimi Amaechi whose judicial victory at the Supreme Court, he says, was attributed to his avowed and professed belief, faith and conviction that "I prayed myself to this office… I prayed and prayed and I believed that God will make me the Governor", he says it is wrong and foolish for people to subject themselves to the beliefs of other people without subjecting such beliefs to questioning, examination, investigation, scrutiny and analysis.
He states, "Yet, some of us carry on with our inherited beliefs without questioning, without examination, without scrutiny, without investigation, without analysis.Our faith in our religion is therefore superficial and lacks depth and is absolutely dependent upon what the teacher of the religion told us. We fail to realise that, had it been intended for us to be totally dependent on what we are told, the holy books would not have been necessary. There would not have been need for the mind in the first place. We were given a mind and the capacity to think, to make choices, so we can analyse things independently. The holy books enjoin us to be critical in things we hear and to subject what we are told to examination, to be sure that the teacher is following the doctrine as the scriptures provided".
Nwanze gives example of the Guyana tragedy in which "a preacher in the USA was able to convince his followers that if they all took poison and die, they would all go to heaven and live with God in eternal paradise. His followers believed him and they all took poison and died in their numbers".
He also gives examples of how many people choose their respective denominations just because they are either infatuated by the eloquence and oratorical prowess of their Pastors, or admire the beauty and dressing style of their Pastors.
In a nutshell, Nwanze's book reflects on human follies and how many people have taken absurdity to a high level in their beliefs, especially in Africa.
Nwanze is indeed right. If our ancestors could be forgiven for doing all what they did in ignorance, in this so-called modern times of civilisation when we brag about accomplishments in science and technology, and when we preach religious tolerance and appear to have divine endorsement, what excuse do we supply for all the oppressive, repressive and coercive tendencies that characterise our existence that go with our beliefs?
The way out of these erroneous beliefs and absurd perceptions, according to Nwanze, is to give room to education and enlightenment, which would provide us the ability to examine, question and scrutinise our beliefs.
He states, "To continue to live in the error of our absurd perceptions is to accept we are less than human". After all, he continues, "no one should see or be told of fire and dip their (his) hand(s) in it".
Nwanze's book might be considered as a confrontational work against some beliefs and traditions, it is a well-researched and must-read piece that should be seen as a wake-up call to all our religious leaders and their followers in Africa, some of who have taken absurdity to a high and noble level in their beliefs.
It also serves as a wake-up call forAfrican nations to retrace their steps from the belief systems that are not only injurious  to natural justice, but also retard African progress and development.
The book is indeed a great improvement on its volume one. However, the voluminous pages of the book might be in bad taste to impatient readers, while lack of references to other religious books apart from the Bible makes Nwanze's argument narrow and religious biased, and may make the book less appealing to adherents of other religions.
Dean Tasks New Law Students Exco On Service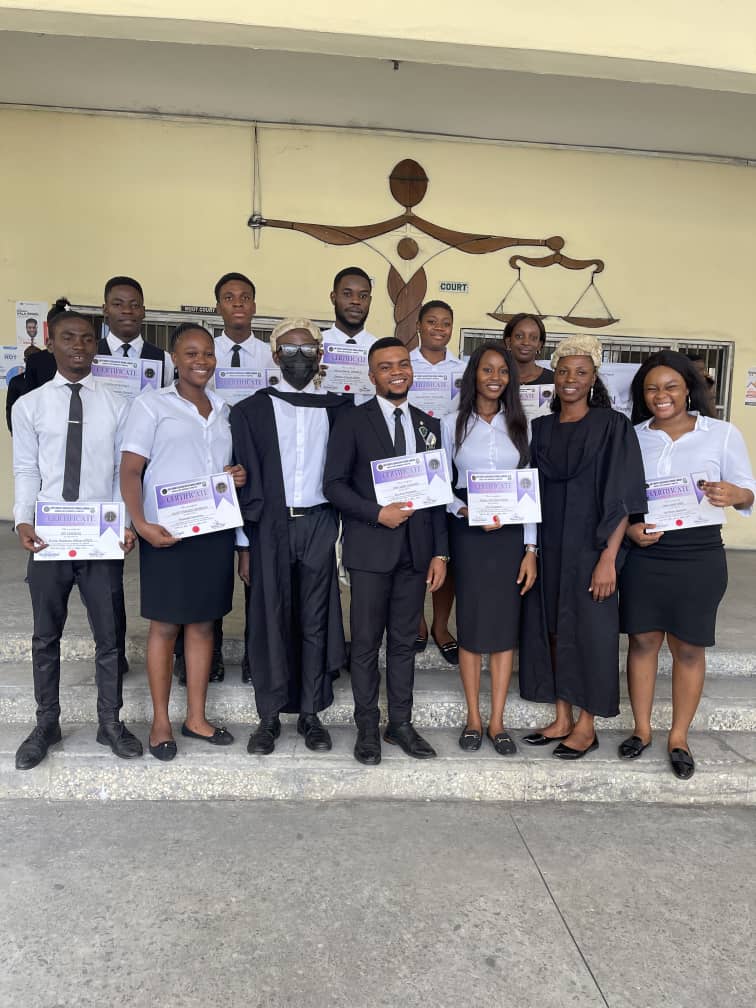 The Dean of the Faculty of Law of the Rivers State University, Prof. Ovunda Vincent Okene, has urged the new executive members of the Law Students Association of Nigeria (LAWSAN), RSU Chapter, to live up to expectation and give academic and social welfare of members top priority, as well as discharge their duties with a sense of responsibility, to justify their choice.
Okene, who gave the charge during the inauguration ceremony of the new executive at the university campus in Port Harcourt on Wednesday, said the faculty has existed for over 40 years, describing it as the pride of the university and even one of the best in West Africa, having the best learning facility, and challenged the new executive to add value to the faculty.
The university teacher also stressed the need for the law students to imbibe the spirit of cleanliness and dress code compliance, for which the faculty is known, contending that it is incumbent upon them to comport themselves on campus in such a way that portrays the Law profession as a noble profession.
In his response, the new President of the Law Students Association of Nigeria (LAWSAN), Rivers State University Chapter, Mr Ken-Saro Chukwu assured that the new executive would put the association first in all it does, saying, the new normal has begun.
While thanking God, the Dean, the Eleco and the members for the opportunity to serve and for ensuring a hitch-free election, Chukwu said the members of the association should "expect value and utility in everything we do".
Other members of the executive include Victoria Isikinma, Vice President; Juliet Francis, Financial Secretary; Nimi Amachree, Secretary General; Kendrick Iyalla, Director of Socials; and Princess Amadi, Auditor General.
Others are Treasure Sam-George, Treasurer; Eze Chinedu, Public Relations Officer; Nsinem Bob Essiet, Assistant Secretary General; and Henry Howells, Provost.
The occasion was also graced by the Associate Dean, Faculty of Law/Head of Department of Jurisprudence and International Law, Prof. C.C. Wigwe, Head of Department, Business Law, Dr. Nwuzi, Head of Department, Private and Property Law, Dr. Felix Amadi, and Prof. S.I. Orji, among other dignitaries.
Don't Say Something You Regret Out Of Anger
There once was a little boy who had a very bad temper. His father decided to hand him a bag of nails and said that every time the boy lost his temper, he had to hammer a nail into the fence.
On the first day, the boy hammered 37 nails into that fence.
The boy gradually began to control his temper over the next few weeks, and the number of nails he was hammering into the fence slowly decreased. He discovered it was easier to control his temper than to hammer those nails into the fence.
Finally, the day came when the boy didn't lose his temper at all. He told his father the news and the father suggested that the boy should now pull out a nail every day he kept his temper under control.
The days passed and the young boy was finally able to tell his father that all the nails were gone. The father took his son by the hand and led him to the fence.
'You have done well, my son, but look at the holes in the fence. The fence will never be the same. When you say things in anger, they leave a scar just like this one. You can put a knife in a man and draw it out. It won't matter how many times you say I'm sorry, the wound is still there.'"
Culledfrom thoughtcatalogue.com
Celebrating Day Of The African Child
On June 16th, 1976, thousands of black students from Soweto, South Africa, took to the streets to protest the disparity in the education system that preferred quality education for the whites over the black population in Africa. Today, millions of children in Africa do not receive proper education and the onus just doesn't fall on the world leaders but on every privileged member of the society to acknowledge that they deserve quality education to eradicate poverty in the country.
In commemoration of the Day of the African Child  (DAC) 2021, the AUC Department of Political Affairs, Peace and Security and Save the Children International, join Africans throughout the continent in celebrating this special day.
 This presents a unique opportunity to reflect on the advances made towards realizing children rights as well as remaining challenges.
Today, under the theme: "30 years after the adoption of the Charter: Accelerate implementation of Agenda 2040 for an Africa fit for children", we recommit to scale up the promotion of the rights and welfare of children of Africa.
Despite important strides made by AU Member States in realizing children rights, grave violations continue to be committed against children in conflict settings. A study conducted by Save the Children in 2020 revealed that the number of children living in conflict zones is highest in Africa.
Among the six major violations committed against children is the attack on education, which continue to have devastating impact on students and teachers, with particularly debilitating long-term consequences for girls and women. In addition, female students and educators suffer horrific acts of violence within their schools and universities.
To remedy attacks on education, the Safe Schools Declaration is a key policy tool towards ensuring safe education for All. The COVID-19 pandemic and the consistent attacks on schools have had terrible impact on children across Africa, but it's been worse for girls whose risk for gender-based violence or child marriage has been exacerbated. Hence, it is the responsibility of all stakeholders to ensure access to education and all children continue to learn while schools are closed through inclusive distance learning, that every child is supported to return to school when it's safe to do so, and no child is left behind.
Governments and partners should also invest more in education to build back better education systems for all children.
The AUC Department of Political Affairs, Peace and Security will continue to offer commendable support for the safe school's agenda as evidenced by AU Organs' commitment to implement the Safe Schools Guidelines.
In addition, the AUC PAPS Department will soon launch the Africa Platform for Children Affected by Armed Conflict (AP-CAAC) to drive action within at all levels.
The advocacy efforts made towards the implementation of the Safe Schools Declaration and Guidelines at the national level has created the momentum. The upcoming Fourth International Conference on Safe Schools to be held in Abuja on October 25-27, 2021, with the AU as a co-host with Norway, Argentina, Spain, and Global Coalition for Protection of Education from Attack, is another opportunity to concretize action in support of safeguarding the future of African Children.
International Day of the African Child was set aside to raise awareness of the importance of education for children in Africa. The day not only honours the participants of the Soweto Uprising in 1976 but also raises awareness of the imperative need for improvement of the education of African children. International Day of the African Child is celebrated on the 16th of June every year to highlight the economic strifes suffered by these children and the adverse effects it has on their right to good education in the country.