Four Days In Kidnappers Den
I was travelling from Aba in Abia state back to PortHarcourt where I reside after a marriage introduction ceremony of my youngest sister Nene in my family house in Aba. I left the house at about 4pm that day, May 15, 2010 with my small uncle Anayo and a cousin Maureen. Maureen dropped somewhere in Aba while I proceeded to Portharcourt with Anayo. We had barely travelled 11km when we met what appeared to be a routine Police check point at Ihie.
Normally, we were flagged down for routine check at about 5pm or even later. I was asked for my driving license which I produced, I was asked to come down and open my booth and it was at this point that I was told to enter a waiting Kia saloon car facing right and at right angle to the main express road. Other vehicles were stopped simultaneously for stop and search. An SUV that refused to stop was sprayed with bullets with apparent missing of targets and within about 5minutes the operation was over.
About 2 vehicles carried the victims, a Kia saloon and a Pathfinder SUV. Some of us were loaded in the booths. After 5minutes drive into the village we were all blind folded and now driven through untarred bush roads to an isolated location which was a transit point. It took about extra 5minutes to get there. You know things were happening fast and it was so easy to lose tract of time. At this temporary site, we were thoroughly beaten with the butts and barrels of the gun. I never knew pains could be felt in quick succession after trauma to a particular point.
When I was hit at the back with the AK47 assault riffle, I felt the first superficial pain and this was followed immediately by another crushing pain much deeper. We were about 15 people, men, women and children. After about 4hours, the women and children were driven back to the road to find their way home. We the men, about 9 in number now waited for the next 1.5hours to be taken to their so-called police cell were they kept captives. In the transit camp where we were kept, there is one small house inhabited by a woman and some 2 or 3 children. The woman had normal conversations with our captors and her small baby was always crying. We left the temporary area in the same 2 vehicles and by 10minutes we were in the cell. The place was surrounded by bushes and harboured a roofed but un-completed block house with doors. A standby generator was on and I had lifted the scarf over my eyes a little long before we left the transit location. We were bundled into a dark room with one window, and with 8 captives inside already. The mode of capture of these previous 8 was targeted and not as random as ours.
Example the councillor was visited by them as a Police team in a Police vehicle and informed that he was wanted in the police station in connection with certain matters. He followed them willingly. We could only sit or lie down with our eyes covered.  We were 17 in number in my cell. These include 3 royal highnesses (the Eze of Isuochi, the Eze of Omuma, and another very important Eze that I couldn't quite identify well because he was taken away shortly for 'special treatment' and remained there after I left), the councillor representing a constituency in Omuma (hypertensive and diabetic), a retired NNPC manger (diabetic), a retired CBN supervisor, a PTI lecturer/pastor, 2 yahoo fraudsters, drivers, a tailor, and some others.
Our cell phones, money and every other belonging were taken from us apart from our clothing. Food is never given to the captives and water is dispensed at extreme discretion of the captors and by my calculation this amounted to 500mls alternate daily. At a point the councilor drank my water as I moved a little out of my position to urinate. As it was close to midnight, the captors encouraged us to pray and came in periodically to check on us. I must tell you that we all prayed as never before till morning. We also continued to pray like that every day. For me it was as true as daylight. The next day was a Sunday and at about 9am, the captor in-charge of making contacts for the captives came into our cell enquiring for people needing to contact their people for early release. It followed the sequence from interrogation about yourself and work to brutality and torture, bargain for release and possible mortal injury following failure to reach an amicable settlement.
One of the captive's phone lines was always used for these contacts. The man in charge of the contact making is called a name. I figure he is the 3rd in command in the camp. He comes with aides who brutalize the captives mercilessly on failure to agree to a stated bill which runs into millions of naira. My initial bill was N10million even though it came down to N2 million later. I was now asked to talk to my people. I talked to my people and returned the phone to the captors for negotiation with my people.
The first bidding amount from my people was N100,000 which earned me the beating of my life in the hands of his aides. I was hit with the gun repeatedly and while pointed close to my neck with the gun corked and uncorked severally and with several simultaneous kicks on the head and body, I was asked to talk to my people. The beating was temporarily halted when I impressed it on my people of the need again to be 'reasonable' amidst my cry of pains. I was one of the youngest captives. One can now imagine the impact of the brutality on an elderly man and the sick people. On that Sunday, the councillor was beaten blue and black on failure to accept the N10million request fast.
This was a frail looking man with 10 children, a wife and with the whole extended family as dependants. He collapsed with repeated hits on the head, ribs, hands and every other parts of the body with the butt, barrel of the gun and woods measuring 2inch x 2inch in thickness. He was literally left helpless on the floor. He constantly bemoaned his fate and wished to die in his house where his corpse will at-least be seen and given a burial unlike the camp here where our captors will bury him. He recovered a little by Monday but that never gave him any reprieve as he continued to receive thorough beating like the rest of us.
Many of us all cried like babies. The councillor got his people to sell his new car, his lands, and several other belongings and all amounted to the sum of N450,000. He also sought to collect the month's contribution among 10 of his colleagues amounting to N500,000 which never materialized by the time I left them. My brother it was pathetic for the diabetic and the hypertensive. It is noteworthy that age was no barrier to the brutality because we had 2 people who were above 70years of age, the Eze of Omuma and the Eze of Isuochi. The first received thorough but a moderated level brutality which increased sequentially with each daily failure to meet the captors' demand while the second, though brutalized, had some significant consideration because he is 74years.
His wife had to walk virtually the whole streets begging for money and he also had to sell lands. The rest received the same level of brutality and torture which increased with every passing day. I tried to get close to the retired NNPC man who is also a pastor because I felt he never understood the psychology of this group that prefer to call themselves Abia State Militants. He never agreed to any fixed amount and I felt he mistook the initial moderation of the brutality on him as a spiritual effect. He is a retired man and probably over 60yrs of age. However, he was soon to understand that his judgment was wrong. The mercilessness of the boys was un-paralleled because by the time I was leaving the camp on Tuesday night, there was a special torture session carried out simultaneously by over 20 of the militants which I myself may have found difficult to recover from despite my good physical fitness. The captors had claimed that a cell phone had been stolen in the camp and all the captives that refused to bargain 'properly' were responsible.
The captors appear not to have much interest on what they regard as poor fools like drivers, gaunt looking people, mechanics, tailors etc. Even though the 'poor fools' sometimes pay all their savings to the captors, they tend to receive good considerations in terms of length of stay only. I left the camp after the direct negotiation between my people and my captors went through. We left the camp at about 10pm on Tuesday. Those released that night were the Professor (Eze of Isuochi), one pastor, one driver and my humble self. Three of us were bundled into the booth of a Nissan Pathfinder SUV while Prof was given the privilege of sitting down comfortably inside the car. As we left the camp, one or two small boys were moving about close by and our captors questioned the supposed strangers in a loud voice asking "who be that" and the small boys (I say small boys from their voice on reply) answered "I beg na indigenes".   The Eze of Omuma was released a day earlier after paying the sum of one million two hundred thousand naira. After about 5minutes into our journey to freedom, the SUV stopped suddenly and refused to start again.
After a few futile attempts to start the car, the four armed captors disembarked and called the camp for another vehicle. They identified their position as opposite the Nigerian Police Station. In less than 4 minutes, a new Toyota corolla arrived for us to continue our journey. I was asked to enter the booth with the pastor/PTI lecturer. They discharged us at Ihie junction and gave us transport money. We all walked bare footed because even our shoes were collected. I received N500.00.
They also informed me that my vehicle was at the police station.
The Prof and the released driver proceeded to Port Harcourt while I proceeded to Aba with the pastor. I arrived my family house at Aba at about 12:09am on Wednesday to the jubilation of my parents and every other person in the house and on the street. I am grateful to my relatives who contributed immensely for my release. They include my parents, my wife, my brother, my sisters, my cousin, my uncles abroad, my in-laws, my mother's uncle, my aunt, the pastors who prayed continually, my local church, my genuine friends who acted promptly and several well wishers.
I did not involve the police and it was the best decision. The location of the camp is not hidden. The subdued villagers know them and also know all their locations.  Again the terrain of the area consisting of thick bushes, well spaced houses and the bad nature of the road all combine to favour the use of those locations by the militants. The militants tend to wear military uniforms in the camp and police uniforms with police bullet proof vest outside the camp for their normal operations. They carry AK47 assault riffles and perform drills each morning in the bush around the cell building- the so-called camp. All the boys spoke the local dialect- asa/ngwa version of igbo language.
The chairman/leader of the group who authorized each release has facial tribal marks, speaks same dialect. It may not surprise me if he is a northerner and security personnel. It is impossible that the security agents do not know their position. The joy of release subdued all the pains. I also forgot I had not eaten for 4days. I proceeded to Ihie Police station to collect my car as I was informed by my captors as my car was too old for an operational vehicle. I saw the vehicle at local police station at Ihie. I fulfilled their formalities, made statements and informed them of the release of Prof. In doing these I guarded my utterances because you never know who the insiders were. I also spoke with the DPO of the station. I also met some special police units who came on routine patrol to the police station and narrated my ordeal to them. On this visit to retrieve my car, I also observed that the security agents concentrated their presence on the express road leaving the entire village empty. My brother even the people you are supposed to report to are scared and appear helpless. You also cannot rule out their support from politicians because of several boasts of installing candidates come 2011. Information flow freely in the camp there; it is unimaginable how the information comes without government/security insiders. It also appeared they were planning relocation soon based on the insiders' requests; possibly because of impending raid by government forces. They claim to pay some insiders-the normal Nigerian settlement.
It is pathetic the level Abia state has degenerated to. It is a level just slightly above those of animals and the bottom line is greed, corruption, power drunkenness. I understand Imo-state is following closely.
I became ill on Thursday- the cumulative effects of the ordeal. My heart goes out to the innocent men still in captivity. I wonder if they will make it alive. They include the retired NNPC manger/pastor in Winners chapel (Yoruba), retired CBN supervisor (igbo), the councillor (Omuma), The Eze who I could not identify well.
What if these kidnappers were ritualists; what would have been our fate; it is all greed, corruption, power drunkenness. Until there is good and committed leadership, everything will continue to go downhill.
Nzegbule wrote from Port Harcourt.
Emmanuel Nzegbule

Innovation, Creativity'll Take State Media To Productivity,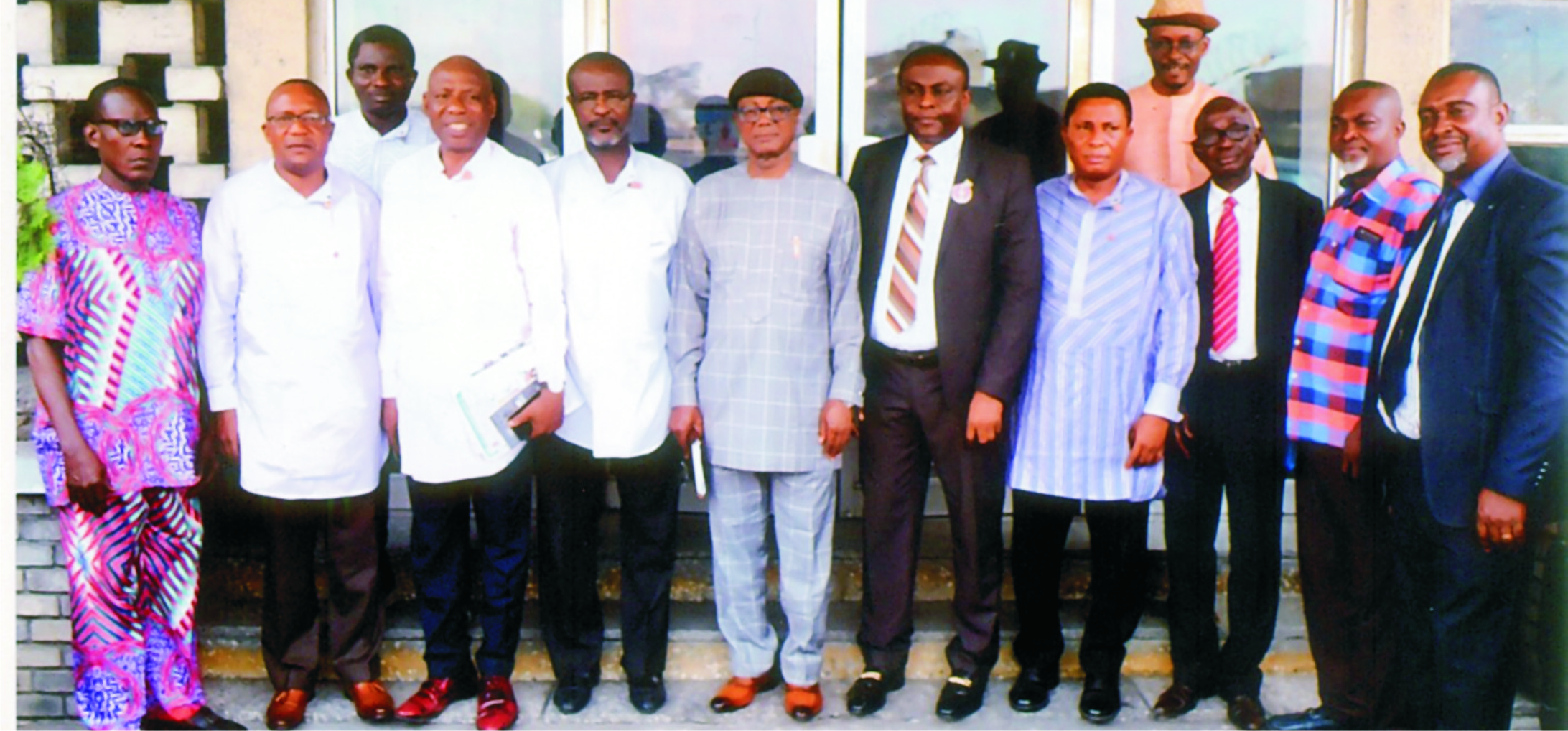 The Rivers State Governor, Chief Nyesom Wike, has been described as a visionary leader for looking inward in appointing a professional, versatile and experienced journalist, Pastor Paulinus Nsirim, as the Commissioner for Information and Communications in the state. Nsirim, who is a former chairman, Rivers State Council of the Nigeria Union of Journalists (NUJ), and current Chairman, Rivers State Chapter of the Nigerian Institute of Public Relations (NIPR), was a two-time Chief Press Secretary to Rivers State Governors, Captain Sam Ewang and Sir Celestine Omehia, respectively; and rose from the ranks in the profession and the state civil service: He began as a Reporter in The Tide, then joined defunct SUNRAY Newspapers, before returning to the Ministry of Information and Communications where he rose from the position of UNICEF Desk Officer to become Director, and later, Permanent Secretary.
As one who has carved a niche for himself in the journalism profession and exceptionally managed information at different levels, Nsirim's appointment did not come as a surprise because he had been prepared to hit the ground running on day one. Thus, immediately after his swearing-in by Governor Nyesom Wike on Monday, December 30, 2019, the commissioner swiftly approved a work plan aimed at repositioning the state's information and communications management apparatus for greater efficiency, productivity and profitability.
To kick-start the onerous journey, he swung into action by visiting the state NUJ Press Centre to enlist the leadership of journalism community's holistic support to enable him succeed. And in appreciating the appointment by the governor and the commissioner's visit to show solidarity, Chairman of the state Council of NUJ, Stanley Job Stanley, assured Nsirim of members' total cooperation.
He returned to the ministry where he held a closed door meeting with all directors on January 2, 2020, to chart the way forward. He also met with all information officers, during which he challenged them to be creative in the performance of their duties, cautioning against indiscipline and laxity. In fact, Nsirim particularly charged the information officers to regularly analyse government policies and programmes as there affect their ministries, departments and agencies as well as local government areas with a view to sensitizing, enlightening, informing, and educating the populace to enable them key in and partner with government to achieve set goals of guaranteeing peace, facilitating governance and sustaining development at all levels.
Having began by consolidating on the foundational basis for success, Nsirim also decided that the journey won't be easy without carrying the state government-owned media houses along. Consequently, he embarked on the media tour with a visit to Rivers State Television (RSTV) January 7, 2020; Rivers State Newspaper Corporation (RSNC) and Government Printing Press (GPP) on January 9, 2020; and Rivers State Radio Broadcasting Corporation (RSRBC) and Garden City FM Radio on January 10, 2020.
At the RSTV in Elelenwo, Nsirim read the riot act to both management and staff, noting that discipline and creativity must be entrenched to give the station edge in the ever-competitive media space, boost productivity and profitability. While commending the General Manager of RSTV, Dafini Gogo-Abbey, management and staff for their efforts in publicizing government policies and programmes, he reminded them that more still needs to be done, especially in galvanising efforts to rewrite the negative narrative promoted by detractors to demarket the state, scare away investors and tourists and slow down the pace of development in the state.
Nsirim said, "I am convinced as commissioner for information, that we have the right professionals in the various departments of this organization who have the requisite training and experience to deliver on assignments. My job is to make you re-orientate yourselves, wake up every one that is sleeping, and to say to us that we need to roll up our sleeves for more work. We are privileged at this time in the history of Rivers State that we have a governor who is passionate to make Rivers State the destination of choice by rebuilding infrastructure, paying attention to education, healthcare delivery, agriculture, and manpower development, among others.
"And he is putting everything into ensuring that the NEW Rivers Vision Blueprint he enunciated when he took the oath of office in 2015 is implemented to the letter. We have a governor who does not speak from both sides of the mouth. What he says he will do, he has done and will continue to do.
"He has shown Rivers people that his second tenure will be like a first tenure. His Excellency wants Rivers State to be a pride of all of us, and he has demonstrated that with his style of governance. Your role is to use Rivers State Television to key into that development agenda.
"To key into that development agenda, you must be professional, you must be dedicated, you need to do a lot of re-orientation and personal development. If we do that collectively, we will be making a mark. And I am proud to say that when we celebrated 100 days in office of the governor's second tenure, we were one state in the federation that had projects to be commissioned, and we did that for three weeks. His Excellency was on the road commissioning people-oriented projects. With a man that has that kind of vision, those of us in the media parastatals have a critical role to play. Now that the 2020 Budget has been announced, what are you going to do as a media house to ensure that the people for whom the budget is meant for get what they are supposed to get?", he asked.
The commissioner said he expects that workers in the state television outfit begin to do sectoral analysis of the budget to help sell the programmes and policies of the administration to the larger population, and tasked them too be proactive.
"We are in a new dawn that calls for creativity and innovation", he stated, assuring that workers' welfare will be given priority but urged them to show their professionalism by making RSTV the viewers' preferred choice. "We will not tolerate indiscipline. I had to hold a meeting with the management team before this general meeting, and I have empowered them to act decisively.
"I have empowered the management to utilize disciplinary measures to ensure that those who think that this is a place where you can come and do anything you like; earn salary and go, stops. If you are a member of staff here and you are part of those who are not dedicated to their duties, then you are going to be in trouble because I have told the management to draw up an appraisal system for this organization.
"Because it a public communication outfit does not mean that we won't make profit. It doesn't mean that we can't shine like other television houses. The television house is a platform for creativity. If any staff here is creative, you will be sought after. The media house is a place where you can stir up your potential and distinguish yourself, if you are creative. The times now call for personal development", he said, adding, "I would like to see more creativity and healthy competition. Television is glamour right from the dressing of news casters to diction. You need to understand that this promotion that His Excellency gave to me is our collective promotion, so we must reciprocate through improved performance. We can't thank him enough.
"If you understand that this is the first time in our ministry where somebody will rise from the ranks, get to be permanent secretary and now commissioner, then you will realise that there is reason for this appointment: confidence and trust in our ability to excel. And because it is so, we can't afford to let His Excellency down. We all need to redouble our efforts. So, I am going to demand from RSTV better programming and content. I am going to demand from the news casters to dress with class. I am demanding professional competence from RSTV".
Noting that he expects to see changes immediately, Nsirim urged them to show commitment and dedication with the little resources that are available to them. "I have found out in my working career that what makes people stand out is when they are able to manage the little they have and show that they have potentials, and then, people will recognize them. We must be proactive as media houses, the platform you have accommodates lots of creativity and hard work. I want to see competition among those in programmes and other core areas, and we will be ready to partner the management of the station to honour those that are creative," he added.
Earlier, General Manager of RSTV, Defini Gogo-Abbey, welcomed Nsirim to the organization, saying that many in the state-owned media have been asking for a commissioner that they can call their own.
"Most of us have been asking God to give us a commissioner, and that Lord, when you are giving us a commissioner, let him or her be a commissioner that will understand us. Let him be a commissioner that you will send to us. We thank God today that He has sent us a commissioner. He is not just a commissioner; he is a son of God, who, I guess is a commissioner for this time to work with Governor Nyesom Wike, Mr. Project".
She described Nsirim as a thorough professional and somebody that knows the state-owned media and the peculiar circumstances facing them, just as he she pledged the commitment of the management and staff to continue to promote the activities of the state government with professionalism.
At the RSNC and GPP, Nsirim said that his familiarisation visit to government-owned media houses should not be seen as a ritual but designed to challenge the media houses on the urgent need to reposition themselves for greater productivity and profitability. He charged both management and staff on innovative, creative and productive ideas and strategies to move the organisations to the next level, and particularly noted that with innovative ideas, everyone has the potential to recreate The Tide Newspaper to achieve enviable heights never before imagined.
He reminded the workers that ideas rule the world and not money, and further charged the workers to think out-of-the-box, saying that he does not see any reason why the newspaper should not be on the newsstand on a daily basis, given the quality of manpower available.
"Let me challenge the men and women here that we have the potential to turn things around in The Tide Newspaper as part of ways to let government know that we are keying into the NEW Rivers Vision's development agenda", Nsirim emphasised, adding that the Editorial staff, as the rallying point of the flagship newspaper in the Niger Delta region, should lead the way in creating solid editorial content to drive the positive pro-development and investment message of the government and people of the state to the outside world. "I am expecting deeper editorial content on the policies and programmes of the state government," he stressed.
"At RSTV the other day, somebody asked me when are we going to celebrate improvement of the state media houses? Let me tell us one thing: I am a family person and there are so many state newspapers that have closed down. I hope we are aware? They are no longer operating. If government has kept this place open, and the governor is still paying salaries, we shouldn't wish it away. That is a major contribution. I know so many of us here don't have less than five dependants, and this job you have here is helping you to maintain your dependants.
"The issue usually is: we need equipment. I have challenged even the RSTV because I am a family person. I have asked them: what you have now, what are you doing with the little that you have? We shouldn't be like that man in the Bible that was given one talent. We know the story. That parable teaches a lot of lessons, all of us here can use what we have to make this newspaper the pride of Rivers people.
"I was here when we were printing 12,000 to 16,000 copies daily. In fact, we were running two editions, and circulating all over the country. We had Weekend Tide and Sunday Tide. I worked here to the point I was producing three pages every day. I produce my 'Political' page; I produce 'Weekend Personality' and also produce 'Faces and Ideas' on Sunday in this organization. We can go back to those olden days. It's possible!" he stated.
Admonishing those in Advert Department to work hard to generate more revenue in 2020 than in 2019, as the viability of the corporation depends greatly on their ability to perform, Nsirim said, "I need to see a radical difference on how it was last year, and now. We can't afford not to make progress this year in this corporation. We demand from you, beginning from tomorrow, greater productivity and efficiency. We are also going to be demanding profitability from you. If you generated N10.00 last year, I expect that this year, you generate N20.00. There is no excuse for failure. I won't tell the governor now that because he has not given me money, then I will not work as commissioner. So it is for all of you.
"Those in Advert or you call it Business Development; you must generate money this year. The first assessment for all the media houses is happening this first quarter, between now and March. I must see a radical difference between how it was last year and now.
"We must demonstrate to the present administration that we are keying into its development agenda. What is happening here in Rivers State within the past four and half years is like a revolution. You will recall that in early 2015, he was told 'we will see where he will get money to pay salaries. We all were owed salaries for three months then. When he came in as governor, he cleared those arrears, has been consistently paying our salaries, and has turned Rivers State to a construction site", Nsirim noted.
The commissioner urged all management and staff of both RSNC and GPP to reciprocate government's kind gesture in ensuring regular payment of salaries so as to make him leave shining legacies at the end of his tenure. Towards achieving the NEW Vision of the Rivers State Governor, Chief Nyesom Wike, Nsirim also charged the workers to justify the governor's confidence in them by redoubling their efforts for improved productivity. The commissioner noted that the governor's decision to appoint a professional journalist that has grown through the ranks in the ministry as commissioner amounts to a vote of confidence in journalists in the state, which needs to be justified.
"The governor has made a strong statement by looking within our rank and file, and deciding that we have the potential to produce a commissioner (for information). What that means is that we must justify that confidence. In justifying that confidence, we have to change our mind-set towards our work in order to be more productive", he stressed.
While noting that this is the first time such appointment has been made in the history of the ministry, Nsirim harped on the hackneyed common mind-set of staff who feel that working for a government-owned media means doing anything they like, saying that he believes that The Tide has the quality of men and women needed to recreate the newspaper and make it the envy of the world. "Everyone has the potential to recreate this organisation. The idea that this is a government parastatal, so, people can come to work any time they like has to stop. It is time for productivity. It's only someone that doesn't want to make progress that will keep doing something the same way repeatedly, and expect better result", he said.
Nsirim, therefore, directed heads of all departments to draw up a template for appraisal of staff's performance, saying that such templates should take cognisance of each department's peculiar circumstances and functions. "If you are in Advert, your template will be different from those in Administration and Editorial", he said, and tasked the various departments to complement each other while exhibiting the highest competitive character.
Noting some key challenges experienced by staff, such as obsolete equipment and depleting manpower, the commissioner charged staff to do their best with what is available to justify being given attention. "We are going to work collectively to show the world that this is a government-owned newspaper house where we can excel, be productive, and make profit. His Excellency is desirous to make Rivers State the destination of choice in this country, and he is not paying lip service to it. He is rather building the right environment, providing the appropriate infrastructure to promote health care, education, agriculture, and improving human capital development. I'm challenging both management and staff to think outside the box, be creative and innovative. Let's demonstrate to the world that we have men and women in these organisations that have the potentials to turn things around. We are demanding from you greater productivity and efficiency", the commissioner added.
"My tenure must make a difference. That is why I have come to challenge everybody now that we need to roll up our sleeves to work. It is when you work well that you become my friends. The general manager is my personal friend and my boss, and I am demanding a lot from him. So, he is going to push the heat to you. When he pushes the heat to you, don't think that he hates you, we want results. The truth of the matter is: if we throw away the cap and that mentality that 'this is a public corporation', and make up our minds to work, we will succeed, because there is a spiritual import about synergy.
"There are so many people, let me say 20% of the population of this place just come to earn salary. There is nothing that is happening here that I don't know. Of course, you know I should know. I can even call names department-by-department because here is my family. So, my appeal to everyone is that it is not going to be as it used to be. The Tide newspaper must be repositioned. We won't stop at three editions per week anymore because we shouldn't be publishing stale news. So, whatever it will take you to reorganize and bring everybody on the same page to make sure that we have more editions of The Tide, do it. The work is starting tomorrow, not next week, not next month.
"I don't want to hear anything about challenges. I don't want to lose the fire power to succeed. We are in a hurry to develop the state. The governor is in a hurry to develop the state. So, let's keep aside the challenges confronting the corporation. I have talked with management heart-to-heart, and you will see things happening here from tomorrow because it is possible", Nsirim said.
In his remarks on behalf of staff of Editorial Department, Chairman, Nigeria Union of Journalists (NUJ), The Tide Chapel, Comrade Amadi Akujobi, thanked the commissioner for the visit, describing it as home-coming to celebrate his appointment with his colleagues and family members, as according to him, the commissioner began his journalism career from The Tide.
Akujobi harped on the need for more training and retraining of journalists to sharpen their skills and competences on emerging trends in the profession, saying that as a dynamic profession, it was vital for Reporters and Editors to undertake regular retraining to enable them compete favourably in the technology-driven media industry.
Also speaking on behalf of the RSNC Chapter of National Union of Printing, Publishing and Paper Products Workers (NUPPPPROW), the National Vice President of the union, Comrade Godwin Williamson, noted the various welfare initiatives of the new management designed to motivate workers for improved productivity, but solicited for more government attention to address the poor conditions of working tools in both organisations.
Williamson, who is also the state chairman of NUPPPPROW, explained that although both media outfits have quality and competent staff to take the agenda of government to the next level, but regretted that the lack of modern equipment and technology has undermined their productivity and obliterated profitability in a highly competitive media space.
Also speaking, the General Manager of RSNC, Mr. Vincent Ake, re-echoed the charge given by the commissioner, and called on staff to be ready for more work. "The commissioner has come, and he has charged us to worker harder. He has said we should roll up our sleeves, and do the much we can to ensure that the newspaper is sustained. And everybody should be ready to work because there is no food for a lazy man.
"Everybody should be innovative in whichever area you are. I am open to innovation. All we need is let the ideas come in, and we will implement them," Ake stated, and assured staff that the management would organise training and retraining programmes to sharpen their skills and competences for greater productivity.
He explained that the welfare initiatives of the present dispensation were part of a deliberate policy to motivate staff to put in their best to fast-track the capacity and ability of the corporation to break even and step into an era of profitability. Ake, therefore, thanked the commissioner for coming, just as he reminded him that The Tide was his home, and he should be free to visit anytime.
Susan Serekara-Nwikhana

Mischief Remains Inferior To Strategy, Performance And Acceptance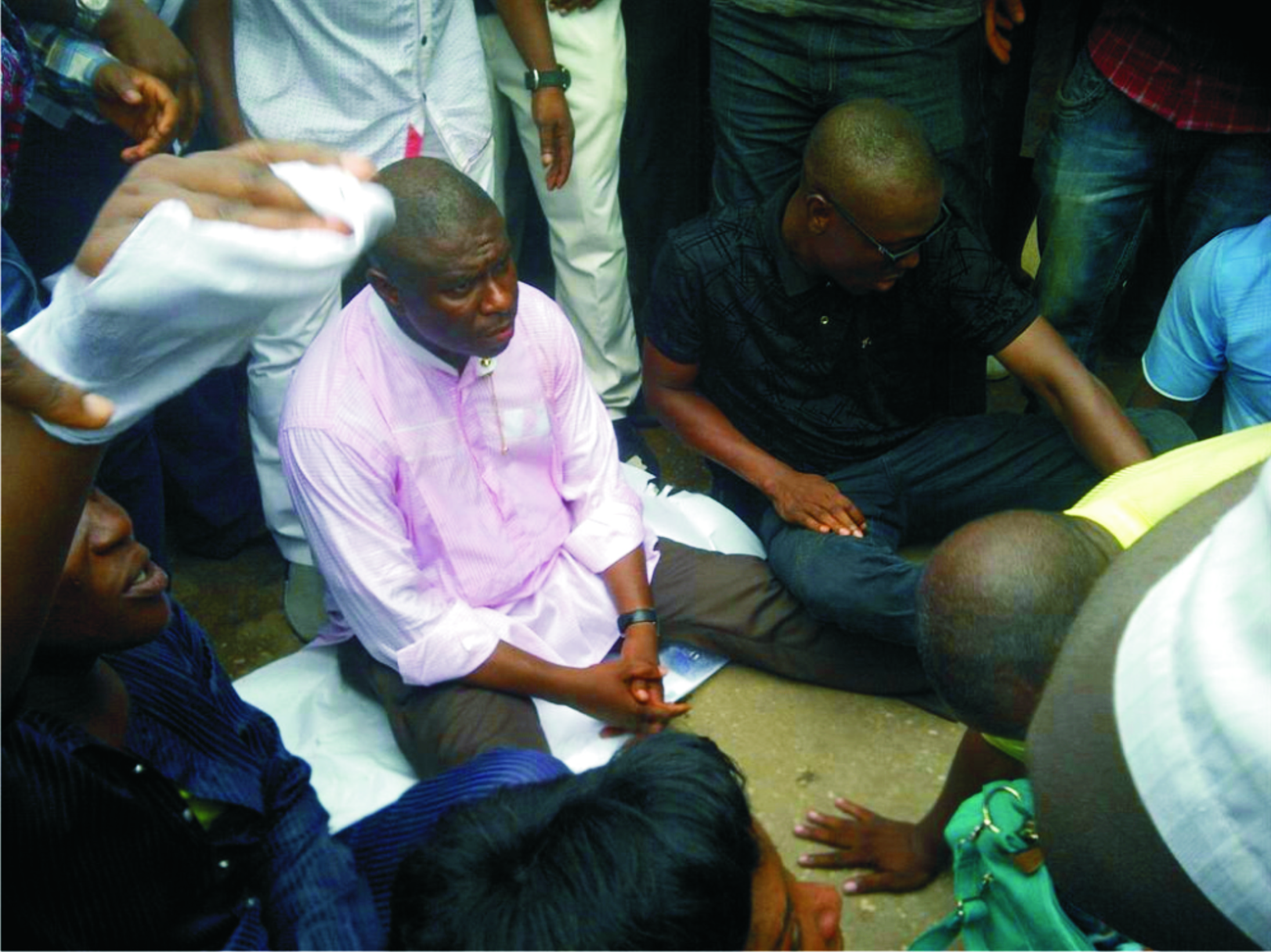 Since the immediate past failed Rivers State Governor,  Chibuike Rotimi Amaechi imposed his political godson on his fractured party for the 2015 governorship election,  Dakuku Peterside has been oscillating round the political firmament , spewing mischief in order to remain relevant.
If he is not engaged in ethnic name dropping,  he is bragging about his party's control of the levers of State violence to abduct the political structure of Rivers State.  There was a time when Dakuku Peterside and his Oga were struggling to outdo each other in the circulation of mischievous falsehood  on different Radio Stations around Port Harcourt.
For the moribund Rivers APC and her members,  the only ticket to gaining the approval of the immediate past Rivers State Governor is to formulate and sustain mischief against Governor Wike.  For Amaechi to choose you, you must generate a mind-boggling mischief.
They have never defended the interest of Rivers State anywhere.  They have just one objective.  To insult Governor Wike and sponsor endless mischief.
If you are chosen, then you must continue to generate lies and mischief with the name of Governor Wike.  As such, APC leaders continue to run in circles, never focusing on the issue of development.
Dakuku Peterside has forgotten so soon the favour done to him by Governor Wike.  As Commissioner of Works, Peterside denied his maternal home access to road. After spending eight years in Government, the Amaechi Administration left the Ogoni-Andoni-Opobo-Nkoro Unity Road unattended to.  They focused on needless propaganda and the use of Rivers resources to fund APC National Campaigns.  Governor Wike has linked Opobo Kingdom to the rest of Rivers State.
Despite dealing horribly with his maternal home, Dakuku Peterside followed Amaechi to Bori for a political function where he resorted to lies. This was an APC function.  Dakuku Peterside told the APC faithful that Governor Wike has done nothing for the area. The few supporters at the poorly  attended rally  erupted in anger. They were about to disrupt the rally  when Amaechi intervened,  snatched the microphone from Dakuku Peterside and confessed before the rally that Governor Wike's  dualisation of the Sakpenwa-Bori Road was an excellent contribution to the economic development of the State.
Dakuku Peterside is at his game again.  He has started the sponsorship of mischief through the APC Social Media Outlets.  In some instances,  he engages some misguided ethnic officials.
Imagine Dakuku Peterside acquiring a video and doctoring same to create room for the promotion of a campaign of  calumny against Governor Wike.  They take advantage of the fact that most Nigerians will not engage in simple content analysis.
In the video that Dakuku Peterside obtained and circulated,  Governor Wike was basically responding to issues  raised by the Chairman of Rivers State Council of Traditional Rulers and Amanyanabo of Opobo,  King Douglas Dandeson Jaja.  One of the issues centred on the Recognition of Traditional Rulers and the attempts by some unrecognised Traditional Rulers to usurp the functions of the Rivers State Council of Traditional Rulers.
Governor Wike took out time to explain the actions that his Administration will take to ensure that the infractions by unrecognised Traditional Rulers are resolved.  This function was handed over to the Attorney General of Rivers State.  Of course,  nobody expects a mischief maker to highlight these area.
At this time, Dakuku Peterside and other APC Factional groups had started sponsoring falsehood that Governor Wike was promoting an anti-Ijaw agenda.  Governor Wike took out time to debunk this lie.
He said: "I will continue to protect the assets of Rivers State.  My goal is to protect the interest of Rivers State and her people.
"We are defending Rivers ownership of Soku Oil Wells.  Soku Oil Wells are situated  in Akuku-Toru Local Government Area of Rivers State. I am saying no, we will not allow a neighbouring state take over what belongs to our people.
"We don't  have any anti-Ijaw Agenda. If there is anyone with anti-Ijaw agenda,  it is those coming from outside to claim Soku Oil Wells that belong to Rivers State.  You want to take what belongs to our state and you want us to fold our hands.
"Rivers State is one. Nobody can divide this state. As Governor, I will not agree for any outsider to take what belongs to Rivers State.  I will protect what belongs to our state."
Generally,  it was a frank meeting.  A meeting that focused on the overall development of Rivers State.
Since 2015, Governor Wike has made the engagement with Traditional Rulers a key part of his administration.  His immediate past predecessor never accorded the Traditional Institution this type of respect. Every quarter, Governor Wike attends the meeting of the Rivers State Council of Traditional Rulers.  There is no GOVERNOR in Nigeria  that engages with his State's Traditional Rulers like Governor Wike.  No , not one. Let the APC sponsored mercenaries bring out and show any other Governor that has met with a recognised Traditional Rulers Council in his state on three separate occasions. For Governor Wike,  it is every Quarter.
The immediate past APC Administration in Rivers State destroyed the entire Traditional Institution.  Traditional Institution was weakened beyond measure and their Secretariat was left desolate.  It took the intervention of Governor Wike for this story to change.
Governor Wike constructed an ultra-modern Secretariat for the Rivers State Council of Traditional Rulers.  Whilst the construction lasted,  the Rivers State Council of Traditional Rulers met inside the Banquet Hall of the Government House,  Port Harcourt. Under Amaechi, it was only his faction of the State Assembly that enjoyed this privilege.
It is embarrassing that Dakuku Peterside,  a major player in the Amaechi faction finds expression only in mischief.  After losing the 2015 General Election,  Dakuku Peterside begged the Former APC National Chairman,  Dr John Oyegun to assist him prevail on President Muhammadu Buhari for REHABILITATION.  He was appointed Director General of NIMASA.  According to his political godfather,  Amaechi,  NIMASA's  funds are in dollars.  After 4 years at NIMASA,  Dakuku Peterside believes that the only thing Rivers State deserves is occasional PRESS STATEMENTS  to insult Governor Wike.  Not even his maternal home has received any benefits from  Dakuku Peterside.
He is not alone in this failure to perform.  The Minister of Transportation has attracted nothing to Rivers State,  aside the repeated attempts to rig elections in Rivers State. Nothing positive has been attracted to Rivers State by this team. They were in control of NDDC for four years and even the APC Federal Government is so disheartened that an audit has been ordered.
For several years, they have been involved in deliberate falsehood and manipulation of information, to no end. Every mischievous plot ends in failure. This route will not shake the support base of Governor Wike.
Dakuku Peterside and his faction of Rivers APC over the years engaged social and traditional media agents to concoct misleading stories about Rivers State and de-market the State.  Yet, Rivers people continue to stand with the best performing Governor of Nigeria.
Dakuku Peterside,  his political godfather and their co-travellers must understand that propaganda,  mischief and falsehood have their limit. When faced with performance and pro-people leadership, these anti-development elements fade out.
Governor Wike is firmly rooted with the people.  He  interacts with them daily and effectively uses Rivers mandate for the development of Rivers State.  They love him because of his high performance level and defence of Rivers interest.
Political gossip and falsehood only gains traction for a while.  After that, the reality of rejection remains.  Unless Dakuku Peterside cultivates the virtue of performance and service to Rivers people,  he will continue to grope in political darkness.  There is no political leverage in political mischief,  other than sadistic momentary pleasure.
Wakaudu is Special Adviser to the Governor on Electronic Media
Simeon Nwakaudu

Amnesty International's Misguided Message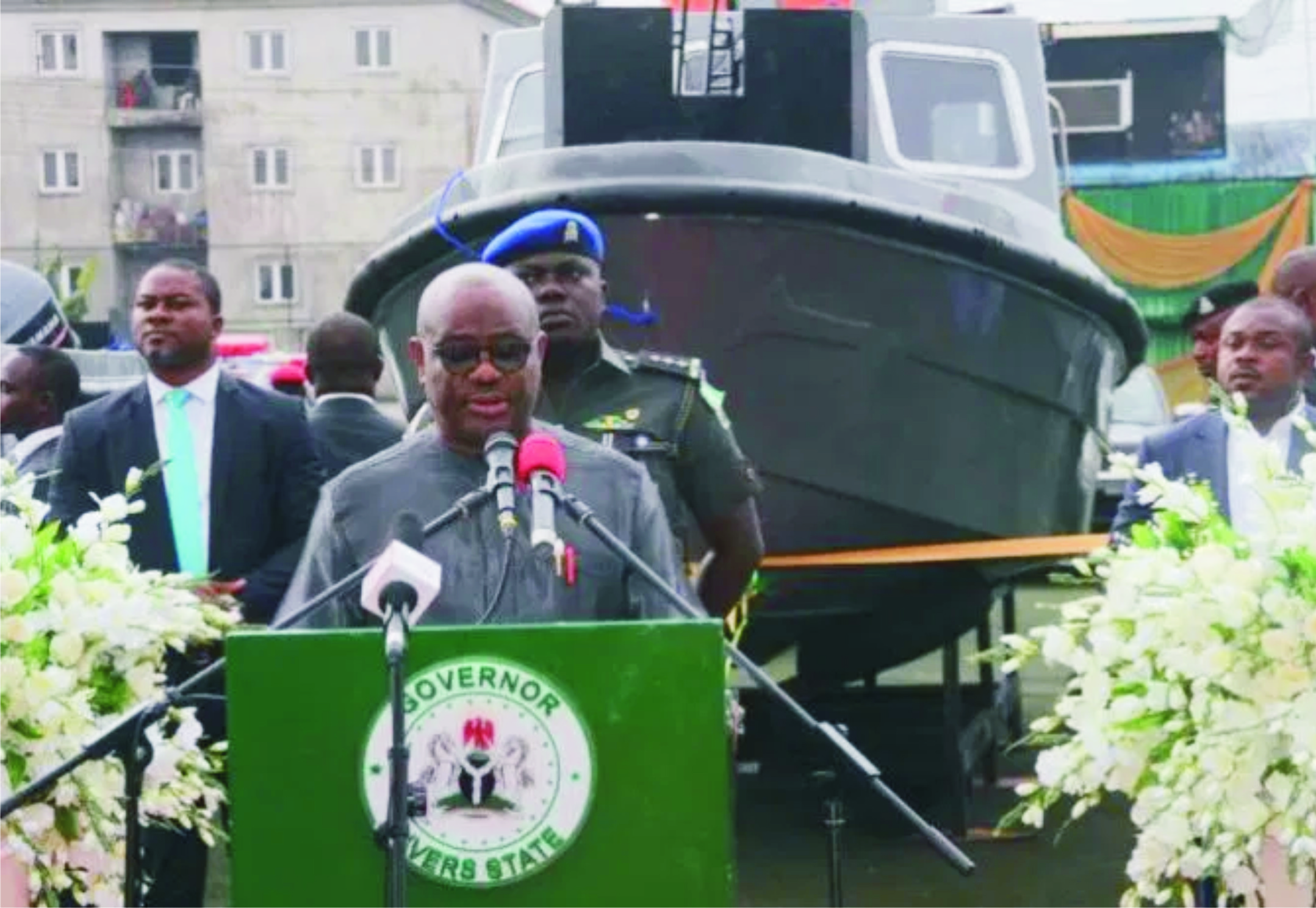 Personally, I think the press statement issued by Amnesty International on the security situation in Rivers State is misguided in many respects. The nature of the press release made it difficult to determine what was the objective of the authors.
I must declare here that like every other state in Nigeria, Rivers State has its own security challenges. The state has had its share of security infractions in different communities. As such, nobody would say that Rivers State is crime-free.
But in relation to neighbouring states and other highly populated states of the Federation, Rivers State is relatively peaceful. But there is room for improvement in this regard and Governor Wike is working at it, everyday.
One wonders how Amnesty International Nigeria arrived at the multiple casualty figures and generalisations, without verifying any allegations or setting out keys for the testing of her conclusions by independent observers.
For me, other than the name Amnesty International Nigeria on the letterhead, the entire press release looked like the can of lies usually dished out by a former Publicity Secretary of a defunct political party and the daily politically-induced broadcasts of a Port Harcourt-Based Radio Station.
That statement is rich in hearsay, but short in facts and credible efforts to verify information.
Most painfully, the press release on Rivers State by Amnesty International Nigeria lacked the fundamentals of courage. It is weak in its inability to tell truth to power at the centre.
Beyond the 'to and fro' of the wild allegations and numerous hearsay conclusions, is the core quotation which summed up the target of the press release.
"The authorities have failed to bring those responsible for these horrific crimes to justice and have allowed a climate of impunity to fuel further violence. We call on the Nigerian authorities to take more robust action to stop these attacks by investigating every clash and bringing perpetrators to justice." said Osai Ojigho, Director Amnesty International Nigeria in that Press Release.
I wondered why an international organisation like Amnesty International Nigeria failed to apportion blame to the exact defaulter. The vague mention of "authorities " to my mind is academic and needless.
Is there anyone in Nigeria that does not know that security operations are strictly under the purview of the Federal Government. The Federal Government owns and controls all security agencies. All deployments of security personnel are coordinated by the Federal Government. There is no state government involvement in this affair.
The case of Rivers State is worse. It is an opposition state that is on the Shopping List of the powers that be. It is surprising that the drafters of the Amnesty International Press Release never got anyone to gossip to them on this open secret.
Issues of security infractions in the state have been fueled in many instances by the actions and inaction of federal security agencies coordinated by known politicians which Amnesty International failed to mention. Several indicted security officials have worked to compromise the security architecture of the State because of political targets set for them by powers known to Amnesty International Nigeria.
Of all states that had General Elections, it was only in Rivers State that security agencies invaded several Collation Centres alongside armed gangs in desperate attempts to rig the 2019 elections. One would have expected the gossips that spoke with Amnesty International to give them details of those that planned and executed this coup against Rivers State and her people. Is Amnesty International saying such carefully planned coup wouldn't involve thousands of Powers-that-be-backed thugs?
Talking about arrest and prosecution of criminal offenders, it is clear that the Amnesty international's Press Statement failed to call a spade by its name. Plainly put, the security agencies controlled by the Federal Government have this responsibility. You may remind me of the office of the Attorney General of Rivers State, but we know that nothing can happen unless Police, the Army or any other security agencies arrest these offenders.
Amnesty International must be in possession of the video clip on the invasion of the Rivers East Senatorial District Collation Centre by the Federal Special Anti-Robbery Squad for the purpose of rigging election. Federal SARS and the Nigerian Army carried out deadly operations that generated pockets of security infractions.
EFFORTS OF GOVERNOR WIKE TO PROMOTE SECURITY ACROSS RIVERS STATE
The question would be what has the Rivers State Government done to promote the security of lives and property across the state, despite the fact that the Federal Government controls the mechanics of practical security operations.
Everyone knows that the Federal Security Agencies are having challenges in terms of numerical strength to cover all the corners of the country. In Rivers State, Governor Wike initiated the Rivers State Neighbourhood Safety Corps Agency to liaise with the security agencies to curb crimes, arrest criminals and keep communities safe. This agency was backed by law. The State Government engaged the services of senior retired military and police officers to establish it.
However, when it got to the training stage, the Nigerian Army acting on the instructions of the federal power stopped the progress. This all-important effort was truncated.
For the existing Federal Security Agencies, the Rivers State Government under the leadership of Governor Wike has always invested in their operations and provided the required logistics to improve their capacity. Over 400 security vans, gunboats, armoured personnel vehicles have been supplied to these security agencies. In addition, the State Government directly funds their operations.
Only recently, the Administration launched the Operation Sting Security Outfit to tackle crime and criminality across the state. The security agencies received assorted crime fighting equipment for the outfit.
In several instances, Governor Wike has personally taken direct initiatives to address specific security concerns in different parts of Rivers State. Shortly after he commenced his second term, Governor Wike led the entire State Security Council to assess the security infractions occasioned by cult-related violence in Ogoni communities.
He mobilised the deployment of more security personnel to troubled Ogoni communities with a view to restoring peace. These extended deployments of soldiers, police, DSS and Civil Defence operatives have yielded positive results.
Today, Governor Wike has restored the lost glory of Omoku town. Amnesty International Nigeria has forgotten that it took the direct funding of collaborative security operations in this LGA for the notorious Don Wanny and his gang leaders to be uprooted.
Rivers State Government launched the State Amnesty Programme which reduced the cases of cult-related violence in many communities. Repented cultists were rehabilitated and empowered to become useful citizens.
But cult leaders who rejected the Amnesty were declared wanted by the Rivers State Security Council. In a State Broadcast, Governor Wike declared 34 Cult Leaders from 12 Local Government Areas wanted. The State Government placed a N680million bounty on them. The results were outstanding.
In a move to tackle cultism and kidnapping, Governor Wike gave his assent to the Rivers State Secret Cult and Similar Activities (Prohibition) (Amendment) Law No.6 of 2018 and the Rivers State Kidnap (Prohibition) (Amendment) No.2 Law No.7 of 2018. These laws have helped enhance security across the state.
Additionally, under the leadership of Governor Wike, one of the cardinal responsibilities of the Local Government Areas is the promotion of security across all communities. Council Chairmen have been encouraged to support security formations with logistics and finance to curb insecurity and bring criminals to justice. Similarly, many local government councils are working with local vigilantes to enhance security.
ONE OF THE MOST PEACEFUL STATES OF THE FEDERATION
There is no wisdom in trying to propagate the unfortunate stereotype of general insecurity in Rivers State. Politically induced persons have tried this technique to discredit the state and it failed woefully. The reason is simple. Despite the few security challenges and setbacks, Rivers State remains one of the most peaceful states in the country.
There is no need mentioning states, but Nigerians know the areas where unbridled insecurity holds sway.
In Rivers, many of the security challenges have been addressed and further steps are in place to consolidate on the gains of a new security architecture.
PLAYING THE OSTRICH
It is quite convenient to dance around hearsay statements and end up trying to blame the victim. Is there any group and person in Nigeria that is unaware of the desperate attempts by the powers in control of the security agencies to undermine security in Rivers State. Many groups, including Amnesty International Nigeria have shied away from calling out the elements behind this ungodly plot.
There is peace and security in Rivers State because of the comprehensive investments and strategies adopted by Governor Wike. If Governor Wike was weak and uninterested, the entire security architecture of Rivers State would have collapsed as planned by these architects of doom, for them to declare a state of emergency and hijack the state.
I call on the Amnesty International Nigeria to be more courageous and write comprehensive reports that would blame those that have conspired to undermine security in Rivers State. I call on Amnesty International Nigeria to investigate and tell the public why other states have key security interventions and investments from the Federal Government and Rivers State has none. I call on Amnesty international Nigeria to investigate and tell the public the critical investments and actions of the Wike Administration to sustain security in Rivers State. I call on Amnesty International Nigeria to be courageous to name security officials posted and directed to undermine the security of Rivers State.
Rivers State is peaceful. The security architecture is being strengthened by the day. There may be infractions from time to time, but the dynamic security infrastructure in place will continue to address issues as they arise.
There is no gain in attempting to enjoy media spotlight through spurious reports. The State Government will continue to do the needful to protect lives and property. In this regard, it deserves support and encouragement, not politically motivated watery reports.
Nwakaudu is the Special Assistant to the Rivers State Governor on Electronic Media.
Simeon Nwakaudu