Adamawa
Adamawa State Government has spent over N223 million to pay 2009 NECO and WAEC examination fees for students from the state.
The Commissioner for Education, Mr Gabriel Adama,  disclosed this in Yola recently at a news conference.
He said: "I want to say that it was, however, a big  loss for us because over 90 per cent of the students  failed the examination.''
Describing the situation as unacceptable, the commissioner
said that out of the 28,000 students who sat for the examination, only seven per cent of them got the required credits including  English and Mathematics.
Bauchi
A lecturer , Prof. Sulaiman Bogoro of Abubakar Tafawa Balewa University, (ATBU) Bauchi, has said that auditing of public and private agencies was crucial for accountability and promotion of good governance.
Bogoro made the statement in a paper he presented on Tuesday at the Conference of the body of Federal and State Auditors-General in Bauchi.
He said accountability and transparency in leadership are necessary as without them, some leaders or heads of organisations engage in secrecy and corrupt manipulation of the system.
Ekiti
Hundreds of giant-sized posters of President Goodluck Jonathan for President in 2011 have flooded major streets in Ado-Ekiti, the Ekiti State capital.
The Tide's source reports that the posters carried the message "Dr Goodluck Ebele Jonathan for 2011 Presidential election. Let us encourage him for peaceful co-existence in Nigeria, courtesy of Ekiti New Era Forum".
The posters are posted on electricity poles, stationery vehicles and some buildings in the metropolis.
The posters, which had PDP logo and the picture of Jonathan are on major streets such as Fajuyi round about, Okesa, Governor's office road, Iyin road, Okeyinmi, secretariat road among others.
FCT
The Economic and Financial Crimes Commission (EFCC) says it has  instituted more than 50 cases and got more than 100 convictions in the last two years.
Mrs Farida Waziri, the Chairman of EFCC, made the  statement in Abuja on Monday during an interaction with newsmen.
" We can conveniently boast that we inherited about 10 profile cases when we took over about two years ago.
"We have not only instituted 50 high profile cases, we have secured over 100 convictions with a record of recovery that towers above 3.5 billion dollars and over 1,200 cases pending in court."
Jigawa
The Jigawa government  has inaugurated a six-man committee to implement its sanitation policies and promote good hygiene, Alhaji Abdulkadir Jinjiri, the Commissioner for Community Development and Rural Infrastructure, said on Friday.
He told newsmen in Dutse that the committee was formed to utilise the 2009 Millennium Development Goals Conditional Grant Scheme for the implementation of sanitation and good hygiene policies.
He explained that the committee would carry out advocacy and sanitation visits to policy makers, political, religious and traditional rulers in order to gain support for sanitation and hygiene promotion at local governments and community levels.
Kaduna
The Christian Community, Ahmadu Bello University (ABU), Zaria, has organised a memorial service in remembrance of the first indigenous Vice Chancellor and Registrar of the university.
A statement issued by the institution's Information and Protocol Officer Bitrus Galmaka, stated that the duo were late Prof. Ishaya Audu and late Michael Angulu, the first indigenous vice chancellor and registrar respectively
It noted that the memorial service was "to honour these pioneers of the Christian community whose services and sacrifices contributed immensely to the foundation laying of ABU''.
It indicated that 27 others, whose ages ranged from 70 and above, were also honoured for their meritorious sacrifices in the service of the institution.
Kano
Thousands of Qur'anic pupils, known as "Almajiris," have moved out of Kano metropolis due to the commencement of the rainy season, Tide's source  reports.
The pupils, majority of whom came from Yobe, Jigawa, Katsina, Bauchi and Kaduna states and parts of Kano states, left the commercial town to engage in farming in their respective communities.
Investigation by the source  in Kano shows that the almajiris have deserted most of the areas they were usually seen begging for alms, since the exodus began about two weeks ago.
Such places included restaurants, motor parks, mosques and markets, where only pockets of them could now be sighted loading goods, washing plates and begging.
Kwara
Dr. Hammed Ali, Kwara Attorney-General and Commissioner for Justice, has called for the construction of more prisons as a panacea for decongesting prisons in the country.
Ali made the call on Monday when he paid a courtesy visit to the Comptroller of Prisons in the state, Mr. Olatunde Olayiwola, in llorin.
Ali suggested that private organisations should be involved in the construction and management of prisons.
"If about 227 prison houses in Nigeria accommodate 50,000 inmates and out of these about 42 per cent are awaiting trial suspects, then we need more prison houses", he said.
Lagos
The Dangote Group says local production of iron rods and steel would reduce the incidence of building collapse and other construction failures in the country.
Mr. Sankasu Balasubramania, Technical Director of the group, disclosed this to journalists who were on a facility tour of Dangote Steel Rolling Mills in Osogbo on Sunday.
He said that the increasing of building collapse and construction failures would be tackled through production of quality iron rods locally.
Balasubramania said that Dangote Steel Rolling Mill, which would commence production in October, this year, would produce over 350,000 tonnes of quality steel products annually.
Osun
Mrs. Omolola Oyinlola, wife of Osun Governor, has expressed concern over the increasing cases of teenage pregnancy among secondary school girls.
She expressed the concern during a sensitisation visit to St. Mary's Grammar School, Iwo, Osun.
Oyinlola, who is the initiator of Women and Children Development Initiative Foundation (WOCDIF), called on stakeholders to join hands with her to stem the tide.
The Tide's source reports that the visit is part of her awareness campaign on teenage pregnancy, HIV and AIDS, cancer and maternal/child mortality.
Oyo
The Association of Fish Farmers and Aqua-culturists of Nigeria (AFFAN) in Oyo State, has called on the Federal Governments to create special silos for maize and soya beans.
The Chairman, Mr Peter Farinto, told newsmen on Tuesday in Ibadan that the two crops formed the major raw materials for the production of local fish feeds.
"If government could store the raw materials, an enabling environment would be created for the sustenance of the fish farming business which depended largely on fish feeds, to boost local production," Farinto said.
Plateau
The Miners Association of Nigeria (MAN) has cautioned against  illegal mining, saying the lead poisoning in Zamfara that reportedly killed 163 persons, was regrettable.
The MAN National President, Sani Shehu, told newsmen in Jos, that the incident, which occurred in Anka and Bukkuyum Local Government Areas of Zamfara was "purely a result of illegal mining".
He said, "most minerals contain one level of impurity or the other.  Some of these impurities are radio-active in nature.  Some of them release poisonous gases that are not visible.
"That is why when you are operating a formalised form of mining, issues like safety, radioactivity and other poisonous gases will be discussed and addressed", he cautioned.
Sokoto
The Sokoto State Commissioner for Religious Affairs, Prof. Musa Maitafsir, has said that the government plans to ban begging in the area.
Maitafsir said the plan will come into effect only after all the destitute persons have been brought under a scheme where they would be paid monthly stipend.
The commissioner disclosed that the government was currently spending over N45 milliioon on 7,000 destitute persons every month.
He told newsmen in Sokoto that each of the beneficiaries was being given N6,500 monthly.
"This gesture has been on for about two years and it will be sustained to alleviate the suffering of the less privileged persons.
"More of them will soon be brought under the scheme introduced by Governor  Aliyu Wamakko to reduce the menace of begging in the state", Maitafsir said.
Emirates Resumes Flights To Nigeria, June 23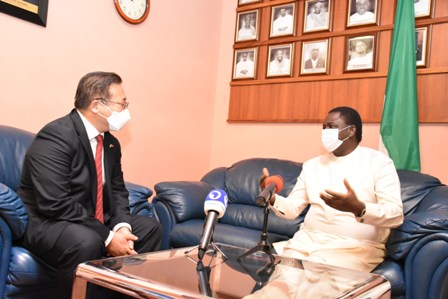 The UAE carrier, Emirates Airlines, would start carrying passengers from South Africa, Nigeria and India from June 23, the UAE Embassy said as it announced revised rules on Covid-19.
"We look forward to facilitating travel from these countries and supporting various travellers' categories," the airline said in a separate statement, yesterday.
"Residence visa holders from India and travellers from South Africa should've taken two doses of a vaccine approved by UAE authorities and carry RT-PCR tests reports from labs approved by the federal governments of these countries.
"But for Nigerians vaccination is not made mandatory but all other conditions apply.
"In addition to the above, Indians have to take a rapid PCR test four hours prior to their travel.
"While there are four vaccines in the UAE for use on eligible individuals against the Covid-19 infection – Sinopharm, Pfizer-BioNTech, Sputnik V and Oxford-AstraZeneca, it is unclear if the UAE has approved vaccines administered on Indian, South African and Nigerian citizens in their countries," it stated.
"All travellers are also required to present a negative Covid-19 test result taken within 48 hours before departure.
"UAE citizens are exempted.
"Only QR coded PCR test result certificates are accepted.
"All passengers must take a rapid PCR test four hours prior to flight departure.
"All passengers must undergo a PCR test on arrival at Dubai Airport.
"Passengers should undergo institutional quarantine until they receive their PCR test result, which is expected within 24 hours.
"Passengers should produce a negative PCR test certificate with a QR Code from labs approved by the Nigerian government.
"All passengers must undergo a PCR test on arrival to Dubai Airport.
"Transit passengers should comply with entry protocols of final destinations.
"Entry will now be permitted to residents who have received two doses of UAE-approved vaccines," the state said.
The revised procedures for travellers coming from the Republic of India, South Africa and Nigeria were issued by the Supreme Committee of Crisis and Disaster Management in Dubai.
They are effective from June 23, the Dubai Media Office said.
It said the updates are part of the committee's keenness to protect passengers and ease hassles for them without compromising on Covid-19 preventive measures, said the Chairman of the Supreme Committee, Sheikh Mansoor Al-Maktoum.
The Media Office announcement said the updated travel protocols are part of a normal process of revising and optimising preventive measures based on the latest local, regional and international developments.
Bagudu Vows To Lead Rescue Operation Over Yauri Abduction
Governor Atiku Bagudu of Kebbi State last Saturday vowed to lead the rescue operation of teachers and students abducted from the Federal Government College (FGC), Birnin Yauri, in Ngaski Local Government Area of the State.
Bagudu, who is also Chairman, Progressives Governors' Forum, spoke when local hunters visited him.
Reports had that the Chairman, Nigeria Governors' Forum (NGF) and Ekiti State Governor, Dr Kayode Fayemi, and his Jigawa State counterpart, Alhaji Badaru Abubakar, also paid a solidarity and sympathy visit on Gov. Bagudu.
Bagudu assured that some other governors and  stakeholders will join him in the ongoing search operations for the abducted students and staff of the school.
According to him, he will discuss with his colleagues and security agencies in this direction, so as not to jeorpardise the ongoing commendable operations to rescue the abducted students and staff.
He said: "But, we will go out there and like I promised, the day we will move out, I will not be in the office because we will join you in the field."
The Kebbi State Governor said that this would be done barring all consequences in a bid to rescue the abductees.
Bagudu argued: "It is not weapons that win wars, but it is the will that bad people cannot triumph and we will show that, we have enough will power .
"President Muhammadu Buhari and the security agencies have been doing the best they could with limited resources.
"But, we also need to mobilize, kit ourselves and take on these bandits. Our various scriptures as Muslims and Christians allow us to put our lives at risk in defence of our honour, property and our faiths.
"In what the bandits are doing, they have challenged all of us, so, we can't let them."
Bagudu asked the hunters to go back and fully mobilise, pending when he gets the necessary clearance from the security agencies, adding, "we will meet in the field."
The governor maintained that governors were not sworn in only to sit down in the office and work.
He stated that they are aware that one day they would be required to lead in the field, even though they are not military or police personnel.
He said that if hundreds of thousands of people can be mobilised during campaigns, same should be done now to join the search party.
He said: "What happened in Birnin Yauri should be the last straw. We should follow these bandits wherever they are and take them on."
Bagudu also described the abduction as very callous, even as he lauded the security agencies, management of the school, 'Yan Sakai and vigilantes for their heroic efforts since the bandits struck at the college.
Govs, Others Task Security Agencies On S'East
South-East governors and leaders have requested security agencies in the zone to respect the rights and privileges of all those living in the zone.
They made the call on Saturday in Enugu after a meeting attended by political leaders, socio-cultural organisations, clerics and the traditional leaders.
The Chairman, South-East Governors' Forum, Governor David Umahi of Ebonyi State, who addressed reporters after the meeting, condemned the killing of civilians in the zone by security agencies.
Umahi urged them to discharge their duties within the law and in accordance with their rules of engagement.
The Ebonyi governor reaffirmed the commitment of the region to the corporate existence of the country.
Umahi, however, said that such union must be based on love, mutual respect and equality of rights irrespective of one's religion, ethnic group, political inclination and creed.
The governor said the various secessionist groups from the region were not speaking for the people of the area.
He said the leaders from the zone had set up a committee to engage the agitators to allow elders of the region to address their fears.
"We have come out publicly on many occasions to speak against such agitations," he said.
Umahi said the meeting was in fulfilment of the June 11 agreement they had with a federal government delegation led by the Minister of Defense, Bashir Magashi, a retired major-general.
"Consequent upon that, we scheduled our own meeting today to discuss and articulate our positions.
"This is to enable us not only engage the presidential team but also engage our people over all burning issues," he said.
The governor said leaders from the region had noted with concern threats against the Igbo people by some groups in other regions.
"The meeting pleaded with leaders of other regions to note such threats to our people, address it and protect our people," he said.
He said that governors from the South-East had assured people from other ethnic nationalities of their safety in the region in spite of the prevailing circumstances.
The leaders condemned the killing of security personnel and burning of government infrastructure in the region.
He called on National Assembly members from the region to support the creation of state police in the ongoing efforts to amend the constitution.
The governor said the meeting endorsed the South-East joint security unit called EbubeAgu, and requested the personnel to work with statutory security agencies.
Those present at the meeting included Okezie Ikpeazu of Abia and Ifeanyi Ugwuanyi of Enugu.
Anambra and Imo states were represented by the deputy governors, Nkem Okeke and Placid Njoku respectively.
Others were the Senate Minority Leader, Enyinnaya Abaribe; Minister of Labour and Productivity, Chris Ngige; Minister of State for Mines and Steel Development, Uche Ogah, and President General of Ohaneze Ndigbo, George Obiozo.