Shell Begins Gbaran Ubie IOGP Facilities' Test Run
Nigeria will within the next couple of months record another significant leap in oil and gas development, unitization, utilization, gas flare down, power generation, and efficient environmental management, as Shell Petroleum Development Company of Nigeria (SPDC) begins technical commissioning of the multibillion-dollar Gbaran Ubie Integrated Oil and Gas Project, one of Nigeria's biggest oil and gas development facilities in the Niger Delta.
Test run of the facility, located some kilometers away from Yenagoa, the Bayelsa State capital, which commenced in the first quarter of this year, has seen the technical certification of the gas dehydration and liquid handling trains, process control and safeguarding systems, utility systems as well as wells and associated flowlines and pipelines.
Briefing some Bayelsa-based bureau chiefs on a guarded tour of the facility last Friday, Project Manager, Okechukwu Elechi, said the liquid disposal and gas transport lines will also be commissioned in a few weeks.
Elechi explained that, "during the technical commissioning, key facilities are tested prior to introducing hydrocarbons to see how they perform", stressing that since industry practice demands compliance with this phase process, it was only natural that the Shell project follows international best practice before kick-starting operations.
According to him, "complex and extensive facilities like those on the Gbaran Ubie project require phased commissioning, and we plan to run these tests for nine to 12 months" to ensure technical conformity, synchronization and efficiency.
The Tide recalls that when fully operational, the Gbaran Ubie plant has a nameplate capacity to produce one billion standard cubic feet of gas and more than 700,000 barrels of oil per day.
The Tide checks further show that a gas processing facility, with capacity for 80million standard cubic feet of gas per day (MMscf/d) has been built near the Central Processing Facility (CPF) to treat and supply gas to power the Federal Government's National Integrated Power Project (NIPP) now being constructed at Gbaran as well as the Bayelsa State Electricity Board's plant at Imiringi.
The facility will pump a significant proportion of produced crude oil to the export terminal at Bonny,  with a reserves tank farm of over 60,000 barrels per day, and also provide gas feedstock to Nigerian Liquefied Natural Gas (NLNG) facility at Bonny.
Besides, The Tide gathered that the facility will also scoop and absorb currently flared gas at Kolo Creek and Etelebou flowstations into the CPF, triggering gradual shutdown of both gas flowlines and nods, and a drastic reduction in Shell's overall gas flare profile in the region.
The project manager recalled that before construction activities commenced at the site some three years ago, strategic environmental impact assessments for different aspects of the project including, processing facilities, wells and flowlines, gas and crude oil export pipelines and logistic base and jetty were conducted, while the host communities were widely consulted to make their inputs on ways to mitigate project impact through scoping workshops, open fora and public display of draft EIAs.
Elechi noted that although the five wells drilled as part of this project at Koroama, Zarama, Kolo Creek and Gbaran have been tested, while additional six drilled at Gbaran and Zarama are yet to be tested, the communities were fully carried along as work progresses.
He explained that "new gas wells are tested after being drilled to confirm their safety and integrity"; just as "the well test fluids are disposed of using temporary flares", stressing that "we have consulted with our neighbouring communities, who are fully aware of the situation, and received all necessary permits for these".
The project manager hinted that after commissioning and stabilization, the flare stack at the site will have a small pilot flare to ensure the flare system is always ready for an emergency plant shutdown, which is a normal industry practice, and does not amount to a grand design for new gas flares by SPDC.
Instead, he said, the entire concept and design of the project was meant to reduce gas flaring, mitigate the impact of crude oil exploration and production, and further boost the nation's quest for efficient energy supply through clean power generation, while maximizing opportunities for increased gas unitization and utilization in the country.
Nelson Chukwudi
Buhari Thumbs Up For NLNG As NNPC Reviews Activities
The Nigerian National Petroleum Corporation (NNPC) held its head high as it commenced activities for the week following commendation from President Muhammadu Buhari for rallying shareholders to make Nigeria Liquefied Natural Gas Limited (NLNG) a company to reckon with.
Buhari who is also the Minister of Petroleum Resources gave the commendation at the ground breaking of the NLNG Train 7, recently.
He said that the NLNG had always been associated with success and had become a global company.
"The NLNG Train 7 represents another historic milestone in the history of NLNG. NLNG story has been associated with success," he said.
The president also said that the NLNG had contributed 114billion dollars in taxes to Nigeria, and tthat with NLNG Train 7, there would be more jobs that would touch the lives of everyone particularly the host community.
He expressed joy how the NLNG had transformed from just a project to a very successful company in about 30 years.
The Minister of State for Petroleum Resources, Chief Timipre Sylva, urged all shareholders to work hard to ensure the successful completion of the project which he said would boost government's efforts to make Nigeria a fully industrialised nation.
Sylva also said the project would help the nation's gas development aspiration.
NNPC's Group Managing Director, Mallam Mele Kyari, that there was consensus among shareholders and board members to take the next step towards providing additional capacity which should be greater than what was on ground.
The NNPC GMD thanked President Muhammadu Buhari for his quick intervention which ensured the eradication of all pre-existing stumbling blocks on the path of NLNG Train 7 project
Also in the week under review, Minister of State for Petroleum, Sylva commended President Buhari at a ceremony to mark the execution of Shareholders Agreement between the NNPC, the Nigerian Content Development & Monitoring Board (NCDMB) and Zed Energy.
Total Nigeria Advocates Petroleum Subsidy Removal
Managing Director Total Nigeria, Plc, Mr Imrane Barry, says removal of petrol subsidy will help government to redirect its earnings to support infrastructure development for economic growth and development.
Barry made this known when he featured on a roundtable on Downstream and midstream at the Nigeria International Petroleum Summit (NIPS) in Abuja.
He spoke on the topic "The down/midstreams: Paths to the future through holistic and integrated solution".
He said that signing of the Petroleum Industry Bill would help to unbundle the oil and gas industry and encourage development, private investment and create jobs.
"The petrol subsidy regime costs the country approximately 2.6 billion dollars (N1 trillion) per year and the country can no longer afford it.
"The removal of the subsidy will allow government direct more of its earnings towards infrastructure and social development," he said.
He said that since government had declared decade of gas, there was need for Investment in Natural Gas.
He added that government needed to continue to push policies that would favour private participation and investment in the gas value chain, production, storage and distribution.
"Also, government needs to give incentives for investors in the sector, tax rebates etc to encourage long term participation.
"In the B2C sector, the government should put in  place incentives for customers to switch from white fuels to gas powered machines for road transportation.
"They should continue investment in the nation's critical infrastructure that aids trade and commerce,'' he added.
He further called for the fixing of Apapa ports and other ports in Nigeria, development of interstate road network, fixing of rail lines for human and cargo transportation
Commenting on impact of COVID-19 pandemic to global oil market, he said that it made the market volume shrank by 30% while margins became weak(Losses) with aviation sector mostly affected for the following reasons.
He added that the global economy was badly affected generally due to airport closure, drop in international prices of jet fuel platts which , led to a huge loss in aviation business due to contractual agreement with international airlines coupled with large amount of "old stock" in tank.
"PMS is a regulated product, with the price fixed by the government; resulting in fixed margins.
"The devaluation of the Naira from N360 to N380 during the pandemic, coupled with rising inflation in the country further eroded this "fixed margin" for the players in the downstream sector," he said
He urged government to ensure speedy passage of the PIB to help the sector play its part effectively.
Partners Execute Shareholder Agreement For Brass Products Terminal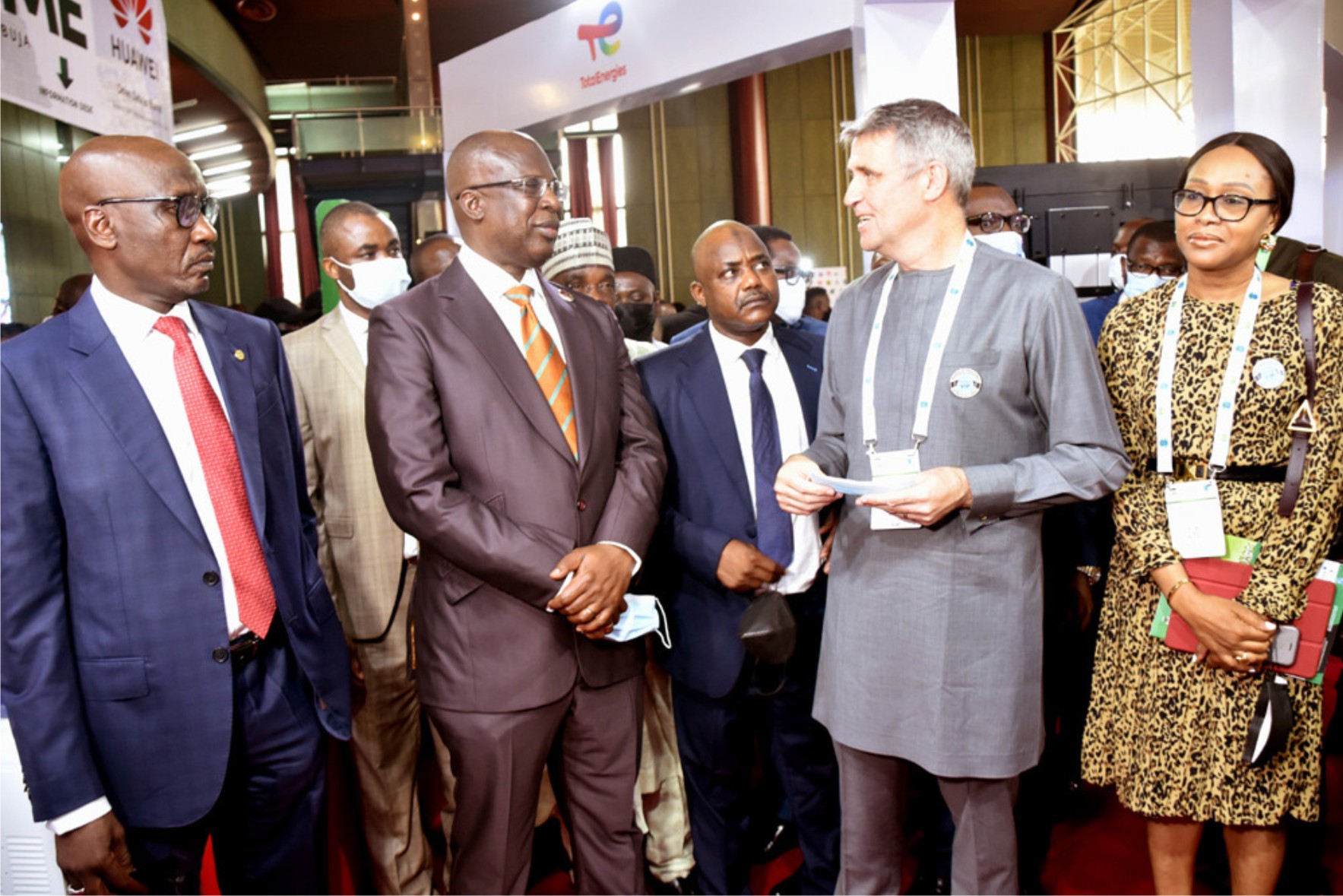 The Nigerian National Petroleum Corporation, (NNPC), along with their partner, the Nigerian Content Development & Monitoring Board, NCDMB, and Zed Energy have executed a shareholders' agreement for the establishment of a 50 million litre Petroleum Products Terminal in Brass, Bayelsa State.
The N10.5 billion Brass Petroleum Products Terminal project is expected to deliver an automated 50 million litre depot with two-way product jetty, automated loading bay, and 6 automated tanks for storage of 30 million litres of Premium Motor Spirit (PMS)and 20 million litres of Automotive Gas Oil (AGO) and Dual Purpose Kerosene (DPK).
While speaking at the signing ceremony, the Minister of State for Petroleum Resources, Chief Timipre Sylva commended President Muhammadu Buhari for his giant strides in the Niger Delta which is making a huge impact on the people of the area.
"I make bold to say today without any fear of contradiction that no President has impacted the people of the Niger Delta like President Muhammadu Buhari. Aside from what we are witnessing today, remember there is also the Brass Fertilizer & Petrochemical Company, the Oloibiri Oil and Gas Museum and the Oil & Gas Park in Ogbia, all under Mr. President," the Minister stated.
Sylva added that the establishment of the Terminal further demonstrates Mr. President's commitment to the enhancement of the livelihood of the Niger Delta people particularly, the riverine communities in Bayelsa State where people purchase products at exorbitant prices due to logistics challenges associated with transporting products to that area.
Speaking shortly after signing the agreement, the Group Managing Director of the NNPC, Mallam Mele Kyari said the Corporation was proud to be part of the project which aside ensuring products availability in all nooks and crannies of the Niger Delta, will also guarantee the nation's energy security and generate employment.
"This Terminal will create 1,000 direct jobs during the construction phase, and over 5,000 indirect jobs during its operation. Considering the potential for employment when completed, this will definitely reduce youth restiveness in the Niger Delta area and will also address the problem of illegal refining in the area," Kyari stated.
In his remarks, the Executive Secretary of NCDMB, Simbi Wabote stated that this milestone was as a result of strong interagency collaboration and public-private sector partnership.
"The NCDMB will continue to drive such partnerships across the industry to bring development in Nigeria," he noted.
Earlier, the Coordinator of the Project and Group General Manager, National Petroleum Investment Management Services (NAPIMS), Mr. Bala Wunti stated that the project would enhance the economics of marine petroleum products distribution.