Yar'Adua Buried Amidst Tears, Tributes …Jonathan Steps In As President
Following Nigerian President, Umaru Musa Yar'Adua's, death on Wednesday night at the age of 58, after a protracted illness, the  Federal Government, yesterday, announced seven days of national mourning and declared one-day public holiday.
The late president was laid to rest in his family home in Kastina State. Acting president Goodluck Jonathan has been sworn in as president.
In accordance with the Nigerian constitution, the acting president Goodluck Jonathan was, Thursday, sworn in as  president and Commander-in Chief of Nigerian Armed Forces at the council chamber of the Presidential Villa, Abuja by the Chief Justice of Nigeria, Justice Aloysius Katsina Alu at 9.20am.
The wife of the Acting President, Dame Patience Jonathan and Governors of Kwara, Bukola Saraki, Ogun, Otunba Gbenga Daniel, Nasarawa, Aliyu Akwe-Doma, Zamfara, Aliyu Shinkafi, Enugu, Sullivan Chime, Benue, Gabriel Suswam, Imo, Ikedi Ohakim and Oyo, Alao Akala witnessed the swearing-in ceremony.
Also at the ceremony were the Speaker of the House of Representatives, Hon. Dimeji Bankole, members of the National Assembly, Service Chiefs, as well as the Secretary to the Government of the Federation, Alhaji Yayale Ahmed.
Ministers, the Inspector-General of Police Ogbonna Onovo, PDP Chairman, Vincent Ogbulafor and members of the Diplomatic Corps were also in attendance.
Yar'Adua died from a protracted heart disease called acute pericarditis, the inflammation of the outer layer of the heart.
Yar'Adua came to power in 2007 elections which he himself acknowledged were flawed. The country's Supreme Court finally ruled in December 2008 that he could stay in office, dismissing objections lodged by rival candidates. This meant Yar'Adua became the first civilian leader in Nigeria to take over from another.
Even before he was elected, there were doubts about whether Yar'Adua had the physical strength to reform the most populous country in Africa.
His health problems that dated to the late 1990s when he was governor of his native Katsina state forced him to travel to a German hospital on several occasions.
 However, Nigerian Nobel prize winner, Wole Soyinka, regretted that politicians  handled Yar'Adua's illness in a disgraceful way.
"My feeling is one of resentment for those who used him as a mere instrument for their diabolical political gains," he said. "Yar'Adua should have been released from office ages ago to pay full attention to his health, but people who knew how ill he was refused to take the necessary steps towards preserving him in his last days as a human being. He was just used and I found it most disgusting."
American President Barack Obama said Yar'Adua would be remembered for his personal decency and integrity, his deep commitment to public service, and his passionate belief in the vast potential and bright future of Nigeria's 150 million people.
Indications that the ailing president may go the way of all mortals emerged last Thursday as he failed to turn up at  the mandatory Friday prayers, despite an invitation by leading Islamic preachers.
Meanwhile, tears and tributes have continued to trail Yar'Adua's demise, Acting President Goodluck Jonathan said he received news of the passage of President Umaru Yar'Adua with great shock and sadness.
"Nigeria has lost the jewel on its crown, and even the heavens mourn with our nation tonight," he said yesterday in Abuja.
In a statement issued by his Senior Special Assistant on Media and Publicity, Mr Ima Niboro, Jonathan described the death of the President as sad, unfortunate and regrettable.
"As individuals and as a nation, we prayed for the recovery of Mr President.  "But we take solace in the fact that the Almighty is the giver and taker of all life," he said.
The statement quoted the acting President as offering heartfelt condolences to President Yar'Adua's widow, Hajiya Turai Yar'Adua, the entire Yar'Adua family, the people of Katsina State and Nigerians both at home and the world over.
In his tribute, the National Chairman of the Peoples Democratic Party (PDP) Prince Vincent Ogbulafor expressed deep regret, sorrow and sadness over the demise of this great son of Africa", adding " one of the most glorious chapter in the history of Nigeria has suddenly drawn to a close".
In their reaction, the All Nigeria People Party (ANPP)  and the Conference of Nigerian Political Parties (CNPP) applauded Yar'Adua's insistence on the rule of law, transparency and accountability in governance.
Alhaji Balarabe Musa, CNPP National Chairman ,who is also the leader of PRP, said in Kaduna that "Nigeria has lost a leader who tried to entrench rule of law and electoral reforms".
He advised President Jonathan to continue with the good works of his predecessor toward strengthening the institutions of government and restore people's hope in the polity.
Meanwhile, APGA  condoled with Nigerians over the death of  President Umaru Yar'Adua, describing it as a great loss
The National Secretary of APGA, Alhaji Sani Shinkafi,  said that the party received the news of Yar' Adua's death with "great shock''.
He urged the new President, Dr Goodluck Jonathan to rise to the challenges of moving the nation forward.
In his reaction, the National Publicity Secretary of the Action Congress, Mr Lai Mohammed, commended the swearing in of President Goodluck Jonathan to succeed Yar Adua, describing it as ''a smooth transition''
'' We are glad that there has been a smooth transition as the acting president has been sworn in in line with the constitution. This has shown that Nigeria has towed the path of constitutionalism.''
Mohammed described the late Yar'Adua as a straightforward and candid personality who shocked members of his party by his admission that the electoral process which brought him into office was flawed.
Meanwhile, Former President Olusegun Obasanjo has expressed sadness over the death of President Umaru Yar'Adua.
Obasanjo said: "I received the news of Yar'Adua's death with heartfelt sorrow. "Our prayer is that God grants him repose and condole his family.''
The former President spoke during a stop-over on his way to Beijing.
In his reaction, former military President, Gen. Ibrahim Babangida, said that Yar'Ádua was great in death, just as he was graceful in his life time.
In a statement issued by his spokesman, Mr Kassim Afegbua, Babangida said that Yar'Adua battled death like a valiant man, adding, "he represented our daily struggle in life's bramble forest.''
Babangida said: "It is pathetic and utterly painful; every death brings with it tears and pain and sorrow of grief and discomfiture.
Also speaking, Senate President David Mark described the death of Yar'Adua as a monumental loss to the nation.
A statement signed by his Special Adviser on Media, Mr Kola Ologbondiyan, quoted Mark as saying that Yar'Adua left a legacy of selfless service that would be difficult to rival.
Victor Tew, Canice Amadi (Enugu), Friday Nwagbara (Calabar) with Agency reports
90% Of Money Laundered Via Real Estate, EFCC Reveals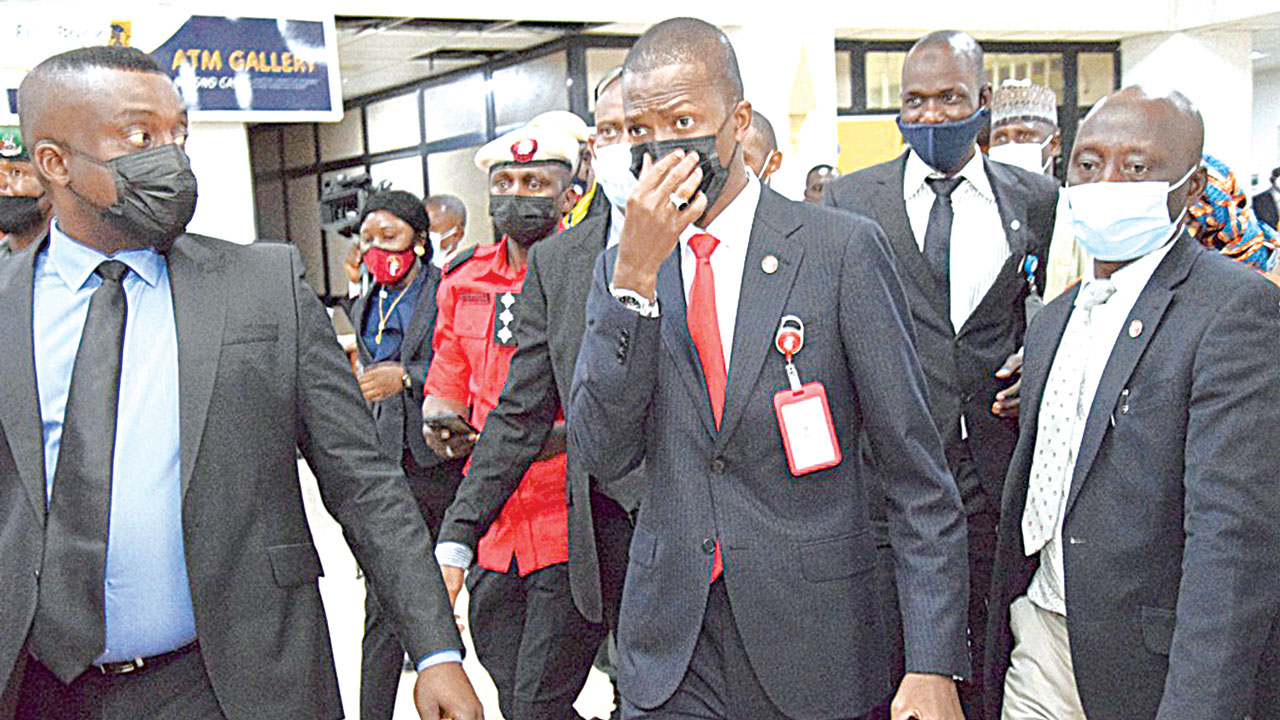 The Economic and Financial Crimes Commission (EFCC) says about 90 per cent of money laundering is done through the real estate sector.
The commission's Chairman, Abdulrasheed Bawa, stated this while featuring on Channels TV's Sunrise Daily, yesterday,
According to him, although the sector is monitored via the special control unit, more needed to be done.
According to Bawa, "One of the problems we have now is the real estate. 90 to 100 per cent of the resources are being laundered through the real estate."
He said there are so many issues involved, but that they were working with the National Assembly to stop what he called "the gate keepers" as there would be reduction in looting if there is no one to launder the money.
Bawa, the EFCC boss, gave an example of a minister who expressed interest in a $37.5million property a bank manager put up for sale.
He said, "The bank sent a vehicle to her house and in the first instance $20million was evacuated from her house.
"They paid a developer and a lawyer set up a special purpose vehicle, where the title documents were transferred into.
"And he (the lawyer) is posing as the owner of the property. You see the problem. This is just one of many; it is happening daily."
The EFCC chairman also revealed that he receives death threats often.
Asked to respond to President Muhammadu Buhari's frequent "Corruption is fighting back" expression, Bawa said he was in New York, USA, last week, when someone called to threaten him.
"Last week, I was in New York when a senior citizen received a phone call from somebody that is not even under investigation.
"The young man said, 'I am going to kill him (Bawa), I am going to kill him'.
"I get death threats. So, it is real. Corruption can fight back," he said.
On corruption in the civil service, he said there were a lot of gaps, especially in contracts processing, naming "emergency contracts" as one.
Bawa said, "A particular agency is notorious for that. They have turned all their contracts to emergency contracts."
However, he said, EFCC has strategies in place to check corruptions, one of which is "corruption risk assessments of MDAs".
According to him, "I have written to the minister and would soon commence the process of corruption risk assessments of all the parastatals and agencies under the Ministry of Petroleum Resources to look at their vulnerability to fraud and advise them accordingly."
Asked if the scope of corruption in the country overwhelms him, Bawa, the EFCC boss said, "Yes, and no."
We've Spent N9bn To Upgrade RSUTH, Wike Confirms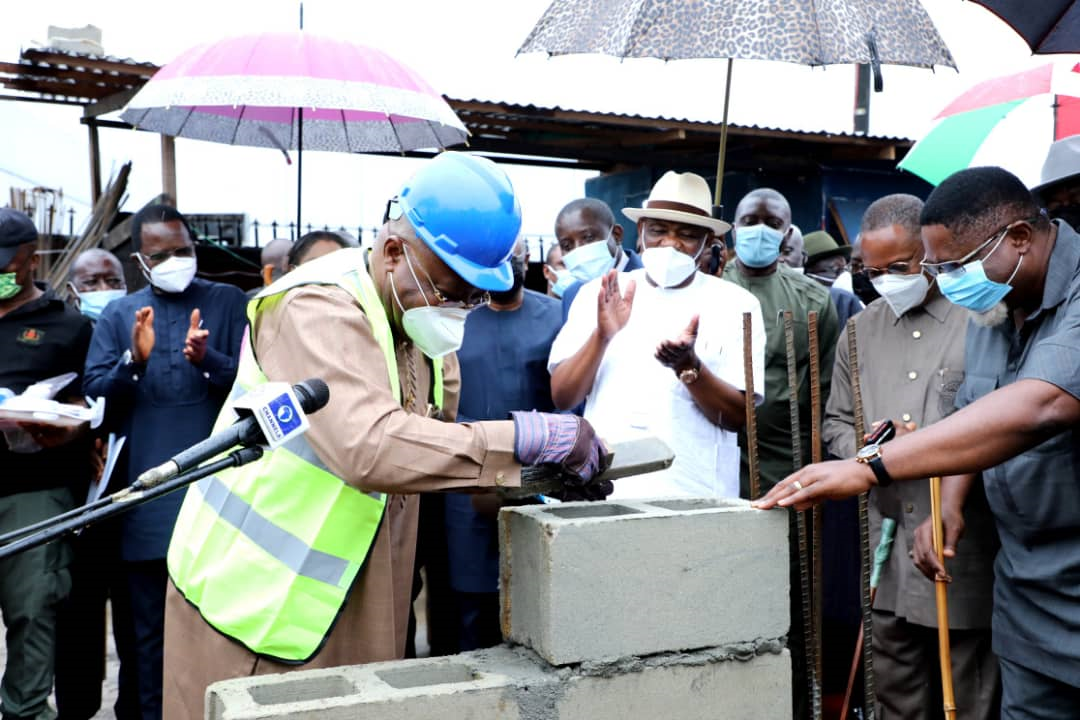 The Rivers State Governor, Chief Nyesom Wike, says his administration has spent N9billion in upgrading structures and installation of new equipment at the Rivers State University Teaching Hospital (RSUTH).
He said the fact that 40 per cent of the 2021 budget of the state is dedicated to provision of quality healthcare delivery was a further demonstration of the priority placed on the sector.
Wike made the explanation at the foundation laying ceremony for the construction of a Renal Centre at RSUTH, last Friday.
The governor said he made promise to Rivers people that the best would be provided to them in all sectors of the society within his capability because of the mandate they gave to him.
"As we came on here, I just looked around and I see the changes in this teaching hospital. I can say that we have put not less than N9billion in this teaching hospital.
"If you look at the budget, the health sector alone, what it's taking from the Rivers State Government is not less than 40 percent of the 2021 budget."
Speaking further, Wike said the state government cannot afford to implement free medical service programme in the present economic circumstance.
While dismissing the request for a subvention for RSUTH, Wike, however, commended the chief medical director and his team for their commitment to turnaround the fortunes of RSUTH.
"I have never seen anywhere that health services can be totally free. They're telling me that people who come here can't pay. I have never declared that this state is going to take over the health fees of anybody."
Also speaking, the former Minister of Transport, Dr. Abiye Sekibo, who performed the flag-off, noted that Wike's achievements in the health sector in particular, surpass what former governors of the state had done.
Sekibo said that the governor has given equal attention to every section of the health sector by providing complete health infrastructure that was positioning the state as a medical tourism destination in Nigeria.
Earlier, the Rivers State Commissioner for Health, Prof Princewill Chike, lauded Governor Nyesom Wike for his interest in the health of Rivers people.
He noted that the renal centre, when completed, would become another landmark development project in the health sector that would handle and manage all kidney-related ailments.
In his remarks, the Chief Medical Director of the Rivers State University Teaching Hospital, Dr. Friday Aaron, commended Wike for approving the renal centre.
Aaron explained that chronic kidney disease was a major burden globally with estimated 14 million cases in Nigeria.
According to him, over 240,000 of these cases require renal replacement therapy in the form of dialysis and renal transplant.
The CMD said the building that would house the centre was expected to be completed in six months and consists of two floors.
The ground floor, according to him, would house the haemodialysis unit with eight haemodialysis machines.
He further explained that the first floor of the centre would house the surgical component where most of the sophisticated equipment for kidney transplant would be installed.
Aaron said Wike has released the funds required to build, equip the centre as well as for the training of personnel locally and internationally.
Power Generation Falls 23% To 3,172MW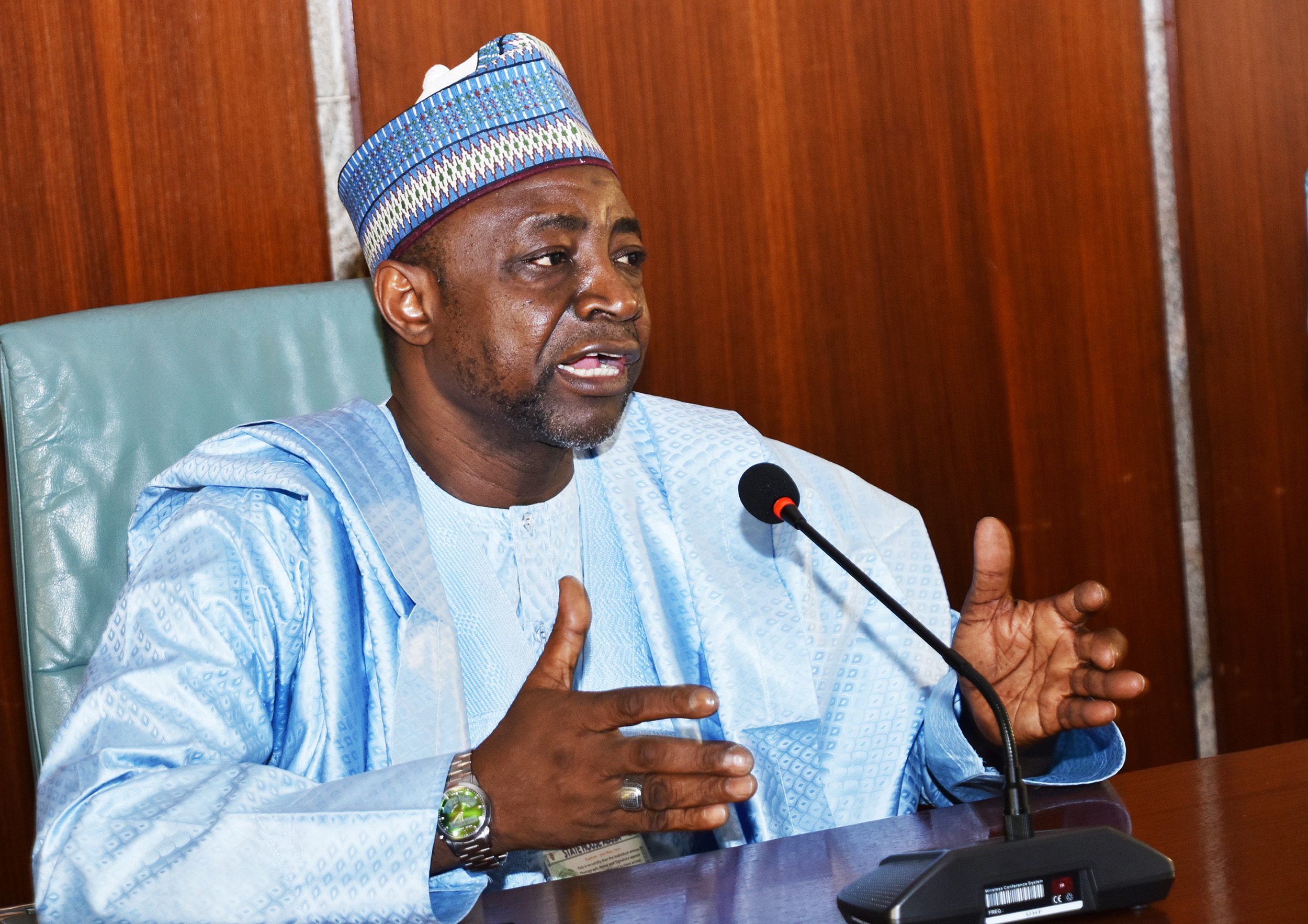 Power supply in Nigeria has failed to improve on last week's performance, as it fell by 22.9 per cent from peak generation of 4,115Megawatts on Saturday to 3,172.20MW as at 5pm, yesterday, latest data from the System Operator has shown.
According to the data, most power plants were operating far below capacity due to gas shortage with Olorunsogo Power Plant 335MW capacity; and Sapele Power Plant, 450MW capacity; completely out.
Egbin was generating at 746MW; Omoku 37.20; Omotosho (NIPP) at 105MW; while Afam was generating at 80MW.
The data showed that on the average power generation in the past seven days were 4,120.9MW on Sunday, June 6; 4,249.4 on Monday, June 7; 4,000.9MW on Tuesday, June 8; 3,720.7 on Wednesday, June 9; 3,517 on Thursday, June 10; 3,765MW on Friday, June 11; and 4,115MW on Saturday, June 12.
The International Oil Companies (IOCs), had last warned that despite Nigeria's huge gas reserves a lot needs to be done to attract investment to the sector to develop gas reserves to boost power generation in the country.
Speaking at the just concluded Nigeria International Petroleum Summit, the Chair, Shell Companies in Nigeria/MD SPDC, Osagie Okunbor, said with 203trillion Cubic Feet of gas reserves, what was needed in the country is to deliver projects that would produce the gas.
"The challenge is not just growing the reserves but in producing these reserves for the benefits of our country. Essentially growing the reserves and delivering on the production is a function of two or three elements.
"I like to see infrastructure that is required for the development of these resources at two levels. Soft infrastructure is often the one that is more important than and that is the one that is actually drives most of what you see at site."
"Soft infrastructure refers to the enabling environment and nothing pleases me as much seeing both the Senate President and the speaker of the house give very firm commitments about trying to pass the PIB this month.
"That is probably the big one of the enabling environment to provide the kind of stability we also need all sorts of other issues we need to that we have discussed severally in terms of sanctity of contract, stable policies and collaboration and I think we are well on our way there", he added.