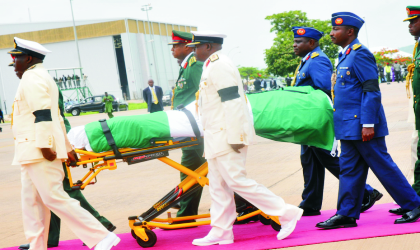 Following Nigerian President, Umaru Musa Yar'Adua's, death on Wednesday night at the age of 58, after a protracted illness, the  Federal Government, yesterday, announced seven days of national mourning and declared one-day public holiday.
The late president was laid to rest in his family home in Kastina State. Acting president Goodluck Jonathan has been sworn in as president.
In accordance with the Nigerian constitution, the acting president Goodluck Jonathan was, Thursday, sworn in as  president and Commander-in Chief of Nigerian Armed Forces at the council chamber of the Presidential Villa, Abuja by the Chief Justice of Nigeria, Justice Aloysius Katsina Alu at 9.20am.
The wife of the Acting President, Dame Patience Jonathan and Governors of Kwara, Bukola Saraki, Ogun, Otunba Gbenga Daniel, Nasarawa, Aliyu Akwe-Doma, Zamfara, Aliyu Shinkafi, Enugu, Sullivan Chime, Benue, Gabriel Suswam, Imo, Ikedi Ohakim and Oyo, Alao Akala witnessed the swearing-in ceremony.
Also at the ceremony were the Speaker of the House of Representatives, Hon. Dimeji Bankole, members of the National Assembly, Service Chiefs, as well as the Secretary to the Government of the Federation, Alhaji Yayale Ahmed.
Ministers, the Inspector-General of Police Ogbonna Onovo, PDP Chairman, Vincent Ogbulafor and members of the Diplomatic Corps were also in attendance.
Yar'Adua died from a protracted heart disease called acute pericarditis, the inflammation of the outer layer of the heart.
Yar'Adua came to power in 2007 elections which he himself acknowledged were flawed. The country's Supreme Court finally ruled in December 2008 that he could stay in office, dismissing objections lodged by rival candidates. This meant Yar'Adua became the first civilian leader in Nigeria to take over from another.
Even before he was elected, there were doubts about whether Yar'Adua had the physical strength to reform the most populous country in Africa.
His health problems that dated to the late 1990s when he was governor of his native Katsina state forced him to travel to a German hospital on several occasions.
 However, Nigerian Nobel prize winner, Wole Soyinka, regretted that politicians  handled Yar'Adua's illness in a disgraceful way.
"My feeling is one of resentment for those who used him as a mere instrument for their diabolical political gains," he said. "Yar'Adua should have been released from office ages ago to pay full attention to his health, but people who knew how ill he was refused to take the necessary steps towards preserving him in his last days as a human being. He was just used and I found it most disgusting."
American President Barack Obama said Yar'Adua would be remembered for his personal decency and integrity, his deep commitment to public service, and his passionate belief in the vast potential and bright future of Nigeria's 150 million people.
Indications that the ailing president may go the way of all mortals emerged last Thursday as he failed to turn up at  the mandatory Friday prayers, despite an invitation by leading Islamic preachers.
Meanwhile, tears and tributes have continued to trail Yar'Adua's demise, Acting President Goodluck Jonathan said he received news of the passage of President Umaru Yar'Adua with great shock and sadness.
"Nigeria has lost the jewel on its crown, and even the heavens mourn with our nation tonight," he said yesterday in Abuja.
In a statement issued by his Senior Special Assistant on Media and Publicity, Mr Ima Niboro, Jonathan described the death of the President as sad, unfortunate and regrettable.
"As individuals and as a nation, we prayed for the recovery of Mr President.  "But we take solace in the fact that the Almighty is the giver and taker of all life," he said.
The statement quoted the acting President as offering heartfelt condolences to President Yar'Adua's widow, Hajiya Turai Yar'Adua, the entire Yar'Adua family, the people of Katsina State and Nigerians both at home and the world over.
In his tribute, the National Chairman of the Peoples Democratic Party (PDP) Prince Vincent Ogbulafor expressed deep regret, sorrow and sadness over the demise of this great son of Africa", adding " one of the most glorious chapter in the history of Nigeria has suddenly drawn to a close".
In their reaction, the All Nigeria People Party (ANPP)  and the Conference of Nigerian Political Parties (CNPP) applauded Yar'Adua's insistence on the rule of law, transparency and accountability in governance.
Alhaji Balarabe Musa, CNPP National Chairman ,who is also the leader of PRP, said in Kaduna that "Nigeria has lost a leader who tried to entrench rule of law and electoral reforms".
He advised President Jonathan to continue with the good works of his predecessor toward strengthening the institutions of government and restore people's hope in the polity.
Meanwhile, APGA  condoled with Nigerians over the death of  President Umaru Yar'Adua, describing it as a great loss
The National Secretary of APGA, Alhaji Sani Shinkafi,  said that the party received the news of Yar' Adua's death with "great shock''.
He urged the new President, Dr Goodluck Jonathan to rise to the challenges of moving the nation forward.
In his reaction, the National Publicity Secretary of the Action Congress, Mr Lai Mohammed, commended the swearing in of President Goodluck Jonathan to succeed Yar Adua, describing it as ''a smooth transition''
'' We are glad that there has been a smooth transition as the acting president has been sworn in in line with the constitution. This has shown that Nigeria has towed the path of constitutionalism.''
Mohammed described the late Yar'Adua as a straightforward and candid personality who shocked members of his party by his admission that the electoral process which brought him into office was flawed.
Meanwhile, Former President Olusegun Obasanjo has expressed sadness over the death of President Umaru Yar'Adua.
Obasanjo said: "I received the news of Yar'Adua's death with heartfelt sorrow. "Our prayer is that God grants him repose and condole his family.''
The former President spoke during a stop-over on his way to Beijing.
In his reaction, former military President, Gen. Ibrahim Babangida, said that Yar'Ádua was great in death, just as he was graceful in his life time.
In a statement issued by his spokesman, Mr Kassim Afegbua, Babangida said that Yar'Adua battled death like a valiant man, adding, "he represented our daily struggle in life's bramble forest.''
Babangida said: "It is pathetic and utterly painful; every death brings with it tears and pain and sorrow of grief and discomfiture.
Also speaking, Senate President David Mark described the death of Yar'Adua as a monumental loss to the nation.
A statement signed by his Special Adviser on Media, Mr Kola Ologbondiyan, quoted Mark as saying that Yar'Adua left a legacy of selfless service that would be difficult to rival.
Victor Tew, Canice Amadi (Enugu), Friday Nwagbara (Calabar) with Agency reports