A Case For Abused Children
It is unfortunate that in spite of the noise and uproar against the abuse of children, this evil still persists in our society. Government and Non-Governmental organisations have been shouting themselves hoarse in protest yet the vice is condoned.
A fundamental problem is that most people do not even have a full picture of what constitutes child abuse, therefore, it is futile to fight a phenomenon you do not know. Some people see child abuse as physical  alone, but not all child abuse is obvious. While physical abuse might be the most visible, other types of abuse such as emotional abuse or child neglect also leave deep, long lasting scars.
Some just see child abuse as physical mistreatment of a child but it can be physical or psychological/emotional mistreatment of children. It is the mistreatment or any act or series of acts of commission or omission that results in harm, potential harm, or threat of harm to a child. Unfortunately, most child abuse occurs in the home, with some occurring in schools and other places the child interacts.
According to the Journal of Child Abuse and Neglect, child abuse is "any recent act or failure to act on the part of a parent or caretaker which results in death, serious physical or emotional harm, sexual abuse or exploitation, an act or failure to act which presents an imminent risk of serious harm".
For better understanding, neglect is where the responsible adult fails to provide adequately for various needs, including physical, emotional, educational, or medical. While physical abuse is physical aggression directed at a child by an adult. It can involve striking, choking, or shaking a child.
In our culture, a line is not drawn between child discipline and abuse. Some cultural norms though acceptable, constitute abuse. Many abusive parents insist that their actions are forms of discipline. The point of disciplining a child is to teach right from wrong and not to destroy the child and make him live in fear. Parents who are physically abusive most times, feel their children need to fear them in order to behave, so they use physical abuse to make them "behave", but what the child learns in fact is to avoid being hit (punishment) and not how to behave or grow as an individual.
Out of all the possible forms of abuse, emotional abuse is the most difficult form of abuse to define, but it is the commonest and highly devastating. It could include name calling, ridicule, degradation, excessive criticism and humiliation. Childhood verbal abuse has a strong association with anger and hostility than any other type of abuse.
The earlier abused children get help, the greater chance they have to heal from their abuse and not perpetuate the cycle. It is very important to act fast because child abuse plunges the child into a vicious circle because most abused children have greater propensity of becoming abusers themselves, worse still they become depressed or have personality disorder.
As earlier mentioned, it is shameful that most forms of abuse take place in the home. Most sexual abuse offenders are people who are acquainted with the victims, this is why parents should always be alert. Some parents are distanced from their children that they cannot hold fruitful discussions. Win the confidence of your children so they can talk to you freely. Take what they say to you seriously and act.
Parents should be alert and probe excessive withdrawal, fearfulness, anxiety and display or interest in sexual acts inappropriate to his or her age. Have realistic expectations of what children can handle or do at certain ages to avoid getting angry at them. Also learn to control your emotions and adopt appropriate disciplinary technique and set clear boundaries for your child. Where a child confides in you, do not show anger or disgust so the child can tell the whole truth, try to remain calm. Most importantly, report and tackle abusers so as to serve as deterrent to others.
Mercy Oke-Chinda
32,791 Cases Pending At Rivers Courts, CJ Reveals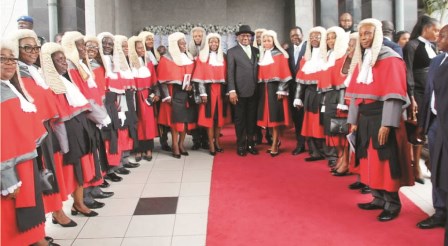 About 32,791 cases instituted in 2018 are said to be pending in various courts in Rivers State.
The state Chief Judge, Justice Adanma Inyie Iyayi-Lamikanra disclosed this while speaking at the special court session held at the state Judiciary auditorium to herald the opening of the 2019/2020 legal year in Port Harcourt, last Friday.
The state chief judge while giving the breakdown of the cases said, the 32,791 cases pending were among the 46,618 cases received from the October 31, 2018 to November 8, 2019, adding that a total of 13,827 cases were filed, while 10,562 cases were disposed.
Iyayi-Lamikanra added that a total of 44,457 cases were brought forward from the 2018/2019 legal year within the period under review.
She also disclosed that out of the number, the magistrate courts received the highest with 38,460 cases, high courts got 13,483, Customary Court of Appeal 1,233, customary courts 3,011, juvenile 1,233, and sanitation court got 1,680 while revenue court has the lowest recorded cases of 70 within the period under review.
Iyayi-Lamikanra also revealed that the state Judiciary generated a total sum of N379,838,535,75 from all the courts, including the customary courts within the period under review, adding that the figure represents 47 per cent increase from last year which, she said, was remarkable.
She described the legal year's special court session as an annual ritual in the legal profession that provides for critique and stock-staking of the activities of the preceding year, with a view to improving on the administration of justice across the state by key players and critical actors in the legal profession.
"This annual ritual provides for stock-taking and examinations for the last legal year for the administration of justice in the state.
"We have set up Judiciary Information Technology Committee policy in compliance with the directive by the National Judicial Commission (NJC)," she stated.
She used the opportunity to thank the state Governor, Chief Nyesom Wike for the financial support given to the state Judiciary as well as provision of vehicles to both judges and magistrates in the state.
Also speaking, the state Attorney General and Commissioner for Justice, Dr Adangor urged judges and magistrates to dispense justice without favour and fear, adding that both the rich and the poor deserve equal justice, even as he commended the state chief executive for approving and releasing funds to clear the arrears of allowances owed lawyers at the state Ministry of Justice since 2008.
In his contribution, a Senior Advocate of Nigeria (SAN), O.C.J. Okocha, who spoke for members of senior bar in the state, called for total independence of the Judicial arm of government, and recommended that each state should be allowed to determine the number of judges to be appointed.
NSCDC Convicts 76 In Rivers
The National Security and Civil Defence Corps (NSCDC) in Rivers State says it has convicted not fewer than 76 persons in the past four years.
The figures were made public by the Public Relations Officer of the corps in the state, Akin Oguntuase in a chat with The Tide, in Port Harcourt.
Oguntuase said over a thousand cases had been reported in the past years, but that those convicted were now serving different prison terms.
He explained that, "prosecution is different from conviction, and I can assure you that we have recorded huge success in the past five years in checking pipeline vandalism".
Oguntuase said among the states in the federation Rivers State has the highest number of oil installation vandalisation and bunkering issues.
He, however, disclosed that matters relating to vandalisation of power facilities, and other government properties are low except few cases of rail line vandalisation.
Commenting on the killing of two of its men at Alakiri Flow Station, penultimate week, Oguntuase stated that investigations have commenced on the matter.
He decried the incessant attacks on its men, especially those protecting oil facilities, stating that new measures are evolved to reduce fatalities.
The Rivers State Civil Defense spokesman nonetheless dismissed claims by some members of the public that its men were compromising and allowing illegal refined products into the state.
He said, "As far as I am concerned, none of our men has been caught in such act, because once we get such matter, such officer will face the music, and maybe dismissed if found guilty."
N16.4m Fraud: Court Discharges Ex-IGP, CP
Justice Silvanus Oriji of the FCT High Court, Apo, yesterday discharged former Inspector-General of Police (IGP), Sunday Ehindero, and Commissioner of Police, Budget, John Obaniyi, of N16.4 million fraud charge.
Ehindero and Obaniyi, a Commissioner of Police in charge of finance and budget at the Force headquarters, were arraigned on May 10, 2018, by the Independent Corrupt Practices and Other Related Offences Commission (ICPC) .
Delivering judgment, Justice Oriji held that the prosecution failed to establish a prima facie case against the defendants and failed to prove that they converted the said interest generated to their personal use.
According to the judge, the investigation officer, a prosecution witness, did not discredit the claim of the defendants that the interest generated from N500 million deposited in fixed deposit  accounts was used for operational purposes.
"I therefore uphold the defendants' no case submission.The defendants are hereby discharged," he said.
At the close of the prosecution's case, the Counsel to Ehindero, Kelvin Omoraw, and Samuel Odariko, representing Obaniyi, had filed a no-case submission.
The ICPC had accused the former IGP and Obaniyi of misappropriating the sum of N557 million donated by the Bayelsa Government to the Nigerian Police Force for purchase arms and ammunition.
The prosecution alleged that the two defendants used their positions to divert N500 million out of the N557 million into separate fixed deposit accounts belonging to them.
The N500million placed in fixed deposits, according to the anti-corruption commission, yielded N16.4 million interest, which they were accused of converting to personal use.