Groans Of Gushing Greed …That Northern Reps' Threat To Jonathan
Since penultimate Tuesday, when, Vice President Goodluck Jonathan assumed office as Acting President and Commander-In-Chief of the Armed Forces of the Federal Republic of Nigeria, the hitherto edgy citizenry, that eventually heaved a sigh of relief over the nation-saving resolution of the National Assembly, have had to endure countless repulsive vituperations, in the name of legal, even illegal interpretations of the law makers' action.
Frankly, an issue like the replacement of an ailing President, who left his presidential duties, since November, last year, for a medical vacation in Saudi Arabia is a public issue deserving public discourse. It is even more so, when, the process for the change of guides was slightly different from what the 1999 constitution clearly states in both sections 144 and 145 of the same body of laws.
Instinctively, were the constitution to be followed strictly as contained in either sections, what obtains now would not be so much different, but even worse for apologists of President Umaru Musa Yar'Adua, who had repeatedly insisted that the Presidential seat be left vacant, exercise of exclusive presidential powers stay stagnant and pressing national needs wait for as long as his medical vacation lasts.
Instead, constitutionally speaking, an outright impeachment was canvassed by many well-informed Nigerians, since not even members of the Federal Cabinet had been allowed to see Yar'Adua, and state for sure, the true level of incapacitation, whether temporary or permanent.
In the midst of those arguments, what the National Assembly eventually resolved, and which they hinged on the rule of necessity, was, by all standards, a soft-landing for the ailing President and a bold attempt to save Nigeria from another protracted constitutional crisis and political impasse.
Issues of these kind, quite frankly, should naturally ignite public debates, afterall as the sages often held, society owes its knowledge not to those who have agreed but to those who have differed, for, in such, do inventions and hidden wisdom come to light.
But in exercising that right to free speech and hold an opinion, some Nigerians under the aegis of the Northern caucus of the House of Representatives, Methinks crossed the line, when they threatened to fight Acting President Goodluck Jonathan, if he ventured to dissolve the Executive Council of the Federation, (EXOF), often also called the Federal Executive Council (FEC) a body of ministers assembled by the ailing President, shortly after he assumed office in May 2007.
Rising from a meeting in the abode of a Northern member of the House of Representatives, in Abuja, last week Wednesday, the law makers, who, themselves, were part of the National Assembly that endorsed the resolution to have Dr Jonathan  assume office as Acting President turned around place strange limits, beyond which Jonathan must not thread, if he is not to incur their wrath. One of such is an 'order' to Jonathan to retain all ministers appointed by his boss, whether they are doing well or not.
Their view came after several others, particularly, one by a set of politicians, also of the Northern extraction  insisted that the North must be allowed to complete its eight-year-term as President, since Chief Olusegun Obasanjo, a southerner, from the South-Western geo-political zone had had the South's turn of eight years.
Annoying, as these public comments are to many well-meaning Nigerians, I also have condoned them because, it has, for ages, remained my sacred vow to see others' views, no matter how unpalatable, as an exercise of an individual's right to hold and voice an opinion, as the constitution entitles such individual to do.
But when, in exercise of such a right or rights, an individual or individuals wear the toga of political ambulance – chasers, willingly buoyed by amentia, play God, and seek to impose their  views on a nation, in such a manner depicting apparent amblyopia, reason dictates that such fellow citizen or citizens be saved from themselves and from the criminal folly of brewing inter-tribal altercations, not healthy for the sustenance of the nation's fragile unity.
For this reason alone, will I ask the following questions? Which section of the Nigerian constitution forbids a sitting president to sack Ministers that he either appointed or inherited? If none, why then, should anyone write a fresh constitution without the notice of all Nigerians? By the way, which section of the 1999 Constitution of the Federal Republic of Nigeria divides the country into North and South? Where do they place the Niger Delta, an area where salaries and other freebies to the Ministers,  now being dressed as untouchables, will be sourced?
I ask because it is gradually being considered acceptable for some Northern elements to wake-up from the wrong side of their large beds, crafted with Niger Delta resources, to dictate where and how Nigeria must go and simply have all others fall in line.
Perhaps, now is the time to tell those who care to listen that an incunabulum of the kind now being employed to test the political waters, sounds like broken record to the ear because not only has it been said repeatedly, it smacks of political evection that should be ignored. But should I?
When the National Assembly reasoned that even if there a was serving Vice President, that there still existed, a huge gulf in the exercise of exclusive Presidential powers which only an Acting President or a Substantive President could exercise, and accordingly resolved, unanimously that Vice President Goodluck Jonathan filled the void, where were the members of the Northern caucus of the House? Why did they not, there and then, spell out the 'do's and don't' of an Acting President as contained in their 'new' constitution as different from ours?
Their seeming ambivalence presents, in my view, features of amanuenses, not merely taking dictations from an unseen voice but also playing-out a script authored by a masquerade or more. That is not what Nigeria needs at this trying time.
For the avoidance of doubt, it was not a plot by the Acting President that his Boss be ill, so that he could act. He instead, did everything to defend Yar'Adua's absence, up to a point that even protesting civil society groups, led by Nobel Laurete, Prof. Wole Soyinka threatened to attack the loyal Vice President, and reluctant President in waiting.
Not only that,  even when, it became too obvious that his studied defence of his boss was not assuaging the pains of disappointed Nigerians, Jonathan was persuasive in preaching patience, unity and peace, as he led countless prayer sessions for Yar'Adua's quick recovery.
Jonathan's ascendancy to the presidential seat was reluctant, but ultimately powered by patriotism, unwavering nationalism and the need to ensure the success of his Boss's Seven-Point Agenda, a development plan into which the Acting President has put virtually everything, his soul, body and time.  And still willing to do more.
That is why it must be said that if in defence of that same agenda, Acting President Jonathan finds a clog in the wheel of progress, be it a Northern or Southern cabinet Minister or any other for that matter, he should not hesitate to remove,  for the interest of all and the well-being of the nation. Enough is indeed enough.
Happily, that Jonathan has, thus far, carried out the functions of his new position of thrust indubitably is for all to see and so, nothing should restrain him from living out the dreams of the joint Yar'Adua/Jonathan Presidential ticket by  which both Yar'Adua and Jonathan earned majority  votes of Nigerians. Infact, the impression needs not be created that Jonathan was appointed by Yar'Adua, along with all other ministers after,  the elections that brought them to  power. Instead, Jonathan is a joint heir to the throne sorry presidency and for which singular reason, many Nigerians, particularly those of the deprived Niger Delta region and the South/South geo-political zone lined-up behind the Yar'Adua/Jonathan joint ticket to achieve eventual victory.
That is why such inflammatory statements, aimed at everything except unity and progress of the country must be discouraged.
But I have a worry. Who will tell the so-called Northern elements, who are, today, counting presidential years, that should Nigerians join in such tenure census, Jonathan or any other Niger Deltan, should, infact, enjoy another four years, in addition to the "Acting one and half-or-so," in case Yar'Adua stays far longer than their joint  tenure, in Saudi Arabia?
My Agony is that very few will willingly voice such truths because in Nigerian politics, most are moved to action not so much by their intellect or reason, but by their desires and appetites, and so, have been sufficiently cowed into believing that the North alone has those freebies to give.
That being so, let us, even in our silence, demonstrate our support, loyalty and respect for the office of President, as the Chief Executive, on whose table the buck stops. That, without doubt includes non-performing ministers. Or doesn't it? And since we are agreed that it is the prerogative of a President and Commander-In-Chief, whether substantive or acting, to decide the composition of his team, to question Acting President Jonathan's authority in that direction, Methinks is to stretch the individual's right to free speech, a little too far. And should be checked. That is the truth.
Again, RSG Begins Unveiling, Flag-Off Of Nine Key Projects, 'Morrow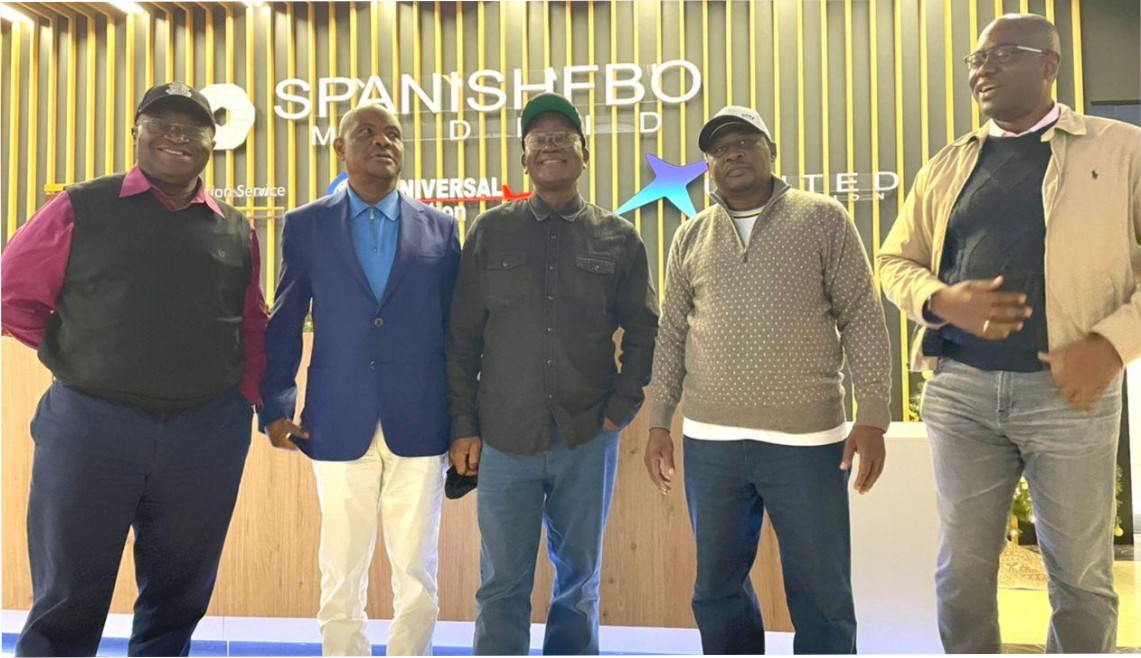 The Rivers State Government has rolled out the drums to herald another phase of official commissioning of key projects embarked upon by the Governor Nyesom Wike-led administration in the state.
A statement by the state government said that the process is in continuation of the commissioning and flag-off of projects by Governor Nyesom Wike.
It indicated that Rumuola flyover would be commissioned tomorrow, while the GRA flyover would be commissioned on Saturday.
The also stated that the government would commission the Ezimgbu Road on Monday, December 13, 2021; with another commissioning of Tombia Road Extension scheduled for Tuesday, December 14, 2021.
The statement said that the governor would commission the Safe Home, Borikiri, Port Harcourt on Wednesday, December 15; while on Thursday, December 16, 2021, the governor would commission the Odokwu internal roads.
Also, the governor would continue the flag-off of key infrastructure projects with Chokocho-Igbodo Road slated for Monday, December 20, 2021; Oyigbo-Okoloma Road on Wednesday, December 22, 2021; and Magistrates' Court Complex, Port Harcourt on Thursday, December 23, 2021.
Wike Justifies N7bn Libel Suit Against THISDAY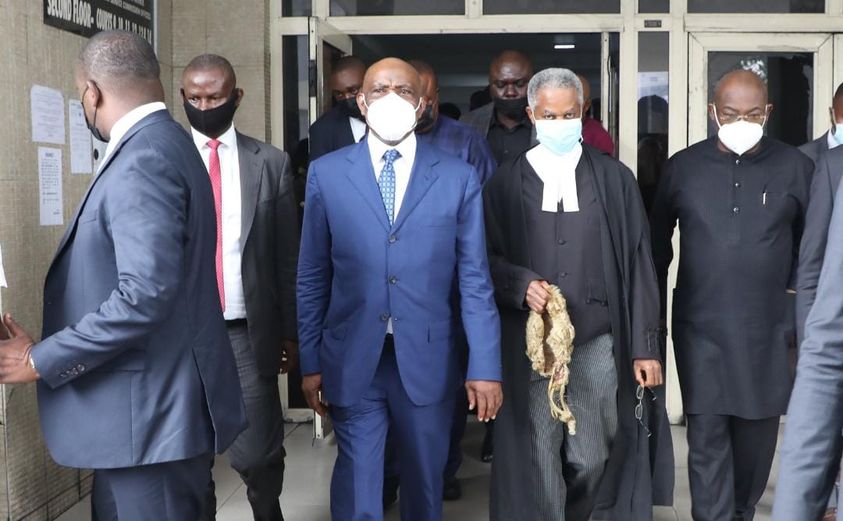 Rivers State Governor, Chief Nyesom Wike, yesterday, appeared before the state High Court in Port Harcourt, to testify as a witness in an N7billion libel suit against THISDAY Newspaper.
Wike said he was in court to seek justice and clear his name as a person from the malicious publication by THISDAY Newspaper, which portrayed him as deceitful, untrustworthy person, who exerts subterranean influences on judicial matters and over court sittings in Port Harcourt.
It would be recalled that Wike had in August, 2020, slammed a N7billion suit being damages for libel written and published in THISDAY's Tuesday, June 23, 2020 edition captioned, "With Wike, Obaseki Meets His PDP's Waterloo; Almost."
The defendants in the suit are THISDAY Newspapers Limited, Leaders and Company Limited, Davidson Iriekpan, Chuks Okocha and Adibe Emenyonu.
Wike, while testifying as witness in suit No. PHC/1505/CS/2020 before the court presided over by Justice A. Enebeli, asserted that the defendants maliciously and falsely portrayed him as an unreliable friend/person.
"When you say somebody cannot be trusted; that cannot be a fair comment. When you say somebody is influencing the Judiciary, that cannot be a fair comment", the governor said.
In his written statement on oath, Wike had stated that the defendants had accused him of influencing the decision of the court sitting in Port Harcourt that granted an injunction restraining Godwin Obaseki from participating in the primaries of Peoples Democratic Party (PDP) in Edo State in 2020.
He stated that the defendants maliciously accused him of undemocratically exerting influence on the primaries process of PDP in Edo State in aid of his ally, Omoregie Ogbeide-Ihama, who was the beneficiary of the court order restraining Obaseki from participating in the PDP primaries.
The governor, who told the court that he was not even aware of the aforementioned suit by Ogbeide-Ihama against Obaseki, said the publication was reckless, false and without regards for the truth.
According to him, contrary to well-known journalistic tradition and practices, the defendants did not investigate properly to ensure the information they relied on was accurate.
"They did not seek to verify the facts from me or in any manner oblige me with the opportunity to state my own side of the story before proceeding to make the false publication" the governor argued.
Wike stated that the defendants further denigrated him before the entire world as a fake democrat, who engages in meddling in the internal affairs of All Progressives Congress (APC) in order to get at his political foe, Chibuike Amaechi.
The governor explained that he was not a member of the APC and has had no hand in the internal crisis which has bedevilled the party both in Rivers State and all over Nigeria.
"By the letter of Messrs E.C. Ukala and Co., Solicitors, under the hand of Emmanuel C. Ukala, SAN, dated 23rd June, 2020, the defendants were given opportunity to retract, and recant the publication as well as to offer apology for the false publication but the defendants spurned the opportunity and ignored the letter completely."
The governor, while responding to claim by lawyer to the defendants, Turudu Ede, SAN, that the essence of the lawsuit was to intimidate and harass his clients, said the whole essence of the suit was to get justice and clear his name as a man of substantial character, honour and repute.
"The essence of the suit is to get justice since they (defendants) refused to retract the publication or apologise. So, I sued them to clear my name."
Speaking to journalists outside the court, one of the lawyers to Wike, Mr. Mark Agwu said his client was in court to seek legal redress.
"To challenge him as a person, it means you have made him untrustworthy, a deceit, a cheat, an influencer of the court, because the publication they made was that he had a role to play in influencing the outcome of that Federal High Court case. Nobody will take that lightly, and especially for a man who believes in the rule of law", Agwu added.
The court adjourned the matter for further hearing to 12th, 13th and 14th of January, 2022.
$130m Fraud: Rivers Sues Saipem SPA, Saipem Contracting Firm, Others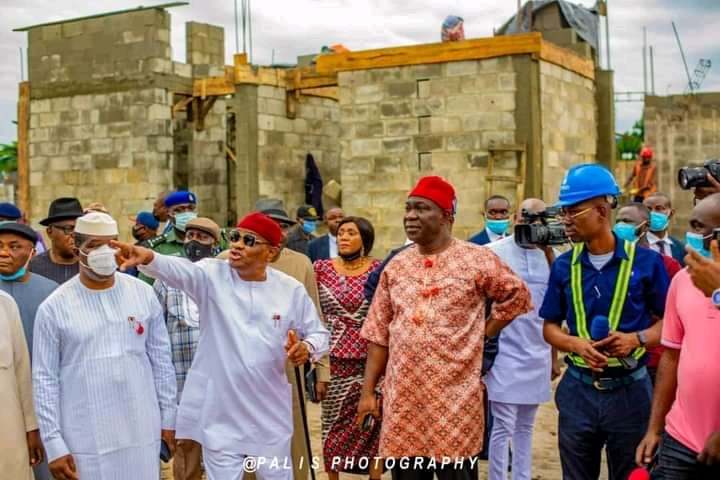 The Rivers State Government has charged two construction firms, Saipem SPA and Saipem Contracting Nigeria Ltd, to court over an alleged conspiracy to cheat and with intent to defraud the state of the sum of $130million, being advanced payment for the construction of the OCGT power plant in Port Harcourt.
In a 16-count criminal charge filed by the Director of Public Prosecution, C.F. Amadi for the Rivers State Attorney General, the state alleged that after collecting the said sum as advanced payment between 2011 and 2018, the defendants have not kept their obligation under the contract.
Others charged alongside the companies were Walter Peviana; Kelechi Sinteh Chinakwe; Giandomenico Zingali; Vitto Testaguzza and Davide Anelli, who are directors and officers of the companies.
The defendants are charged with various offences ranging from conspiracy, cheating and obtaining credit by false pretence, contrary to Section 518 (6) and (7) and punishable under Section 518 of the Criminal Code, Cap 37 Vol. 2 Laws of Rivers State of Nigeria, 1999, section 419A and punishable under Section 419 (A) (1) (b) of the Criminal Code, Cap 37 Vol. 2 Laws of Rivers State, amongst others.
Already, the Rivers State Government has issued a fiat to the law firm of Godwin Obla (SAN) to prosecute the matter before the state High court.
The defendants are equally charged for the offence of false Statements by Officials of Companies contrary to and punishable under Section 436 (b).
The prosecution specifically accused the defendants of obtaining credit of $130million by false pretences or other fraud contrary to Section 419A and punishable under Section 419 (A) (1) (b); obtaining credit of $20,467,942.00 by false pretences or other fraud contrary to Section 419A and punishable under Section 419 (A) (1) (b), obtaining credit of N7,000,000,000.00 only by false pretences or other fraud contrary to Section 419A and punishable under Section 419 (A) (1) (b).
They are charged for obtaining credit of N318,640,173.54, by false pretences or other fraud contrary to Section 419A and punishable under Section 419 (A) (1) (b); attempt to cheat $97million contrary to Section 508 and punishable under Section 509; attempt to cheat $15million contrary to Section 508 and punishable under Section 509; conspiracy to receive a credit of $97million by false pretences contrary to Section 518 (6) and punishable under Section 518; cheating $11million contrary to Section 421 and punishable under Section 421; cheating contrary to Section 421 and punishable under Section 421; cheating N110, 097, 416.51 contrary to Section 421 and punishable under Section 421; cheating by collecting sums attributable to shared facilities already paid for in AFAM Phase I in AFAM Phase II contrary to Section 421 and punishable under Section 421.
Obtaining N20, 467, 942 contrary to Section 421 and punishable under Section 421; obtaining credit of $60,168,936.00 by false pretences or other fraud, contrary to Section 419A and punishable under Section 419 (A) (1) (b); obtaining credit of $1,512,034.00 by false pretences or other fraud contrary to Section 419A and punishable under Section 419 (A) (1) (b) all of the Criminal Code Law of Rivers State, Cap 37 Vol. 2 Laws of Rivers State of Nigeria 1999.
According to the Proof of Evidence attached to the charge and the statement made by the Head, Power Generation/Mechanical of the Rivers State Ministry of Power, one Mr Temple Azunda M., the facts constituting the case in hand are as follows:
Saipem SPA and Saipem Contracting Nigeria Limited and other officers of the duo, herein the Defendants, are Italian companies which services have been retained by the Rivers State Government, herein RSG, in several projects, prominent amongst which is the AFAM Phase II Power Plant Project.
By an initial tripartite agreement made on the January 20, 2010, the RSG under the auspices of the Rivers State Ministry of Power entered a contract with Saipem Contracting Nigeria Limited, Saipem SPA for the construction of the OGCT power plant in Port Harcourt at a total cost of $119million consequent upon which the Rivers State Government made advance payments, in instalments, to Saipem Contracting Nigeria Ltd and Saipem SPA amounting in total to a sum of $130million in all which the Defendants have acknowledged receipt of.
The Defendants were to be given an initial mobilization of 20per cent of the total contract sum which the RSG paid.
It was part of the initial agreement – and indeed a condition sine qua non – that, to access the 2nd tranche of payment of 25per cent from the Rivers State Government, the Defendants would mandatorily have installed the Gas Turbine into the foundations as referenced in ATTACHMENT 1 to VO 007 which states that:
CONTRACTOR shall be entitled to a payment corresponding to 20per cent of the VO No. 007 LS PRICE upon mobilisation to site and commencement of bush clearing activities at SITE.
Upon commencement of bush clearing activities at the site, the contractor shall issue the invoice relevant to the above payment and the owner shall pay such invoice within 14 days from its issuance.
The parties agree that no deduction for recovery of advance payment shall apply on the payment due to the contractor for invoices issued by the contractor in accordance with this paragraph.