UNIPORT: That Protest For VC's Appointment
About 10 days ago, staff and students of the University of Port Harcourt (UNIPORT) who are of Ikwerre extraction disrupted all academic, business and social activities of that institution in protest against what they perceived to be a plot by the university's Governing Council to prevent their kinsmen from contesting the position of vice chancellor of that institution.
  During this protest, they were said to have been joined by members of youth bodies of Ikwerre ethnic nationality with whom they barricaded the busy East-West Road axis of the university chanting war songs. They were obviously protesting the advertisement in some national dailies two weeks prior, for the position of Vice Chancellor, and particularly the requirement that all those interested in contesting for the post must be professors with not less than eight years experience.
  Also they were disatisfied and  further aggrieved that their hope of having an Ikwerre indigene replace  the incumbent VC, Professor Don Baridam, at the expiration of his tenure, in June this year, may come to naught.
  We gathered that the protesters, apparently not done with their rampaging within and around the university community, a few days later, carried their protest to Government House, Port Harcourt, though in a more peaceful manner.
  Their main grouse was that in the 35 years existence of the university, no Ikwerre man has been appointed as VC even when the institution is situated on Ikwerre soil, whereas the other ethnic groups in the state, according to them, have had their turns at occupying this office. The institution's Governing Council, they suspect, is using the eight years professorial policy to scheme out Ikwerres from the contest, knowing that all the Ikwerre professors possess less than this requirement.
  While The Tide is not against the demand of Ikwerres, or any other ethnic group for that matter, to have one of their own occupy an exalted position like the VC's, we insist that such demands should be based on stipulated rules. UNIPORT is a federal institution where anybody is entitled to aspire for whatever office based on already established rules. And if for any reason (s), anybody or group feels short-changed or suspects any foul play, there are more civilized ways of expressing grievances to the appropriate authorities which, of course, includes seeking legal redress rather than resorting to street protests that can easily be hijacked by hoodlums to cause public mayhem.
  We also believe that expressing grievances through such violent methods is even counter- productive to the cause being pursued as it is capable of rousing suspicion towards a possible hidden agenda. What's more, the said protest is capable of sending the wrong message to an already gullible populace to think that a people on whose land virtually all the tertiary institutions in the state are situated should be agitating against a mere eight-year minimum professorial requirement when in fact they should have been the ones asking for the raising of the requirements. To be sure, people are wont to wonder why after 35 years on Ikwerre land, UNIPORT is not already awash with Ikwerre professors of more than eight years standing, including those who would have relocated from other universities, both local and foreign.
  Perhaps, the Ikwerres embarked on their protest following experiences in some other universities where groups or even states agitated for their sons and daughters to be appointed as vice chancellors. But while our Ikwerre brethren are seeing the eight years minimum requirement as being on the high side, a certain group which is routing for a particular vice chancellorship candidate at the Ahmadu Bello University, Zaria, is insisting that since "the Federal Ministry of Education stipulated a 10-year professorial qualification," such must be strictly followed. Even so, their protest came in the form of a petition against the ABU Governing Council and certainly not as a disruptive street demonstration.
  If the present ranks of Ikwerre lecturers in UNIPORT cannot boast of an eligible VC candidate based on the Governing Council's stipulated requirements, all that will be expected of them is to exercise patience. After all, there is no indication, as yet, to suggest that the Federal Government wishes to close down or relocate the institution. Whoever emerges VC now has a maximum of two tenures of eight years at the expiration of which the aggrieved Ikwerre professors will have been more eligible to contest even if the authorities decide to raise the minimum qualification above the now controversial eight years.
  Just as we think that it  is unnecessary for groups to begin to agitate for laid down rules to be bent in order to serve their purpose, we also wish to state that it is high time the Federal Ministry of Education and its subordinate agency, the National Universities Commission (NUC) insisted on having the best quality appointment of VCs in all universities irrespective of sex, state of origin, ethnicity, religion or whatever.
The most paramount consideration The Tide believes, ought to be merit, and nothing more.
As New Rivers LG Chairmen Assume Office…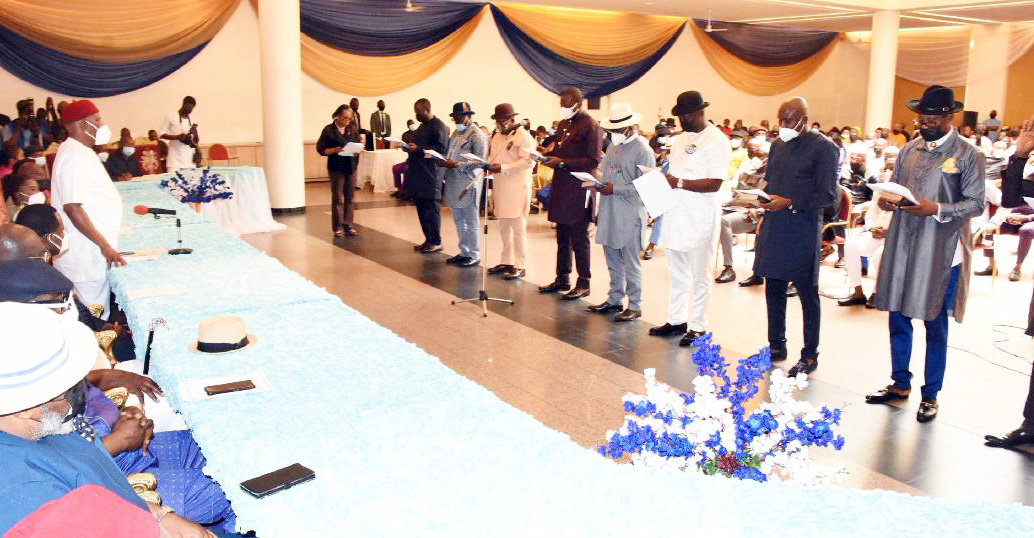 The 23 newly elected chairmen of local government councils in Rivers State were inaugurated last Thursday, June 17, 2021 at the Government House, Port Harcourt, by the Governor, Chief Nyesom Wike. The swearing-in ceremony was a follow-up to their victory on April 17, 2021 local government poll conducted by Justice George Omereji-led Rivers State Independent Electoral Commission (RSIEC).
The governor instructed the chairmen to cease from requesting loans from any financial institutions without approval from the state government. According to him, the warning had become necessary to curb the unbridle desire of some council chairmen to access money without a development plan.
"Don't go and borrow money without the state government's approval. Some of you tried it last time and started with your blackmail, saying, help us, we are finished. You have no authority to go and borrow money. Even we as state government, before we go and borrow money, we get approval from the Debt Management Office. No bank will even give us. Before you borrow money, the state must know what you want to use it for, and how you will pay it back, so that others who are coming will not suffer because of your indebtedness."
Wike urged the council chairmen to avoid friction and conflicts with the legislative arm of the councils by working in harmony with the councillors and security agencies to create the right environment for development to occur. He advised the chairmen to pay sufficient attention to issues of security to prevent probable security infringements in their councils. He specifically urged them to establish a strong working relationship with the Divisional Police Officers (DPOs) and the traditional rulers as well as have periodic security meetings for adequate briefings.
"Stay in your council areas. Don't stay in hotels and in Port Harcourt. If you're not at home, how do you know about the security situation in your local government? Security is key! Relate with your DPOs. It does not cost you anything. Even if it cost you, governance is not easy. Governance is expensive. Security is expensive. Some of you cannot relate with the DPOs. It's only when you have a problem that you relate with your DPOs and some of them are intelligent and when you call them that time, they turn their faces the other way. You must make effort to relate with your DPOs."
Wise counsel dictates that the Governor's admonition on the cardinal issues he raised are apt. Accordingly, there is a need for the chairmen to hit the ground running and ensure that development and dividends of democracy are brought nearer to the rural people. This can be feasible by guaranteeing that they administer the councils from their domains rather than from choice hotels in Port Harcourt even as the Governor has consistently advised. They should consider that as chairmen and councillors, they were elected by their people to provide the dividends of democracy. Hence, they are required to operate from home to fully comprehend the enormity of the challenges confronting the rural population.
There is no doubt that the era when council chairmen were perceived by their people as "visiting chairmen" must be bequeathed to the refuse heap of history. Reason is that current emerging realities require that they inhabit with the people, wine and dine with them, and where necessary, perish with them.
The council chief executives are also advised against reckless expenditure. We recommend stiff sanctions against any chairman that fails to perform and deliver what is expected of him. Regrettably, some chairmen owe workers many months of salaries. That being so, the new council bosses are urged to clear all salaries and allowances denied such workers by their predecessors.
To make this effective, the Governor has to monitor the payment of salaries and the expenditure pattern of the councils to ensure that funds are properly deployed to areas that will promote the interest of the people. This being the case, offending chairmen should be denied access to their security votes and perhaps, their imprest.
Equally significant is the need for the council chairmen to circumvent friction and conflicts with the legislative arm of the councils by working in harmony with the councillors and security agencies to create the right atmosphere for development to take place. Unnecessary impeachments, scathing criticisms and altercation or petitions have to be resisted.
As agents of transformation and machinery of development, the council coxswains must consult and liaise regularly with all stakeholders including the youth, women, traditional rulers, members of Community Development Committees (CDCs) and other pressure groups to chart the way forward in their respective areas.
Also, the council chairmen must run an all-inclusive administration and never isolate anyone or groups who may not have stood behind them. Of course, operating in any other way could be counter-productive as it has the potential to cause disaffection, division or even acrimony.
Similarly, the newly sworn in grassroots leaders have to understand that peace is priceless and necessary for any meaningful development to occur in the various communities. As they detrain for business, they must not only maintain stability, but must also shun stealing from the commonwealth for self-enrichment. Rather, they should invest such funds wisely in useful ways to attract businesses and development to their councils.
The primacy of good governance at the grassroots cannot be over-emphasised as Rivers people must feel their impact through effective governance. Just as the Governor is held accountable in the state, so must the chairmen and their councillors. We strongly advise them to replicate Wike's performance at the local level if they must be considered for a second tenure.
While congratulating the new council bigwigs, we urge them to be circumspect of bootlickers and praise-singers who have undermined several governments in the country and key into the NEW Rivers Vision of the current administration in the state to make a substantial difference. History indeed beckons on them!
As NLNG Train 7 Kicks Off…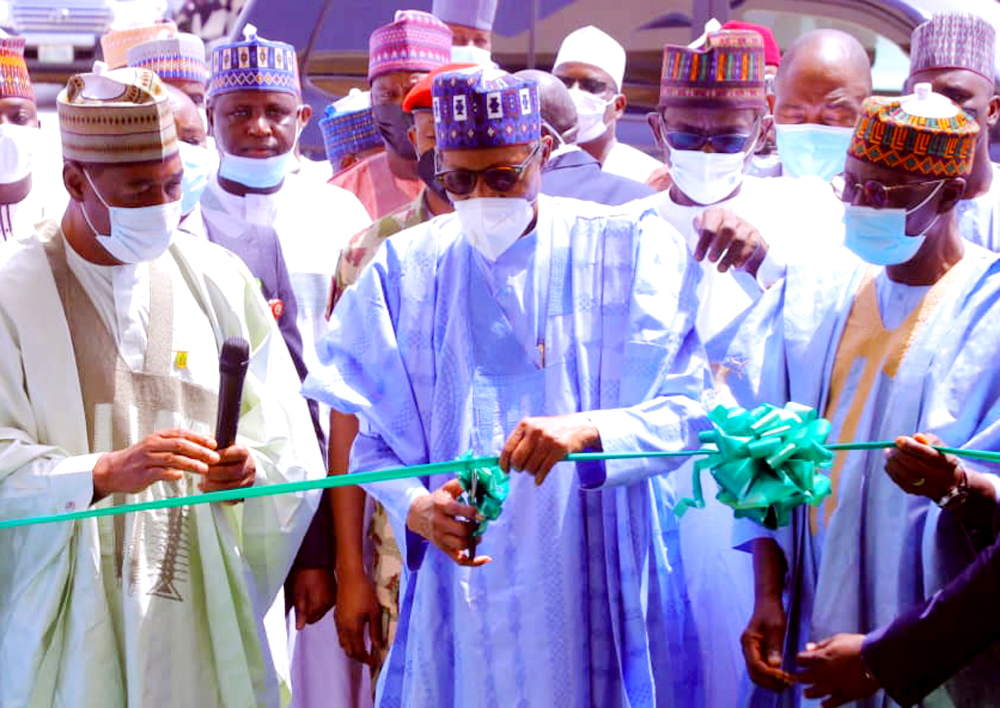 History was made when President Muhammadu Buhari last Tuesday flagged off a much-anticipated project to construct Train 7 of the Nigerian Liquefied Natural Gas (NLNG) in Bonny, Rivers State. Buhari, during the virtual groundbreaking at the NLNG ground, had sought stakeholders cooperation to ensure completion of the Train 7 project "safely and on time" to pave way for a Train 8 expansion.
Buhari, in his charge to stakeholders at the occasion, said, "As we flag off the Train 7 today, I look forward to development and execution of more gas projects by the International Oil Companies (IOCs) and indigenous operators, and more Trains from Nigeria LNG to harness over 600 trillion cubic feet of proven gas reserves we are endowed with".
Estimated to cost about $6 billion, the project is expected to increase the six processing units (trains) of the NLNG plant at Bonny Island to seven trains. This will increase the current installed capacity of the plant. Led by the Italian multinational, Saipem, with a share of $2.7 billion of the contract value, other members of the consortium are Japan's Chiyoda Corporation and Daewoo Engineering & Construction of South Korea.     
For one thing, Train 7 has added new profiles to the domestic gas sector. A consortium of some Nigerian banks, international development finance institutions, as well as three export credit agencies will provide $3 billion of debt financing for the project, making it the world's first LNG project with multi-tranche corporate financing. 
The Tide applauds the Federal Government's laudable feat by ensuring the take-off of this long-awaited project. It is hoped that Train 8 will not remain in waiting in the manner Train 7 was delayed. As it is now, the project showcases Nigeria as mainly a gas-rich country to be reckoned with.
It is simply refreshing that NLNG, which was just an ordinary project in the early 90s, has successfully transformed into a very prosperous firm with over 20 years of credible operations and an uninterrupted supply of Liquefied Natural Gas, Liquefied Petroleum Gas and Natural Gas Liquids into the global market. This is positive indication that the nation has enormous capability to provide value to the world by harnessing its natural resources.
Through the Decade of Gas initiative, which was recently launched, Nigeria will be changed into a major gas and industrialised nation with gas playing the key role as revenue earner, fuel for industries and necessary feed for petrochemicals and fertiliser plants.
The NLNG has generated $114 billion in revenues over the years, paid $9 billion in taxes; $18 billion in dividends to the Federal Government and $15 billion in feed gas purchase. These again are estimable achievements by the company's Management Team that is exclusively Nigerian. With this level of accomplishment, we can only hope that the enterprise continues to grow beginning with this Train 7 project, and position Nigeria to thrive through the energy transition.
A fundamental advantage of Train 7 is its capacity to guarantee every stakeholder more dividends in terms of further reduction in gas flaring, more revenue to the nation and shareholders, more job opportunities, especially at the construction phase and more social investments for the society.
Again, Train 7 will increase NLNG's overall capacity to 30 million tonnes per annum (mtpa) from the current 22 million mtpa, adding immense value to the nation and the people. The project would stimulate inflow of about 10 billion dollars Foreign Direct Investment (FDI) into Nigeria, create 12,000 direct jobs in Bonny Island and additional 40,000 indirect construction jobs.
Another beneficiary of the project is the domestic Liquefied Petroleum Gas (LPG) market. At the moment, NLNG produces one million metric tonnes of LPG and supplies 350,000 metric tonnes of the product to the domestic market, accounting for 50 per cent of LPG supply in Nigeria. 
With the additional capacity of the plant, the production and supply of LPG to the domestic market is expected to increase, thereby deepening the penetration of the low-cost and high efficiency cooking fuel in the country. Compared to kerosene and traditional biomass (such as firewood and charcoal), LPG is considered a cleaner alternative fuel.
Nigeria has ridden on the back of oil for over 60 years, but with the Train 7 project, the country is now set to fly on the wings of gas. However, this projection will be unattainable without a peaceful atmosphere. That is why Bonny and Finima indigenes must see themselves as one and opt for harmonious settlement of the ownership of host community rights saga. The Federal Government should directly intervene in the matter and ensure that the project is not unduly delayed.
Ending Kidnap Of School Children
Even though the Islamist fundamentalist terrorist group, Boko Haram, has been at the top of their murderous trade in Nigeria for years, throwing bombs, engaging in suicide missions, attacking religious places and worship centres, targeting schools, markets, motor parks and other public places, killing people for fun, the entire world was particularly outraged when, in 2014, 276 school-girls were taken away from their hostels at Government Girls Senior Science Secondary School, Chibok, Yobe State, in Nigeria's North Eastern region.
While more than seven years after that unfortunate incident that drew the attention of the United Nations and several world leaders like the then President of the United States, Barak Obama and his wife, Michele to engage in the #Bring Back Our Girls movement with many of the girls still in captivity, kidnap of school children has fast become a regular occurrence across the North-east, North-west and North-central regions.
Between December, 2020 and now, close to a thousand students and staff have been abducted in nearly 10 attacks on schools in Niger, Kano, Katsina, Jiawa, Zamfara, Kaduna, Sokoto and Yobe States. On December 11, 2020, more than 300 students of Government Science Secondary School, Kankara, Katsina State, were abducted. The 344 students were released about one week later. On February 27, 2021, a pupil was killed while 27 others were kidnapped by armed men from Government Science College, Kagara, Niger State. Three members of staff of the school and 12 of their relatives were taken along. They regained their freedom about a week later when more than 300 school girls were carted away by gun men from a school in Zamfara State.
On February 26, 2021, unidentified gun men kidnapped 317 school girls from Government Girls Secondary School, Jangebe, Zamfara State. The students were to regain their freedom on March 2, with a report saying only 279 were released after four days in captivity. This was closely followed by the kidnap of 39 students of Federal College of Forestry Mechanisation, Afaka, Kaduna State on March 11, 2021.
While five of the Afaka students were released on April 5, another five regained their freedom on April 8. The balance of 29 students were not let go until May 5, 2021. After five weeks and six days after the Afaka kidnapping, at least 20 students and two staff members were abducted from Greenfield University in Kaduna State. Five students and one staff were killed while the remaining 14 students were released on May 29, 2021.
On May 30, 2021, a yet to be identified armed gang invaded Salihu Tanko Islamic School, in the town of Tegina in Rafi Local Government Area of Niger State, taking away between 150 and 200 pupils.
In yet another violent attack on an educational institution, in the country, a student was shot dead as gunmen abducted eight students and two lecturers at Nuhu Bamali Polytechnic in Zaria, Kaduna State, last Friday.
Nigerians are generally disturbed about the worsening state of insecurity in the country as the Federal Government appears to be overwhelmed or too weak to protect lives and property of the citizens against the prevailing reign of terror unleashed upon the nation by criminal gangs and terrorists of all descriptions. However, The Tide is particularly bothered about the growing number and frequency of armed attacks, specifically targeted at pupils and students in our educational institutions.
For a government that came into power on the promise of fixing perceived weaknesses of the previous administration occasioned by security challenges among others, it is worrisome that the security situation has had a free fall under the watch of the present federal authorities. A general sense of despondency and fear hover over the country and Nigerians now pay criminal groups for their lives and to guarantee their legitimate pursuit of livelihood.
It is especially appalling that government at the national and subnational levels pay huge sums of money (though it is scarcely admitted) to these criminals to secure the release of some of the school abductees. Traumatised and terrified parents and guardians have also had to pay through their noses to get their wards back, some just their lifeless bodies.
According to the Commandant General of the Nigeria Security and Civil Defence Corps (NSCDC), Ahmed Audi, as many as 62,000 out of 81,000 mostly government-owned schools in the country are susceptible to attacks, as shown by a recent vulnerability survey on schools across the country.
"From the survey, we discovered that the nation has over 81,000 schools, but it was very surprising and disturbing that out of this figure, over 62,000 schools are very insecure. They have no presence of physical security and there is no fence, which shows how vulnerable our children are to any attack. Most of these schools are public schools", he said.
Concerns about the safely of the students have led the Governors of Niger, Kano, Sokoto, Zamfara, Jigawa, Katsina and Yobe States to order the closure of all boarding schools and some others located in the most vulnerable local government areas. School attendance and enrollment are sure to be adversely affected. Teachers and other staff are also very likely to quit their jobs and seek employment elsewhere with lower risk to their safety and security.
In fact, the attacks pose a very serious threat to education in a region that is already ranked amongst the places with the greatest number of out-of-school children in the world. Though education is mostly free and compulsory at the primary level in public schools in northern Nigeria, UNICEF says there is only 53% net attendance rate while the level is even lower for girls due to socio-cultural norms and practices that discourage attendance in formal education. Of course, parents and guardians are getting scared of allowing their children and wards to go to school.
Given the strong correlation between lack of education and poverty and criminality, the fear is real that banditry, insurgency and related crimes cannot be easily overcome except a very hard stance is taken against the rising trend of attacks on schools in the country.
It is therefore to save education and secure the future of this country that The Tide urges the Federal Government to arise from its slumber and give it everything it requires to secure our schools, keep our children safe and ensure that the education sector is adequately protected from the reach of terrorists and criminals.
According to the NSCDC Commandant General, a female squad of the Corps has been established to secure school environments so as to protect children from bandits and kidnappers while arrangements are in top gear to deploy technology in the surveillance and monitoring of critical national assets.
As we hope that these measures will not just end on paper but be effectively followed through for the benefit of the country, the Federal and State governments should revisit the Safe Schools Initiative the Goodluck-Jonathan administration launched following the Chibok girls kidnap with a view to making it achieve desired results.
The Tide acknowledges that paying of ransom may be a veritable incentive for kidnapping but we insist that it is not enough for the government to discourage the indulgence. The security agencies must be sufficiently equipped, mobilized and motivated to keep Nigeria and Nigerians safe and secure. It is the most basic expectation from any government that is worth its time in office.