RVHA Moves To Amend RSUOE Law
The Rivers State House of Assembly has initiated moves to legalise the renaming of the state University of Education to Ambassador Ignatius Ajuru University of Education.
This followed the introduction of an amendment bill on the State University of Education law (RSUOE) 2010 on the floor of the House yesterday.
The bill which was co-sponsored by the Leader of the House, Hon Chidi Lloyd and the chairman, House Committee on Education, Hon Maureen Tamuno had already passed it first hurdle on the floor of the House.
Presenting the bill, the Leader of the House, Hon Chidi Lloyd stated that the bill was intended to change the present name of the institution to Ambassador Ignatius Ajuru University of Education.
Hon Lloyd informed the lawmakers that the state governor, Rt Hon Chibuike Rotimi Amaechi renamed the institution in honour of late Ignatius Ajuru during his burial at Isiokpo, recently.
He stated that the late former ambassador was a one time chairman, Governing Council of the institution and called on his colleagues to give the proposed amendment  the attention it deserved.
The House leader said that when the bill is passed into law, it would be cited as the Ignatius Ajuru University of Education amendment law 2010.
Speaker of the Rivers State House of Assembly, Rt Hon Tonye Harry who presided over the sitting directed the clerk of the House to ensure that photocopy of the bill was given to all members for proper study.
Otedola Donates N5bn To Singer Daughter's Foundation …Dangote Gives N100m To DJ Cuppy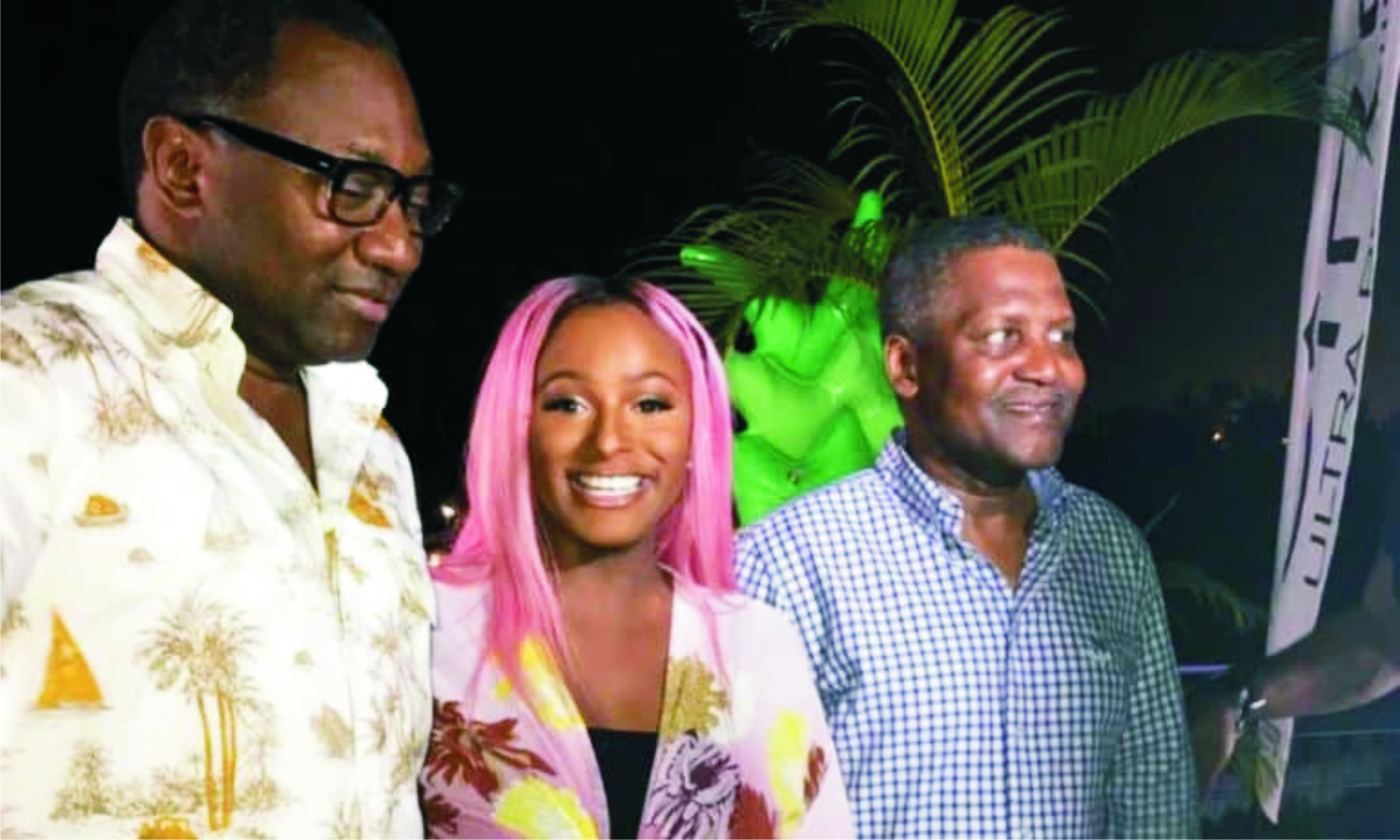 Business mogul, Femi Otedola, has donated N5billion to the Cuppy Foundation, a philanthropic project of his singer daughter, Florence Otedola, popularly known as DJ Cuppy.
Mr. Otedola, who was represented by another one of his daughters, Tolani, made the announcement during the 'Gold Gala,' an event by his daughter, at Transcorp Hilton Hotel, Abuja, yesterday evening, to a standing ovation from guests in attendance.
Tolani said, "My father, Mr. Femi Otedola, has been at the forefront of supporting worthy causes.
"It is in this spirit that he will be donating the sum of N5billion to the children of Borno, Adamawa and Katsina States through the Save the Children."
Among the guests were Vice President Yemi Osinbjao; CEO, Save the Children, UK, Kevin Watkins; Mr. Femi Otedola; entrepreneur, Hajia Bola Shagaya; Ambassador Babagana Kingibe; and Minister of Industry, Trade and Investment, Niyi Adebayo.
They also included Senator Gabriel Suswam, Representative of Senate President, Ahmad Lawan; Minister of State for Transport, Gbemisola Saraki; National Chairman of the All Progressives Congress, Adams Oshiomhole; billionaire businessman, Aliko Dangote; and his daughter, Hajia Halima Dangote.
Others were Minister of Women Affairs, Dame Pauline Tallen; former Governor of Borno State, Gen Buba Marwa; Group CEO, Oando Plc, Wale Tinubu; Governor of Lagos State, Babajide Sanwo-Olu; Governor of Ogun State, Dapo Abiodun; and Governor of Borno State, Babagana Zulum.
Cuppy's godfather, Dangote, who is the owner of the Dangote Group, also made a donation of N100m.
The businessman told guests that they should not just allow government to do everything as even government had "a lot of challenges."
Dangote said, "To whom much is given much is expected. It gives me great pleasure to be here supporting my brother, Femi, making this kind of big donation. I believe we need more Nigerians to have big hearts to give back to the needy.
"People find it very difficult in Nigeria to give money away but the more you give, the more God blesses you. Femi, you are no more a rich man. You have joined the league of wealthy men. I have said I will give more of my money when I pass away.
"To Cuppy, I must congratulate you for having a big heart to visit those children in Borno. She spent about four days with them playing with them. In the light of this, I am making a donation of N100million."
The young philanthropist, who is also an ambassador of the Save the Children UK, a non-governmental organisation, said her foundation, which was launched in August 2018, was inspired by a trip to Maiduguri, Borno State.
According to Miss Otedola, she started the foundation as a way of giving back to the less fortunate.
She said, "Becoming an ambassador for Save the Children has exposed me to so many children around the world.
"I was able to visit Save the Children in Maiduguri with the help of my godfather, Alhaji Aliko Dangote."
Osinbajo, in his address, told the guests that the event must refocus their minds on caring for the poor and malnourished especially in Nigeria.
According to the Vice President, in 2015, Buhari proposed the "largest social investment programme in Africa" of about N500bn annually.
He added, "Yet we are far from where we ought to be. It is obvious that government cannot do it alone. So, we don't (all) need to be billionaires (to do our part). It is time for every one of us to decide that we can make a difference to ensure that the poor and vulnerable are given a decent life."
2019/2020 Legal Year: Wike Berates NBA's Involvement In Politics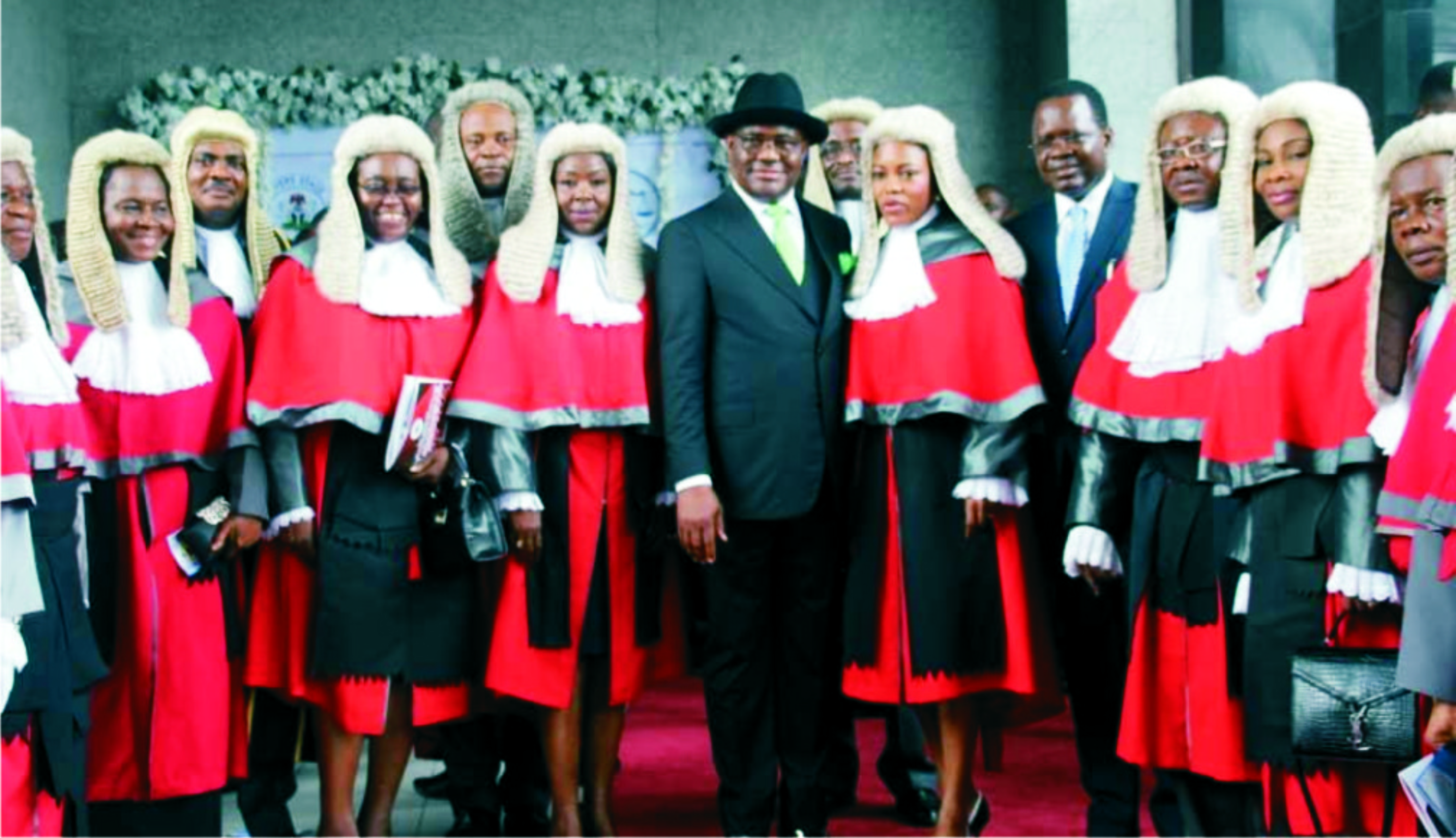 The Rivers State Governor, Chief Nyesom Wike has berated the Rivers State Branch of the Nigerian Bar Association (NBA) for descending into the political arena by issuing politically motivated ultimatums on security in the state.
Addressing a special court session of the formal opening of the 2019/2020 Legal Year of the Rivers State Judiciary in Port Harcourt, last Friday, Wike regretted that the NBA crossed the redline by playing politics with the security situation in the state.
"We wish to warn that by descending into the arena of politics with irresponsible ultimatums, threats and utterances, the NBA in Rivers State has crossed the red line and become part of the enemy of our people."
Wike regretted that the NBA in Rivers State had demonstrably failed to defend the state's courts and the rule of law when they were subjected to undeserved assaults and abuse by the powers that be.
He said: "The NBA kept quiet when they closed down our courts in 2013. It lost its voice and remained indifferent when the homes of judges were brazenly attacked in the dead of night by security agents. Again, it looked the other way and maintained a conspiratorial silence when political thug invaded the High Court premises in a failed politically-motivated bid to stop judges from sitting.
"In the midst of these failures and acts of gross irresponsibility, the chairman of Port Harcourt branch of the NBA could have the temerity to issue ultimatums to the state government and threatening to boycott courts on account of an unfortunate kidnap incident that affected a member of the association.
"Security of lives and property is one issue nobody can accuse us of neglecting. In the last four and half years, no state government has spent as much resources and efforts to support the federally-controlled security agencies to fight crime and criminality than this state, Wike noted.
Wike stated that in view of the political stance of the NBA in Rivers State, the government has withdrawn all pledges and support for the NBA.
He said: "We have withdrawn all our support and patronage for the NBA in Rivers State, including the promise to support the hosting of the 2020 National Conference of the NBA in Port Harcourt."
The governor said the state government was as concerned as the NBA in Rivers State on the plight of her kidnapped member, adding that security agencies were working to resolve the problem.
He stated that his administration would continue to work towards the improvement of the state Judiciary through critical interventions and funding.
Wike, however, expressed dissatisfaction with the performance of the Rivers State Judiciary in terms of dispensing with the cases brought before them, and urged the state Judiciary to reciprocate the investments of the state government by stepping up performance.
The governor also urged lawyers under the Rivers State Ministry of Justice to work hard to improve in line with the investments of the state government.
He added that the Rivers State Government would also construct a Magistrates' Quarters to encourage the magistrates to work harder to dispense justice.
In her address, Chief Judge of Rivers State, Justice Adama Inyie Iyaye-Laminkara commended Wike for the interventions of the state government in the development of the Judiciary.
She listed the construction of Judges' Quarters by the Rivers State governor as one of the outstanding achievements in the state, and described Wike as the Diamond Governor of Rivers State.
Also speaking, the Attorney General of Rivers State, Prof Zacheus Adangor said that the governor has over the years kept his promises to lawyers and the Ministry of Justice.
Spokesman of the Body of Senior Advocates of Nigeria, Chief Onueze Okocha suggested that states should be allowed to appoint judges in line with their needs.
Chairman of the Nigeria Bar Association, Port Harcourt Branch, Mr Sylvester Atama praised the Rivers State governor for his outstanding investments to improve justice delivery in the state.
Fishing Out The Ritualists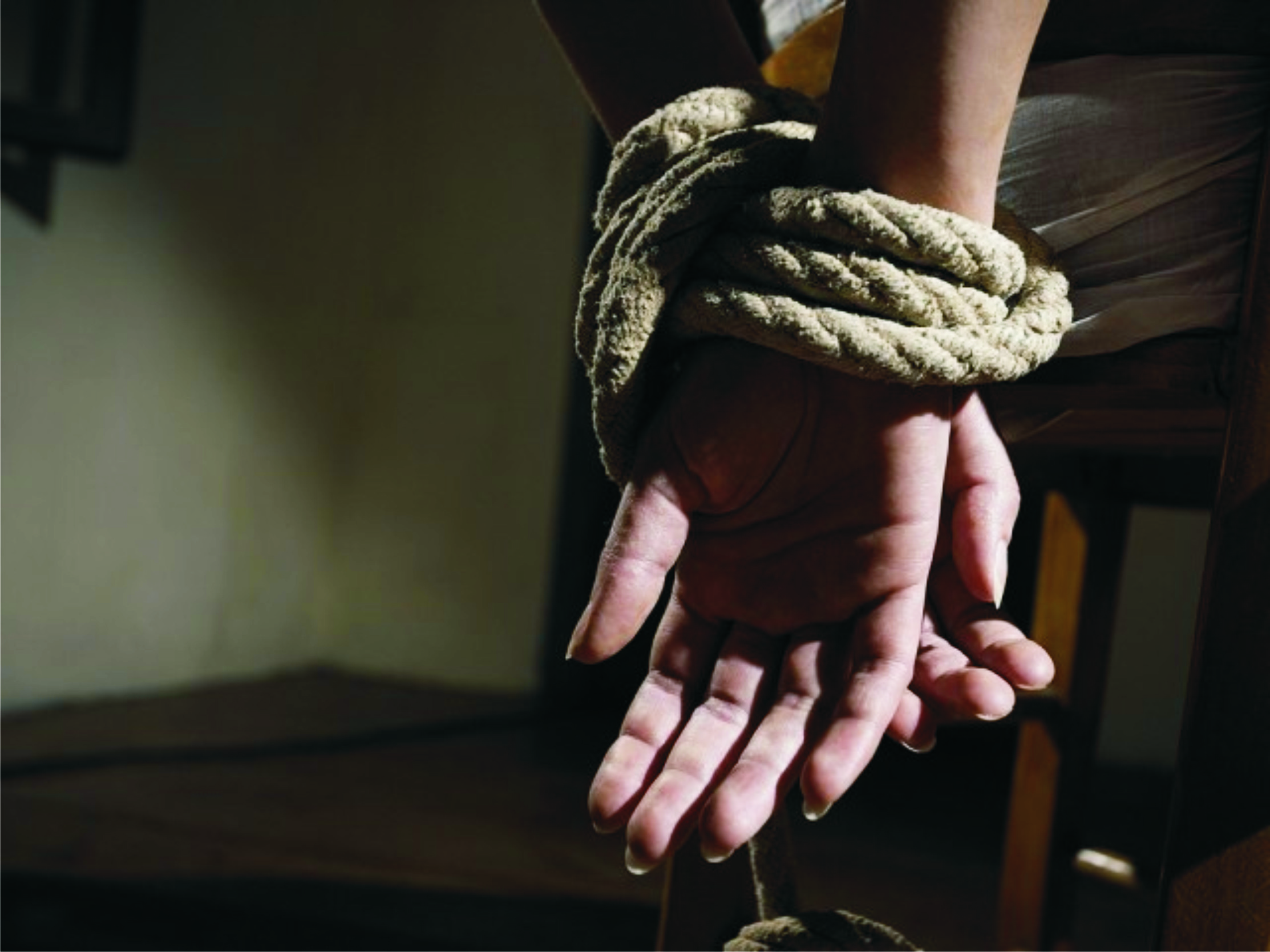 It would be obvious to a growing number of Nigerians by now that much of the violent crimes in the country, from murder to kidnapping and armed robberies, have much to do with some fetish rituals. A most recent case of car-snatchers in Eleme axis of Rivers State can be used as an example, because there was a confession pointing towards working in collaboration with witch-doctors. Ritual murder of a young girl by an undergraduate student also pointed towards the involvement of a ritualist and sponsor as accomplices.
Witch-doctors and ritualists go far beyond what an average Nigerian would know. Without being uncharitable or alarmist, there is a need to look into the activities of numerous religious sects operating as visionary and exercise ministries. To say the least, there are witch-doctors and ritualist, using religious applications as platforms of operation. Was there not a case of a "clergyman" and "after-birth placenta pepper soup"?
Investigations into the exploits of witch-doctors and various brands of ritualists, in relation to their associations with criminal groups, reveal shocking details. The first issue has to do with a propensity to acquire some power, coupled with an illusion of invincibility. In agberolingo such power of invincibility is known as "Odeshi". Unfortunately, those exploring and promising such extra-normal power engage in a number of activities whose end-results they know nothing about.
But they go on, heedlessly!
Those who heedlessly explore the psychic world without knowing its nature expose themselves and other people to serious dangers, one of which is the possibility of insanity. Thus, toying with psychic power, for political, economic, religious or criminal purposes, usually lead to unpleasant end. Actually there are centres of energy of various natures which anyone can make contact with, but the rule is that only the pure can reach-out to what is pure or noble.
At best, what witch-doctors, ritualists and other impudent explorers of the psychic world encounter and deal with are usually inferior and dark energy centres. Fascination with what is unusual and curious cause many gullible people to be carried away by the illusory nature of the psychic world. One rule is sure over there, namely: There is no free meal, neither can anyone get what he is not qualified to get. The only thing easy to get is illusion or clouding of consciousness.
Therefore, dabblers into the psychic world for whatever purposes, do a great deal of harm to themselves and others too. When those who do so are clergy men and women, there is the possibility of dragging the image of religion into the mud. Serious seekers of the light of truth do not associate with juggling fiends of the psychic world, because no wise person would go for mud when gold is not far to fetch. One has to know the differences and values.
There is a need to suggest that stricter regulations be placed on establishment of religious houses as well as proselytism. Possibly, preachers and operators of all visionary, miracle and healing ministries should be licensed, inspected and subjected to regular audit. As for various categories of witch-doctors, ritualists often mentioned by criminal gangs as their accomplices or consultants, they should be prosecuted. They are known to demand for human parts, including placenta of nursing mothers taken immediately after delivery. If there is no demand for human parts, then, there would not be ritual murder for the purpose of obtaining such parts. Similarly, the murderers are merely killer agents for faceless monsters who believe in money and power as chief goals in life. Quite often such monsters are rarely accessible or prosecuted.
The illusion of wanting to get something without paying an equivalent price for it is an issue which all stakeholders in human development process must jointly emphasize at every opportunity. Similarly the fact that dark and impure forces thrive where people hold such illusions about life is a reality which explains the sad rate of spread of evil propensities. Of the laws governing life hardly is there any which stipulates that anyone can get away with any wrong doing, not even when a visionary, exorcist or a marabout claims that such law can be annulled. People are simply gullible.
Arising from the illusion that natural laws can be annulled by those who claim to have a power to do so, may gullible people rush to those who make such claims? While we may not be able to stop anyone or groups of persons from making claims about possession of unique powers, those making such claims should be licensed and taxed as they operate. Authentification and verification of such claims would also be necessary before they become legal for public patronage.
A great deal of harm had been done by dabblers, intruders and fake practitioners in every sphere of human activities. In the case of the unseen and known, there is a need to protect the gullible public from harms which can arise from such charlatans. While the laws prescribe freedom of belief and association, there should be strict provisions to checkmate extremities and abuses. Such extremities and abuses include disturbing and noisy nocturnal ritual and hallucinations under the name of freedom of worship. Ban on noisy worship is necessary.
Undoubtedly, activities of ritualists which include witch-doctors, marabouts, religious and cult groups, who engage in various orgies, are going into extremities that should be put under control. The current hard and difficult times in the country should not be a licence for ritualists to exploit the gullible masses to practise their trade for a fee. Some demand weird items for exorcism.
More importantly, the police should intensify activities in this direction by fishing out ritualists of the criminal hue and place a check on other groups to ensure that the public remains protected. Despite the difficult nature of such a task, ritualists of all kinds pose real dangers to society.
Bright Amirize