Stock Market Records Profit
The market index which closed the year at 20,518.74 points on Tuesday before the drop at mid-week.
 At the close of business on Wednesday, market capitalisation dropped by N64 billion or 1.2 per cent, from N5.394 trillion recorded on Tuesday to N5.330 trillion while the index fell by 266.36 points or 1.2 per cent, from 20,518.74 recorded on Tuesday to 22,252.38.
 However, the market's turnover volume soared significantly on Wednesday, buoyed by heavy trading in the shares of some banks and insurance companies as 666.6 million shares with N3.4 billion changed hands in 7,426 deals, higher than 406.2 million units, value it at N2.1 billion exchanged in 6,743 deals in the previous day.
 The banking sub-sector maintained its status as the most active stock with 372.1 million shares, worth N2.2 million in 3,575 deals while the insurance sub-sector followed with 117.2 million units worth N97.2 million in 464 deals.
Food / Beverage and Tobacco sub-sector featured with 33.3 million shares worth N342.9 million in 1,015 deals.
 A breakdown of activities in the banking sub-sector showed that Finbank Plc strengthened activities in the sub-sector with 171.1 million shares worth N109.5 million in 297 deals followed by Zenith Bank Plc which traded 52.6 million units, worth N840.8 million in 3,575 deals.
 For the insurance sub-sector, trading in the sub-sector was energised by activities in the shares of GoldLink Insurance Plc with 73.9 million shares worth N56.2 million in 69 deals while International Energy Insurance Plc followed with 17.9 million shares, worth N11.6 million in 46 deals.
The Food / Beverage and Tobacco sub-sector was boosted by activities in the shares of National Salt Company of  Nigeria Plc with 10.8 million shares worth N65.8 million in 211 deals.
 On the price movement chart, 50 stocks recorded share price appreciation while 30 constituted the gainers chart, thus causing price losers to outweigh gainers.
The day's highest price losers were Nestle Nigeria Plc with 914 kobo to close at N254.90 per share. Flourmill Plc followed, shedding 214 kobo to close at N40.85 per share. Guaranty Trust Bank Plc, First Bank Plc, Dangote Flour Mill Plc lost 83 kobo, 79 kobo and 63 kobo to close at N16.07, N15.14 and N13.20 per share.
Ashaka Cement Plc, Nigerian Aviation Handling Company Plc, Diamond Bank Plc, National Salt Company of Nigeria Plc, Cement Company of Northern Nigeria Plc and Constain West African Plc dropped 60 kobo, 42 kobo, 37 kobo, 30 kobo, 23 kobo, and 22 kobo to close at N12.70, N8.08, N7.50, N5.77, N13.91 and N4.28 per share.
 On the other hand, Benue Cement Company of Nigeria Plc topped the gainers chart with 121 kobo to close at N48.11 per share. Nigerian Bottling Company Plc followed, adding 118 kobo, to close at N24.82 per share.
 African Petroleum Plc, Cadbury Nigeria Plc, Academy Press Plc, Eternal Oil Plc, West African Portland Company Plc, Unilever Nigeria Plc and UACN Plc also added 95 kobo, 58 kobo, 31 kobo, 28 kobo, 26 kobo, 15 kobo, and 12 kobo to close at N37.10, N12.31, N6.55, N6.60, N30.26, N23.15 and N38.42 per share.
CBN Opens N500 Grants Portal For Graduates, Undergraduates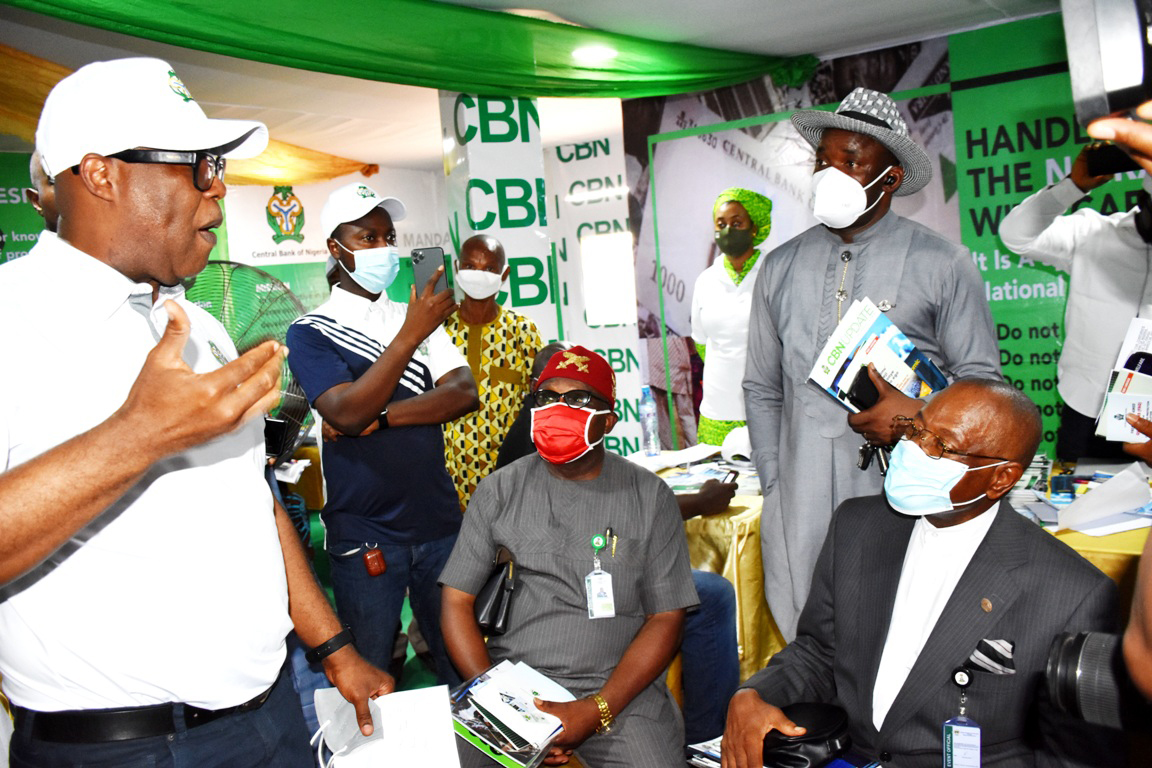 To reduce the level of suffering associated with unemployment in the country, the Central Bank of Nigeria (CBN) has developed grants of N500,000.00 for graduates and students.
A statement from the apex bank, made available to The Tide, said qualified persons have been directed to visit cbnties.com.ng portal for the CBN N500k grants registration.
This, according to the statement, is under the Tertiary Institution Entrepreneurship Scheme (TIES), in partnership with Nigerian Polytechnics and Universities to exploit the potential of graduate entrepreneurs in Nigeria.
CBN said the aim of TIES is to increase access to finance for Nigerian polytechnic and university graduates and graduates with innovative business and technological ideas.
The apex bank added that it is also to address the trend of white-collar job seekers and focus on job creation.
The statement quoted the CBN Governor, Godwin Emefiele, as saying that the scheme is designed to create a "paradigm shift from a 'white-collar' job search culture to an entrepreneurial culture to economic growth and job creation between undergraduates and graduates.
"As for the grant, CBN will allocate N500 million among the top five third best delivery organizations.
"The top five polytechnics and universities in Nigeria with the best entrepreneurial trends/ideas will be awarded first place: N150 million second place N120 million third place N80 million fourth place N80 million and fifth place. Location – N50 m illion", it stated.
As part of the scheme, the CBN has announced that it will form a private and public sector expert organization (BoE) for two-year regional and national entrepreneurship competitions to assess the entrepreneurial and technological innovations offered by Nigerian polytechnics and universities.
BoE will also recommend high-potential projects and the variable impact on the award of the grant.
Projects funded under the scheme will be monitored by independent monitors set up jointly by CBN and MFIs.
Economic Growth, Determining Factor For Policies In 2023  – Stockbrokers
Chairman of Research and Technology at the Chartered Institute of Stockbrokers (CIS), Mr. Akeem Oyewale, has said that economic growth and development should be the determining factor in policies ahead of 2023.
Oyewale, who said this recently at the institute's Annual National Economic Review and Outlook 2022 webinar  in Lagos, urged policy makers to act in a spirit of justice and tolerance to avoid acts that could lead to violence in the run-up to the 2023.
Speaking on the topic: "Global Dynamics Shaping Nigeria's Economic Future", Oyewale listed factors such as the process leading up to the 2023 general elections, the response to Omicron, and the effects of COVID-19, as what would also determine the growth of the nation's economic development.
He used the fora to urge the Federal Government to intensify its engagement with Nigeria's capital market to better smoothly finance the 2022 budget deficit without increasing borrowing.
Oyewale also directed the Central Bank of Nigeria (CBN) to fully consider the effects on the capital market when making monetary and fiscal policies.
According to him, the philosophy of building an economy led by the private sector enshrined in the National Development Plan must be strictly adhered to.
On the need for new listings, Oyewale said Nigeria National Petroleum Company's trading should continue with the public listing of its shares on the stock market.
This, he explained, would give Nigerians the opportunity to co-own one of the country's commanding heights.
"The CBN and banks should grant trading facilities to securities trading firms in the country to maintain optimism in the capital market", he said.
Speaking further, he urged pension funds and other institutional investors to increase their investment in the stock market to create much-needed stability and encourage new investment.
Earlier, President of the CIS Council, Mr Olatunde Amolegbe,  said the institute would continue with initiatives that would enhance its growth and development in 2022.
Amolegbe stated that CIS would undertake activities that would promote capital market literacy in all geopolitical zones of the country, saying that he would strengthen collaboration with international professional bodies such as CISI UK and others for the benefit of their members.
He continued that the institute was working to increase the number of Nigerian universities offering graduate and undergraduate courses in securities and investment/capital market studies.
"Our vision by 2023 is to see the Securities and Investments profession registered in the hearts of young Nigerian academics as their preferred career path and CIS as the model to be followed by other professional bodies," he concluded.
PenCom Completes Review Of Pension Reform Act 2014
The regulatory body of the Nigerian Pension Industry, the National Pension Commission (PenCom) says it has deliberated on the review of the Pension Reform Act 2014 (PRA 2014).
This was contained in a statement to newsmen signed by Peter Aghahowa, Head, Corporate Communications of PenCom, who disclosed that the regulator organised the retreat on the review of PRA 2014 in Abuja between January 12 and 14.
According to Aghahowa, the retreat was aimed at identifying salient issues to be reviewed in the PRA 2014 as a prelude to advancing legislative action on the bill.
Aghahowa said it is expected that the National Assembly would subsequently organise a public hearing to provide an avenue for stakeholders to formally make input into the proposed amendments.
He also said that the PRA 2014 was enacted following a review of the initial PRA of 2004, which introduced legal and institutional frameworks of the Contributory Pension Scheme (CPS) and established PenCom to regulate and supervise all pension matters in Nigeria.
According to him, the Director-General of PenCom, Aisha Dahir-Umar, during the opening ceremony of the retreat, had informed the participants that the PRA 2014 codified one of the most important socio-economic reform initiatives of the Federal Government.
He continued that she said this has brought about a pension industry that has accumulated pension assets in excess of N13 trillion invested in various aspects of the Nigerian economy.
He quoted her as saying that "the review is a corollary to some implementation challenges encountered with certain sections of the Act not long after its enactment in July 2014.
"This was also an addition to persistent calls from stakeholders for the amendment of some sections of the Act, which resulted in several legislative initiatives through the sponsorship of Bills for amendment of the PRA 2014 by the National Assembly.
"Consequently, the Commission as the regulator of the pension industry, decided to coordinate and harmonize the various efforts in order to achieve a comprehensive and constructive exercise for the review of PRA 2014", he concluded.