Theme: 'Budget Of Consolidation'
Budget speech of the Government of Rivers State presented to the Rivers State House of Assembly by the Executive Governor of Rivers State, Rt. Hon Chibuike Rotimi Amaechi on the 23rd of December, 2010.
 Protocols: 
I count it both an honour and a privilege to present the 2010 budget to this honourable house. This is my third budget speech in this hallowed chamber. Our budgets in our first two years in office were motivated by a deliberate policy to promptly tackle the unacceptable abyss of decay into which our human capital and physical infrastructure had sunk. We were emboldened by our courage of conviction that we have no alternative than to confront our developmental challenges regardless of the costs. To choose to do otherwise will amount to a betrayal of the yearnings of the majority of the poor population of Rivers State.  
After two years, Mr. Speaker, we are confident that adequate foundations have been laid for the rebuilding of our state and we are now safely on the path to recovery. Our focus must now inevitably be on how to consolidate the gains of the past two years. To this end, our resources and best endeavours must be channeled towards completing on-going projects, whilst building veritable institutions for the medium and long term sustainability of our people.  
As it's traditional, I will most respectfully, present an abridged version of the budget statement to you this morning. Details of the budget are contained in the 2010 Appropriation bill, which I will, with your kind leave, lay before this Honourable House for your gracious consideration and passage into law, for the benefit of the people of Rivers State.  
Our Macro- Economic Outlook for 2010  
Mr. Speaker, Rivers State economy ranks among the best two performing State economies in the Federation and has the potential to grow even bigger. In terms of population, Rivers State is 6th in the Federation and higher than 131 countries in the world. The State is by population as big as Denmark, Norway, Singapore, and Ireland and bigger than Botswana, Namibia, and Liberia just to mention but a few. She produces about 40% of Nigerian crude and 100% of her gas export. Coupled with her marine and rich agricultural potentials, she is in resources richer than many countries in the world. But there is a paradox which has continued to remain a challenge, i.e. high level of contribution to the country's GDP and foreign earnings not reflected in the domestic economy. Our economy is still at the subsistence level; income is low and characterised by high unemployment. Most of the economic activities are still at the informal sector and mostly centered on rural agriculture.
  By this anomaly, we are operating two parallel economies as the oil and gas sector is yet to be linked with our domestic economy with our people as active participants. The reason is that the oil business is technology driven and our youths lack the requisite skills to be integrated into the oil and gas economy. In order to reverse this trend, Government is sponsoring over 1500 Rivers youth in top institutions abroad, in key areas of science and technology. This is part of our scholarship scheme aimed at aggressive human capacity development. This administration will strive to integrate oil and gas business to the local economy. Besides the integration of our economy, we will explore the economic advantages of modern agriculture which offers the brightest hope for rapid economic transformation.  
Our State economic outlook and potentials for 2010, is quite promising. It is expected that business climate will significantly improve in 2010 following the return of peace to the Niger Delta. Our Government is committed to ensuring the security of lives and property in the State. Mr. Speaker, May I seize this opportunity to reiterate our determination to guarantee that people can do business and live in Rivers State without fear of molestation. It is now evident that tourism has returned as the security situation is fast improving daily. The confidence of local and international investors is now regenerated and will grow significantly in 2010.
  With an estimated monthly oil export of 2.29mbpd based on a benchmark price of $57/barrel in 2010, the federation account is also expected to increase beyond the 2009 level. We have now strengthened the institutional mechanisms for internal revenue generation. It is expected therefore that we will enter 2010 with high hopes and expectations. The internally generated revenue (IGR) profile of the state will significantly improve in 2010.  
Key Policy Framework for 2010  
While there was much progress in governance in 2009 and despite our passion to fast track development of our dear State, there are emerging disturbing signals and challenges which must be addressed. Notable among them are the weak structures of governance in the State. To this end, the Rivers state Government is partnering with the UNDP to come up with proposals that will strengthen the weak structures of Government.
In order to remain focused on the mission of this Administration, therefore, the policy thrust of the 2010 budget will therefore be:
·         Completing the ongoing projects in the critical sectors
·         Shifting focus of implementation from resource commitment to monitoring of actual deliverables expected from MDAs
·         Strengthening government institutions and Improving competences and capacities in the public service for effective governance and service delivery
·         vigorously pursuing the public expenditure management(PEM) reform programme with strong  emphasis on budget/planning reform process using the Medium Term Expenditure framework (MTEF) model
·         Strengthening the monitoring process to generate continuous flow of reliable data on budget implementation and status of projects
·         Repositioning the State to her former status as the best investment destination in Nigeria
·         Laying the ground work for agriculture as a sustainable foundation  for our economic transformation
·         Using PPP as a strategy to improve infrastructure
  Mr. Speaker, This is not an easy task to achieve but with God on our side and with your cooperation it is realizable.
  2009 Budget Performance Review
  The 2009 budget was proactively prepared taking into consideration the global economic downturn and attendant dwindling revenues. It was therefore to all intents and purposes a realistic budget. On the whole, the budget performed creditably, despite unforeseen circumstance.
I am proud to report that our 2009 budget performance was above national average.
  Mr. Speaker, in 2009, we estimated total revenue of N328.28 billion, but in the first three quarters of the year, 2009 (January-September), actual revenue realised was N175.52 billion. The amount realised up to September represents 71.29% of the total revenue projection for the same period. This slight short fall is attributed to the drop in the federation account due to the under performance of the oil sector and the internally generated revenue as well the loss of revenue on the disputed oil wells. Further breakdown shows that N149.16 billion was collected from federation account as at September, 2009 against an estimated projection of N171.96 billion for the same period – this rep resents a performance of 86.74%. With regards to IGR, while the amount of N99 billion was projected for the year, as at the end of September, 2009, only N26.37 billion was collected, showing a performance of 35.52%.  
On the expenditure side, the total amount spent by MDAs as at September, 2009 (capital and recurrent) was N169.34 billion as against N324.25billion provided for in the Appropriation law for the same period. This figure represents 52.23% of the amount budgeted for the entire year. Capital expenditure stood at N104.83 billion, which is 40.6% of the amount actually approved for expenditure within the period and 30% of the amount provided in the appropriation law for the entire year. N66.05 billion was approved recurrent expenditure for the MDAs during the period, but N64.52billion was actually spent. This represents 97.7% of the approved budget estimate for expenditure and 73.3% of the year's recurrent budget.
  The capital expenditure outlay made so far was on the critical investments in physical and human infrastructure. Huge investment commitments have been made in the construction of 350 model primary and 24 model secondary schools in the State, in addition to other educational infrastructures. The health sub sector is also witnessing a massive turn around with the construction of 102 standard Primary Health care centres and hospitals across the State; the power projects to touch all the nooks and crannies of the State has begun, not 506km of road construction, 30 bridges, four flyovers and five land reclamation/ shore protection projects.
Mr. Speaker, notwithstanding the impressive performance of the Government in the year 2009, there are challenges that needed to be confronted in 2010. These include:
·         returning the state to her former status as one of the best investment destinations in Nigeria.
·         improving the efficiency and effectiveness of the conduct of government business.
·         reducing the over reliance on federation account and boosting internal  revenue performance.
·         continuously improving physical infrastructure and development of human capital to meet international standard.
Mr. Speaker, with your cooperation, we embarked on ambitious infrastructural projects to fast track the development of our State and people, however the fruits of these investments cannot be realised without further investments to consolidate what we have already started. Hence we captioned 2010 budget as the Budget of Consolidation.  
The 2010 Budget
The estimated total amount which will be available for expenditure for the year 2010 is N429 billion. This amount is slightly below the 2009 approved estimate of N432.28 billion. It is expected that this amount will be funded from the following sources:
·         Federal Allocation (Statutory allocation, 13%, VAT, etc) N275.50billion
·         Internally Generated Revenue (IGR)                                 N93.50billion
·         Rivers State Government Savings in 2009                          N60.00billion
                                                                        Total                  N429.00billion
This shows that out of the total estimated revenue of N369 billion, Federation Account will contribute 74.66% and Internally Generated Revenue (IGR) 25.34%. These figures are comparable to that of last year. This position is predicated on our assumption of $50 per barrel of crude oil and on the need to operate a realistic balanced budget.   In addition to consolidating on our achievements of 2009, we would be making new investments in other critical areas. In 2010, we plan to embark on new water projects to improve the water supply in Port Harcourt and other urban areas in the State. The State Government will also kick start a rural water scheme in Gokana Local Government Area early next year. The model schools completed need to be equipped, more teachers are to be employed and the completed health centres fully equipped and functional in 2010. Over 200 new doctors have already been employed.
  The total expenditure for the year 2010 therefore, is estimated at N429 billion, which is N3.28 billion below that of 2009. Of this amount, N90 billion, representing 21%, is proposed for recurrent spending and N339 billion which is 79% of the budget is earmarked for capital expenditure. As expected, capital expenditure in the critical sectors amounted to N222billion broken down as follows:
MDAs                    Estimates         % of Capital Budget
Education                N70billion          16%
     Works                    N70billion         16%
          Power                     N23billion       5.36%
          Sports                    N22billion       5.13%
          Health                    N18billion                          4.20%
Water                    N14billion      3.26% Housing                  N3billion         0.70% Agriculture               N2billion         0.50% Total     
N222billion 51.15%       
Wages and salaries for fiscal year 2010 are estimated at N65.9 billion, equivalent to 73.2% of the Recurrent Budget and 15.4% of total expenditure for the year 2010, while overhead cost is projected at N24.01 billion.  
  Tax system
Hon. Speaker, it is important to mention that, we will pursue vigorously the tax reform project by continuing the modernisation of the state tax system to enhance revenue administration using ICT as a strategic tool. The reform process will also focus on plugging loopholes to reduce tax evasion. Increased emphasis would be placed on the evaluation of tax systems and development of database with the state- of –the- art technology to enhance tax compliance. With the improved atmosphere in the Niger Delta, it is believed IGR performance will surpass that of 2009 in actual returns.
  Private Sector Development
Mr. Speaker, I will not conclude this presentation without mentioning the need to develop the private sector to serve as an engine for growth if Rivers State is to make headway in addressing a number of key growth challenges for sustainable economic development. To this end, Government is creating an enabling environment, including putting in place the necessary policy programs, incentive packages, and appropriate legal, and regulatory framework, for private sector investment in the state.  
Mr. Speaker, other strategies for developing the private sector include the following:-
•       Promoting public-private partnerships (PPP) to accelerate the development and implementation of policies and programmes.
  •      Reducing the economic and non-economic cost of doing business to enable the private sector to flourish; and
•       Enhancing the quality of dialogue with the private sector on policy formulation and implementation.
  Mr. Speaker and Honourable members of the State House of Assembly, our government is committed to ensuring that we fulfill our promise to develop our state, revive our economy and improve the lives of our people. This is the focus of our 2010 Budget of Consolidation. May I therefore lay before you, the 2010 Budget of the Rivers State Government for your consideration and passage into law, and urge you most respectfully to begin deliberations in earnest.
 I wish you all a Merry Christmas and truly fulfilling 2010 while thanking you for listening.

'We Are Working To Leave Rivers Better Than We Met It'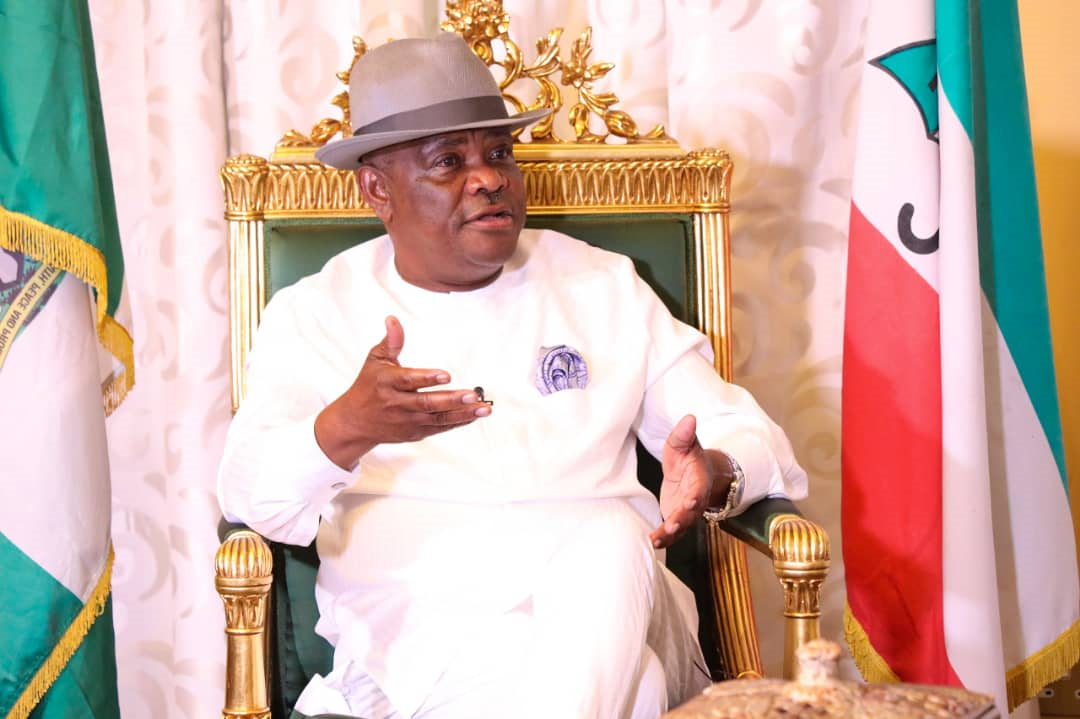 Being a text of a statewide broadcast by Rivers State Governor, Chief Nyesom Wike on January 1, 2022 to mark the New Year.
Excerpts.
My dear people of Rivers State
As the clock ticks down and as we look forward to
ushering-in the New Year 2022, this is the time to give thanks to the Almighty God for his blessings and the opportunity to look into the future with greater hope and optimism.
On behalf of my wife and the government, let me thank all Rivers State citizens in particular, and Nigerians in general, for your continued love and support to our administration throughout the year 2021.
Indeed, we cannot thank you enough for the trust, the solidarity, the cooperation and above all, your prayers for the success of our government and the peace and progress of our state.
We also thank the police, the Department of State Security, the armed forces and the para military services for working round the clock to make and keep our dear state peaceful, safe and secure, not only in this festive season but throughout the outgoing year.
Indeed, there is no denying the fact that crime and criminality have been at very low rates in Rivers State and citizens felt safer and more secure in 2021 than the previous years.
With the cooperation of the security agencies, we identified and destroyed most of the shanties that hitherto served as safe havens and hideouts for criminals, who have now been dislodged and dislocated from the state having lost the space and capacity from which they could operate with ease.
To consolidate on the gains of the dislodgement and dislocation exercises, and make the state even safer and more secure, we have decided to demolish all shanties and makeshift structures in identified crime hotspots in Port Harcourt Township and the Illaobuchi areas of Diobu from the second week of January, 2022.
Those rebuilding the shanties we had demolished at Eleme or attempting to resume illegal trading activities at the closed Oginigba slaughter have one week to vacate or be arrested and charged to court.
Additionally, we have discovered that most vacant plots or uncompleted buildings in the Old and New Government Reservation Areas (GRAs) and some other parts of Port Harcourt City and Obio/Akpor local government areas have been hijacked and are now inhabited by criminal elements who are daily constituting menace to public safety.
We have therefore decided to end this danger by taking over all such abandoned plots and uncompleted buildings and re-allocate them to citizens who are ready to develop and put them into effective occupancy.
In a similar vein, we have revoked the certificates of occupancy of several undeveloped plots of land in old GRA, Port Harcourt, for breaching the covenants attached thereto, which we would also re-allocate to interested members of the public for immediate development as part of the ongoing efforts to restore the entire old GRA to its pristine state of development, beauty and serenity.
We will also not spare those contributing to the perennial flooding challenge in parts of Port Harcourt city and Obio/Akpor Local Government Area by blocking natural water and drainage channels with illegal landfilling, reclamation of wetlands or the construction of concrete structures.
Consequently, we shall recover and restore all landfilled or reclaimed wetlands and demolish all structures erected on natural water channels spanning from the Eastern Bypass area up to Abana and Eleme streets in Old GRA, Port Harcourt. Only those with genuine government permits and allocation papers will be duly compensated.
Again, it is important to appreciate what we have done to successfully transform our capital city, Port Harcourt, to one of the most beautiful cities in Nigeria with well-paved streets, pedestrian walkways, dual carriage roads and flyovers.
However, the beauty of the city is being defaced by illegal and indiscriminate trading on our streets, under flyovers and other unauthorised open spaces as well as the challenges with the current largely inefficient refuse disposal system.
I wish to, therefore, remind citizens that the ban on street trading and commuting on motor cycles in Port Harcourt City and Obio/Akpor local government areas is still in force.
Consequently, I hereby direct the Task Force on Illegal Street Trading to arrest and prosecute all those: (i) shuttling with their motorcycles and or hawking foreign exchange along Birabi Street, Hotel Presidential, GRA Junction by Zenith Bank up to Tombia Street; and (ii) trading on, under and around the Rumuola Junction and flyover; Rumuogba Junction and flyover; as well as Rumuokoro Junction and flyover.
Security personnel abetting illegal street trading by collecting bribes and offering protection to street vendors are advised to desist forthwith or they would equally be made to face the wrath of the law.
Furthermore, we have decided to end the menace of cart-pushers who have become notorious for indiscriminate scavenging and littering of wastes on street corners and the medians of major roads and highways across the state.
These cart pushers and their unknown collaborators are also responsible for the recurring stealing of manhole covers, an act which endangers peoples' lives and public safety on our roads.
Consequently, the state government has placed an immediate ban on the activities of cart pushers and directs law enforcement agencies to arrest and prosecute anyone who attempts to violate this ban.
In addition, a task force would be put in place to enforce this ban while we plead with the courts, in the interest of public safety and security, to impose the severest of punishment under the law on any convicted manhole vandal.
The indiscriminate and prolonged parking of trailers and other articulated vehicles along our streets is another environmental menace we must tackle to bring sanity to our cities and living environment.
Consequently, I hereby direct the chairmen of Port Harcourt City, Ikwerre, Obio/Akpor, and Oyigbo local government councils to within three weeks from today impound and or remove any trailer, trucks or articulated vehicle packed on the streets beyond 48 hours in their respective administrative jurisdictions.
As we all know, achieving effective environmental sanitation in cities and urban centres is a global challenge, and ours is not an exception.
However, we are determined to improve on our refuse disposal system by reviewing, overhauling and strengthening the legal, institutional and economic framework for a more effective delivery of sanitation services to residents.
I urge that you bear with us for a while and things will certainly change for the better in our refuse disposal system.
As an initial step towards achieving this objective, we have placed an immediate ban on the disposal of refuse on the streets or open spaces in both the old and new GRAs of Port Harcourt and Obio/Akpor local government areas.
Every household in both old and new GRAs must therefore procure and keep approved refuse disposal bins in the front of their houses to facilitate the door-to-door collection of the wastes they generate by designated contractors.
We will not hesitate to revoke the certificate of occupancy of any house in these areas without a refuse disposal bin or whose occupants are caught disposing refuse on the streets or open spaces.
We have also banned the posting of advert materials of any kind, including posters, fliers, pictures, artworks, placards or inscriptions on or under our flyovers, bridges, concrete walls and the safety barricades along the roads.
We will establish environmental marshals to enforce compliance with our sanitation laws, including this ban, by arresting and prosecuting both the person who places the advert and the person and institution on whose behalf it is placed.
Fellow citizens, we also have reason to be concerned about the operations and socially harmful activities of nightclubs within residential areas of our state.
Apart from the noise and traffic nuisances suffered by innocent residents, no responsible government should continue to tolerate the open display and solicitation of sexual services, drug abuse and public intoxication that takes place along the streets and public areas abutting some of these nightclubs, lounges and bars by the youths, some, as young as under 14 years.
Consequently, the state government has placed an immediate ban on all nightclub activities, including night-time trading and street prostitution along SaniAbacha Road and surrounding streets to stop the harmful effect of these depraved activities on the moral development of our children and society at large.
Let me also reiterate that we are as overly concerned as the public over the black soot environmental disaster that has continued to envelope Port Harcourt and upsetting residents for quite some time.
As a state government, we have drawn the attention of the Federal Government to this problem and requested for its intervention to stop the activities of illegal bunkering and artisanal crude oil refiners, which have been identified as the main sources of the soot pandemic.
Unfortunately, the Federal Government has remained inexplicably silent over our request and even complicit to a large extent with the security agencies actively aiding, encouraging and protecting the artisanal refiners to continue with their harmful activities unabated.
We have equally appealed without success to our people engaging in this illegal business to consider its negative effects on our economy, environment, public safety and public health and disengage from it.
We will continue to engage and plead with the Federal Government to intervene and save our people from this serious environmental and health emergency.
However, since the federal security agencies have largely refused to stop the illegal crude oil refining activities in the state, we have no option than to take necessary measures to tackle this particular and direct challenge to our collective health and survival by ourselves.
Consequently, I have directed the chairman of Port Harcourt City Local Government Council to go after all the illegal crude oil refining sites along Creek Road and adjourning areas of the city and shut them down with immediate effect.
Furthermore, all local government chairmen are directed to work with community leaders to locate and identify those behind all illegal bunkering and crude oil refining sites in their localities and report to my office for further action.
Once again, we express our sympathies to the victims of the recent fire incidences in the state, especially those who lost loved ones and valuable property.
As a government we will continue to do our best to strengthen the State Fire Service to effectively intervene to mitigate the damage during fire incidents.
However, members of the public also have the responsibility to do the right thing to prevent or avoid some of these fire incidents from happening and those who deliberately bury fuel and gas tanks in residential areas are certainly not doing the right thing, and should therefore relocate their precarious businesses to more convenient and less risky places.
We wish to also express our concern over the poor compliance with the existing COVID-19 protocols by citizens and the effect on the transmission of the disease in the state.
Believe it or not, COVID-19 is a reality that has already taken the lives of hundreds of thousands of people and disrupted economic activities across the world.
Here in Rivers State the transmission of the virus continues to surge daily and we all need to act together to stop the diseases from further ravaging our state.
We, therefore, appeal to all residents to make themselves available for testing and vaccination whether it is for your first, second or booster jab in addition to observing the existing preventive protocols, including social distancing and wearing of face masks to reduce the level of transmission.
Let me also remind all government recognized traditional rulers that they are, at all times, subject to the authority and directives of the state government and not to other allegiances, culture or otherwise.
Therefore, the consistent absence of some first class traditional rulers, especially the Amanyanabo of Okrika, the Amanyanabo of Ogu, the Amanyanabo of Kalabari and the GbenemeneNyo-Khana from participating in state functions is unacceptable and will no longer be tolerated.
Should they, therefore, continue to absent themselves from state functions or in the regular meetings and activities of the Rivers State Traditional Rulers Council, we would have no option than to direct their immediate replacement.
Finally, as the New Year 2022 inevitably beckons, we wish to assure you that we will continue to do our best to meet the aspirations of our citizens for a more peaceful, safe and secure society throughout the Year 2022.
We will continue to pursue our objectives for a stronger and more sustainable economy centred on fiscal discipline, revenue growth, job creation, and improved standard of living for all residents.
We will continue to accelerate our development with the sustainable delivery of quality roads, bridges, schools, hospitals and other socio-economic infrastructure and complete all ongoing development projects across the state.
I wish to, once again, thank our leaders, traditional rulers, elder statesmen, party chieftains, our women, our youths and the press for the warmth and support we have received throughout 2021.
We wish to specially thank our religious leaders for their prayers for peace and progress as well as for their continuous support to our government in the primary task of building the Rivers State of our collective dream.
We remain grateful to God for the unprecedented peace, security and transformational strides the state is enjoying under our administration.
But we must also be vigilant because our enemies, especially, members of the opposition, are not happy with the prevailing peace, security and the unprecedented achievements we have recorded; and are therefore determined to cause crisis and disturb our peace and joy if they have the opportunity.
Let us therefore prayerfully continue to place our dear state and everyone in the safe and protective hands of God Almighty through our Lord Jesus Christ.
I wish each and every one a happy and prosperous New Year!
May God continue to bless our dear Rivers State.
2022: FG'll Leverage ICT Platforms To Create Jobs-Buhari
Being a text of President Muhammadu Buhari's broadcast to the nation on January 1, 2022 to mark the New Year.
Excerpts.
We remain grateful to the Almighty God for yet an
other year attained as a country, united by a common destiny and resolute in our determination to overcome the several challenges along the path to build the great and prosperous nation of our dream.
I salute the courage and resilience of all Nigerians, which was evident in 2021 as this nation, like other countries of the world, faced significant challenges that occurred as a consequence of the COVID-19 pandemic and the efforts to restore the global economy and social order.
The persistent insecurity in certain parts of the country may have threatened to unravel the incremental gains achieved in the real sectors of the economy and in the administration's overall objective to position the nation on the irreversible trajectory of sustainable growth and progress, but I assure you that we will remain resolute in our commitments and shall continue to press ahead with our programmes and plans.
The path to nationhood is often fraught with unpredictable difficulties and challenges, and most tried and tested nations have often prevailed through dogged determination, resilience, concerted commitment to unity, and the conviction that the whole of the nation, standing together against all odds, is by far greater and would ultimately be more prosperous and viable than the sum of its distinguishable parts.
There is no doubt that the issue of Security remains at the front burner of priority areas that this administration has given utmost attention to. As a follow up to our promise to re-energize and reorganize the security apparatus and personnel of the armed forces and the police, it is on record that this Administration has invested heavily in re-equipping our military in line with upgrading the platforms and firepower required to tackle the current challenges being faced in the country.
The net results of these efforts have been the number of insurgents and bandits who have willingly surrendered to our Security Forces and continue to do so through various channels and the Safe Corridor created for that purpose.
Government, however, realises that victory on the battlefield is just one aspect of sustainable victory. We know that to fully win this war, we must also win the peace and real security lies in winning the hearts and minds of the affected citizens. To this end, working with our international partners and neighbouring countries, we would be deploying multi-faceted solutions that will be targeted at addressing human security at the grassroots, before it leads to insecurity.
Once again I would like to take a moment to remember and honour the gallant military, police officers, and other security agents who have lost their lives in the cause of protecting the territorial integrity of this nation against both internal and external aggressors, assuring their families that their sacrifices would not be in vain.
We equally remember and commiserate with Nigerians who have lost loved ones as a result of insecurity in different parts of the country. Every life matters and every single death caused by any form of insecurity is a matter of personal concern to me both as a citizen and as the President of this great country.
We remain fully committed to upholding the constitutional provisions that protect all Nigerians from any form of internal and external aggression.
On the economy, we have shown a high level of resilience to record some significant achievements despite the turbulence that has characterised our economy and indeed the global economy. The lessons we have learned and keep learning from COVID-19 have encouraged us to intensify efforts to mitigate its socio-economic effects on our nation.
The major wins we have recorded can be clearly seen in Nigeria's most recent Gross Domestic Product (GDP) figures released by the National Bureau of Statistics (NBS). The 4.03% growth recorded in the third quarter of 2021 is indicative of the recovery being recorded in our economy and the confidence that is being shown through the policies that our administration has put in place after the outbreak of the pandemic.
We may also recall that this recent growth is closely followed by the 5.1% (year-on-year) growth in real terms recorded by Nigeria in Quarter 2 of 2021. This growth was one of the best recorded by any nation across Sub-Saharan Africa. The 5.1% growth at that time was and remains the highest growth recorded by the Nigerian economy since 2014.
Despite the challenges we have faced as a nation, the good news is that we have so far recorded four consecutive quarters of growth after the negative growth rates recorded in Quarter 2 and Quarter 3 of 2020 due to the effect of the COVID-19 pandemic.
On August 16, 2021, I signed the landmark Petroleum Industry Act into law. The signing of this legacy legislation is a watershed moment in the history of our nation, considering the massive positive impact the new Act would have on the economy. I would like to sincerely commend the 9th Assembly for the grit they demonstrated, succeeding where others have failed, and the cooperation that led to the completion of this process after almost two decades.
Just like I stated during the investment trips and fora that I have attended recently, the legislation is expected to serve as a liberalising force in the energy industry, and we are optimistic that this law will provide the much-needed legal, governance, regulatory and fiscal framework for the development of the energy sector, the host communities, and Nigeria as a Nation. Our objective to increase liquefied natural gas exports and expand our domestic market is still very much at the forefront of some of the policies we would be pushing in the New Year.
In year 2022 and going forward, our administration would intentionally leverage ICT platforms to create jobs, while ensuring that the diversification of our economy creates more support to other emerging sectors. I am proud to announce that several foreign investors are taking advantage of our ranking as one of the leading start-up ecosystems in Africa to invest in our digital economy.
We have given the utmost priority to fighting corruption and other related offenses which have been a bane to the growth and prosperity of our dear nation. We have made major strides and breakthroughs through the innovative use of technology and forensics in the investigative and prosecutorial procedures with commendable results to show that the anti-corruption drive of our administration is succeeding.
In the meantime, the accomplishments that have been recorded so far can be traced to the dedication of the nation's anti-corruption agencies who have received the necessary support needed to effectively prosecute their duties.
Despite our challenges in 2021, it was also a year in which the administration executed successfully, key projects, programmes, and initiatives to fulfil the promises made under the Security, Economy Anti-corruption (SEA) agenda.
As we welcome 2022, let us, with hope; envision a year of continued progress against our combined challenges arising from security and socio-economic issues.
As it is said, the past is but a story told, the future will still be written in gold. Let us be united in our fight to keep our Nation united against all odds and with gratitude, celebrate life in this new epoch.
I wish you a very happy and prosperous New Year.
King Ambrose Ezeolisa Alagoa: A Trans-Generational Colossus
History beckons in Yenagoa, Bayelsa State, come Saturday, December 4, 2021, as the Nembe Se Lawyers Forum, the Umbrella body of all lawyers of Nembe-Ibe extraction in Nigeria and in the Diaspora would be rolling out the drums amidst pomp and fanfare, to bestow posthumous honour on the Late Amanyanabo of Nembe, His Lordship, Justice Ambrose Ezolisa Alagoa, Mingi the eleventh.
The grandiose event, billed to hold at the Chief DSP Alamieyeseigha Memorial Banquet hall is the first Inaugural Lecture in honour of the monarch under the Chairmanship of Justice of the Court of Appeal, Justice Ebiowei Tobi.
It is expected to attract the crème de la mare of society as well as political titans and legal heavy weights and juggernauts drawn from far and near including of course, Chief Kanu Godwin Agabi, SAN, former Attorney General of the Federation and Minister of Justice as Guest lecturer while His Royal Majesty, King Edmund Daukoru, Amanyanabo of Nembe will grace the occasion as the Royal Father of the Day.
This is hardly surprising as His Royal Majesty, King Ambrose Alagoa was a man of many firsts and occupies a strategic place in the juridical annals of Bayelsa State being the first lawyer of Nembe Se descent and first indigenous Chief Judge in the Old Rivers State thus making him the forens et origo, that is the source and origin of the Nembe Se Lawyers Forum.
Unarguably, the deceased monarch as an unapologetic, pathological crusader for natural justice, equity and good conscience and was known for his unabashed belief in the rule of law as the pillar of democracy.
Instructively, this coincides with the theme of the Inaugural Lecture which is woven around the role of the judiciary in a democratic dispensation, the rule of law undeniably being the nexus and plexus of a true democracy which guarantees the total and unfettered independence and impartiality of the judiciary.
To be sure, the late monarch epitomises the bastion and beacon of hope for the Nigeian Bar and Bench to uphold the cannon of natural justice to wit, nemo judex in causa sua and audi alteram partem on which hang all the law and jurisprudence the world over.
King Ambrose Alagoa, jurist, philanthropist and social crusader was born into the royal family of His Royal Majesty, Francis Ossomade Joseph Alagoa, Mingi X, Amanyanabo of Nembe by one of his wives, Madam Nwaokiri Rose Onyeka.on August 24, 1914
Ambrose Alagoa was the second son of his father. His father, Francis Ossomade Joseph Allagoa was the son of a rich influential merchant, Queen – Okwei of Osomari Kingdom in present-day Delta state) and merchant father, Chief Joseph Alagoa, grandson of KingBoy Amain, Mingi V, then Amanyanabo of Nembe Kingdom.
He was raised under the highly puritanical and much disciplined watch of his parents who were both devout Catholics, adhering to the sanctimonious doctrines of the Christian faith. Additionally, his father was a foremost nationalist and held the position of Chairman of the RCPC.
All these and more largely helped to shape and mould the world view of the young Ambrose in his growing up years. His propensity and penchant to right the many wrongs of society through lawful means and to salvage the oppressed, weak and vulnerable was the outward expression of a divine nudge to enroll in the most noble profession of all times, the legal profession later in life
Early Life and Education:
As a Prince, he was privileged to receive top notch, top rate, and cutting edge formal and informal education from his parents. He started his primary education in 1927 at the Government School, Owerri but later moved to St Mary's School, Port Harcourt that same year to complete his primary education in 1932. Thereafter, he returned to Onitsha where he attended the prestigious Christ the King College, Onitsha from 1932 to 1936 as a pioneer student of the college.
It is on record that he was the youngest graduate to have obtained the senior Cambridge certificate at the enviable age of 22 in 1936 and was noted for exceptional academic performance.
Consequently, a few years later, in a bid to actualise his dream of joining the league of lawyers, he proceeded to the famous Cambridge University, London in 1946 to study Law and by April 1949, he bagged the prestigious LLB (Hons) Degree, qualifying as a lawyer with the Council of Legal Studies, London and was subsequently called to the English Bar on January 26, 1950 and admitted as a member of the Lincoln Inn, London, thus, setting the stage for his private legal practice which started immediately in the city of Port Harcourt between 1950 and 1962.
Political Career
Leveraging on his legal expertise and prowess, Justice Ambrose Alagoa served as Deputy Mayor of Port Harcourt Municipal Council between 1951 and 1959, and thereafter elected as the 2nd substantive Mayor of Port Harcourt Municipal Council. He took over from Mayor Richard Okwosha Nzimiro in 1959 and served in this capacity for three years. By and large, he was instrumental in transforming the City of Port Harcourt into the much hyped name Garden City and it is on record that he was the first Mayor of Port Harcourt to have successfully brought the Prime Minister of Nigeria Sir Tafawa Balewa and the then Premier of the Eastern Region, Chief Michael Okpara on a visit to the Garden City.
Legal Career and Impact on the Bar and Bench
He successfully sat for and made distinctions in his senior Cambridge Certificate exam after his education at Christ the King College. This enabled him to secure gainful employment in the Federal Civil Service and worked as a clerk in the judicial arm of government.
As a civil servant, he was posted to Lagos, Enugu and Port Harcourt before proceeding for further studies in London, qualifying as an Attorney at Law.
Upon his return, King Ambrose Alagoa had a successful career as a member of the Bar, winning several of his cases and laurels, and this won him the respect and admiration of many lawyers.
As a lawyer, he had an excellent legal practice in Port Harcourt with his law firm, Allagoa & Allagoa Legal Practitioners, (Our Lady of Fatima Chambers). He had a brilliant and successful career, representing clients such as J. T. Chanrai.
In 1962, the Eastern Regional Government impressed with his diligence and dignified service at the Bar, elevated him to the Bench as a High Court Judge. He presided in various judicial divisions as Abakaliki, Nsukka, Ikot Ekpene, Umuahia, and Port Harcourt .
However, sequel to the creation of Rivers State by the then administration of General Yakubu Gowon, His Highness was transferred to the newly created state where he was a judge from 1970 to 1975.
In 1976, he made history following his appointment as the first indigenous Chief Judge of Old Rivers State. He retired three years later on the 24 September, 1979, having attained the mandatory retirement age of 65 years.
His Lordship (late) H.R.M. Justice Ambrose Ezeolisa Alagoa is mostly remembered for his doggedness in standing on the side of truth and justice in the celebrated case of famous Amakiri v. Iwowari where, as the presiding judge, he exhibited rare courage in the award of damages in favour of the injured journalist, Amakiri even amidst threats to his life and family. This earned him both local and international accolades and encomiums. Consequently, the City of Oklahoma, USA, awarded him "Life Mayor, Oklahoma City, USA"
Religion
His Lordship late King Ambrose Alagoa was a deeply religious and devoted Christian of the Roman Catholic stock. He believed very strongly in service to God and humanity and, therefore, devoted the larger part of his litigation and adjudicating years advocating for the poor, hopeless, weak and vulnerable. This attribute was not uncommon in the family and found expression in his maternal great grandfather (King Atamanya- Nzedegwu of Ossomari) who invited Roman Catholic priests into his Ossomari Kingdom during his reign. He was a highly distinguished and respected Knight.
It would be recalled that during the 1959 elections, he checked the bid by Protestants to marginalise the Catholics in the defunct Eastern Nigeria. This show of derring-do and bravado culminated in the appointment of six Catholics as ministers in the Michael Okpara led cabinet.
He is fondly remembered for being the foremost founder of the Order of the Knight of St. Mulumba of Nigeria KSM in Rivers State in 1985, and subsequent inauguration on 26th September 1987 of the Port Harcourt Sub Council of the Order of the Catholic Institute of West Africa (CIWA) Port Harcourt.
He was the first Grand Knight of the Knight of the Order of Saint, Mulumba, Port Harcourt Sub Council.
Against this backdrop, an oration presented by the Order Of the Knights of Saint Mulumba, KSM, Port Harcourt in honour of His Majesty the King succinctly captures his religious predilections in these words:
"We recall the crucial role he played as a Catholic in post-war Rivers State. At the end of the Civil War, Catholics generally were haunted in Rivers State. In spite of this unwholesome phenomenon, he not only stood firm in the Catholic Church, but also participated and supported the persecuted clergy. He assisted the Catholic Church immensely in identifying and recovering some of her properties at the end of the war in Rivers State. His full participation during Corpus Christi procession, in spite of acute challenges of age, epitomised his commitment to the Catholic faith."
Reign on the Throne
His Majesty the late King Ambrose Ezeolisa Allagoa was crowned King and Amanyanabo of Nembe on the 12th of April, 1980, succeeding his father. As Mingi XI, he reigned for 23 years and served with the fear of God.
He passed away peacefully on February 17, 2003 at the age of 89. He was survived by five sons and three daughters amongst a host of other notable siblings.
Following the creation of Bayelsa State in 1996, he worked assiduously to ensure the smooth take-off of the state as a whole and the judicial arm of government in particular.
He served as the Chairman of the Traditional Rulers Council both in Rivers State and subsequently in Bayelsa State during which time he worked tirelessly to promote peace and stability in his domain..
In retrospect, there is no gainsaying that his peaceful disposition earned him respect from his subjects as well as other monarchs from within and outside the state such as Ogbia, Kalabari Kingdom, Abua, Benin Kingdom, to mention a few.
Interestingly, during his reign, the then Oba of Benin, Oba Erediauwa was said to have made a historic visit to Nembe.
Equally noteworthy is his role in the in mounting pressure on Shell Petroleum Development Company as well as the federal and state governments to collaborate to build the long proposed road to Nembe; an effort that paid off handsomely as Nembe is now accessible by road.
Recreation, Hobbies and Philanthropy
His Majesty was a lover of sports, and like the present Chairman of Bayelsa State Council of Traditional Rulers and Amanyanabo of Twon Brass , King Papapriye Diete Spiff, His Majesty, Justice Ambrose Alagoa loved the game of golf with passion and he showed this by supporting the Golf Section of the Port Harcourt Club as far back as 1928.
He was also a member of Rotary International and known for travelling to various conferences in company of his wife.
It is gratifying to note that King Ambrose Alagoa was among the founders of Leonard Cheshire International Home in Port Harcourt; a welfare organization committed to providing succour for the less privileged and physically challenged in society.
Honours
In 1978, following his brilliant career at the Bar and Bench, the Federal Government of Nigeria in 1978 conferred him with the enviable honours of the Commander of the Order of the Niger, CON.
He also held the prestigious title of the Grand Knight of the Order of Saint Sylvester conferred on him by Pope Paul VI in 1977 as well as the Grand Knight of the Order of St. Gregory conferred on him by Pope John XXIII in 1978. His Lordship King Ambrose Alagoa was until his death a Honorary Citizen of Maryland, USA conferred on him by Governor Preston Smith in 1972.
In 1976, he was appointed Chairman of the Rivers State Commission of Inquiry into the Rivers State Tourists and Hotels Corporation and Chairman Commission of Inquiry into the Organisation and Management and Running of the Rivers State College of Education.
Also, he was Pro-Chancellor, University of Ilorin 1978 and later Pro-Chancellor, University of Sokoto 1982-83. In 1985, he was appointed Pro-Chancellor, Federal University of Technology, Owerri, a position he held until 2000. He was Life Patron, Nigerian Red Cross and Trustee, Port Harcourt Club.
In November 1988, following his rich and robust legal career, the University of Ilorin conferred on him an Honorary Doctor of Laws (Hon. LLD
Conclusion
There is no doubt that His Royal Mmajesty lived as fulfilled life and bequeathed a worthy legacy. Life is lived to the fullest when the person in question discovers purpose, walks in it and uses it to impact and transform lives cutting across generations.
This is the challenge thrown up by the life and times of this legend, colossus, cornucopia, renowned jurist and monarch extra ordinaire.
In the words of John Donne, the celebrated British Poet, "Every man's death dehumanises me because I am involved in mankind and, therefore, never seems to know for whom the bell tolls. It tolls for thee."
Indeed, the task before the judiciary, officers of court and ministers in the temple of justice is therefore both daunting, herculean and onerous especially in a quasi democracy such as ours which appears to put democracy on the reverse and attempts to stand the rule of law on its head.
Even so, with the matchless legacy bequeathed by the late monarch in Nigeria's jurisprudence, hope beckons for the judiciary and, indeed, the legal profession, to continue against all odds, to prove its mettle as the impartial arbiter of justice and what is more, live up to its billings as the much vaunted last hope of the common man now and in the generations ahead.
But the greater challenge lies before the Government and people of Bayelsa State as a wakeup call to immortalise a man who gave his all to the legal profession and leveraged it to drive the hallowed principles of peace, justice, equity, fairplay even in the most tempestuous of times, for as Williams Shakespeare puts it, "When beggars die, there are no comets seen. But the heavens themselves blaze forth the death of Princes."
His Lordship, Late King Ambrose Ezolisa Alagoa was not just a prince. He was the Mingi XI, Amanyanabo of Nembe. He deserves to be immortalised and celebrated by his people.
It is against this background that the move by the Nembe Se Forum to initiate an Inaugural Lecture series to be held annually in his honour becomes not only heartwarming and commendable but above all historic. On its part, the Government, and in particular the Government and people of Bayelsa State must pick up the gauntlet and take it even several notches higher by giving honour to whom honour is due.