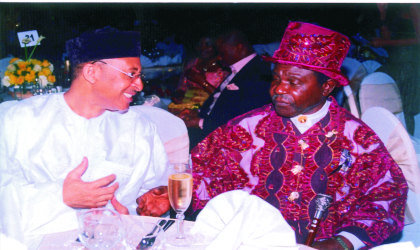 Foreign companies, in Nigeria, are grappling with a new challenge following the absence of President Musa Yar'Adua.
The government of President Umaru Yar'Adua said last week that the president undergoing treatment for a heart condition in Saudi Arabia, was responding to treatment. "It is only his doctor that can determine or say when he will come back," Information Minister Dora Akunyili told reporters.
The news left many foreign firms, including U.S. oil company Chevron Corp. and Royal Dutch Shell Plc, in limbo as key oil licenses are set to expire.
President Yar'Adua has never been an easy person to meet, say Nigerian officials and company executives. But his extended trips abroad for medical care in recent months have made presidential audiences even rarer, reports said.
A government spokesman for the president didn't respond to several phone calls and messages seeking comment.
The president's fitness for office has become an important question for investors, considering its attendant risk steming from widespread corruption to crumbling infrastructure to an often-violent militancy in the oil-producing Niger Delta region.
The situation is particularly delicate for foreign oil companies that are locked in negotiations over expiring oil licenses and tracking industry legislation now before the national assembly.
Executives at Chevron, which has several multibillion dollar oil and gas installations in Nigeria, have been rebuffed in recent attempts to meet the president. "The administration definitely doesn't want people to see him," said a senior Chevron executive in Nigeria.
During a rare meeting in October with the president, executives from Royal Dutch Shell Plc were surprised when the president asked them to come and see him more often. The executives claim they had been trying to see the President Yar'Adua for months to smooth negotiations for renewing oil leases and to discuss changes in pending oil industry legislation but had been kept at bay by his advisers.
A Shell executive said they had hoped to follow the example of ExxonMobil Corp., which successfully signed a 20-year extension on three oil licenses in November. "We thought we could sign the shallow-water licenses stuff right on the back of Exxon," the executive said. "But then Yar'Adua left the country so all that got put on hold."
The person familiar with the Shell meeting said the president was sharp but appeared physically weak. But another international executive said the health problems are exaggerated and that government decision makers are readily accessible.
"Yes, the president could be healthier and he has a fragile constitution, but he is not near his deathbed," said Roland Ebelt, managing director of Nigerian Bottling company.
Last month, President Yar'Adua was flown to a hospital in Saudi Arabia to receive treatment for acute pericardities a serious heart condition – the fourth trip abroad for treatment in his 2½ years in office. President Yar'Adua also suffers from a long-term kidney ailment.