Odum Egege: Allegory Of N'Delta Question(II)
Being the concluding part of a paper presented by Adagogo Brown of the Humanities Department Rivers State College of Arts and Science, Port Harcourt at a seminar organised by the department, recently.
The sense of loss and enormity of efforts put in generating the goods that are carted away by the Opobo traders, in the name of trading, is captured by Nna Odum Egege in his sarcastic comment:
All day long, in the rain and in the sun, you and your children toil in the bush (demonstrating): cutting, planting or harvesting. You cut, boil, pound and press the palm fruit for the oil; you pot or -calabash, the nuts are left to dry before you crack and basket. (He pauses and looks round). You take the goods yourselves to the market to sell to buyers or exchange them voluntarily for other goods. The work you do, the market you buy, the acceptance of their prices and articles, everything you do, you do willfully, they don't force you … (p3)
The lamentation of the people of Azumini is an allegory of the exploitation and dispossession of the Niger Delta people of their crude oil by the Nigerian State and their collaborating multi-national oil companies.
More light is shed on the sense of loss and the exploitation of the Azumini people when Chijioke says:
… But today we've lost the value of our labour ….
The water people can now come and take our goods and offer us whatever they like …. (p.3).
Chijioke appears not to speak for the Azumini people only, he also speaks for the Niger Delta people whose natural resource is exploited and carted away without consideration for those whose land and environment the resource is taken. In the name of derivation, the Niger Delta people are offered pittance determined by the Nigeria state ever since the exploitation of oil from the Niger Delta, the same way "the water people" offer Azumini people whatever they like for their goods.
When Odum Ogege asks Azumini people in a rhetorical questions:
"Are you not the owners of the oil kernel and foodstuffs that make the peoples of Okoloama and Opuboama wealthy and great?" (p.3) he is indirectly asking the Niger Delta people if they are not the producers of the oil that has made the Nigerian nation wealthy and great. Even Ikechi corroborates the stupendous Azumini wealth that has been lavished in the development of Opuboama and Okoloama when he says:
Only those who have been to Opuboama and Okoloama know how much they've robbed us to build those their kingdom. (p.4).
The same is of the reality of the plundering of the Niger Delta oil proceeds which have been deployed by the Government of Nigeria in the development of Abuja, Lagos and other parts of the country excluding the Niger Delta.
With the increase in the awareness of the economic exploitation of the Azumini people, Odum Egege, tests his gift of all along been lying dormant.
First, he takes them down memory lane reminding them of the bravery of their forebears. Loaded with inflammatory elements, the speech is designed to spontaneously ginger and spur the people to revolt. Odum Egege queries:
… What has now come upon the brave people of Azumini … ·.? Your forebears were brave men who untiringly fought to protect their children from head-hunters. And you are now afraid of protecting these rights for which they fought and died, those rights without which you cannot ensure the continuity of your race …. (Pause) After eating basa, drinking manya ngwo and Esiriesi, you go about puffing, (demonstrating). I'm an Ndoki man! I'm an Ndoki man! (Pointing) to the water people, you are nothing! (p.5).
This and several other statements, no doubt, awakened the spirit of rebellion and prepared the people of Azumini for the assignment of protecting their economic rights from the invasion of King Jaja and Opuboama. 
From knowledge and self-realisation, the play moves to protest and self-preservation. This is the point where the Azumini people, having realized that they have long been cheated and  plundered, are ready to take their destiny In their own hands and reverse the trend. Readily, Odum Egege becomes 'the rallying point of protest and military campaign. He urges the people:
… it is a good thing to recognize one's rights, but a much better thing to be able to fight and protect them. Yes! Owughi egu a na ete na nkikara mkpuru. For it needs a lion's strength, a devil's determination to ask the oppressor to stop oppressing, the exploiter to stop exploiting, and the robber to stop robbing. The dangers are great, although the honour in life and even in death is greater. (p.6).
The role of Odum Egege and other Azumini elders in the pursuit of their right to control their resources can be likened to that of past and present Niger Delta people in agitation to also control their resources. With time, the struggle has gradually shifted from dialogue to arms struggle. In this we see correlation: literary characters and actions literally signifying historical personages and events. The signified personages and events observed since the Niger Delta struggle have remained a recurring decimal. The include Harold Dappa Biriye, Isaac Adako Boro, Ken Saro Wiwa, Edwin Clark, etc.
Before Odum Egege dies, he challenges Alabo Fubara who has come to impose Opoboama trade and protection agreement on Azumini people:
… (To Alabo Fubara) On Okoloama and Opuboama, we've never sought to impose our terms, and on us we refuse vehemently their coming to impose theirs. We'll begin trade with the whites. If you can trade with them, why can't we? We want to derive full benefits from our labour. (Addressing the elders) Umunna, is it not so? (The elders nodding) (p;49).
The imposition of oil revenue sharing formula and other conditions by the Government on the Niger Delta people is a literal translation of the efforts of King Jaja and Opuboama people to impose their trade terms on Azumini.
The objection of Odum Egege and his men to the imposition of terms of trade, calls for King Jaja's adoption of a military option in suppressing the Azumini revolt. This same situation plays out in the Niger Delta as the Government considers military option in quailing the protest and agitation of the people for higher percentage of oil revenue derivation or resource control.
Although King Jaja and Opuboama defeat Odum Egege and Azumini, consistently, Odum Egege's prophetic statement while undergoing torture on his journey of death in the hands of king Jaja's executioners comes to mind as reported by King Jaja's messenger.
He said many things. He kept on saying, for example … em, yes! I remember: "for there shall come someone to avenge innocent blood …
as I die for justice others will survive it". When they come to the mouth, blood spluttered, and his speech become unintelligible … then, in fact, your Majesty, he mentioned, "seeds planted … " p.l09.
Odum Egege's last words are full of prophecies of the emancipation and restoration of Azumini rights to the prophecies of the doom of Opuboama for denying others their rights.
Hear Oruogolo: Opuboamapu, moored by divine will, Infested now by human will, The ship stinks and soon Will be tossed
With a hopeless crew
For the hearts' desire of men
Often block their ears to the voice of the gods
And lead them always to And lead them always to destruction…
Eeee! Eeee! (He turns, skips and smiles)
Quick! Quick!
For nothing but the cleaning of t his land
Can save it from being washed way.
And posterity from agony, disunity
Hunger and death…
(He turns to the king, who is looking blankly
In front of him) Amanyanabo, fromw hat
You have done.
Refusing others' rights
Yours shall also be denied!
Nature has no better balance… (p.111)
In the concluding part of the statement of Oruogolo, the messenger of the gods, he appears not only to have prophesised but also cursed King Jaja for his unfair treatment of Odum eGege and Azumini people. The full implication of the statement for Nigeria is very obvious. In the manner Oruogolo has assured Opobo and posterity, of agony, disunity, hunger and death, except the land is cleansed, same, including disintegration appears to await the Nigerian State, except the rights of the Niger Delta people are granted.
For me, Oruogolo's statements of caution or warning of impeding doom to King Jaja is one that the leadership of the Nigerian State should take seriously and learn from, in handling the Niger Delta question.
Adagogo Brown
Last month, May 27th, Nigeria celebrated Children's
Day.The Tide spoke with some children that talked about their  dreams,wishes for Nigeria and advise to other children. Here are their views.
Nigeria Needs Good Leaders – Alice Godwin Udoh (SS1)
For my country Nigeria, I wish for good and considerate leaders that have the fear of God, good schools with equipment and good roads. Also, law abiding citizens and peace everywhere in the country.
My advise to children is that, they should always put God first in all they do. They should respect their elders,obey their parents and teachers and always live in peace with others.
ASUU Strike Should Not Happen Again – Oluwole Anointed (SS2)
My dream of Nigeria is that there should be free education for children and scholarships for students that deserve it.I wish that ASUU strike should not happen again. Let this be the last.
Government should help the less-previledged and defend the rights of the poor.
All children should try their best to make their parents, family and nation proud.
I Want A Corruption-free Nigeria – Virtue Ayomide Lawal (SS2)
I dream of a new Nigeria rising like a plumule of a lily from the myriad of corruption, inhumanity, insecurity and insincerity. I crave for a Nigeria,where justice takes the centre stage, also love and tolerance with leaders seeking first the interest of the citizenry.
I also dream of a Nigeria where I can sleep  with my eyes closed, travel round without fear, stand and express my talents and show the world how gifted I am as a Nigerian.
A Nigeria with the air in the North, South, East and West breezing fresh fragrance of oneness, not the smell of blood. A great black kingdom of power knitted in unity. A nation with an army of gallant leaders paving paths of greatness for their children and generations yet unborn. A birth of a new Nigeria.
To Nigerian children, don't lose hope. Better days will return, don't write off this nation, don't abandon it, do your little bit,get to know your history. Begin the change with yourself. Share, spark and ignite the fire of positive change into others around you in school, places of worship and communities. Together, we shall build a nation where peace and justice shall reign again.
Govt Should  Try And Eradicate Poverty – Benjamin Charles  (SS 1)
I dream of a Nigeria in good condition. A country where more than half of the population is not held down by poverty. A country where hardwork provide results regardless of proximity of political powers and wealth, where every graduate will have good jobs waiting for them after graduation.
I believe in my dream, hoping for good governance in our country and effective changes in our economic system. When these are achieved, we as children will have a country to be proud of.
As Nigerian children, our dreams would involve driving structural foundation and transformational reforms that will serve to integrate us as a country from the Sambisa Forest of the North to the Fishing Port of the South, down to the Plantain Plantation of the West and finally to the Ricemills of the East.
I Want Employment For Nigerian Youths – Ruth Sokari Siyeofori  (SS 2)
I dream of a Nigeria where youths will be employed so all these kidnappings, stealing, robbery, bunkering and cultism will stop. I wish that the discrimination against the poor will stop. The government should stop giving the people false hopes but provide good roads, railways, functional hospitals and good potable water.
I wish for good leadership and governance in my country, Nigeria.
My advice to children all over the world is to be respectful to their parents, elders and religious leaders.
We as children should learn to be grateful in all situations because better days are ahead of us. We should also be focused on our education so as to make not only our parents proud but the society at large.
Nigeria Needs A Roadmap For Sustainable Growth-  Perfect Eric (SS1)
I want a Nigeria where youths are given the chance to chart a roadmap that outlines a future that works for the good of the citizens, a roadmap that will put the country on the path of development, and make it a place where opportunities abound.
I visualise a Nigeria  where vibrant railway network forms an integral part of our transportation system because a lot of pressure would be taken off our roads thereby making them last longer. A vibrant rail system is important for us as a country  because most cargoes will be transported  by rail. Our political leaders  must strive to ensure that there is security of lives and property  and do whatever it takes to end terrorism, insurgency perpetrated by Boko Haram and other such groups.
I dream of a country where corruption  is checkmated to address the rising scourge of poverty in the country. The current unemployment rate is mind boggling. So, I dream of a country where jobs will be available for every qualified youth.
I wish government at all levels to find solutions to our pressing challenges, including unemployment which has made many graduates remain jobless after graduation. Put differently, the massive unemployment in the land is part of the reason why many youths consider  acquiring Western education as a waste  of time and resources.
Finally, as the country marked her 62nd Independence anniversary on Saturday October 1, I would like to charge the federal government to do all it takes to meet our  expectations as well as create an environment where our dreams can come to fruition and all children  from all walks of life can be proud citizens of Nigeria and boast of her achievement. If we all pull our resources together, we can make Nigeria great again .
I Look Forward To Nigeria's Unity- Ndieze John Paul (JSS2)
My dream for Nigeria is that of equality and unity as a nation. I have a dream that one day Christians, Muslims, the rich, poor, clean, unclean, able, disabled, male, female shall sit together side by side in brotherhood to pray, work, play and eat.
My hope is for this great nation, Nigeria, our great motherland to be bound in unity, faith, peace, love and progress  for therein lies our motto.
By: Ibinabo Ogolo
How You Go Forward Is Your Responsibility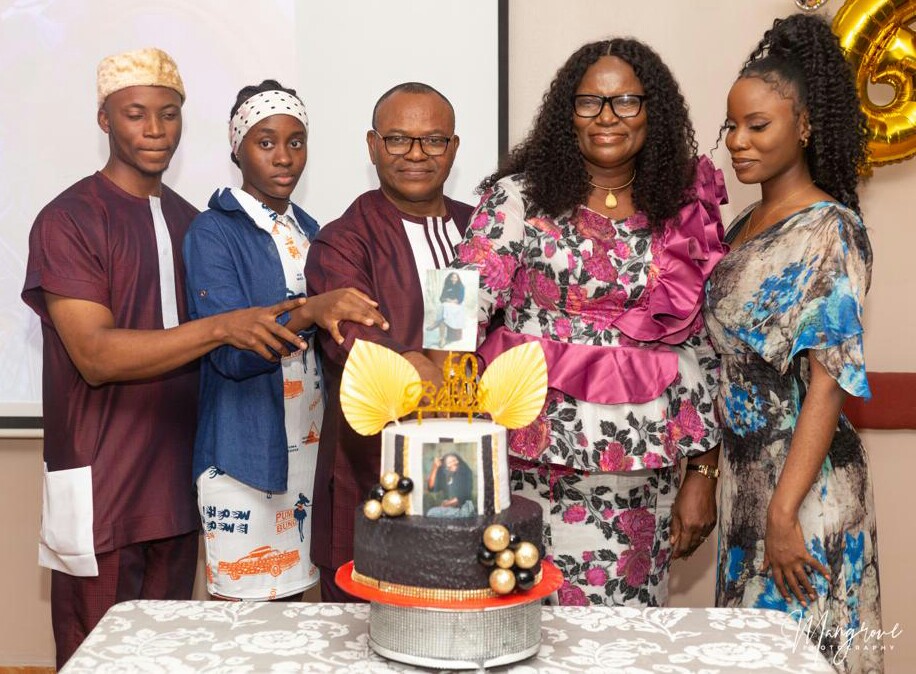 What happened to you was not fair. You were merely a collateral damage on someone else's war path, an innocent bystander, who got wrecked out of proximity.
We are all hurt by life, some of us from egregious wrongdoings, others by unprocessed pain and sidelined emotions. No matter the source, we are all handed a play of cards, and sometimes, they are not a winning hand.
Yet what we cannot forget is that even when we are not at fault, healing in the aftermath will always fall on us and instead of being burdened by this, we can actually learn to see it as a rare gift.
Healing is our responsibility because, if it is not an unfair circumstance it becomes an unlived life.
Healing is our responsibility because unprocessed pain gets transferred to everyone around us, and we are not going to allow what someone else did to us to become what we do to those we love.
Healing is our responsibility because we have this one life, this single shot to do something important.
Healing is our responsibility because if we want our lives to be different, sitting and waiting for someone else to make them so, will not actually change them. It will only make us dependent and bitter.
Healing is our responsibility because we have the power to heal ourselves, even if we have previously been led to believe we do not.
Healing is our responsibility because we are uncomfortable, and discomfort almost always signals a place in life in which we are slated to rise up and transform.
Healing is our responsibility because every great person you deeply admire began with every odd against them, and learned their inner power which had no match for the worst of what life could offer.
Healing is our responsibility because "healing" is actually not returning to how and who we were before, it is becoming someone we have never been, someone stronger, someone wiser, someone kinder.
When we heal, we step into the people we have always wanted to be. We also are not only able to metabolise the pain, we are able to effect real change in our lives, in our families, and in our communities. We are able to pursue our dreams more freely. We are able to handle whatever life throws at us, because we are self-efficient and assured. We are more willing to dare, risk, and dream of broader horizons, ones we never thought we would reach.
The thing is that when someone else does something wrong and it affects us, we often sit around waiting for them to take the pain away, as though they could come along and undo what has been done.
We fail to realise that in that hurt, we had the most important lessons of our lives and the fertile breeding ground upon which we can start to build everything we really want.
We are not meant to get through life unscathed.
We are not meant to get to the finish line unscarred, clean and bored.
Life hurts us all in different ways, but it is how we respond and who we become that determine whether a trauma becomes a tragedy, or the beginning of the story of how the victim became the hero.
Culled from January Nelson.
Prospects For Children: A Global Outlook Through 2025 – UNICEF
At a time of global crisis and rising uncertainty,does the vision of the Sustainable Development Goals (SDGs) remain a possibility?
The next five years will be critical for children.
Each passing year brings us closer to 2030, the year for which the world has set ambitious goals for itself – including for children – in the shape of the Sustainable Development Goals.
Progress in the next five years will decide if the vision of the Goals remains a possibility.
Our analysis looks at the prospects for the world's children based on a review of the evolving context, and it does so at a time of global crisis and rising uncertainty. COVID-19, climate change, the unwinding of democratic expansion, a shaken spirit of multilateralism – all are having a profound and lasting impact on children.
This state of the world today threatens to overshadow two decades of historic progress that has shaped the lives of children for the better. This progress has been driven by a convergence in living standards as poor countries start to catch up with wealthier counterparts and an overall improvement in the lives of children ,thanks to new technologies, new knowledge and new norms  from the proliferation of antimalarial bed nets to demands for gender equality and  access to education.
Whether these forces persist or whether they reverse in the coming years will be critical when we come to look back and assess the progress made for children at this vexed and complex moment in our history.
The likelihood of a two-tier recovery from the pandemic, with rich countries exiting first, creates conditions for an historic disinvestment in children in many developing countries that would put the SDGs for children out of reach.
On the flip side, the possibility of an acceleration in technological advances that benefit children, inspired by the rapid development of COVID-19 vaccines, and advanced further by an emboldened role for the state in funding research and development.
Weakened multilateralism risks stifling progress on the world's greatest collective action problems, including many of the biggest threats to children's lives.
The effects of climate change on children's health, development and well-being will become increasingly apparent. Meanwhile, the role of young people as a formidable force in driving change in attitudes, behaviours and policy concerning climate is likely to grow and become increasingly sophisticated.
A deepening digital divide risks leaving children in the Global South furthest behind in terms of their ability to benefit from digital tools, and most exposed to deficiencies in digital governance.
A trend towards youth activism is to continue as young people opt out of traditional forms of political participation, distrust electoral processes and express dissatisfaction with democracy.