'ICT 'll Transform Our Lives'
This is the last part of the Roundtable encounter with the Special Adviser to Gov. Amaechi on ICT, Engr Goodliffe Nmekini, first published last Wednesday, 25/11/09
What is your widest projection, are you getting to the Local Government Areas?
His Excellency puts together something called inter governmental forum, which consists of all the commissioners, all the Permanent Secretaries, all the heads of Parastatals, all the Chairmen of local governments and all his Advisers and Assistants.
This body meets first Monday, of every month. The whole idea is the fact that, when you say you are a government, local or state, is still a government, what affects somebody in the local government also affects the state. Therefore we must ensure that whatever is being done in the state is done in the LGAs.
Having said that, the Rivers State Sustainable Development Agency (RSSDA) is doing a lot especially in the rural areas. And we are also working with every body, whether Rivers State sustainable Development or the Local Governments themselves, so we have been in touch with them. We will extend whatever we do to the Local Government level.
Who are those to benefit or have benefited and how long now? Do you issue certificates?
This has been ongoing, it is over twelve weeks now. So we have actually trained Directors, Assistant Directors, Deputy Directors, we trained over 1200, so all the 1200 cannot be Permanent Secretaries alone.
At the end of every training we issue certificate, we are very strict, you must be there from the beginning to the end to qualify for a certificate.
Is it possible to create out stations other than those in the Ministries?
We do this in phases when you start you have to start with a small number to make sure that it works first before you start replicating it, we have the training here at Point Block as we progress there will be provision for other areas.
Any preparation to extend to primary school teachers in the state?
With the primary school where His Excellency acquired payment of teachers' salaries from local governments I think the work force is approximately fifty something thousand. Yes it would be extended to them
Would the ICT make civil servants lose jobs?
There have been a lot of studies in this area. His Excellency wants ICT to be introduced to the state; he wants the state to really take advantage of this tool. I think it will be a little bit for one to look at it from one angle you will lose job or the state government will end up firing people because these are new tools that have come in.
You should also look at it from the other end; I'm not saying this is true.
This will also spur lots of economic growth, where people can actually open up businesses and have more people to work I think there is a huge balance and there has been a study that has been conducted in different works even in the Western world, I mean we cannot say, because, yes, ICT will streamline job, sharp practices and make job opportunities higher therefore it is not something to embark on, I think if we follow that trend, we will be worst and we will never recover from it. So I think it is something that has more advantages, than disadvantages. Not just look as civil servants, they are not the only residents or citizens of our state.
And frankly speaking, I think there are so many things we can do as a state, even in civil service.
Can ICT be taken to primary schools?
Oh; if you recalled what His Excellency has said this is huge. I think you may want to take a look at Elekahia primary school. When I went there, I wanted to be a kid again because, it was just fantastic they have ICT room where kids can go to train, the library is equipped with computers where the kids can now log on to its internet and other resources.
And the whole idea is to start them very young. Like I said earlier, these are just executive toys to kids. This is where we hope, that by the time they get to secondary school level, ICT is already just like any other thing kids are used to.
Does the state have ICT Masterplan?
We have a masterplan, but it is not one that I can share all the way, the reason being that, it is still on the making.
I have a 2008, 2011 Frame work and we are still working with a lot of other agencies.
For example, I don't know if you heard about our innovation point, the state is also embarking on what is called an ICT village and because we have also taken that into consideration we now work with a few others to ensure that a masterplan is produced.
It is not something the state is supposed to be doing alone.
You also need the private sector to be involved and that is exactly what we are trying to do. Get every body involved because this is something that will affect everyone because it is going to affect everyone, state should always partner with the private sector to ensure that a robust masterplan is created.
Can government run the ICT system with profit?
The aim is to foster understanding and good relationship. We know government had never been good at running anything, government is supposed to provide the enabling environment for private sector to run things. Anybody who had been following His Excellency, would understand that PPP has been a cornerstone of his administration, that he always believed in something of partnership with the private sector.
We understand that Zenith Bank has ICT project. Is there any collaboration between you and them?
Zenith Bank approached His Excellency, we are going to build ICT training centre for the state, we build it, we equip it then we might help you run it for a month or two or so and then, handover to the state.
Now, is that a PPP by definition? The answer will be no, so this is part of the responsibility. What we may call corporate responsibility, to me, is just like building a road or constructing some infrastructures. They saw the need to build an ICT centre that will hopefully transform the ICT literacy of the state and they decided to do that, is still under construction and once it is done and handed over to the state, we will be able to brief you more on what our plans are.
Should that be seen as a gift to government for handling our salary?
This is again another area where Zenith Bank has actually come to the state and said we want to help in consultancy to help you automate your payroll system. At the end of it, everything that is done will be handed over to the state. So Zenith Bank will never run our payroll system. This is again another contributions to the state, we the state will run the payroll system. They will handover at the end of the project, the ICT department in different ministries will be responsible for everything, so in another way, this will actually move itself into what they call an Enterprise Resource Planning where, today you go to the civil service for employment and go through the tough process of filling of application and you go for interviews and all this and all that, at the end you get employed and those being in charge will now distribute your information to several ministries informing them that there is a new person. All these will be automated. That automation begins with the payroll system that these people are doing, because at the end of it, we have a database of all the civil servants which transcend to what we call Human Resources Database and from there we would be able to do some planning.
Again it is something that is being done by Zenith bank that will be given to the state.
What is the relationship between Zenith Bank and your department?
Actually no relationship. The only thing is that it is an ICT based initiative, therefore we have to put together some kind of plan for them and ensure that whatever they do for us is done according to our policies.
Has Zenith Bank become so generous to the state government, building an ICT centre and helping it to automate our salaries?
Well, let us look at it, is beyond that scope, they have actually done more than any other banks. I don't know, you are the watchdog of the state, so you will probably tell me better than I can tell you, in that regard I don't know what other banks and other companies are doing for the state.
What stops us from saying thank you Zenith bank for giving us this great edifice, giving us this great ICT centre, nothing that stops the government from saying through Due Process, let's look for a company that can help run it, Nothing stops us from doing that.
Are you exploring that?
You have to explore everything.
But have you advised governor on that?
Certainly that will be one of my options.
Sir, what are the other options?
Well, the department could also run it, provided it is something that has been issued by the executive council, but there are other options, but definitely, this is a very good option.
Are there any framework that has been put in place to ensure a transition and sustainability of this programme?
I don't know if there are things like that in place or is probably already being worked out. One of the things, His Excellency hammered on, very consistently, is the concept of building institutions. Once an institution is built, the human beings can no longer be factors; you don't have to be present for this system to work. So if you have institutions built, if this government leaves, another one takes over because, it is an institution, no longer can anybody just break it and say I no longer want to use this system because it wasn't built by me. This is a system that is here to stay.
An example of that is actually the PPP that we've been talking about, so the state government owns forty percent of the company and private sector has sixty percent of it, if this is generating income, do you think it matters which government is in power, it shouldn't, because the government is minority and as long as it is making money and doing what it is supposed to do, I don't think it really matters who is in power.
Do you see Federal Government as partners?
There is something going on at the federal government level called, Computer For All Nigerians Initiative (CFNI). My department has been exploring that. This is premised on personal computer. To own computer for themselves and then get deducted with little and little and eventually owning it.
So it is another way to really encourage us to use computer. We are in the process of doing that, we are just putting it together and of course we will get the Union and also involve the Head of Service and Secretary to the Government.
Once we have the go ahead, we will embark on that. It is something that we need to explore. The whole idea is to change the way we do business today. Over the years, people have left their homes, driven to the secretariat, just to pick up a form and we all know that there are several internet cafés around. Some don't even have internet connectivity at their homes why can't we start working at the moment where, their services are actually taken to the living room of the citizens and this is what this portal will do.
Forms that you come to secretariat to pick, you will be downloading and filling them on-line. We are beginning to move in that direction.
Where you now can have some kind of interaction with any government official you don't have to go there and wait for him or her. You should be able to send in your comment or ask for appointment. That way, it is given, you going there, you waiting for a minimal time and it is something that you don't really have to be there in person. So you should be able to send that information directly, we are also building forms where citizens can also interact directly with their elected officials and be able to speak their minds, The whole idea is again coming up with a gate way company creating avenues for citizens of this state to come closer to the government. So I hope that it is something that the citizens of this state will actually take very seriously, because we are making sure that they become part and parcel of this government, and of course, the address is nothing but Rivers State governor ng. and from there, you can now see our different services and also you become a resource or one special thing for everybody.
Well let us come back to computer again, the way you are sounding is like the e-government is becoming more of a reality. What time span do you think this can be achieved. In the life of this administration?
Absolutely that, I can assure you. Yes, we have already begun what is really e-government, it started like everything else in phases, before that we can now communicate. We put in some collaborative tools in place today where/what happens with you and we also started integrating everything where/what happens in Ministry of Works is automatically known in Ministry of Finance and so on and so forth, and we are able to get away from hundred percent file system, I fill that form and send it to the Government House and I have to call somebody, you begin to realise the benefits of e-governance, I can assure you right now, that that is around the corner.
What is the fate of civil servants, Government officials who are not computer literate?
Well, this is what we have begun, I think we have within twelve weeks of training, everybody is entitled to that, remember that you are not paying for it. So every ministry is sending names of people, names of their staff to be trained. So we continue, as a matter of fact, just because you've gotten trained ones doesn't mean that you can no longer go back there to be retrained. So because the key word is training and retraining, we continue to do that to ensure that the minimal thing that you need to do your work is achieved even when application is developed, you will still be trained on that application. What we do now is giving you the foundation and then as applications get developed people will also get trained in the use of those applications.
How many Ministries and Parastatals do you hope to cover?
This is a statewide effort, as we get the names of the people to be trained inspite of the rounding up.
SA, is there any person that is untrainable?
Everybody is trainable. For me, it is just a matter of wanting to be trained, is not rocket sciences, not brain surgery, this is just basic knowledge on ICT
Since you returned from the USA, how involved have you been in night life. Do you find time to go to night club?
I think as they say all works and no play make jack a dull boy. But Port Harcourt is a Garden City not just because there are so many gardens. As part of our lifestyle I do once in a while go out and relax, but of course having taken a department that never existed, I think you need to do your job first especially if you work for His Excellency. The night life, thank God it has come back and people are enjoying it, but whether I enjoy it or not, as long as citizens enjoy it, I think that is what we want.
Those Demarketing Rivers Should Stop Spreading Falsehood -Sophia
Only recently, the Rivers State Ministry of Information and Communications orgainsed an essay competition for students in the State as part of the second phase of the advocacy campaign of #Our StateOurResponsibility, aimed at changing the negative narrative about the State.
The first prize winner of the competition, Miss Oyibo Sophia Awajibenem, now the Ambassador of the programme and the face of the Information and Communications Ministry for three months, is truly passionate about advancing the frontiers of the campaign.
In this encounter with our General Manager, Ernest Chinwo and Group News Editor, Victor Tew, she dwells extensively on the imperatives of potraying the state in its true positive status, given the giant strides of the state Governor, Chief Nyesom Wike, and many more.
Excerpts.
Could you please, tell us about yourself?
I am Oyibo Sophia Awajibenem from Ngo in Andoni Local Government Area. I am 18 years old. I am a public health student. I reside in Port Harcourt.
I school at Port Harcourt Joint Professional Training and Support International Institute.
I am the Ambassador of the Rivers State Ministry of Information and Communications. I am patriotic and ready to achieve more success.
I will like to further my education in order to become a Medical Doctor.
How do you intend to go about that in terms of resources and all that?
It is by being studious. By going out there to read and gain information, do my research and also being focused. The determination in me will keep me focused
Why did you participate in the essay competition orgainsed by the Rivers State Ministry of Information and Communications on the advocacy programme tagged. #OurStateOur Responsibility?.
I did it because I love the vision of #OurState OurResponsibility. I deemed it fit to participate to promote our State as an individual and also as a youth.
What really spurred you into partaking in the essay competition? Is it because of the pecuniary benefit attached to it or an altruistic concern to change the narrative of the State?
Firstly, I never saw the competition as a challenge. I just wanted to write the truth. I wanted to make known what I felt was what we as individuals, as the State should do.
I wanted to spread the love. It is not just about your personal benefit or your personal need. It should go around, it is collective.
What was the major attraction to you?
I don't want to use the word major because I saw just the Ambassadorial duty. First to be the Ambassador of the ministry before I ever read down to see that there was a cash prize attached to it. I wasn't concerned about the cash prize, I was concerned about being an Ambassador. I wanted to represent that and that was the goal.
When you submitted your essay and was shortlisted, how did you feel?
I felt overwhelmed, this is where the trust comes in. They should know who we are personally and believe in us, that it is actually from within. I had to go there, to do what I had to do because it was not something that was forged, it is the passion in letting people know. So I felt appreciated by that means.
OurStateOur Responsibility. How do you see it?
It is a vision. It is telling us that we have roles, obligations, duties to perform in the state. When we say #OurStateOur Responsibility, it includes everyone. We are the State, we are the government and that responsibility is what we have to render to the state.
Well, there was a statement credited to you in your essay. You did say that you remembered a piece by Erekosima.What did you think about that piece?
The piece by Boma Erekosima is a motivation. It is what inspired me to write, to participate in the essay writing. It actually spelt out my essay. That piece was a summary of what I wrote.
Can you recount it?
Love Rivers State or leave her alone, don't pull us down, see what you can do for us, engage yourself in meaningful activities, no room for gossip and do something meaningful.
How does it relate to us, the youths of today, our politicians, those who are trying to pull the State down and those who don't have the interest of the State?
When we say we should love the State, it means that we should love ourselves, everything about the State, we shouldn't be into propaganda, we shouldn't spread rumours, flasehood. We should appreciate the fact that our State is improving. We should see the progress, we shouldn't just vandalise those things that have been provided for us. We should use them as resources. We shouldn't be idle because an idle man is the devil's workshop.
We should grab opportunities, work with them and make them a success.
We find our youth involved in anti-social activities. So, what is your message to youths of Rivers State?
There is no benefit in doing things that are irrelevant. We should put our vision where it will benefit everyone, it should not just be personal. Don't do things that are illegal. Grab opportunities that will promote the nation, that way, we all can grow.
How do you think the youths can be detached from being used as political thugs and all that?
If they are given proper knowledge about the consequences of the things they indulge in, I feel that it will bring them to the consciousness that they are better off than being thugs. Proper orientation of being good in the society to be leaders of tomorrow. That way, they will see the bright side of it and focus on good visions in promoting theState.
If you are asked to draw up a sensitisation programme for youths, how would you go about it?
I will start with an orientation or a sensitisation programme because it does not just start like that. You make them understand, you bring them to their notice and do a follow up. When you tell somebody about something, as you let them be, you are not really convinced that you are passing the message to them. You have to follow them up, bring up situations and platforms that will ensure that they are actually rooted in being successful.
As the face of the state Ministry of Information and Communications programme: #Our State Our Responsibility, what would you like to do?
As an Ambassador, I am an advocate of something, an advocate of the vision, #OurState Our Responsibility. I am here to start a programme to enlighten the youths about the good opportunities that abound in the State and to make our leaders know that we are not lazy and we have talents and if only we are given the platform to showcase them, we will do better.
It is something that we as youths have to bring out the best in us.
OurStateOur Responsibility, how do you see it?
It is a vision. #OurStateOur Responsibility is a vision that is telling us that we have roles, obligations and duties to perform in the State and when we say #OurStateOur Responsibility, it is not just one person, it is everybody in the State.
Some politicians in a bid to score some cheap political points have been known to brand the State as unsafe for people to live in, unsafe for investments and all that, do you share in that view?
No, I don't, because we are in this State. We go out and come in to our houses. We should be security conscious. For investors, people who go about their business activities, I feel that the trust should be there.
There should be a benefit of the doubt and as far as Rivers State is concerned, we are the people who will showcase the business. We should be exemplary.
So there is no room for falsehood or any kind of conviction that we are not safe. We are safe.
So what is your advice to those demarketing the State?
I will say that they should stop spreading falsehood. There is no gain in spreading lies. At least, they should come and see for themselves. And those investors also for you to invest in a place, you should have a background check on whoever you are going to invest with or who your investors are for you to know better. Not just by word of mouth but seeing it.
How do you see the Wike administration
He has really done well. The Rivers State of yesterday can not be compared to what we have now. Port Harcourt is beautiful and safe. Port Harcourt is filled with so many businesses, so many organisations are doing well, so there is prosperity.
What about human capital development, are you impressed?
I am, because it is improving. it is not like how it was before. we are doing well.
Rivers State is blessed.
As an Ambassador of the Ministry, what is your advice to the youths, politicians and leaders?
To the youths, I will say success is not determined by age grade or age limit, we need to grab opportunities. we do not have to wait for us to be told what we have to do. We recognise who we are. Because we are the leaders of tomorrow and it starts now.
We shouldn't wait till that level where they throw accusations at us that we are not doing anything. We need to show that we are ready for the future.
To the politicians, I feel that education is the key; knowledge is power, they should actually support the youth and everyone in Rivers State and they shouldn't do things that make youths to regret.
They should support that which is good, education , security and also when it comes to bringing up talents. I feel that there should be more investments.
To our leaders. they should keep up the good work, because we look up to them.
They should be exemplary, they should be disciplined.
There is this misconception that the youths of our State are only interested in what they can do for money to come immediately and are not conscious to the extent of working hard, believing that their efforts will yield dividend tomorrow. So they prefer what they can get now What is your reaction to that?
I feel that it is a practice. It is not our culture because we have to be hard working. we have to be professional, we have to know what we have to do to attain such position, is not by having it immediately, because that is theft, corruption and greed.
We have to work diligently to get what we want. So it is wrong for anybody to have any amount of money that is not from a genuine source.
I feel that all we need to do is to put our hands on deck to work for that which is right at all times.
One thing we have noticed in our State, especially the state capital is indiscriminate dumping of refuse. Are we saying that it is not part of our responsibility to keep our State clean?
It is our responsibility to keep our environment clean and safe because when our environment is dirty, it affects our health. so we should actually work at our health, our wellbeing and also we have agencies which are controlling that. If the agencies are working, it is our responsibility to support them in making the place clean, because we all are humans and it will be inhuman for some one to be working for the cleaniness of our environment then, we all make the place dirty.
It's not right. So our responsibility is taking it up to ourselves as humans to make our environment clean.
You were Commissioner for Information for 30minutes, how do you feel about that?
It was amazing, it was a rare opportunity, and I feel that for anyone to sit there as a commissioner, then, there is a whole lot to do, it is not just by saying it but it is by showing it. Our Honourable Commissioner, I know is showing it because having sat there, I saw so many opportunities on that seat and this has actually motivated me to do more to sit there one day.
Having sat there for at least 30minutes or so, will you go into politics?
Yes. For you to be a citizen, involving in politics is just what to get you to that level, it is not a bad thing.
What extent has your participation in this essay competition motivated you?
It actually gives me an opportunity to meet people, to see things, to have views, to hear about what the world is saying. So, I feel that encouragement is not by saying or being an Ambassador, it is being here in the State and doing more for the State. So, I feel motivated to bring that picture and few presentations of what the vision is, that is what I feel.
As an Ambassador for some weeks now, what has been your kind of schedule? Have you met some new persons, some new opportunities so far?
It has been excellent, but not easy, because this time around in my life, I try to schedule things and share some of my times there is time management and there is this hospitality you have to show to everyone because they want to know more about you. You give them the chance to express themselves, and that has actually made me to realise and have the knowledge about everything and because they throw questions you are not familiar with. That gives me the room to read more, that gives me the room for human resources management, to understand people, to actually know more about people, to understand their mood and where they are headed to, and to understand their different perspectives and to know what they indulge in.
Where do you see Rivers State tomorrow and in the future? .
We are already in the future because we are getting to the top; I see an extraordinary State; I see a beautiful State; I see a State that is without or should I say with less corruption, that is with more of development. That is where I see Rivers State.
Wike Has Made Rivers People Proud – Eke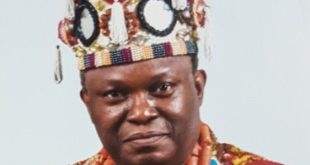 His Majesty King (Dr) Leslie Nyebuchi Eke, Eze Gbakagbaka, Eze Oha Evo III of Evo Kingdom in Obio/Akpor Local government Area of Rivers State, is a First Class Traditional Ruler.
Trained as a Biological Scientist at Illinois State University, Bloomington Normal, United States of America, he holds a Masters Degree and Doctor of Philosophy Degree (PhD) from Wycliffe University & ATS, California.
Suave, ebullient, accessible, humble, down-to-earth and cerebral, Eke is also the Secretary General of the Association of Niger Delta Monarchs (ANDMON) and the Public Relations Officer of the Rivers State Chapter of Traditional Rulers of Oil Minerals Producing Communities (TROMPCOM).
In this exclusive interview with our Production Editor, Donatus Ebi and cameraman, Egberi A. Sampson, Eke poignantly bares his mind on sundry issues affecting the State and the nation. He particularly eulogises the Executive Governor of the State, Chief Nyesom Wike for the giant development strides of his administration within the past six years and comes to the inevitable conclusion that he has surpassed the achievements of his predecessors, having performed beyond the expectation of Rivers people.
Excerpts.
His Majesty, by virtue of all that you have seen in the State in the past six years, what are your comments on the achievements of Governor Nyesom Wike?
As it concerns us and the Governor, Governor Nyesom Ezenwo Wike is God-sent, a purposeful Governor, a vision-full Governor and a man that knows why he is Governor, why he did come to contest and contested as Governor. And this man, meticulously, seriously, honestly, has continued, day by day, month by month, to roll out projects that are impactful to the society, to Rivers people. Roads infrastructure, schools, hospitals, human capacity, I mean continuously. This man has turned the Garden City into a city of flyovers. And that is very meaningful. We very much appreciate such a person. And unfortunately, he can't go for a third term. We wish he goes for a third term. He is going to give so much to the Rivers people.
He has made us so proud. He has distinguished himself among the Governors and governments in Nigeria. All the things he has done, other governments and even the Federal Government should learn from him.
A case in point is the Coronavirus pandemic. Our Governor took proactive actions in time and that is why Rivers State did not suffer much from the pandemic and they had to learn from him. He has impacted on the people commercially, economically and otherwise. Even our Christian lives have improved because he gave this State to God and declared it a Christian State. He built an Ecumenical Centre and God literally has come down to work with His people and has begun to give us a sense of direction, a sense of belonging. We appreciate so much from the man, who has unlike others, really worked even in the second term, working like it was the first term. And we are grateful to God for all his achievements. He is a true Ikwerre son. We appreciate him. We pray that he would find more to do even after he has left this stage of governance. We couldn't have had it any other way.
Would you then say that Governor Wike has performed beyond expectation?
Very true. This Governor has done beyond expectation. Looking at precedents, looking at people before him, what he has done even per month, it is unequalled anytime, anywhere in the history of Rivers State. This Governor has done so much.
In spite of all that you have seen he has done, is it not surprising that there are still pockets of opposition in the State?
Well, it is unfortunate but we must have opposition. We must have people that agree and people that don't agree. It is normal. We just want to encourage them to criticise constructively. They should engage in constructive criticisms. They should criticise him constructively. Not just opening your mouth for opening sake. This time around, it will be very difficult. You know, he has been accused of 3D projects. It is no longer 3D now, because you can come there and see it for yourself. You will see the flyovers. Who does three flyovers at the same time? Nobody. And he has told us that he has more, seven more to deliver to Rivers people and put us on the world map of very very improved humane settlements. We appreciate that.
You said it is unfortunate that the Governor won't run for a third term, but there are people out there calling on him to run for the Presidency come 2023. What is your take on this?
At his point, I am not a politician. For him to run for a federal office, it is entirely his prerogative, it is at his discretion. It is left for him to decide. He has to watch the politicial terrain and decide what he wants. But one thing is sure. Anywhere this Governor, Chief Ezenwo Nyesom Wike finds himself, he would deliver on his promises, he would deliver on the NEED Assessment of the people. This man is in tune with development. He is in tune with the people. And I am not afraid. If tomorrow, he runs for the Presidency, it is Nigerians that will gain because he is going to work tirelessly. I don't know where he gets his energy; he is going to work tirelessly and fearlessly and deliver on the things that matter to the people.
As a royal father, which areas would you like to advise the Governor?
Well, first and foremost, he has to watch his back. He is a Governor that works by self-conviction. And so he cannot be deterred by anybody, by superiors' stories, very bad advice; he is unaffected by those kinds of things because he is a man of conviction. When he decides on a project, he delivers, because he is in tune with the people. He is a grassroots politician; he feels the pulse of the people. And I am sure he knows what Nigerians want too and if he finds himself in that national stage, I have no doubt in my mind that he will win and provide dividends of democracy to our people.
We have been having some security challenges in the country and even in the State in recent times to the extent that Governor Wike had to impose curfew in the State. How would you react to this?
Well, the Governor has done well in the area of security. This Governor has done more than any government, to give state of the art equipments to security operatives in the State, both water and land. He has done so much and continues to do. So, the rest is left for these professionals to deliver. The Governor is not a policeman or a soldier. He has built a Guest House for the Army, giving them vehicles, and the police, you know it, giving them so much including other security organisations. The government has done so much for the security people and they are supposed to complement the huge expenditure of government on them.
The idea of having a curfew is also part of his own actions to mitigate these security lapses that are creating fears among our people. So, he is helping them. It is good for them. It is good for them to complement what he is doing, in terms of speaking to the people by his now and then broadcasts. It is to encourage them to know exactly what government is up to. It is for them to know what is happening. In this way, they are able to work with him, and stay distance and time with the Governor and not begin to feel that he is not doing enough. He is talking to them constantly. The security operatives should complement this government's efforts and prove it right in its activities to secure lives and property. I support the government of Ezenwo Nyesom Wike. I support him wholeheartedly and he has done well. I score him high and give him excellent mark.
But some people are still complaining about the curfew, what do you have to tell them, both the residents of the State and Rivers people?
The curfew we should obey. The residents and people of Rivers State should obey the curfew. It is even in the Bible, that we should obey the laws of government. And so, if it is this one regulation that government has brought, we should obey. It is not for peace-loving rivers people but this is to catch the criminals. We too should complement government's efforts by obeying the rules and regulations. Like when we had the lockdowns, don't we see that we are enjoying health now? At that time too, people criticised the government and the Governor, but today, they have swallowed their words. They are enjoying health now. If the Governor had left Coronavirus to fester, then, it would have been terrible for our people. But today, we are walking around, the markets are open, and everywhere else, people are able to live their lives.
His Majesty, some Nigerians are today calling for the restructuring of the country and some too are calling for secession, from the foregoing, what do you think is the fate of Nigeria and what do we really need?
Obviously, to sustain the various geo-political zones of Nigeria, we do need restructuring within one Nigeria. And people that are resisting this, obviously, in time, will bow to the yearnings of the people. If you go back to the time when we had regions, we had relative peace. We are not saying we should go back to that but those kinds of things we were enjoying regionally, should begin to be apportioned within the States. Like for us in the South-South or the core Niger Delta, it is very important that we enjoy the proceeds of the God-given minerals that we have. We cannot have these minerals and people who are somewhere else, even beyond the shores of this country, are enjoying them. We can't have that. No responsible government can do that. What God has given Nigeria is for Nigerians.
What do you have to say about the ongoing Constitution Review vis-à-vis the need for the traditional institution to be given roles in the Constitution?
The Constitution Review is welcome even if we are hearing that they are spending so much. Unwarranted expenditure is not good but the Constitution Review is good. And as it concerns the traditional institution, we need to spell out the functions of traditional rulers. With what we are doing, now, that I say it is illegal, as per it is not captured in the Constitution. But when it is captured in the Constitution, then, it serves as a support for us to do what we are supposed to be doing; and that is to complement government in the area of governance. So, that is very important. We should be captured in the Constitution. Traditional rulers are very important in nation building. They are very important in creating national identity. We are doing it now. There is this unofficial regulation, as it were, for Northern traditional rulers to come and visit their counterparts in the South and vice versa, both in the East and the West; that kind of friendship is ongoing. But it needs to be captured in the constitution. If it is captured in the constitution, it will be sustained and it will be done as a matter of duty.
FG, Insensitive To PANDEF's Agenda – Ogoriba
We thank Mr. President for flagging off the clean-up of Ogoniland as recommended by the United Nations Environmental Programme (UNEP). The long delay in starting the Ogoni Clean-Up had sapped confidence locally and had caused the broader Niger Delta to doubt the intentions of Government. We, therefore, urge the Federal Government to speed up this exercise, especially by following through the emergency steps outlined in the UNEP Report, which includes the provision of safe drinking water for a populace whose water has been declared unfit for human consumption by UNEP, years ago. We also urge the federal government to commission a Region-wide credible assessment of the impacts of crude oil pollution of the environment in the Niger Delta and undertake to enforce all environment protection laws.
We similarly urge the Federal Government to take decisive steps to enforce the Zero Gas Flare deadline.
The devastating effects of coastal erosion and lack of effective shoreline protection for the coastal communities of the Niger Delta must be tackled as a matter of urgency.
The Maritime University Issue
The Nigerian Maritime University, Okerenkoko, is largely regarded, by persons from the Zone, as symbolic and deserving. Its closure and certain statements around it, have been viewed as insensitive and out rightly provocative. This, of course, is aside from the obvious potential benefits that the Institution offers to the technical and managerial capacity enhancements of, not just persons from the Zone, but all Nigerians. We, therefore, strongly urge the President to direct the take-off of the already approved Nigerian Maritime University, Okerenkoko, in Delta State. The prompt take-off of this University will most certainly assure the people of the Niger Delta that President's Administration is truly a sensitive, listening and inclusive Government. Also, we strongly urge that the announced plans to upgrade the 30-year old Maritime Academy, Oron, Akwa Ibom State, to a university should be implemented.
Key Regional Critical Infrastructure
There is the need for the Federal Government to fast-track interventions on some of the indicative Regional Infrastructure viz:
• We wish to thank President for ensuring that the first phase of the coastal railway project is provided for in the current 2016 budget. We urge the Federal Government to further ensure the full implementation of this project that is designed to run through all the states in the Niger Delta, up to Lagos.
• Complete the existing East-West Road.
• Work should resume on the abandoned Bodo-Bonny Road Project. We note that NLNG had already offered 50% funding for this Project.
• Implement the proposed East-West Coastal Road Project, which stretches 704 km in length along the Atlantic coastline, from Odukpani Junction in Cross River State, connecting over 1000 communities, to Ibeju on the Lekki-Epe Expressway in Lagos State (Design already completed by NDDC).
• Implement the development of inland waterways and riverine infrastructure.
• Remove bottlenecks militating against the full activation and utilization of the existing ports in the Niger Delta, including Port Harcourt, Onne, Calabar, commence dredging of the Escravos bar-mouth which will open up Burutu, Koko, Sapele, Warri and Gelegele Ports to deep sea-going vessels and expedite work on the dredging of the Calabar Port. The Deep Sea Port project in Bayelsa State also requires consideration.
• We urge the commencement of work on the Ibaka Deep Sea Port for which Feasibility has long been completed.
Details of other regional infrastructure projects will be presented in the course of the dialogue.
Security Surveillance and Protection of Oil and Gas Infrastructure
The incessant breaching and vandalization of pipelines, and oil theft, have taken direct tolls on oil production and supplies, with corresponding adverse effects on the economy of our dear Country. Pipeline vandalism also damages the environment, health and economic activity of inhabitants of affected areas, as well as complicates environmental cleanup efforts.
It is therefore our view that an urgent review is done to pipeline surveillance contacts to give the responsibility to Communities rather than individuals in a manner that ties some benefits to their responsibility. Communities would then see their responsibility for the pipelines as protection of what belongs to them.
Relocation of Administrative and Operational Headquarters of IOCs
The Headquarters of most Oil Companies are not located in the Niger Delta Region. As a result, the Region is denied all the developmental and associated benefits that would have accrued to the Region from their presence. It has therefore become imperative for the IOCs to relocate to their areas of operation. This move would create a mutually beneficial relationship with the host communities.
Power Supply
Despite being the core of power generation in the Country, most Communities in the Niger Delta remain unconnected to the National Grid.
We, therefore, advocate a power plan that strongly ties power supply in the Region to gas supplies, thereby giving all sides a stake in improved stability. Because of existing infrastructure, this should be an area where the Government could deliver the swiftest and most noticeable change.
Economic Development and Empowerment
The Federal and State Governments need to signal their interest in sustained economic development in the region by:
i. Implementing the Brass LNG and Fertilizer Plant Project and similarly concluding Train 7 of the NLNG in Bonny
ii. Reviewing, updating and aggressively driving the National Gas Master Plan to integrate the economic interests and industrialization aspirations of the Niger Delta Region
iii. Creating a Niger Delta Energy Industrial Corridor that would process some portions of the Region's vast hydrocarbon natural resources, where they are produced, to create industrialization and a robust economic base in the Region that would improve the living condition of the Citizens.
iv. Expediting work on the Export Processing Zones (EPZs) in the Region, in particular, the Gas City, Ogidigben and Deep Sea Port, Gbaramatu, in Warri South LGA of Delta State.
v. Harnessing the huge rain-fed agricultural potentials of the area through the development of farm estates, fishery development projects and Agro-Allied Industrial Clusters.
vi. Harnessing the entrepreneurial ingenuity of the youths in the Region to keep them gainfully employed in legitimate businesses, and away from restiveness.
vii. We urge the use of ICT as a tool for peace, job-creation and development. Appropriately deployed ICT can be the elixir to create much-needed jobs, promote entrepreneurship and create wealth in the Region.
vii. Resolve the various issues leading to the non-operation of Delta Steel Company, Oku Iboku Paper Mill, Edo Textile Mill and ALSCON.
Inclusive Participation in Oil Industry and Ownership of Oil Blocs
The sense of alienation of Niger Delta indigenes from the resources of their land will continue until there are affirmative actions that guarantee the involvement of these communities in the ownership and participation in the Oil and Gas Industry. We, therefore, urge the Federal Government to enunciate policies and actions that will address the lack of participation as well as imbalance in the ownership of Oil and Gas Assets.
We similarly urge the institution of Host Community Content within the Nigerian Content framework, across the entire enterprise chain of the Petroleum and Maritime sectors.
Restructuring and Funding of the NDDC
There is the urgent need to adequately restructure the NDDC to refocus it as a truly Interventionist Agency, that responds swiftly to the yearnings of the grassroots of the Niger Delta. Communities must be able to have a say in what projects come to them. We also urge the full implementation of the funding provisions of the NDDC Act.
Strengthening the Niger Delta Ministry
Since the creation of the Niger Delta Ministry, even though it was meant to function in the mode of the Federal Capital Territory Ministry, its funding has been abysmal. There is an absolute need, therefore, to adequately fund, and strengthen this Ministry to the purpose for which it was created.
The Bakassi Question
The fall out of the ceding of Bakassi to Cameroon continues to threaten the security of the southernmost part of the Niger Delta Region. The unresolved issues arising from the Green Tree Agreement continues to create tension and plague the region. There is also the lack of a well-coordinated transparent blueprint for the development and resettlement of the displaced populations. The host communities face huge abuses and are unable to reestablish their respective means of livelihood. We, therefore, recommend a comprehensive resettlement plan including development for the host communities and displaced populations to reduce the risk of making them into a Stateless People.
Fiscal Federalism
The clamour for fiscal federalism has continued to be re-echoed by different sections of the country. The people of the Niger Delta region support this call and urge that the Federal Government should regard this matter expeditiously.
What message would you want to pass to the Federal Government for being insensitive to these issues five years after?
It is regrettable to say that the 16-point agenda has not been attended to thereby bringing about high rate of insecurity in the region.
For emphasis, after having several interface with these boys, they saw the reasons for dialogue than allowing the region go in flames as a result this brought about ceasefire in the region making everyone to be enjoying the relative peace being enjoyed today.
I want the Federal Government to know that when these boys see that there is blatant refusal in addressing their issues by the Federal Government, they are capable of making the region go into flames, adding that he appealed to the Federal Government, and other critical stakeholders responsible for the implementation of this 16-point agenda to be sincere to themselves and do the needful, adding that what the people in the Niger Delta region want is that all must be fair, just and equitable in what they do, so as to engendered peace and security to the Niger Delta region.
Concluded.