Bode George And Lagos PDP
Last week's jailing of erstwhile Deputy National Chairman (South) of the Peoples Democratic Party (PDP) and one time chairman. board of the Nigeria Ports Authority (NPA), Chief Olabode George is perhaps the worst news for the Lagos State chapter of the party this year. For the party, two years without George, is like playing Hamlet without the prince
George, who with five other directors of the NPA was sentenced to two years imprisonment by an lkeja High Court, presided by Justice Joseph Oyewole has been the leader of the party in the state for the past six years. Aside being a major financier of the party in the state. George's closeness to former President, Olusegun Obasanjo and other top leaders of the PDP, also placed him head and shoulder above other chieftains of the party in the state and the South West zone.
The national leadership of the party had so much trust in George's ability that it entrusted him with the responsibility of strategising and actualising the party's futile attempt at taking over the Alausa Government House. Ikeja, Lagos in 2003 and 2007. He later served as the Director General of the President Umaru Yar' Adua Campaign outfit during the 2007 electioneering.
But it appears none of George's political credentials made sense to Justice Oyewole, while pronouncing him and five other directors of the Nigerian Ports Authority (NPA) guilty and had them sentenced to two years imprisonment, last week Monday.
While many have hailed the judgment as a step forward in the quest to rid the country of corruption, the PDP believed the court ruling was not fair to George, who was a former military governor of the old Ondo State. The party's National Vice Chairman (South West). Alhaji Tajudeen Oladipo. said the party would appeal the ruling, even as he insisted that the judgment was very much against the ruling party. George has since applied for bail while his appeal is to be heard.
For the state chapter of the party, the judgment might have put a spanner in the on going works to reposition the PDP ahead of the 2011 election. The national leadership of the party in its calculation for the 2011 governorship election in Lagos, has since realised the importance of a total reconciliation of all contending groups within the party as a sine qua non to the party's repositioning ahead of the election. But every reconciliatory moves initiated at the national and zonal levels of the party had been bedevilled by the inability of the various groups to fully embrace one another.
The major contending groups within the party are the Establishment Group. headed by George: the Solidarity Group, headed by the High Commissioner to Ghana. Ambassador Musiliu Obanikoro and the Mandate Group, under the leadership of former Minister of Works and Housing, Senator Adeseye Ogunlewe.
Other minor groups include, the Alagbon 14 Forum of Local Government Candidates and the Elders' Forum.
The various groups are product of division of the party along factional lines. following the poor handling of the fallout of the 2007 governorship election. and the simmering politics that trailed the post election ministerial nomination from the state.
While many of the various reconciliatory committees set up by PDP leadership of the party, have made concerted efforts to unite the various interests within the party, the recognition of George as the de facto leader of the party in Lagos was never in contention. What was in contention was the extent to which other interest groups were prepared to accept him as leader of the party.
The George group is also said to have an upper hand in the power game. as he was responsible for the installation of the incumbent executive of the PDP in the state. And the leaders have continued to demonstrate their support for the embattled politician.
Observers believe that with George's possible confinement to the four walls of the Kirikiri Maximum Security Prison for the period of his sentence, other groups might try to position themselves for possible take over of leadership of the party in the state. This, as many believe, may likely worsen an already bad situation. It is believed that the state executive, which has demonstrated unalloyed loyalty to George may resist such a move.
Yet, as is custom in the PDP, any state where the party does not have a sitting governor, the leadership of the party in such state is usually ceeded to one of the national figures in most cases, a serving minister or a national leader with much clout.
Thus, the party cannot shy away for too long on the issue of a leader in the absence of George. This, again, may open another 'power show' between the other group leaders, notably, Obanikoro, Ogunlewe and the Minister of State for Interior, Mr. Demola Seriki.
Musiliu Obanikoro
A former Commissioner for Home Affairs in the Alliance for Democracy (AD) government between 1999 and 2003. Obanikoro later contested and won the Lagos Central Senatorial seat on the party's platform in 2003. but later defected to the PDP while serving as senator. He emerged as the PDP's governorship candidate for the 2007 election, without George's support. George's choice was the widow of the late Funsho Williams. Hilda. But. George in his capacity as the leader of the party, was also given the task of coordinating the strategies for the electioneering.
The actual battle started after the loss of the election when the state chapter was expected to forward its list of ministerial nominees to President Umaru Yar' Adua. George had an edge in the show of strength that ensued, being the most senior leader in the state and a close ally of Chief Olusegun Obasanjo, George showed preference for Bode Augusto above Obanikoro. but Augusto could not scale the Senate hurdle.
The new list became a tug of war and at a point Obasanjo had to wade in. Eventually, and in order to calm frayed nerves, the party settled for a middle of the road approach, by picking Seriki, who was not in the reckoning of the state leadership for the appointment.
Obanikoro was eventually appointed an Ambassador. But his attempt to use the office to reposition himself has proved difficult. A good number of the party members in the state felt that Obanikoro has sidelined them ever since losing the Lagos governorship bid and assuming his ambassadorial posting.
The animosity against him was brought to the fore recently when some members of the party protested against his presence at the high table during a forum called to resolve the factional differences in the-party. The development degenerated to a free for all, and Obanikoro was saved only by the intervention of the police and some chieftains of the party.
Owing to the grudge the party members have against him. many believe it may be difficult for the ambassador to assume leadership of the state chapter.
Adeseye Ogunlewe
Like Obanikoro, Ogunlewe was also elected into the Senate on the platform of the AD in 1999 before he defected to the PDP. He later became the Minister of Works and had shown considerable interest in the 2007 governorship before Williams' assassination truncated the ambition of a good number of the contestants.
It is believed that Ogunlewe's sometimes bold and scathing criticisms of some of the party's decisions has made many PDP members to doubt his loyalty to the party. It is said that some are not fully convinced that the former minister is 100 per cent PDP, as they fear he might still be fraternising with the Action Congress (AC) especially, with some of his followers back in the AC. In spite of this insinuation. Ogunlewe still commands respect among a large section of the members of the party. but he is not likely to get the support of the state executive.
Demola Seriki
The Minister of State for Interior had failed in the bid to get elected into the House of Representatives in 1999. His senatorial ambition on the PDP platform in 2007 also did not yield the desired result.
But Seriki turned out to be the main beneficiary of the feud between George and Obanikoro over the state's ministerial nominee. He was eventually handed the Lagos slot. Whereas George was said to have played some roles in the appointment. there are also insinuations from some quarters that the main influence was from outside the party.
For now, Seriki is in the good books of members of the party who believe that he has identified with them since becoming a minister, Seriki is seen as a politician who though serving in Abuja, is always in touch with the state chapter of PDP. He is said to have used his poverty alleviation programmes to boost the fortune of some members and supported the party during the bye election for the Ibeju Lekki Federal Constituency seat earlier in the year.
But observers believe that the junior minister is yet to develop the clout and the political structure needed to take full control of the state chapter of the party.
Many people believe that George's absence will be felt in many ways, especially, at a time the national leadership of the party has made public its intention to win Lagos State in the 2011 election. Analysts believe that such a huge ambition requires a formidable leadership.
The PDP is also mobilising its legal machinery to ensure that George gets the two years sentence quashed at the appeal court.
When viewed from the prism of the possible legal fire works that may drag the trial for a long period of time, analysts believe that the reprieve being sought for George, the ex­naval officer turned politician, may not come early enough and this, may impact negatively on the party in the state.
Already, there are indications that the power show and the contest for relevance among the various groups has begun with each holding strategy meetings aimed at appraising the situation.
Whichever way it goes, it might just be a case of survival of the of the fittest an endless one indeed.
Culled from The Nation
SDP Wants Death Penalty For Election Riggers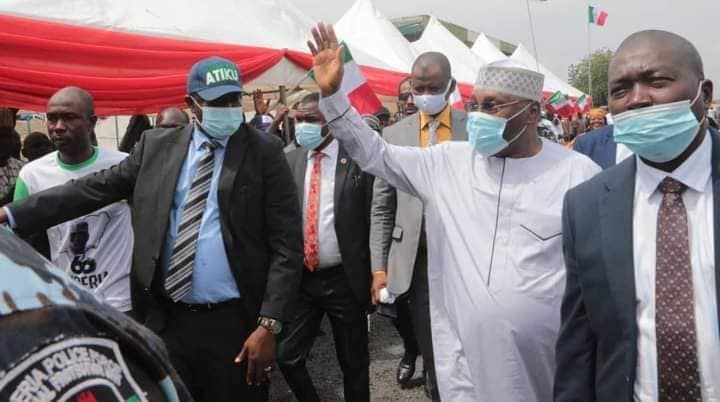 The Social Democratic Party, SDP, has advocated for death penalty against election riggers ahead of 2023 general elections.
This was as the party kicked against zoning of the Delta State Governorship ticket to the Central Senatorial District, saying in a state like Delta with its political maturity and as home to eggheads, competence must trump zoning.
Chairman of the party in the state, Amb. Oke Idawene, who is also the Chairman, Forum of SDP State Chairmen, stated this in an interview with The Tide source.
He commended the Independent National Electoral Commission, INEC, for its decision to deploy the Bimodal Voter Accreditation System, BVAS, in the September 11 state Assembly bye-election in Isoko South 1, Delta state, saying the technology helped to reduce incidents of multiple voting.
Idawene said the device was able to guarantee the credibility of voters' accreditation by preventing incidents of multiple voting or the use of stolen Permanent Voter Cards, PVCs, to vote while the use of the incident form was eliminated.
On rigging, he said the problem is not with INEC but other stakeholders.
He said: "The problem we have right now is not INEC. It is the people. Somebody tried to snatch a ballot box in Isoko South and he was gunned down. I don't like bloodshed, but that is the way to go. Ahead of 2023, the punishment for such electoral malfeasance should be death by hanging. Anybody rigging elections is an enemy of the people and must be so treated.
"With the BVAS, the votes were not adulterated. There was no rigging in that election. For the first time in Nigeria, I went for an election where until the morning of the elections, the collation officers were not known and the voting pattern was clear. "To this end, I think we should give INEC all the support for electronic voting, electronic collation and transmission of results. It is only then we can get genuine leadership and see Nigeria tilting towards progressive tendencies. I want to call on the National Assembly to support this BVAS and other technologies used by INEC."
Nwanosike Signs Four By-Laws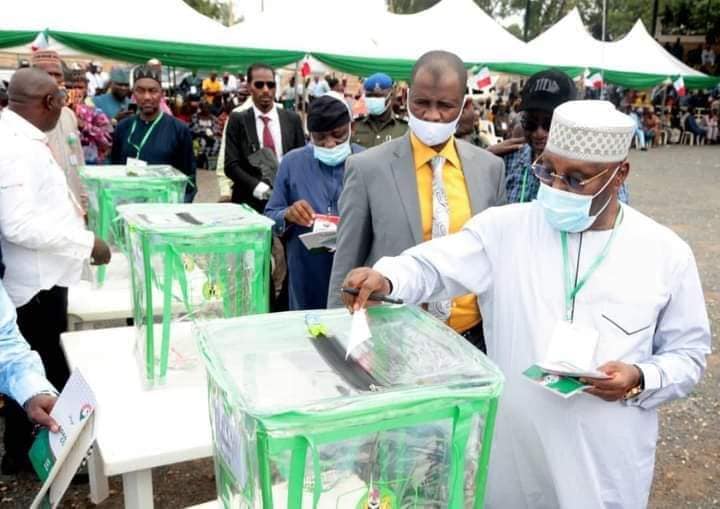 The Executive Chairman of Ikwerre Local Government Area of Rivers State, Hon. Samuel Nwanosike has signed four bills into by-laws.
While signing the bills at the Ikwerre Council Chamber, Isiokpo, which were passed by members of the Ikwerre Legislative Assembly, Nwanosike described them as very significant to Ikwerre people.
According to him, "Just hundred days in office plus, we are here today signing into law four bylaws. It is a feat that is worth commending".
"I want to thank the leadership of the 9th Assembly to continue flying the flag of legislative activities in Ikwerre Local Government. 
"So, I want to assure them that the executive arm will continue to collaborate with them to make sure activities of government at the third tier level is done to provide dividends of democracy for the people of Ikwerre Local Government.
The Ikwerre chairman stated that the defaulters of the by-laws would be punished accordingly. 
"As a government we will do everything within our power to make that the laws are properly executed", he added.
He commended members of the Legislative Assembly for doing their best to serve the people of the Ikwerre LGA.
In his speech, the Leader of the lkwerre Legislative Assembly, Hon. Nwobuisi Chikwe-Tasie, said that the by-laws would be monitored and defaulters made to face the law.
The bills signed into by-laws were the Internal Control and Regulation of Sanitation Activities in Ikwerre Local Government Area as well as the Recovery of Possession and Protection of Premises and Other Matters Connected Therewith in Ikwerre Local Government Area.
Others were the Regulation and Control of Sawing of Premature Trees for Timber in Ikwerre Local Government Area and the Regulation and Control Operation of Motorcycles/Tricycles in Ikwerre Local Government Area.
Author Urges Political Leaders To Empower Youths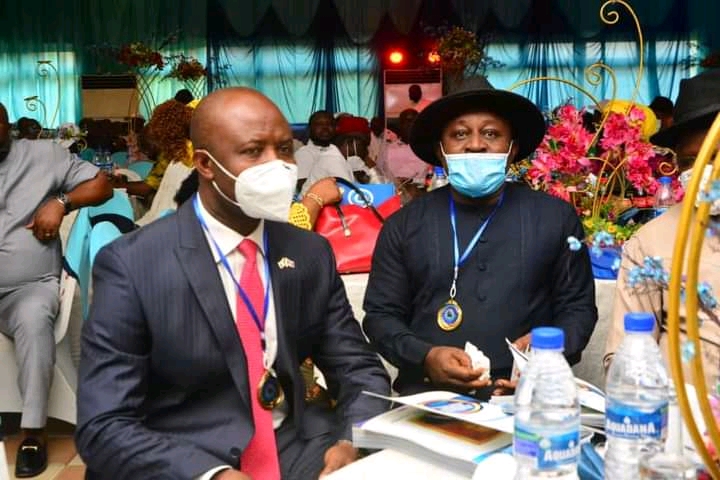 A budding author, Iyke Ekwueme Amirize, has identified youth empowerment as the key to transform society.
Mr. Amirize in a chat with The Tide shortly after the launch of his book," Political Milestones in Rivers State" recently, said youths should also be schooled in leadership.
According to him, when youths are fully empowered, it creates equity and peace, as those who are not positively engaged are liable to be used in carrying out violent acts.
On the tutelage of young people in leadership, the author submitted that exemplary life is very important as young people copy what they see around them.
Commenting on the book, Amirize said the publication seeks to mirror the development of Rivers State since its creation in 1967.
" The book is all about the milestones in the state. It covers the traditional, educational and judiciary and legislature, including the electoral processes", he stated.
He said that Rivers State was working towards massive infrastructure development, but had not gotten to a full developed state.
He urged government to give attention to security of lives and property, as a way of spreading the dividends of democracy, adding that "the youths also need scholarships and employments".