Ghana Seeks To Build On Sports For Industry
The global sports industry is increasingly reflecting the trends in the world economy, with a growing shift towards emerging markets.
The football world cups of 2010 and 2014 are being held in South Africa and Brazil respectively, and the 2016 Olympics is being staged in Rio.
The success of South Africa has given hope to other countries in the continent looking to host international sports events as a way of boosting their economies and progressing with major infrastructure projects.
This month, Nigeria is hosting the Fifa U-17 World Cup, with Dr Emmanuel Igbinosa of the nation's sport commission saying that such sporting events can help "encourage inward investment into developing nations".
Now fellow west African nation Ghana is also hoping to use the sports industry to kick-start its economy.
Abdul-Rashid Hassan Pelpuo was recently appointed Ghana's minister of youth and sports. His policies are a mix of encouraging grass-roots sport, opening new facilities and hosting major events.
As a former boxer, he believes in the transformational power of sport and speaks passionately about what an expanded sports industry can do for Ghana.
Abdul-Rashid Hassan Pelpuo, sports minister of Ghana
"What is important to us, as a people, is the opportunity to use the power of sport to deliver lasting economic, social and health benefits to our  citizenry," he says, speaking to Tidesports source at a Global Sports Industry forum.
"We are looking to secure competition events and increase tourist inflows and business revenues to our cities and the country.
"It means sport can influence the national development agenda, with major events bringing long-term benefits and legacies, including city and country branding."
Sport can also boost the fledgling corporate hospitality and sponsorship industries in the country, he believes.
Mr Pelpuo says it is the responsibility of the government to provide a basic sports infrastructure, but that it also needs investment, from inside and outside the country, to allow the sports industry to reach its full potential.
"We need to provide an enabling environment for the private sector to develop, and for their entrepreneurial spirit and investment initiatives in the sports industry," he says.
" There will be a need to balance the needs of our communities with the interests and ambitions of our private sector "
Abdul-Rashid Hassan Pelpuo, sports minister of Ghana
And at the centrepiece of his development plan is creating a new sports bill to allow for this public-private partnership.
Ghana is looking to bid for the rights to host the 2015 All-Africa games, knowing that it will cover 22 disciplines. If it succeeds, it hopes to develop modern infrastructure for sports such as basketball, volleyball, track and field, swimming and cycling.
"We want to position sports event bidding at the centre of our agenda to bring economic prosperity to our nation and cities," the minister declares.
"But we appreciate that as we attract more events into the country and increase vibrancy in our sports industry, there will be a need to balance the needs of our communities with the interests and ambitions of our private sector, all within the context of our market economy."
As part of this broader remit, Mr Pelpuo wants to use sport not only for economic and business reasons, but also for talent identification, skills development, social cohesion and fighting poverty.
As part of this drive, Ghanaian sports people such as Chelsea footballer Michael Essien, are being drafted in as mentors to the country's youth.
Michael Essien grew up in Ghana's capital, Accra, where he played for his local club Liberty Professionals. He has revisited the country with charity Right to Play since his move to London.
"Michael has been fantastic for us. We want to tap into the iconic status of sports heroes like him to help us reach out and fight poverty," observes Mr Pelpuo.
After the 26th African Cup of Nations, held in 2008 in Ghana, the country's central bank took a look at the economic effect of the tournament on the economy. The results were encouraging.
As a result, a study group has been set up to advise on bidding to host the 2015 All-African Games, which could provide some confidence to an economy which has experienced recent difficulties.
Earlier this year, Ghana learned it was to get a $600m three-year loan from the International Monetary Fund (IMF), amid concerns about the impact of the recession on poorer countries.
The country needs funds to reduce its budget deficit and support its currency, after being hit by high food and fuel prices, an energy crisis and heavy spending in the run-up to last year's elections.
But Ghana is the world's second-biggest cocoa producer and Africa's second-biggest gold exporter, and is also set to become the continent's newest oil producer.
"We still have to impress on the rest of the world that Africa is safe and that business and investment opportunities should be followed up," says Mr Pelpuo.
But he points to the wave of publicity surrounding Ghana's recent success in the Fifa World U-20 Championships as an example of how sport can work wonders for a small country's image.
"One of the great things about sport is that we can use it to sell Ghana overseas, and also use it as a driving force to do business with other countries."
Gold Medalist Aims To Be Five-Time Taekwondo Olympian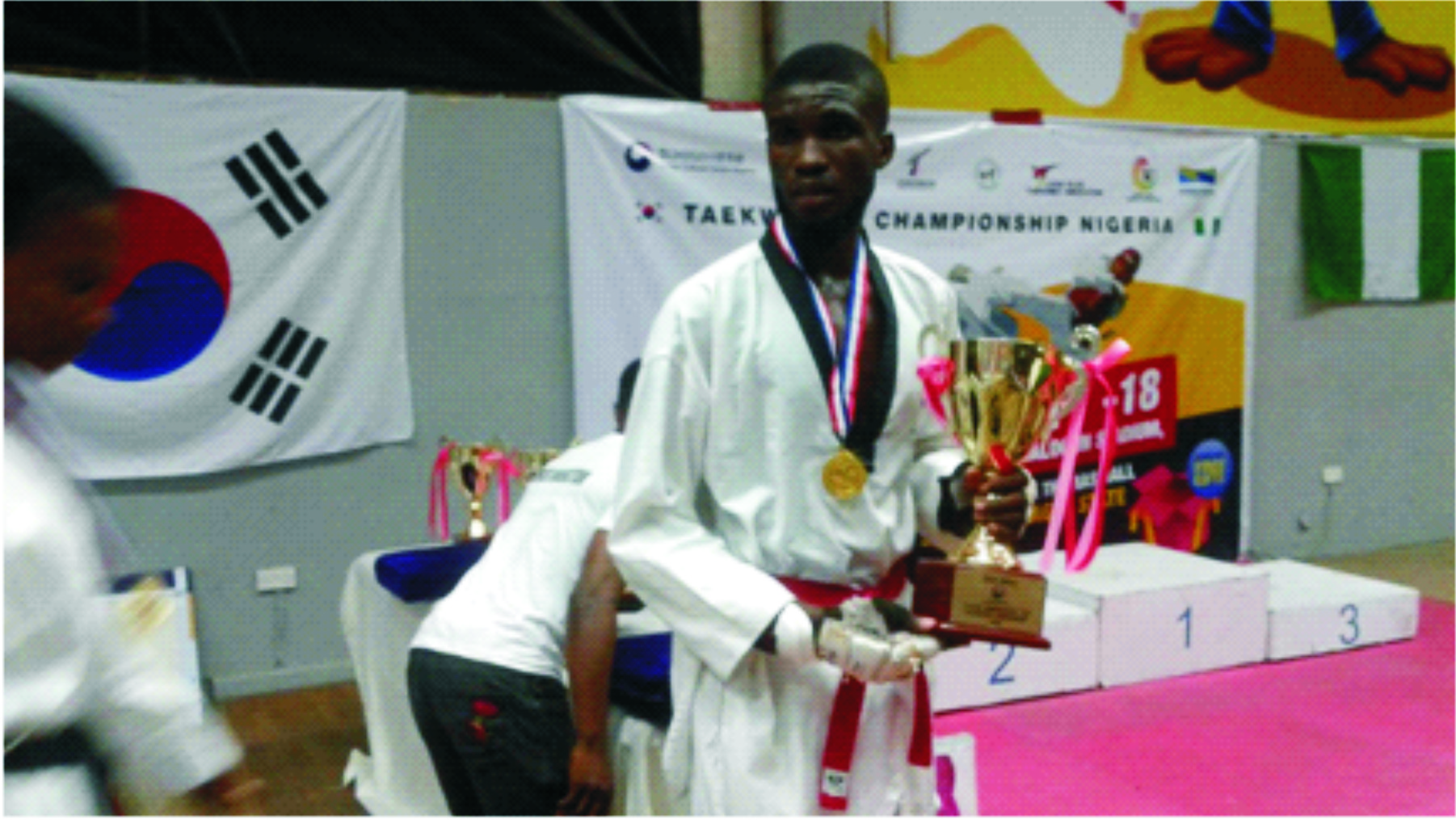 Winner of the male category of the 10th Korean Ambassador's Cup, Stanley Ogbonnaya.
An aspiring Taekwondoist, Stanley Ogbonaya, who emerged champion in the -80kg of the male category of the 10th Korean Ambassador's Taekwondo Cup concluded on Friday, says he has his eyes set on becoming a five-time Olympian.
Ogbonaya in an interview with newsmen on the heels of his victory in winning gold at the competition, said he was aiming at becoming a five-time Olympian to surpass Uche Chukwumerije's record.
Tidesports source reports that the 10th Korean Ambassadors Cup was held at the Molade Okoya Thomas Hall, Teslim Balogun Stadium between Oct. 17 and 18.
The lanky athlete, Ogbonaya, said that though the three-time Nigeria's greatest export to the Olympic, Chuka Chukwumerije, an Olympic silver medalist was his mentor, he was aiming at surpassing his records.
"I am following the footsteps of one of the greatest Taekwondoists in Africa, Chukwumerije. I am putting in everything he has been teaching me into play.
"Chukwumerije is a good mentor and I will always look up to him because it is not about Taekwondo alone, but the principles associated with it.
"There are principles in and out of Taekwondo which we must imbibed. As the Olympics is drawing near, I am hoping to maintain my quality for the Games and win the medal for Nigeria.
"I hope to surpass the record of Chukwumerije who has appeared three times in the Olympics to attend at least five times to set a new record. I want to be five times Olympian," Stanley Ogbonnaya said.
Ogbonaya rated the competition as one of the best in Nigeria, adding that lessons from the just-concluded championships had helped him in knowing his strength and weaknesses.
"This is one of the tournaments we are always looking forward to because we don't have the luxury of many championships.
"My first experience in the championships can be regarded to as a disaster because I got knocked out without winning a fight, but I was able to win silver at the second try.
"I had to intensify training so that I can win gold medal this year and it eventually paid off. I will like to thank the Korean Embassy for organising the championships.
"This tournament has helped to improve us mentally so that whenever we are going for foreign tour for qualifiers, we will be fit enough to win," he said.
NCF To Hold Maiden FCT Secondary Schools Competition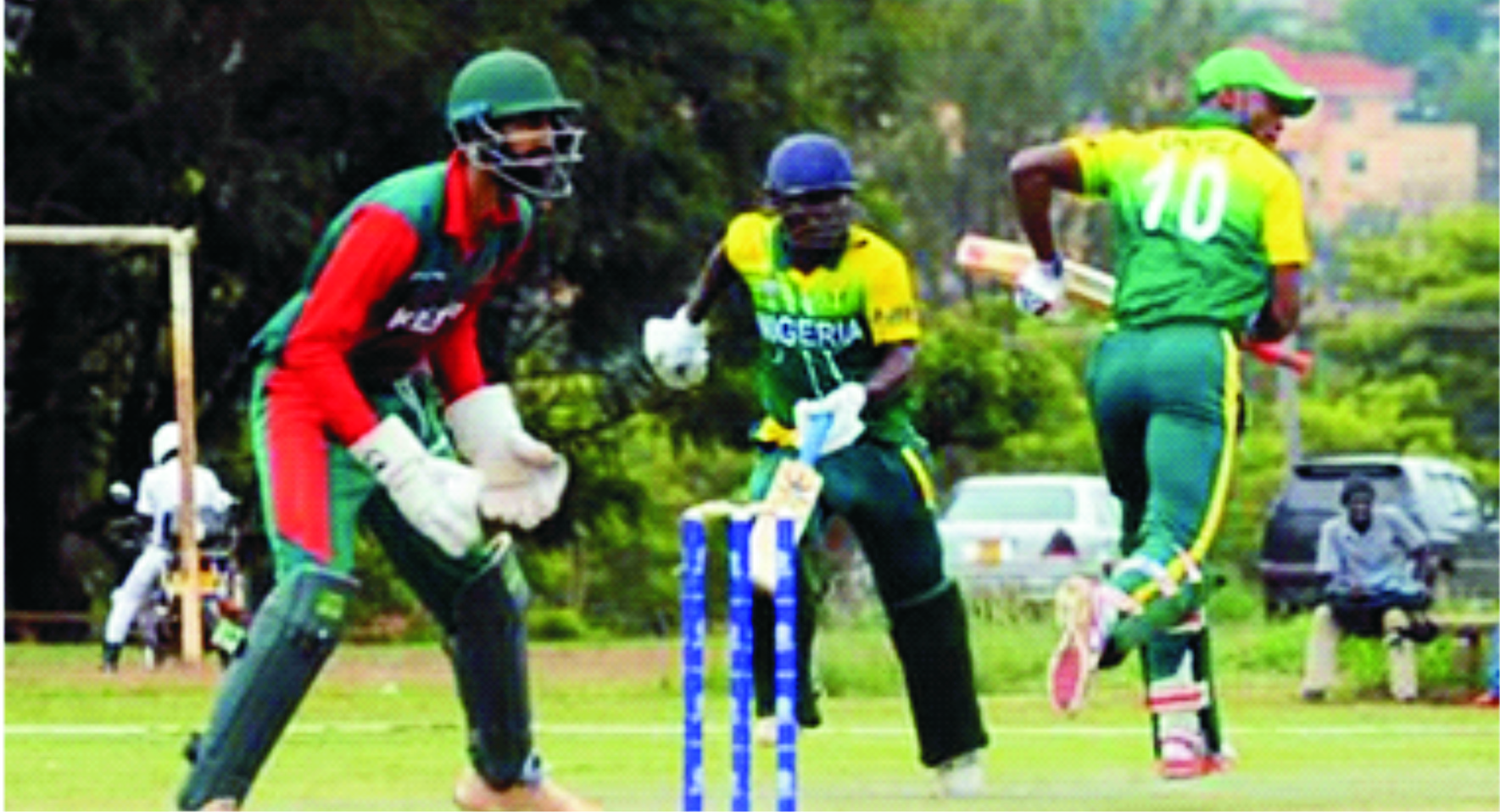 The Nigeria Cricket Federation (NCF) will organise its maiden FCT Secondary Schools (Soft ball) Competition in January.
The NCF approved Jan. 25 for the finals of the competition during a meeting  with some schools at the Cricket Oval of the Moshood Abiola National Stadium in Abuja at the weekend.
The meeting, which included practical session and coaching clinic on the basics of the sport, will have 12 schools from the FCT, one from Niger and an NGO in attendance.
Emeka Igwilo, the General Manager of NCF, said the idea was to ensure the development of the sport at the grassroot, especially in FCT.
Igwilo who introduced the 'Criio Game' said the concept was a simplified form of cricket which gives all an opportunity to play the game with limited equipment.
"The idea is to ensure that everyone can play cricket. Gone are the days, when cricket requires an oval or complete equipment before one can play.
"Now we have the Criio concept which allows all to play the game in the limited space and equipment available.
"With soft balls instead of the usual cricket hard ball you play even at home and you have little or no safety concerns, especially as it involves children," Igwilo said.
Meanwhile, the schools' representatives were engaged in a six-a-side competition and also received equipment from the federation.
The schools in attendance are Premier Academy Lugbe, Government Secondary School TudunWada, Government Secondary School Pykasa, Maitama and Government Secondary School Gwagwalada.
Others are  Regina Pacis College Garki, Noble Hall Leadership Academy for Girls, SOS Hermann Gneiner Junior Secondary School Gwagwalada, Christ Academy Gwagwalada and Government Secondary School Karu.
Loius Ville Girls Secondary School, Government Secondary School Garki, Javino Model School Gauraka in Niger and Girls' Aspire Sports Initiative were also present.
Junior Golf Championship: Rivers Clinches Second Position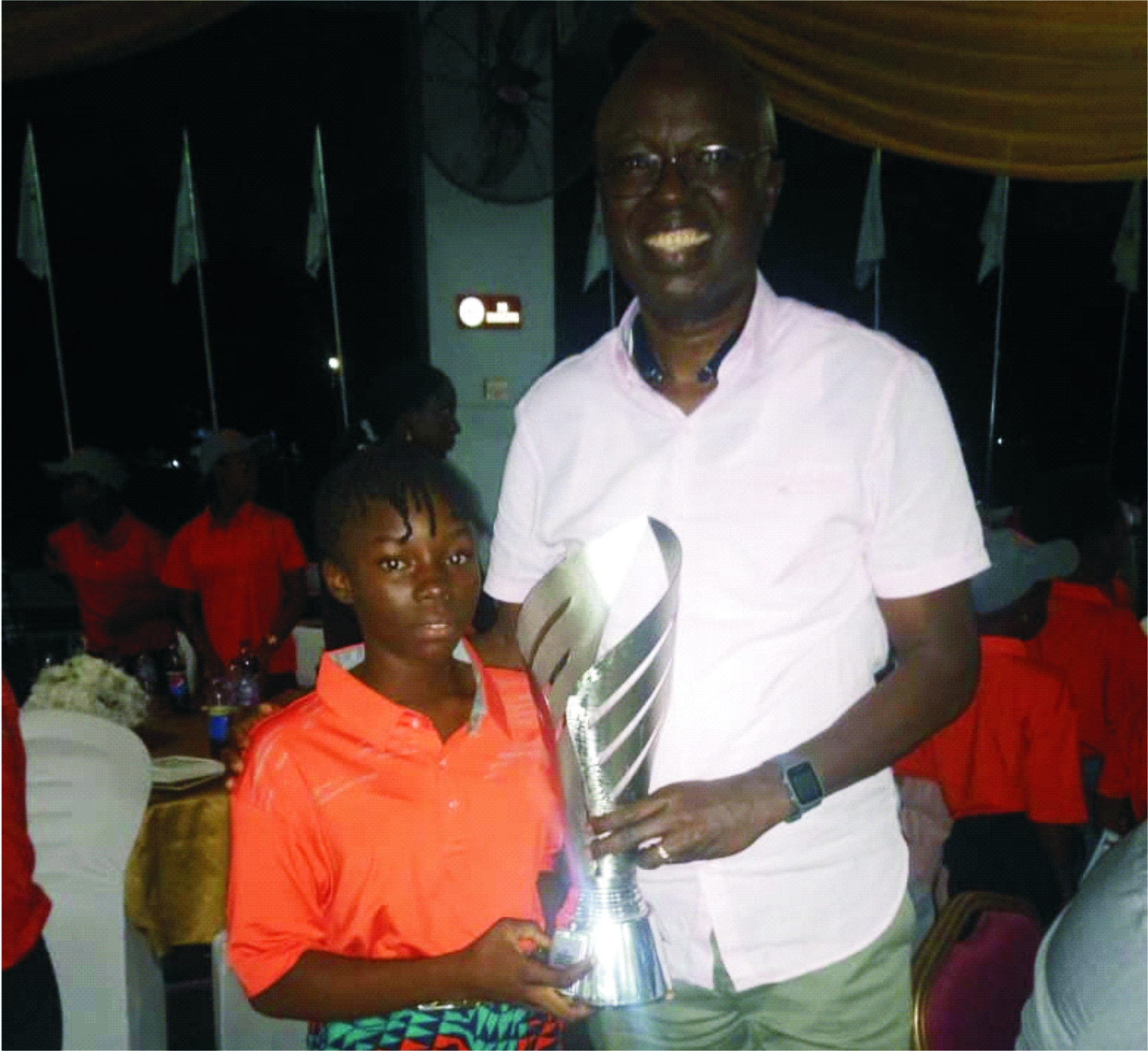 The Sixth Awa Abraheem Junior Golf Championship which ended on Saturday saw Christy Obomanu-Asisi clinching second position that represented Rivers State, at under10-12 girls' category.
Over 200 junior golfers across the country participated in the three day championship, it was held at Ikeja golf course, in Lagos.
Speaking in a telephone interview with Tidesports yesterday, Judith Obomanu- Asisi, the coach to Christy, explained that her player missed the first position, as she lost one ball.
She expressed joy over the impressive performance of our player, saying that she will go back and work on her for improvement.
"Really Christy Obomanu- Asisi actually put on a good performance, but she narrowly lost the first position, as she lost one ball.
As a coach I will go back and teach her more so that she will improve, However, I am happy with the second position," Obomanu- Asisi said.
Tonye Orabere