I'm A militant In My Own Right – Ilagha
Nengi Josef Ilagha, popularly known as Pope Pen The First, President of the Pen Pushers Talking Front, PPTF, has worked as a journalist, broadcaster and public relations consultant. Born in Nembe, Bayelsa State, on December 18, 1963, he took a degree in English & Literary Studies from the University of Port Harcourt. A one-time editor of The Tide On Sunday Nengi Josef Ilagha was Speech Writer to the Governor of Bayelsa State. He was later elevated to Special Adviser on Research & Documentation to the same government on account of his robust intellectual input to the resource control debate. His latest book, Goodluck To Bayelsa, a collection of speeches in honour of Dr Goodluck Jonathan, has been highly commended for putting the political records straight in Bayelsa and for speaking up eloquently for peace in the Niger Delta region. January Gestures, his new book of poems, was among the nine books in the race for the 2009 edition of the Nigeria Prize for Literature, sponsored by NLNG. In this revealing interview just before the event, the poet bares his mind.
What does it feel like to be shortlisted for the 2009 Nigeria Prize for Literature?
I am suitably gratified to have made it through to this point. Without doubt, Nigeria is blessed with a good number of poets, and the evidence was there for the panel of judges to see. To be in the first nine out of 163 poets, therefore, is indeed a remarkable feat. I am grateful that professional judgement has been given fairly, and that I have not fallen foul of the rules of poetic engagement so far. My entry for the competition, January Gestures, begins with a word of faith to the effect that I feel obliged to God for the life I live, and that I would dedicate my breath to praising the almightiness of my Maker, from day to day, for as long as I live. To be named in the shortlist, therefore, is like receiving a word of endorsement from above that my fervent prayers are being answered.
 Do you have previous commendations and awards?
Yes, indeed. Mantids, my first book of poems, won the Association of Nigerian Authors poetry prize in 1995, in manuscript. That was my opening glee, so to speak. That was the first time I received public confirmation that I was on the path of my true calling, and the assurance that I had not been wasting time scratching my feelings out on paper. After that, I took bolder steps towards poetry, and poetry practically took greater strides towards me. In 1998, I entered a collection of 54 fresh poems under the title, Apples & Serpents, and received honourable mention in the first edition of the Christopher Okigbo Prize for African Literature, endowed by Wole Soyinka. And then I went on a long sabbatical, writing speeches in the corridors of Creek Haven, and on the fringes of government.
 How many of your poetry collections have been published? Name them.
So far, I have four collections of poetry in print. After Mantids, I went back to work on Apples & Serpents, to explore the subject to the fullest possible limits, before publishing it. Today, it's a much more sizeable book than it was in 1998, something far more satisfactory, and I'm proud to present it to the world the way it is. But I knew that I hadn't quite exhausted myself. As a matter of fact, I was just taking the first tentative steps, like a chicken caught in the passage, on one leg standing, contemplating the long odyssey into the labyrinth of poetry. With the dawn of 2007, I embarked upon a more ambitious project, determined to write a book of poems dedicated to each month of the year, a rigorous labour of love undertaken from day to day, week after week, from January to December, stretching out like an interminable diary of pain. That's how I began A Calendar of Faith, which is the composite title for the entire project. January Gestures is in print, and so is February Fabrics. The other ten months, March to December, are pending. That is to say, I have finished writing all twelve books of poetry, but I am awaiting funds from the IMF and the World Bank to have them published.
 In your opinion, what are the attributes of a good poem?
In the first place, a good poem should be able to communicate the feelings embodied in it. A poem is a poem because it seeks to express the feelings of the poet, its primary composer. It seeks to convey a message, to pass on a felt experience in a special way. That special way by which the message is conveyed is your style. It is your individuality. It cannot be taken from you. Content is everyone's free party. It is how you say what everyone else can feel or say that marks you out from the crowd. The primary tool for doing that is imagery. Every good poem works with imagery, which is an all-embracing word for figures of speech.
For me, a poem is dry and arid if it does not leave me with an image that impresses itself on my mind sufficiently for me to want to go back to see exactly how the poet put it. In other words, an image must insist on being reckoned with. Every good poem deserves a second reading, and yet another, until the experience becomes a part of me. If I think of J.P. Clark's "Ibadan," for instance, the overriding image that I'm left with is "broken china in the sun." Every other word in that poem builds up teasingly to that image. A truly gifted poet can harness a series of images in a single poem, line after line, without bungling his metaphors and without losing the admiration of the reader. I appreciate such poets.
When did you start writing poems?
I have always been fascinated by words for as long as I can remember. My venerable father, King Joseph Aye Ilagha, was widely recognised as the grammarian of the entire Nembe clan for several generations. He was fond of words, explosive in his use of words, and I was always ready to listen to him speak. As his first son, he took me everywhere he went, so I became his permanent audience. He also had a wonderful and majestic handwriting, and I wanted to be like him, so I started writing. But I consciously began crafting verse in form five, my last year at Nembe National Grammar School. That was in 1980. I was fascinated, in particular, by Shakespeare's Macbeth. It overwhelmed my senses with mental pictures whenever I flipped through the pages, and I had a great teacher at that time, a youth corps member named Hassan Hassan, who dramatized it all for me in class. So, before long, I set out to recreate my own experiences on paper, attempting to sound like Shakespeare. I failed woefully, of course, but I'm glad to say that I didn't give up. Thankfully, my love for words endures till this day, and this is just how far the excursion with my father has taken me.
Do you write any other genre apart from poetry?
Yes, I tried working with every genre that was introduced to me in class. I sketched some dialogue in the name of writing plays. I began a novel or two to test my capacity for endurance, and didn't get far enough. Now, I'm much more at home with the short fiction medium because I have to deal with just a slice of life at a time. A Birthday Delight, my first collection of short stories, is already in print, and so is I Want To Be A Senator, my first collection of essays gathered from my years in journalism. I find the essay useful as an art form because, like the short story, it captures my opinion and gives it amplitude within a short spell of time, so to speak. But my favourite medium for self expression is the poem. It enables me to condense so much into a few words, if I want to. I just roll from image to image, and do well to keep my roller-coaster ride under control. I am the driver in every one of my poems. I am always at the steering wheel, conscious of the fact that if I don't control my words, I stand the risk of crashing out of relevance, and I can't afford to do that. So, I grab the first word and let it lead me to the very last word.
 Can you mention five foreign poets that you love to read? What makes them peculiar?
Frankly, I have never been comfortable with questions like this. I wish you would take one particular poet, one particular work, and ask my opinion. Then I would be more definite. I studied Literature in English at the University of Port Harcourt in the first half of the 80s, which is to say that I was obliged to read widely, and intensively too. And, in the course of that, I came across a whole lot of enchanting poets. To pick five of them is to be unfair to the lot who have had a composite influence on the body of world literature, through the ages and through time. I was engrossed with the narrative verse of Geoffrey Chaucer as with the sonnets of William Shakespeare. I identify with the lyrics of Lord George Gordon Byron as with the poems of Alexander Pushkin or Rabindranath Tagore or Jean-Joseph Rabiarivelo. I can locate common grounds in the poetry of Pablo Neruda or T.S. Eliot or Edgar Allan Poe in much the same way that I am at home with the poetry of Dennis Brutus or Augustino Neto. In all, I am grateful for every quirk of composition that I learnt from these poets, and I believe I have already counted beyond five.
 Well, can you mention five Nigerian poets that you love to read?
Yes, I can. In 1986, I moulded my opinion on the poetry of Gabriel Okara into what turned out to be my undergraduate project, drawing a linguistic continuum between his poetry, as embodied in The Fisherman's Invocation and the quaint prose of his only novel, The Voice. I have come to the conclusion that it is not enough to say, for instance, that I like Okigbo's poetry and leave it at that. Indeed I love to read Christopher Okigbo for his delicate imagery, his winning lines, so much so that I am currently undertaking a written appreciation of his poetry in a long essay entitled "Tiger Mask & Nude Spear." Such an exhaustive study, self-imposed as it is and conducted outside of the ivory tower, would enable me to understand why I like Okigbo's poetry. I have to get to the root of the matter. Frankly, I should do that for every poet I enjoy reading.
The poetry of Odia Ofeimun equally opened my soul to another kind of poetic temperament, namely the poet as a social warrior out to question every infelicity in governance, and I speak with particular reference to The Poet Lied. And then, of course, there is Niyi Osundare, the most prolific Nigerian poet to date, and the most daring in terms of sheer stylistic impetus. He parades a variegated sensibility that many of his admirers wish they could inherit. What's more, among my contemporaries, I admire the poetic talents of Esiaba Irobi, Afam Akeh, Chiedu Ezeanah, Ogaga Ifowodo and Chijioke Amu-Nnadi. These are poets who deserve to be studied in their own rights, poets with a high-grade sensitivity of their own. I believe it is high time we began an exhaustive critical appreciation of these poets for the sake of our national literature, and I have resolved to do my part of this large assignment. If there are no critics of current Nigerian literature, as Professor Charles Nnolim maintains, perhaps it will not be out of place for the writers themselves to become their own critics so long as it serves the end of literature.
 Can you please outline your daily activities…?
I'm afraid I can't do that. I will not do that. No one day is the same as the other, and that's what I have tried to explore in A Calendar of Faith. Every day is a genuine gift from God. Between sleep and waking, so much happens that isn't the same, from day to day, week after week, month after month.
It is my duty to take the lessons of each day in my stride, to consciously make the most of that gift, if I am to qualify as a better human being tomorrow, one aspiring to be worthy of redemption in the eyes of God. In short, I don't see life as routine. If it were so, it would be boring. There is always something unique about each day, and I always look out for that unique element, and do well to date it. For instance, if you were to give me this same assignment tomorrow, expecting me to outline my activities, I'm not likely to use these same words. So, I take every day as it comes, and do well to be in charge of it. The poem I write on the first day of the year cannot possibly be the same as the poem I write in the middle of the year or on the last day of the year, because each day comes with its own challenges, its own blessings, its own promises, its own disappointments, its own sheer variety.
Q.X.    Is the ability to write poetry innate in every human being?
I believe it is. We all have access to breath. Poetry is breath, free utterance captured on paper. You are at liberty to express yourself, or else to deny yourself self-expression by hiding the plain images, the unadorned words that come to you, under an obscurantist bushel. If you feel pain, do well to express it in your own words, in clear terms appreciable to your neighbour. If you fall in love, nobody expresses it for you. It is up to you to dig deep into yourself to shore up the best possible choice of words that can tell the listening ear that you are in love. Isn't it?
In short, you can be a poet if you want to. All you need do is summon the required presence of mind, pull up a chair, sit your butt down before a desk, place a blank sheet of paper before you, hold a pen, and write out the next poem that comes to your mind to the best of your ability. The duty of a writer is to write. I believe that's what you call discipline. If you can take that position when you set out to write a letter, you can do the same for a poem. Or, this being the age of the computer, type out your feelings on your laptop. To a large extent, a poem is a letter you write to yourself, a personal experience you share with yourself, and if someone gets to read it and is affected by it, you have scored a bull's eye.
I suppose that's what William Wordsworth meant when he defined poetry as an act of self confession, confessing yourself to yourself. In much the same way, I believe that's what Niyi Osundare meant when he defined a poem as "man meaning to man." So long as you employ the tools of poetry, the figurative use of language to express your feelings, you can persuade the reader to relate with that experience from your own point of view. To varying degrees, therefore, every human being is a poet. As Vincent Egbuson would put it, "a poet is a man." By extension, for that matter, a poet may jolly well be a woman.
Q.XI.   If you were to win the coveted NLNG poetry prize for 2009, what would you invest in?
I doubt if I would have problems with investing the prize money wisely. I have seen enough of this wicked world to know that there is an open market out there, waiting for the best ideas to transform lives. There is a whole range of hungry commitments just waiting for funds to meet them. Beyond the immediate celebration, however, I am consumed by the idea of setting up a credible private media outfit that would help to streamline the thinking of the militants in the Niger Delta for the best. As Obasanjo would say, the problem with Nigeria is the problem of the Niger Delta. Yet, after serving three terms as the number one citizen of Nigeria, first as military Head of State, and twice as civilian President within a twenty-year period, he failed to resolve the problem. If you were to ask Obasanjo afresh what the problem with Nigeria is today, he would probably say the same thing. Blame it on the Niger Delta.
In my humble opinion, as a creative writer and as an illustrious son of the Niger Delta, the militants in question have not been able to express themselves fully, in intellectual terms, to the understanding of their neighbours in other parts of the country. And I say this advisedly. They are yet to compel the attention of the world with graphic descriptions of conditions in the swamp. They are yet to evoke the sympathy of the men and women of good conscience with the kind of rousing rhetoric typical of an Obama. Ultimately, I don't think the option of the gun and the bayonet is the best. It only depletes our ranks. It only ends up wasting our useable manpower. It was an option that Isaac Boro himself had already jettisoned, as anyone familiar with his book, The 12-Day Revolution, will attest to. If Boro were alive today, he would be a man of peace, not a man of war. To resort to violence in this day and age is to suffer from what Wole Soyinka calls "idiom closure," the inability to develop an argument beyond the moment. I dare say that dialogue answers all things. A well-reasoned response is the best answer to a foolish question. Put simply, peace is the answer to all the problems of Nigeria. Ask Jesus Christ.
In short, the pen is mightier than the gun. So, I would like to invest in the pen. I would rather start a writing school, so that every militant in the Niger Delta will be sufficiently equipped to express themselves. I would reach out to every militant worth his name, and give each one of them ample space to explain why they felt compelled to carry a gun and to cover their faces like Mau Mau photographers until President Umar Yar'Adua persuaded them to lay down their weapons, and Governor Timipre Sylva brought them out into the open, on national television. On my honour, I would do well to let them know from the start how forbidden it is to shed blood in the open sight of God. These are the concerns of my forthcoming book entitled, The Militant Writes Back, a body of poems expressing what it feels like to live in a militant environment such as the Niger Delta. Take note. I am a militant in my own right, but nobody is negotiating with me. And that is because the pen is my weapon.
Q.XII.             When you say you want to establish a private press that would put the Niger Delta struggle in better perspective, what do you mean? And what's this talk of a writing school? Could you please explain further?
Sure. What I mean is this. I have worked as a journalist for the better part of my adult life. I have been a reporter in the best sense of the word, a foot-soldier in the news gathering business. I also served as editor of a state newspaper for four years, and I am a tried and tested broadcaster, on radio and television. It doesn't quite matter that, today, I am banned from practicing journalism in my own state. I am banned from the state radio, banned from the state television, banned from revamping the state newspaper, even in my capacity as General Manager. And all this because I told the incumbent head of the media machinery in the state, the Commissioner for Information, no less, that he was the wrong man for the job, because he doesn't know what it means to harness all three arms of the media to work in the larger interest of the state and of the Sylva government. I told him at point-blank range that nobody knows Asara A. Asara in the Nigerian media industry, even if he parades three As in his name, and that he would be better off as a manager of his hotel business or simply remain a professional fisherman. Rather than reason with me in a mature and civilized manner, the man took offence and opted to send my pen on suspension. But, as Esiaba Irobi would ask, how do you pin down a cloud?
But all that is just by the way. In December 2006, I made a public presentation of my first four books all at once to mark my 43rd birthday, and the Bayelsa State Government (under Dr Goodluck Jonathan at that time) made a heart-warming promise to provide me with a digital press on account of the commendable feat I had accomplished, so that I would be even more productive. The four books in question are Mantids, A Birthday Delight, I Want To Be A Senator, and Apples & Serpents. As may be expected, I was overjoyed at that public pronouncement. It's a good sign when a prophet is accepted in his own backyard. But three years after that event, the promise is yet to be redeemed. So, in the light of all this, I would like to set up a press that would serve the public interest, a medium that would specifically help to correct the erroneous impressions held by some people about the Niger Delta, if I have the wherewithal so to do. That is because, to quote Obasanjo again, if the problem of the Niger Delta region is resolved, then the problem of Nigeria is as good as solved.
Now, to the last part of your question. Once upon a time, I conceived the idea of establishing a writing school with the modest funds at my disposal. It is called Shalom School of Scripture, SSS. It advocates peace as its motto. I actually bought a small parcel of land in Yenagoa, laid the foundation stone on December 2, 2004, with a few close friends as witness, and built it up to a certain point. It is still awaiting completion. That is a project idea that I consider worthwhile, and I don't mind going back to it, if I have funds. As you know, there is no formal school of writing in Nigeria. Mamman Vatsa's dream is yet to materialize, in Abuja or outside Abuja. This private initiative would admit Nigerian writers into a residency programme for as long as they see fit, in the heart of the Niger Delta, in Bayelsa precisely, so that our creative writers can be better enlightened about the motives that led the ex-militants to become militants in the first place.
Take it from me. Bayelsa is a nice, quiet and peaceful land where any writer in the world can concentrate his talents and write twelve books in one year, just as I have done. Bayelsa is the glory of all lands. There is no disputing that. If Jesus Christ is to come suddenly upon the world, he would arise from Bayelsa, and step out like a tell-tale thief in the deep night of the world's ignorance, like a weaverbird spelling judgment upon the sins of the world with the very breath of poetry. I hope that answers your question.
Solving Soot Puzzle: Wike's Formula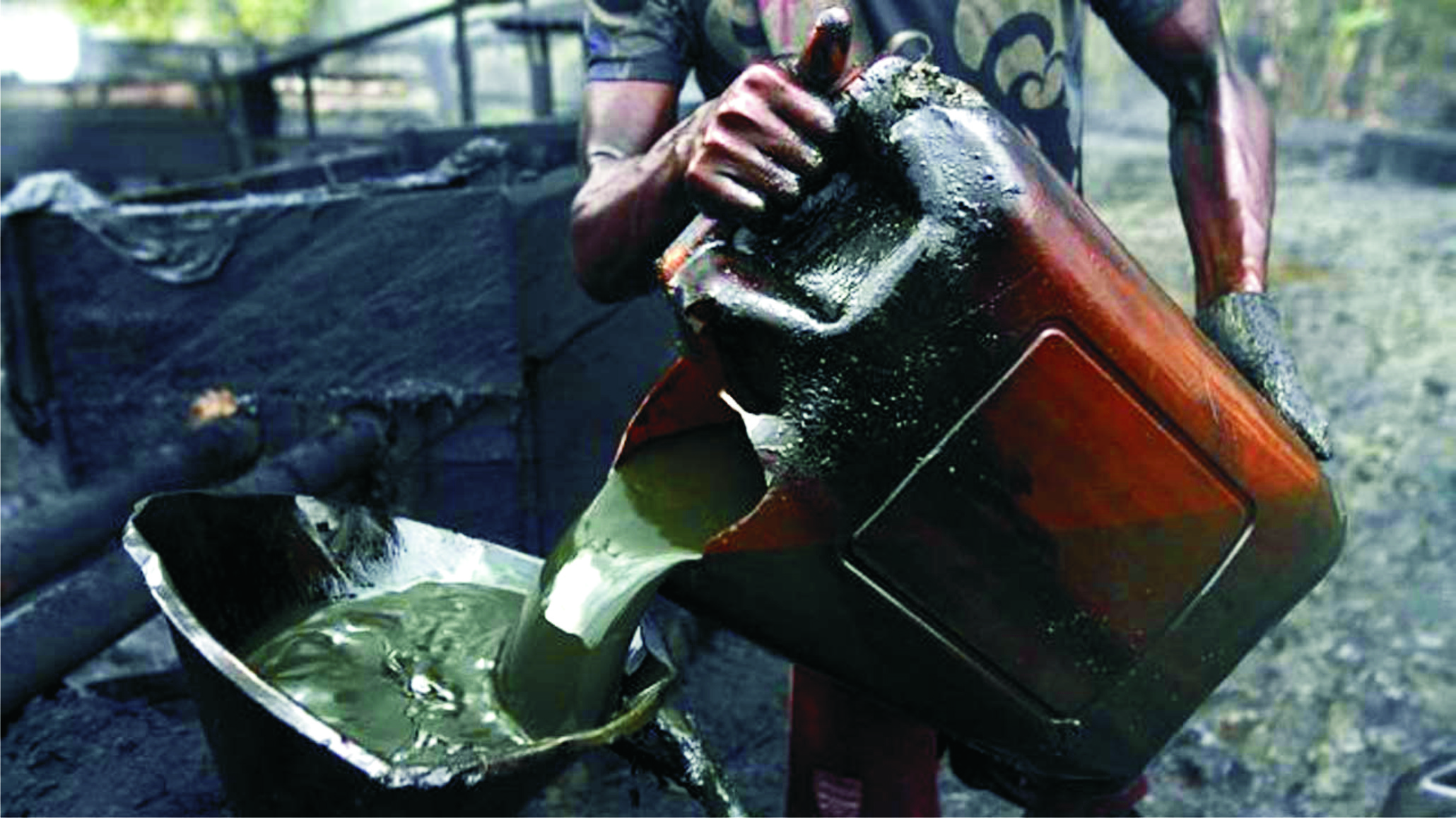 About 10 years ago, "black soot" had become synonymous with Rivers State and other oil-producing Niger Delta coastal communities including, Delta, Bayelsa, Akwa Ibom and Edo. "Black soot" was chronicled into the lexicon of oil-producing states and has remained part of their unwholesome experiences ever since.
Black soot does not emerge without cause. It is a consequence of the law of cause and effect. For every cause there must inevitably be a corresponding effect. So the presence of the black soot that is evident in coastal communities of all bearing states is a function of cause.
Black soot has been severally associated to illegal refining of petroleum products extracted from oil facilities in the oil bearing coastal communities.
The business which many people believe is second to none in profit generation is thriving unabated despite governments' policies to stem the ugly trend.
The negative impact of illegal refining of petroleum products is better imagined than experienced.
Take a trip to Kula, Ke, Bille, Andoni, Buguma and Soku  and other coastal communities where oil is being extracted by oil companies, you will discover much to your chagrin (if you are a conservationist) the unquantifiable devastation illegal oil bunkering and refining has done to the ecosystem of those communities.
The people who were hitherto, predominantly fishermen and or farmers are wallowing in abject poverty. The trend has reduced rural dwellers to destitutes and beggars depending on hospitality from multinationals and philanthropists.
Aquatic lives like fish, prawns, mudskippers, periwinkle and others which used to be the pride and characteristics of riverine communities are now extinct. The mangrove which constituted economic source and a habitat for the aquatic lives have literally and apparently withered because of oil spill and disposal of waste products of illegally refined crude oil extracted from the facilities of oil companies, into the river.
Though the waste is disposed at the point of production, the tide conveys it to a distance because of the networking and connectivity of rivers.
That is why the Rivers State Governor's declaration of 19 persons wanted in connection with Illegal refining of petroleum products and other related offences and the subsequent arrest, prosecution and remand of some of the suspected culprits, is seen as apt and a welcome development.
The governor had in his New Year message to the people of the State outlawed illegal refining of petroleum products and unveiled a taskforce to arrest defaulters no matter who is involved.
This renewed effort of the State Governor further lends credibility to his avowed commitment to end illegal refining of petroleum products which many people believe is the major cause of black soot.
The governor had also accused law enforcement agents, especially, the military of not only aiding and abetting but neck-deep into illegal bunkering. The recent startling revelation that a Divisional Police Officer (DPO) owns an illegal refinery in Rivers State vindicates Wike. He had also accused the federal government of not being sincere or making reasonable efforts to end the menace.
The Chairman of Emohua Local Government Area, Dr. Chidi Lloyd, and the people of the area had also protested against the perpetration of illegal bunkering. In fact, Lloyd had in a press briefing raised an alarm on the unscrupulous involvement of some military men in the illicit business which is tantamount to economic sabotage under Nigeria's extant laws.
These clarion condemnations are not mere cheap blackmail or insinuation that should be tagged figment of imagination, or taken with a pinch of salt, considering the profiles and social status of those denouncing those involved in the act. It is dispiriting that those who are statutorily obligated to protect oil facilities, the environment and arrest economic saboteurs are the perpetrators of the heinous acts and the hydra-headed monsters.
The pertinent questions one is constrained by the unwholesome trend to ask are: when did the commonwealth of the people become the exclusive right of a few? Why would the inordinate quest of a negligible few pose a threat to means of livelihood of majority of the people and mainstay of the nation's economy? Why would the Federal Government with her military resources fail to stop Illegal oil bunkering and refining of petroleum products? Why would the sanctity of human life be sacrificed on the altar of inordinate quest for wealth generation and materialism?
There is no gainsaying the fact that there seems to be more than what meets the eye in the clamours and agitations against illegal bunkering and refining of petroleum products even the Federal Government stance on it.
Somebody asked: if illegal bunkering and refining of petroleum products had stopped would the nation's refineries which are either in comatose or producing far below installed capacities, be able to meet the ever increasing consumers demand, especially for kerosene and diesel?
Would government at all levels be able to alleviate the unemployment that the stop on illegal bunkering would create?
As seemingly striking and articulate as the questions are, they lack substance and they cannot justify the havoc done to our environment, means of livelihood, economic mainstay.
Medical and health experts have also associated cardiovascular cases or respiratory challenges and cancer prevalent in recent times to polluted air  and water that people inhale and drink respectively, being the direct result of refining activities.
Therefore, the fight against illegal bunkering and refining of petroleum products must be collective. It should not be left in the hands of the State government alone.
Traditional rulers, community development committees, youth bodies should brace up to protect their environment and the means of livelihood our fathers bequeathed to us.
They should muster a strong will to reject financial hand-outs in compromise to environmental sanctity, that will impoverish the present and the unborn generation.
The time to rise in defence of the environment is now or else oil-bearing communities will be a shadow of themselves and writhe in economic squalor in the next two decades, when environmentalists and petroleum engineers speculate that crude oil will be in abeyance.
By: Igbiki Benibo
Clean Energy For Cleaner Earth
The modern world in the 21st century needs to jellyroll its old ways and practices that have caused environmental degradation, pollution, global warming, ozone layer depletion culminating in climate change. These ways and practices include greenhouse gases emissions, deforestation which is common in the Third World, air pollution from fossil fuels, desertification, etc; hence the need to embrace cleaner fuel, cleaner energy and cleaner environment.
The Earth is witnessing more natural disasters now than at any period of time occasioned by human factors and natural effects. Deforestation, caused by tree felling without replacement for the purpose of cooking or energy source which is still rampant in developing countries. There is also the melting of glaciers caused by increase in temperature that swells the volume of oceans and seas around the world. Heat wave is now in a greater magnitude in Europe, the Americas and North Africa as recent reports show than at any other time. It also includes the Tsunamis of 2011, especially the one hit Japan and other Islands in Asia, and the Fikushima nuclear disaster with so devastating effect.
The world should not forget in a hurry Hurricane Katrina of 2005 that caused unimaginable catastrophe to the people of USA. There had been some other disasters like typhoons and cyclones affecting the United States and Central America. Only recently, there were wildfires in Canada, the United States and parts of Europe, including Australia. Wildfires also devastated the Amazon forest in Brazil some years ago.
This year, countries like Germany, Belgium and parts of the Netherlands experienced heavy flooding with the water (flood) level reaching very high levels and causing terrible devastation to homes, business, schools, power lines and communication facilities. Also, there has been unusual torrential rainfall coupled with thunder storm/rainstorm leaving in its wake massive destruction of homes and livelihoods in Africa and Asia, particularly South East Asia, West Africa and Latin American countries.
The green house gases emissions which is most common in the advanced countries of the northern hemisphere sometimes described as high income nations, has contributed a lot to ozone layer depletion and global warming. And they are not doing much to cut back emissions level as agreed in the protocols adopted at the World Climate Convention of 1992 in Rio de Janeiro, Brazil, the Kyoto Climate Convention in Japan and other such conventions.
Declining green vegetation and inadequate forest resource in most of our urban and rural settlements due to urbanisation and massive construction of roads, buildings, dams and power stations and other harmful human activities as deforestation for different purposes have all contributed in no small measure to cause global warming and environmental degradation.
In this millennium, governments all over the world and humans have done much harm to the environment and the ecosystem than any other. Also to be blamed is the global dependence and use of fossil fuel for running the industries, machines and automobiles and to power homes and factories. Added to the above factor is the reluctance or unwillingness of governments to take a more pragmatic approach and action against harmful acts and practices that degrade the environment and pollute the air, atmosphere thereby contributing to ozone later depletion and climate change.
Worthy of mention is the action of the President Barak Obama administration of the United States who took a hard stand and came on heavily on the oil giant British Petroleum (BP) when they polluted the Gulf of Mexico from their negligence. He ordered them to clean up the environment, pay compensation for the damage and to stop all of their operations.
Our ecosystem, marine life, the wetlands, seas, oceans and rivers, the animals, insects, birds, microbes and micro-organisms, including the green vegetation would thrive well and better with cleaner environment. Any wonder the new paradigm is cleaner fuels, cleaner energy and cleaner environment. This new modern technology that has been embraced and put in use by some advanced countries of the world include wind energy, solar energy and gas-powered energy, nuclear energy etc.
The cleaner energy and cleaner fuels (also known as renewable energy) have come to stay and have done so much good to mitigate climate change, ozone layer depletion and global warming. This renewable energy is the energy for the future and the right way for the world to go. Environmental friendliness and respect for the rights of the environment will guarantee cleaner and healthier air/atmosphere with a safer and better ecosystem. Also, the bio-diversity will be preserved.
It was observed by an American scientific journal two decade ago, that 'a summer heat wave in western Europe killed 15,000 people in France, and it went further to state that, like other extreme climate events … it is expected to become more common'. Furthermore, it was observed that the strongest El Nino in 100 years that made global temperature spike occurred and in 2005 the temperature trend is on an upward rise.
These observations and quotes lend further buttress the reality and fact of global warming and the ozone layer depletion. As opined earlier, solar energy — one of the cleaner fuels and cleaner energy — is energy generated from the sun rays absorbed by a panel of photovoltaic cells and which can generate considerable amount of power when exposed to the sunlight and has capacity to store energy for long use even if there is no sunshine like when it is raining or so. This makes it very suitable for countries in the tropics where there is abundant sunshine all year round.
Also in parts of the world or countries that enjoy sunshine for some parts of the year. This solar energy is clean, safe, convenient, very reliable and environmentally friendly; likewise the wind energy, which is derived from windmills driven by the force of the wind and generates power by the force that drives the turbines to produce electricity. You can have many windmills in a location called wind farm, and their combined force can power a large town or city. Again this energy is clean, convenient, reliable safe and environmentally friendly.
Similarly, nuclear energy which is got from uranium can be used to generate electricity by a nuclear reactor that can power large towns, cities and industries. To generate electricity for peaceful purpose not for military purpose and you would need to get approval from the International Energy Agency (IEA). It is also a clean, reliable, convenient and environmental friendly mode of generating electricity.
Lastly, gas powered energy is another cleaner way and mode of generating power through driving electric motor-turbines by gas energy to produce electricity. This mode of energy and power is very reliable, clean and convenient. Additionally, our environment would be healthier, safer, even life expectancy and longevity in our communities and countries would be enhanced and better livelihoods or our means of sustenance would be guaranteed and protected. Since our ecosystem, atmosphere, seas, oceans, rivers, wetlands, vegetations and forests, animals, insects, and birds sustain life and existence.
There is a strong need to preserve nature, especially our endangered species. Most of these species are already going extinct. But if our forests are allowed to be what they are meant to be, our marine life, lands, microbes and micro-organism would thrive and have a friendly environment and habitat for a more sustainable planet. In Africa, and particularly the Niger Delta where there has been extensive exploration and production of petroleum, the environment has suffered extensive degradation and pollution which has increased global warming and ozone layer depletion. This has led to devastation of livelihoods, marine life and the ecosystem. And it needs proper and adequate remediation.
The world governments, leaders and international organisations must do more to mitigate climate change, ozone layer depletion and global warming. And of course, the Earth would be a better, happier and healthier planet if we go for cleaner fuels, cleaner energy and an environmentally friendlier globe.
By: Samson Ayooso
Ayooso wrote from Port Harcourt.
Discovering Your Life's Purpose
What is Purpose?
Discovering one's purpose is discovering what one needs in life. Discovering what you are meant to be in life. Not what you want to be but what God wants you to be in life. You can never discover your purpose without the help of God.
Ask Yourself Some Questions
You can discover your purpose when you start asking yourself some questions and give answers to such as "what do I need in life?" (Your purpose in life) by finding your purpose, you will know what you need in life and life will be easy for you. Sometimes, we want every good thing in life but what really matters is not what you want but what you need in life. People respect you when you discover your purpose and start making serious decisions. God is your creator and what he needs from you is your purpose. Discovering your purpose on time makes you more successful in life, you need to focus on the present, look forward, think big, do what you love, stay positive, be persistent, get the job done, fight for something you believe in. To be a successful being in life, you also need to manage your time effectively.
Sometimes, people find themselves doing or studying what they don't need. Your potentials determine your purpose in life, don't feel bad on yourself because, with the right information, your purpose is sure. You will get to a place in life and these things will be very useful to you.
Nothing happens as a mistake; they all have their purpose to fulfill in life. Spend at least one hour or thirty minutes every day to do what you have passion for.
Time Management
Time management has a very big role to play in discovering one's purpose in life. Why most people suffer a lot in life is because they waste too much of their time doing nothing. We sleep too much; we rest too much; let's make every moment to be useful. Sleeping too much won't do us any good. Push yourself because no one else is going to do it for you. The fact that you are not where you want to be should be enough motivation.
Life without purpose is time without meaning. It is useless to keep ample time if there is no end towards which we are moving. God calls you in this world for you to discover your purpose and work towards it. Your plans cannot change God's purpose. What God calls for, he provides for.
Sometimes people will say I want to be rich in life. If you said so, fine, then learn how to manage your time and discover your purpose in life. Most times, our parents do destroy our destiny by forcing us to study what we are not meant to just because they had a dream of studying it but were not opportuned to. Parents should ask knowledge from God so as to know what their children need in life.
Procrastination can damage you from going far in life. To be successful and fulfill your purpose in life, you need not to postpone what should be done now. Procrastination is a grave in which opportunities are buried. In life, many people have missed their chance of success because of postponement.
All the pain of yesterday can be forgotten tomorrow if we know how to manage our time effectively and discover our purpose in life. For your management of time not to be in vain, you need to concentrate on one thing such as what you love to do, because it is no good to do everything at the same time (he who is everywhere is nowhere).
Everybody wants to go to school, have their certificates, and be a hard worker in life. But is that all there is in life? Imagine if everyone in the universe goes to school, have their good certificates and work in very good places in life, then who will be the cleaner? Who will be the security guard? Who will be the house maid? How you see life is much more than you think. Purpose is only found in the mind of the creator. Only God knows the purpose for your life.
Now you can see why everybody cannot be rich in this life; neither will everyone be poor in life. The term rich would not exist if there are not poor people existing in this world. The terms rich and poor are given because people have and people lack.
You can never change how you have been created and what you have been created for no matter what. You being a cleaner is because there must always be someone dusting up the place. If there is a man to dust, there will always be a man to clean up also. If your purpose is to be a cleaner, be the best cleaner ever. Cleaning is not just ordinary, you can achieve excellence in cleaning. Excellence in doing ordinary things extraordinarily well.
Every product is produced by purpose, for a purpose, and all things begin and end with purpose. Your existence is an evidence that this generation needs something that your life contains.
The reason why you exist in your family is because there is something that has to be done in your family and it's only you that can do it; no one else. If you are born into a poor family it's not your fault, but it will only be your fault if you remain there, because you have been born in to a family to make great things happen by managing your time and discovering your purpose in life.
You can start by having a time table in your house such as time to study, time to do what you love, what you have passion for. And in the process of studying, anything you seem not to understand, you do well to ask someone that knows it more than you. Don't feel shy to ask because no one knows everything but everyone knows something.
You can also help others to discover their purpose by changing your mindset, especially with the way you think and the way you communicate with them. Let people see you as a person that really knows your purpose in life. Let people see your good lifestyle and try to build theirs also.
Always do things at the right time. Or better do something even if it is late than not to do it at all. Conclusively, a man can't exist without having a purpose in life, your existence is an evidence that God has a purpose in you and this purpose can be discovered with the help of God, and also by management of time. I know we can't help everyone, but everyone can help someone. We can change the world by fulfilling our purpose in life. Nothing is impossible.
By: Endurance Osadebe
Osadebe wrote in from Eastern Polytechnic, Port Harcourt.