Not too long ago, the National Electricity Regulating Commission (NERC) revealed that Nigerians spend about N796.4 billion yearly on fuelling their electric generators to provide themselves with electric power (light).
The figure strikingly represents federal government's budget of N796.7 billion for the capital expenditure for 2009 fiscal year for 36 states of the federation.
A breakdown of the statistics released by (NERC) shows that N540.9 billion is spent on diesel for diesel and on petrol for petrol powered engines annually.
Investigations further revealed that industries under the auspices of Manufacturers Association of Nigeria (MAN) spend over N350 billion to fuel their diesel engines to facilitate production of goods and services.
Similarly, federal government budgeted N2 billion to buy, maintain and fuel generators this year, a development which was heavily criticised and later dropped, perhaps due to government's policy thrust on delivery of 6,000 megawatts by December, 2009.
Though the figures released so far are yet to be challenged by government, it is believed that Nigerians spend even more on maintenance of diesel and petrol-powered generating sets than fuelling alone.
The expenditure pattern in fuelling and maintaining small and big generating engines for residential and commercial entities in Nigeria is better imagined and experienced. The development is caused by a shortfall in meeting the nation''s demand for electricity.
The Power Holding Company of Nigeria (PHCN) reportedly generates only 20 per cent of national electric requirement which represents between 2,000 mw and 2,500 mw.
But as part of government's determination to meet national demand for electricity, the Yar'Adua-led administration vowed to deliver 6,000mw by December, 2009, in addition to the 2,500mw already in the national grid.
Experts however believe that Nigeria requires about 15,000 mw for power to be stable, regular and efficient so as to meet domestic, commercial and industrial demands.
South Africa, a country with less population the Nigeria has over 40,000mw and also generates electricity through other sources other than hydro and thermal sourced electricity.
Therefore, the authorities must as a matter of national emergency, source other means of generating power through solar and nuclear means.
Diversification of public power supply sources therefore is a necessary imperative staring our leadership on the face. Apart from the critical role of the private sector in the 29 Independent Power Producers (IPPs), the country must move from the present level of public power supply to the next level.
Our energy base is woefully very low and is constituting a material embarrassment to the past and present generations of Nigerian leaders.
Investors find it extremely difficult to invest in Nigeria due to cost of generating electricity for their investment. We cannot afford to continue this way.
The country cannot meet up with her Millennium Development Goals (MDGs) on energy and other critical sectors of the economy with the current energy base.
Moreso, Nigeria can never realise her Vision 20:2020 if we remain where we are currently. The Asian Tigers who are competing favourably with Western countries ensured that their energy source is realiable and regular before they got to where they are today.
Thus, the only way and viable option forward is to secure our energy base.
No better options!
JUSUN Strike: S'Court Waives Case Default Fees
In a move to ameliorate injuries suffered by litigants during the last judiciary workers' strike, the Supreme Court has waived default fees, computation of time, among others in respect of cases affected by the strike.
JUSUN strike action held between April 6 and June 14 during which all court activities nationwide were grounded.
The decision was contained in a set of fresh practice directions issued by the Chief Justice of Nigeria (CJN), Justice Ibrahim Tanko Muhammad.
The practice directions, to be cited as, "the Supreme Court of Nigeria computation of time and payment of default fees (JUSUN strike period exemption) practice directions, 2021," is to be effective from June 15, this year.
The CJN said the intention is to alleviate the effect of the strike on litigants and their lawyers.
Part of it reads, "Whereas the period of JUSUN strike will have negative effect on the computation of time and payment of default fees by litigants and their counsel, who file processes in the Supreme Court.
"Whereas, it is imperative to have practice directions to alleviate the financial burden of litigants and their counsel when filing processes affected by the period of the JUSUN strike.
"In the exercise of the powers conferred on me by Section 236 of the Constitution of the Federal Republic of Nigeria, 1999 (as amended), Order 10 Rule 2 of the Supreme Court Rules, 1985 (as amended) and by virtue of all other powers enabling me in that behalf, I, Honourable Justice Ibrahim Tanko Muhammad, the Chief Justice of Nigeria, hereby issue the following Practice Directions.
"Commencement: These practice directions shall commence and come into effect on the 15th day of June, 2021.
"Objective and guiding principle: The purpose of these practice directions is to alleviate the financial burden of litigants and their counsel when filing processes affected by the period of the JUSUN strike.
"Applicability: These practice directions shall, save to the extent and as may otherwise be ordered by the Chief Justice of Nigeria, apply to computation of time for the purposes of filing of processes and payment of default fees or doing any act or taking any step that is time-bound in respect of any case before the Supreme Court in both civil and criminal matters affected by the JUSUN strike.
"Computation of time and payment of default fees: Notwithstanding any provision in the Supreme Court Rules, 1985, or any previous practice directions or instrument on computation of time for filling of court processes or doing any act or taking any step as provided by the Rules or the Practice Directions or the Instrument and payment of default fees for extension of time thereof, the period of the JUSUN strike, starting from April 6, 2021 to June 14, 2021, shall be exempted.
"Citation: These practice directions shall be cited as the Supreme Court of Nigeria Computation of Time and Payment of Default Fees (JUSUN) strike period exemption) Practice Directions, 2021, made at Abuja this 15th day of June, 2021."
Account For N19bn FG Refund, C'River Lawmakers Tell Ayade
Some members of the Cross River State House of Assembly have called on Governor Ben Ayade to give account of the sum of N19billion which he received from Federal Government in respect of repairs of federal roads.
In a chat with newsmen shortly after receiving three more special advisers and commissioners that resigned from Ayade's government over inability to defect with the governor to APC, the lawmakers who themselves have also refused to defect to APC are Nelson Ofem, Fred Osim, Efa Esua and Friday Ukpache.
According to them, he hardly consults with the assembly but takes unilateral decision even on critical projects that would gulp staggering state resources.
Their spokesman, Fred Osim, maintained that many of the much-trumpeted 35 signature projects of the government, for instance, did not pass through the scrutiny of the assembly.
"We can tell you that those projects are all scams. Look at the superhighway which he dragged the president to come and do the ground breaking ceremony. Look at the Bakassi deep seaport. Six years they are still on the drawing board. They will not be completed. They will not work. He is a liar", they said.
Reacting to the statement, the Chief Press Secretary to Governor Ayade, Christian Ita, said they were not telling the truth, adding that all the projects passed through due processes, and that many are now up and running.
By: Friday Nwagbara, Calabar
Police In Lagos, Ogun Collaborate On Border Communities' Security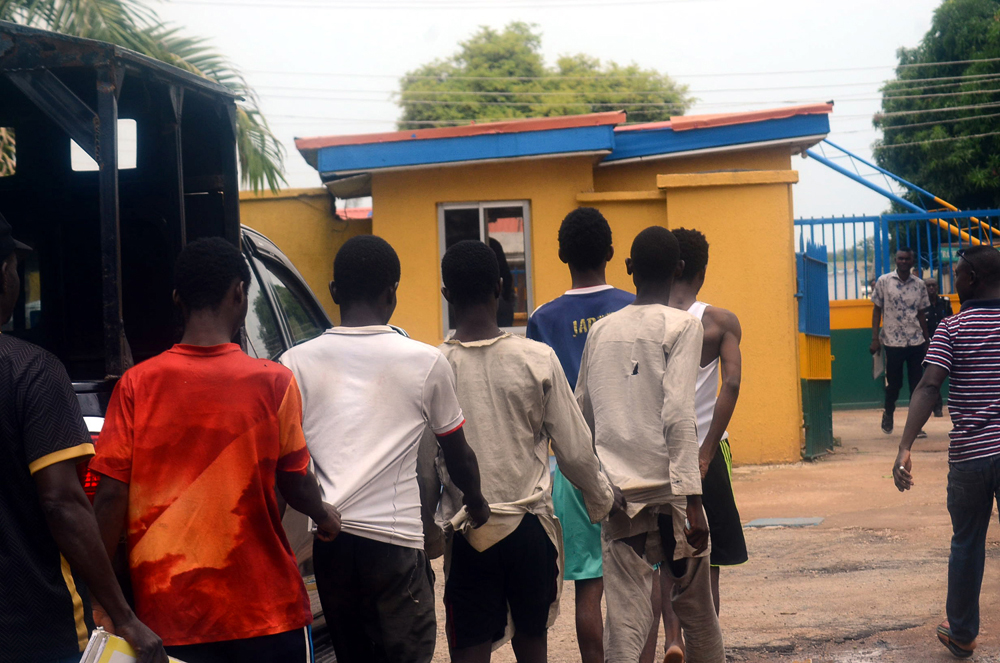 Police in Lagos and Ogun states are collaborating to secure border communities between the two states, Police spokesman in Lagos, CSP Olumuyiwa Adejobi, said.
Adejobi told The Tide source yesterday that the commands in the two states had worked out modalities for the operation.
Governor Babajide Sanwo-Olu, on June 10, while donating some equipment to the police and other security agencies hinted of collaboration between police in Lagos and Ogun states.
The governor had said that the measure was to secure border communities and waterways between the two states from criminal elements in such areas.
President Muhammadu Buhari inaugurated the equipment, which included 150 double cabin vehicles, 30 patrol vehicles, 1,000 ballistic vests, 1,000 ballistic helmets, 1,000 handheld police radios/walkie talkies and 100 patrol bikes.
Others were two Armoured Personnel Carriers (APCs), four high capacity troops' carriers, two anti-riot water cannon vehicles, office/command furniture and other ancillary support resources.
"The Commissioner of Police, Lagos State, Mr Hakeem Odumosu, has ordered the Assistant Commissioner of Police, Operations, Lagos State, Mr Dotun Odubona, to meet with his Ogun counterpart and fashion out modalities of policing our border communities.
"Police Command in Lagos State has embarked on constant raids of flash points along the border towns. This operation has assisted the command in keeping miscreants, especially cultists at bay.
"The collaborative effort of the two commands is solid and productive. We hope to introduce another form of strategy which will be kept secret for now,'' Adejobi said.