S/Africa 2010: Legalise Sex Trade For World Cup – Health Specialist
Fear of spread of HIV infection football fans sparks demand for registration of South Africa prostitutes.
Calls are growing for South Africa to legalise prostitution ahead of next year's football World cup in an effort to limit HIV infection among millions of fans visiting the country for the tournament.
A leading health specialists to the Tidesports source that the World Cup presented a huge risk and said there was an urgent need to start registering prostitutes and screening them for the virus. It is estimated that 50% of the country's sex workers are infected.
Professor Ian Sanne, head of the clinical HIV research unit at Johannesburg's Witwatersrand University, said the party atmosphere being touted by the football authorities, travel companies and the South African government was a green light to school abuse and promiscuity among fans next summer.
Around 3.2 million tickets will be sold for the matches. A million will go to South African residents, with the rest split between international fans and sponsor. Twenty thousand England fans are expected to head for South Africa, where those without tickets will be catered for with huge screens and temporary bars across the country.
Sanne said not only would the visitors be at risk, but young South Africans and sex workers too, opening the way for the virus to spread at a dramatically increased rate.
"HIV/Aids is a problem globally and there is a great need to encourage and enforce better health and responsibility, especially to the young South Africans who could be at risk during the World Cup," he said.
He called for legal frameworks to regulate the practice of sex workers rather than discriminate against them.
Interim legalisation of prostitution would be best for the country, rather than leaving it uncontrolled, said. "Sex workers need to register with a board that will regulate their practice and give certification to practice, but they have to go through a mandatory HIV tresting process first, and only those who test negative will be allowed to practice."
South Africa is the centre of the global HIV epidemic, with more than five million adults infected. An estimated one in two of working prostitutes is living with the virus an dthe lack of medication led to a quarter of a million people dying of Aids-related illnesses there last year. The antiretroviral medication that helps prevent HIV devleopming into ful-blown Aids is being taken by fewer than 30% of those infected.
Infection rates among women aged 15 to 24 declined slightly from 22.1% in 2007 to 21.7% 2008, but among women in the 30 to 34 age group, the infection rate was 40,4 in 2008.
But while Sanne said authorities should use the World Cup as a platform to raise awareness on the need for testing, Aids/HIV campaigners responded furiously that it would take concern for foreigners rather than its own citizen to make the South African government act.
"The clear way forward to help tackle the tens of thousands of women forced into prostitution through poverty is to legalise it now, not to make it a temporary measure for the World Cup," said Vuyiseka Dubula of the Treatment Action Campaign.
We need preostiution decriminalised now so we can start to help these women, many of whom have been abused and brutalised from a young age.
Former South African police commissioner Jackie Selebi, now suspended over corruption allegations, caused widespread dismay when he first susggested legalising prostitution and public drinking for the duration of the World Cup, arguing that it would free his officers to deal with security, but the issue is hugely contentious in a country where the sex trade is regarded as immoral and un-acceptable.
A spokesman for the FA said: They (English fans) will all be issued with guidance along with their tickets and we are working now on how best to communicate the dos and don'ts in South Africa to people. But the FA can't be responsible for all the English people travelling to South Africa next summer.
NPFL : Eguma Urges Rivers People To Keep Faith
The Technical Manager of Rivers United FC of Port Harcourt, Stanley Eguma, has called on Rivers State people to be faithful and support the team, saying that they would not let them down this Nigeria Professional Football League ( NPFL) season.
He said that, all the players in the team are hungry for success this season, adding that, he is planning with the players that have winning mentality.
Eguma said this on Sunday in his post match interview with sports journalists shortly after they saw off Kwara United with 3-0 in the match day six of the NPFL, at the Adokiye Amiesimaka Stadium in Port Harcourt.
He appreciated his players for the victory, adding that initially the game was a bit difficult.
According to him, his players were more technical on the ball, pointing out that he had to change the tactics of the game.
"Rivers people should still have faith and support the team because we will not let them down this season.
The league is a marathon one; it is not yet time to sing songs.
It is still work in progress.
We started well but we still have hope that the team will improve more on their performance because every club in the league is very strong," Eguma stated.
He noted that his team last season did not change but the approach and mentality of the players have changed the game.
He disclosed that the team is highly motivated and taking care of, saying, most of the players want to deliver and make name for themselves.
By: Kiadum Edookor
Chukwu Blames Rohr For Not Developing NPFL Players
Former Nigeria Super Eagles Captain Christian Chukwu, has blamed former National Coach Gernot Rohr for not developing the Nigeria Professional Football League ( NPFL) players.
He disclosed that Rohr was employed to build the NPFL players for them to get opportunity to play in European clubs rather than concentrating on foreign- based players.
Chukwu said this on Monday in a television programme monitored by Tidesports in Port Harcourt, adding that Rohr was supposed to base in Nigeria to enable him get in touch with the home base players.
According to him, Rohr failed for the development of the home-based- players, adding that, before now, all other coaches gave the home-based players the opportunity to showcase themselves in the national team.
Chukwu who had also coached the Super Eagles team, explained that Nigeria Football Federation (NFF) did not believe in Nigerian coaches, adding that, he is happy with what the interim coach, Austin Eguavoen is doing with the Super Eagles within the short period of time.
" Rohr was employed to develop our national players but he concentrated on foreign- based players.
We have players in the NPFL who are very good but they were not giving opportunity under Rohr to play in the national team.
All the players we have before now were home- based players", Chukwu stated.
By: Kiadum Edookor
Eguavoen To Effect Changes Against Guinea-Bissau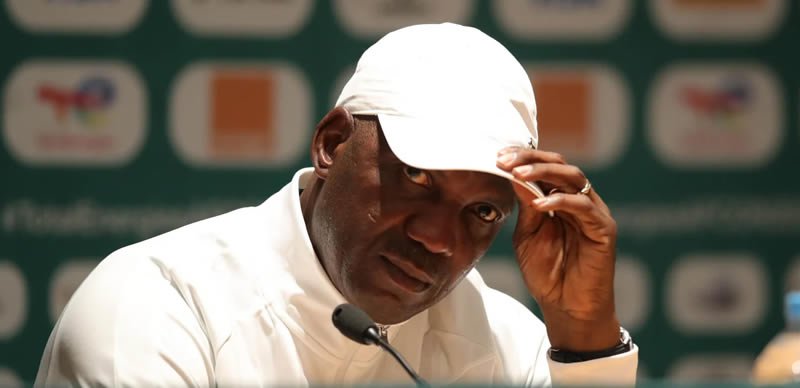 Super Eagles interim coach, Augustine Eguavoen has revealed that he would be making some changes in the final group match against the Wild Dogs of Guinea-Bissau tomorrow so as to give players who have not tested action some game time.
Tidesports source reports that Nigeria currently tops Group D with six points from their opening two games, after beating Egypt and Sudan and are guaranteed a spot in the knockout stages of the competition.
"Obviously, we will make changes for the last group game against Guinea-Bissau.
"We have depth in the team and it's a good opportunity for the other players to play, we will play to win the game and I trust the players to do a great job," he said.
Eguavoen also warned his players against complacency and taking their chances in front of goal in subsequent matches.
"No game comes easy. We knew it was going to be tough and tried as much as possible to be ready for any opponent that comes our way.
"So it's a little bit difficult to say whether we were complacent in the Sudan game or not but we will discuss this with the boys going forward," he added.