Santana Question Bothers S/African Football
It seems the phrase that pays in South African football at the moment is 'Fire Joel Santana'.
The media, fans, ex-players and even some managers have jumped on the bandwagon and called on Safa to replace the Brazilian before the World Cup to give the national team some chance at the finals. I see even the Dutchman Leo Beenhakker has now been mentioned as a possible replacement.
 Well, that may not be the way to go. Why should we fire Santana now?
 We are all in agreement that he did an outstanding job during the FIFA Confederations Cup. Bafana came within three minutes of holding Brazil and Spain and generally we played some attractive football.
 Yes, the loss against the second-string Republic of Ireland side was not great, and neither was the performance against a very young Madagascar side. But I believe the question we have to ask is where do we want Santana to succeed?
 Do we want him to do well in friendlies? No, we wanted him to do well in the Confederations Cup and we want him to do well at the World Cup.
 He achieved the first objective, to reach the semifinals at the Confederations Cup. So let's give him a chance and see what he can do at the World Cup.
 It's important to understand what Santana's brief is. He must succeed at the big tournaments, not the other matches along the way. Do you think Alex Ferguson is upset when they lose pre-season matches? No, he has his eye on the bigger prizes and that, I believe, is the case with Santana as well.
 The other big talking point also regards the national team, what should we do with Benni McCarthy?
 Look, we need someone who can put the ball in the back of the net on a regular basis and Benni certainly knows how to do that.
 Benni must have realised that, after missing the Confederations Cup, he would not want to miss the World Cup as well. Every player dreams of playing at such a tournament and, with his career slowly winding down, it is something he would want to have to look back on. He must now say 'whatever has annoyed me, I have made my point', and move on.
 Similarly, Safa must realise that Benni is our best striker and the most likely source of goals, so do we swallow our pride and invite him back? Both parties need to come to the table and find a solution, and quickly too.
 Looking at the World Cup itself, quite a few of the favourites have already made it through. Obviously Brazil will always be up there for the title contenders, while the Dutch are master-class with their 'Total Football', always a joy to watch.
 But this time England have as good a chance as ever. They have a good squad, they are great going forward and solid at the back, although they must still decide on a goalkeeper.
They have star players like Steven Gerrard, Frank Lampard and Wayne Rooney, who is in top form right now. A look at the Castrol Index shows he is the top player in the World Cup qualifiers at the moment with a rating of 9.61 out of 10, and he has taken 28 shots at goal with 14 on target, the highest in the competition. He will be key to their chances.
 Above all, they have a very good manager in Fabio Capello. He is low profile compared to someone like Diego Maradona, but he is the ultimate professional and someone that can help England to World Cup glory.
 On that note, I have always said that great players do not necessarily make great players, and Maradona has certainly proven that. They have an incredibly talented squad, but just can't translate that into results. I really hope they can pull it together and qualify for the World Cup – it will be a shame for South Africans to be deprived of seeing Leo Messi in action.
Olympics: Nigeria's Ese Brume Leaps Into Final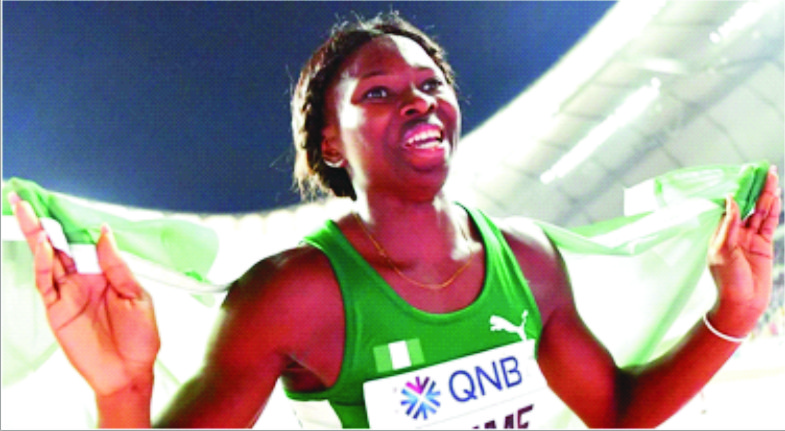 Nigerian athlete, Ese Brume yesterday, reached the final of the women's long jump event at the ongoing Tokyo 2020 Olympic Games.
Brume placed fourth with a 6.76m jump to claim the final spot in Group B.
Reigning World Indoor champion and three time European indoor champion,
Ivana Spanovic was first in Group B with a jump of 7.00m, while current world champion Malaika Mihambo, a German, was third with a 6.98m leap. British Virgin Islands' Chantel Malone (6.82m) came third.
The 25-year-old Brume, who won bronze at the 2019 World Championships in Doha, is seen as one of the country's strong medal prospects in Tokyo, having jumped a distance of 7.17m at the Chule Vista Festival in California in May to shatter Chioma Ajunwa's 25-year long jump record of 7.12m.
Brume's jump is also the World Lead going into the Olympics.
She was the only Nigerian athlete who reached the final of her event at the 2016 Olympic Games in Rio, where she placed fifth with a leap of 6.81m.
In Group A, Americans Brittney Reese (6.86m) and Tara Davis (6.85m) placed first and second, with Swede Khaddi Sagnia (6.76m) and Great Britain's Abigail Irozuru (6.75m) also qualifying in third and fourth places.
Don't Blame Dare, Okowa For Athletes Disqualification Ogba
A former President of the Athletics Federation of Nigeria, Solomon Ogba, has urged Nigerians not to blame Sports Minister, Sunday Dare and newly elected AFN boss, Tonobok Okowa, for the 10 Nigerian track and field athletes disqualified by the Athletics Integrity Unit last Wednesday.
Tidesports source reports that the athletes were expelled from the Games following their failure to conduct the mandatory three out-of-competition tests before the commencement of the Olympics.
Ogba blamed the affected athletes and the Shehu Gusau-led board of the AFN for failing to ensure the tests were conducted in the last three years.
"Every athlete knows it that when you are going for the Olympics, you need three out-of-competition tests. The conducted tests should have at least 21 days interval," Ogba said.
"So, this new board of the AFN led by Okowa couldn't do that. They were able to conduct just two tests. The last one they were to conduct for the athletes didn't meet the 21-day requirement."
On the role of the sports ministry in the matter, Ogba said there was no where in the world where sports ministers supervised the testing of athletes, adding that it was the duty of the Gusau-led board, who were receiving correspondences from the World Athletics, that should have ensured the athletes conducted the mandatory tests.
"It's not Sunday Dare's fault, it's also not his duty. The minister even approved funds for the second tests for the athletes. Where in the world do sports ministers conduct tests for athletes? It's the job of the federation, but the last board didn't do their job.
"Many of the athletes based abroad didn't also go for the tests, these are sports people who should know the rules."
Olympics: Edo Tips Adegoke For Podium Finish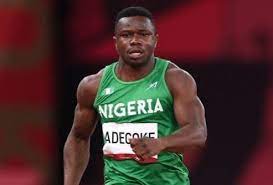 Chief Press Secretary to the Edo State, Deputy Governor, Ebomhiana Musa, has backed Nigeria medal hopeful, Enoch Adegoke for a podium finish at the ongoing Tokyo 2020 Olympics.
Adegoke qualified for the semi-final of the men's 100m at the weekend after he emerged first in his heat with a new personal best time 9.98secs.
Tidesports source reports that Adegoke beat Asian record holder, Femi Ogunode, and British star, Zharnel Hughes and 2021 World leader Travon Brommel to win his 100m heat.
The Edo State Government adopted the athlete before the Games and donated $10,000 to him for his preparations for the trip to Tokyo.
An elated Musa, while speaking with newsmen said he was confident that Adegoke would win the country a medal.
"Before his adoption, the government saw a future in the young man. This is just the beginning of his career and the sky is the starting point for him.
"All that the state government saw in him and decided to adopt him, give him necessary support towards the Olympics as well as a $10,000 cash gift, is beginning to yield dividends.
"We are very proud of him so far and confident that he is going to finish at the Olympics on the podium.
"There is also a huge promise waiting for him here if he gets a medal for the country. We are going to shock him."