Declare Assets, Shareholders Tell Bank, CBN Staff
Shareholders have called on the federal government to ensure that all bank directors, staff and management of the Central Bank of Nigeria (CBN), to duly declare their assets on appointment and exit from office as a way of sanitizing the banking sector.
The president of the association who spoke through Goni Faruk Umar said that short tenure of office should be introduced for bank board members.
He also said that the measures would among other things entrench probity and transparency as well as remove incidences of personalization of office, by those in position of authority.
"When a director serves for eight years, he should leave office in order to sanitise the banking sector, any director appointed whether executive or non-executive should declare his assets when appointed and when he is leaving so that we will know that he has nut abused his position to acquire assets.
Of 1,561 Candidates, 880 Graduate From Law School-DG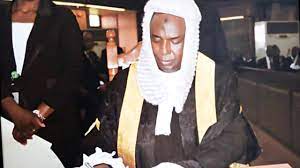 The Nigerian Law School says out of the 1, 561 candidates who sat for the December examination, 880 passed.
The Director-General of the School, Prof. Isa Ciroma, SAN, made this known yesterday in Abuja, while presenting the new wigs to the Body of Benchers at the 2020 Call to the Bar ceremony.
"Four others were from previous Bar examination,'' he said, adding that the new wigs had met all the required and set conditions by the Council of Legal Education.
"I am happy to affirm that they all have exhibited good manners and decorum during their training.
"They have also been groomed in the best ethics and ethos of our noble profession.
"The screening committee of our distinguished body carefully perused the records of each of the aspirants and found them worthy to be presented for the Call to the Nigerian Bar.''
Ciroma said that the school had begun a special remedial course for students from the National Open University of Nigeria (NOUN).
"The programme began on June 28, at the Nigerian Law School Headquarters, Bwari, Abuja. We thank all distinguished members of the Body of Benchers, for their support,'' he said.
The Chairman, Body of Benchers, Justice Olabode Rhodes-Vivour, congratulated the new wigs and charged them to adhere to the provision of rules regarding the profession at all times.
"As a lawyer, you are an officer of the court and accordingly, you are not to do any act or conduct yourselves in a manner that will obstruct or adversely affect the course of justice.
"The practice of Law is not a right but a privilege. It is a privilege that can be lost should you fail to live up to the requisite professional standards imposed upon you by virtue of your entry into the community of lawyers.
"You must, therefore, strictly adhere to the provisions of the Rules of the Professional Conduct and maintain best practices at all times.''
He stressed that the Body of Benchers Legal Practitioners Disciplinary Committee was always determined to discipline any lawyer found wanting or breaching set rules of the profession.
Rhodes-Vivour said that the committee had been carrying out its mandate "in a just and fair manner'' without giving any room for compromise or ill-will.
He said that between January and July, the committee disbarred six lawyers and suspended some for between two and four years, while one lawyer was admonished during the period.
Rhodes-Vivour advised the graduates to continue to update their knowledge on both statute and case law in order to attain more understanding on especially, international jurisdictions.
In 2020, the Council of Legal Education said that out of a total of 2,515 students who participated in the examinations, 1,864 passed the Bar Final Examinations conducted in January.
The director-general who described the performance as outstanding, said that among the 1, 864 students who were successful, only five made First Class while 632 others failed the examinations.
"Candidates graded in First Class are five, Second Class Upper 77, Second Class Lower are 633, those who got pass marks are 1,067 and those with Conditional Pass are 82.
"632 candidates failed the examination, 17 were absent and 2 results are withheld."
Chiroma further explained that only 0.2 per cent made First Class, 3.06 per cent made Second Class Upper, 25.17 per cent made Second Class Lower and 42.42 per cent passed.
He said other performances include a 3.26 per cent for those with conditional pass, 25.12 per cent failed the examinations, 0.7 per cent were absent and 0.8 per cent results are being withheld.
NGO Trains 300 Returning Migrants On Business Development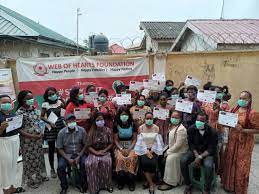 Web of Heart Foundation, a Non-Governmental Organisation, says it has trained and empowered more than 300 returning migrants, youths and internally displaced persons on job creation.
Its Executive Director, Mrs Bose Aggrey, made the declaration yesterday in Lagos at the graduation of its "Create and Start Module'' trainees.
The graduating trainees were awarded certificates and given grants facilitated by some investors and soft loans from banks after six months of training to identify and analyse business ideas and opportunities.
"We taught them how to articulate their business ideas into plans; introduced them to investors and equally assisted them to get bank loans.
"It is an opportunity for the participants to put themselves together either to get employed or to become employers,'' she said.
"We introduced investors to the participants when they were pitching and some of them are already getting grants.
"We are working with two banks so they can provide soft loans at low interest rates for the participants,'' she added.
In his remarks, Mr Peik Bruhns, Team Leader of the firm of consultants that conducted the training, said the company had reached out to train 5,000 Nigerians on Micro, Small and Medium scale Enterprises in six months
He said this was done in collaboration with nine organisations, including Web of Heart Foundation.
"I will like to stress the importance of working with returnee migrants because Web of Heart Foundation focuses on assisting them to reintegrate into society.
Zamfara Police Refute Kidnap Of 60 Passengers Rumour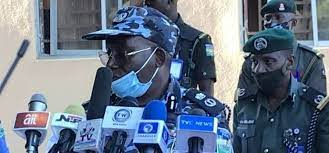 The Zamfara State Police Command has refuted a story that 60 passengers travelling along Sokoto – Gusau road on Sunday, July 25, were kidnapped by bandits.
The state Police Public Relations Officer, Mohammed Shehu, in a statement, yesterday, said the story was inaccurate and a calculated attempt by some mischief makers to create fear and apprehension into the minds of the general public, especially the commuters.
"The attention of Zamfara State Police Command has been drawn to a story trending on social and conventional media that armed bandits blocked Sokoto – Gusau Road, and abducted 60 people travelling from Sokoto to Abuja."
The statement said, "For the avoidance of doubt and purpose of clarity, the command was informed that a large number of armed bandits blocked a Toyota bus vehicle, belonging to the Sokoto State Mass Transit and abducted 11 passengers who were travelling from Sokoto – Abuja along Sokoto – the accurate report of the incident. On Sunday, July 25, 2021, Gusau Road in Bakura LGA."
According to the statement, the Police Tactical operatives attached to Operation Restore Peace were alerted, and they quickly mobilized to the location and dislodged the hoodlums who blocked many vehicles for abduction, adding that the road was instantly cleared for motorists and other road users and reinforced more police operatives to improve the security and safety of the commuters.
The statement noted that in the course of mopping up the scene, a Toyota bus vehicle belonging to Sokoto State Mass Transit was sighted empty and it was revealed that 11 passengers, including the driver were abducted and taken to the bush before the arrival of the police.
It said the operatives further embarked on search and rescue operation in the surrounding bush with a view to rescuing the kidnapped victims, stressing that two persons who were left far behind with other hoodlums were abandoned by their captors for fear of being neutralised by the Police operatives, the remaining nine victims were taken to the forest.