Who Says Women Can't Surety Bail?
There are erroneous ideas that have been bandied about for so long that they lose their untrue status and become acceptable as "truth" or "norm". The level of acceptability becomes rife that those who are averse to these ideas are seen as the "other", unconventional, or down-rightly branded as wrong. Unfortunately, some of these untruths which metamorphose, by constant mention, to "truths" are regurgitated from one generation to another. The vicious circle continues as those who are too lazy to properly make enquiries about the true position accept and accentuate falsehood.
A veritable example of the foregoing is the myth of women's incompetence to stand surety for bail. Over the years, most Nigerians have come to believe and pass down the idea that women cannot be sureties. It is even more disheartening when this wrong is perpetuated by the law enforcement officers themselves. Those whose primary duty is to imbibe and enforce the law unfortunately transfer traditional patriarchal bias on gender differentiation to the interpretation of the law.
Obviously, this evil is perpetuated without recourse to Section 42 of the 1999 Constitution which unequivocally provides that:
(1) A Citizen of Nigeria of a particular community, ethnic group, place of origin, circumstance of birth, sex, religion or political opinion shall not, by reason only that he is such a person
(a) be subjected either expressly by, or in the practical application of any law in force in Nigeria or any executive or administrative action of the government to disabilities or restrictions to which citizens of Nigeria of other communities, ethnic groups, places of origin, sex, religious or political opinions are not made subject; or
(b) be accorded either expressly by, or in the practical application of any law in force in Nigeria or any such executive or administrative action, any privilege or advantage that is not accorded to citizens of Nigeria of other communities, ethnic groups, places of origin, sex, religious or political opinions.
(2) No citizen of Nigeria shall be subjected to any disability or deprivation merely by reason of the circumstances of his birth. In view of the above, it is worrisome that the constitution which is our groundnorm (basic norm) is blatantly disregarded. Women are embarrassed daily and made to feel that "All men are equal but some are more equal than others", even in this post-Beijing era.
A surety is just a person who guarantees by means of recognizance, the appearance in court or at a police station of an accused person admitted to bail. What the law only requires, by virtue of Section 122 of the Criminal Procedure Act (Applicable in the South) is for the surety to enter into recognisance to ensure the attendance of the accused person in court. A similar provision is stated in Section 345 of the Criminal Procedure Code (Applicable in the North) which enjoins a surety to execute a bond for the appearance of a person admitted to bail.
It is noteworthy to state that both Section 134 of the Criminal Procedure Act and Section 351 of the Criminal Procedure Code allow a surety to apply to discharge a recognizance or bond, either wholly or in so far as it applies to the applicant. On discharge of such recognizance or bond, the court shall issue a warrant for the arrest of the person on whose behalf the recognizance or bond was executed and require such person to find other surety or sureties. Also, by Section 143 of the Criminal Procedure Act and Section 355 of the Criminal Procedure Code, the court is empowered to order the arrest of a person bound by any recognizance or bond if such person fails to appear before the court at a designated time.
In granting bail, the major interest of the court is in the appearance of the accused person at a certain day and place and not the sex of the surety. By Section 341 (2) of the Criminal Procedure Code, the factors considered before granting bail are namely: the nature of the offence, the severity of the punishment, the criminal records of the accused (Eyu V State) and the likelihood of the accused committing other offences while on bail (R V Jammal). Other factors to be considered are: the likelihood of the accused interfering with the investigation of the offence (Dantata V Police), the probability of delay in the trial and most importantly, the likelihood of the accused jumping bail and not appearing in court.
Therefore, the sex of a surety is inconsequential as long as the purpose is achieved .
After due consideration of legal principles relating to bail and suretyship, one is left wondering about the basis for the exclusion of women. It is very surprising that even those who are supposed to have risen above such machismo are the very ones who discriminate against women and quickly point out their "position" to them.
Law enforcement agents who refuse women from standing surety for bail should note that they have no legal backing, or logical basis. Afterall, women have proved their mettle in all areas of human endeavour, no matter the stratum. Women are excelling even in fields hitherto considered the exclusive preserve of men. Therefore, being a woman does not translate into intellectual or economic inferiority. The two sexes are supposed to complement each other rather than seek areas of inequality.
It is heartwarming though that some law enforcement officers have risen above this baseless assumption and now allow women to surety bail. Those who are still fixated on this illegal discrimatory and retrogressive practice should have a rethink and tow the line of reason because women of impeccable integrity who possess the wherewithal to surety bail abound.
Female Novelist Emerges Nobel Laureate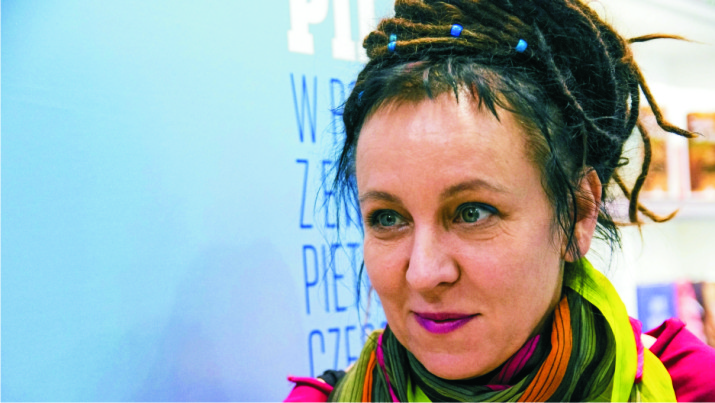 As the Swedish Academy finally announced laureates for 2018 and 2019, after scandal forced last year's award to be postponed, Olga Tokarczuk has been declared the winner of the 2018 Nobel Prize in Literature.
Born 29 January 1962 in Sulechów, Poland, Olga Tokarczuk, a Polish writer, activist, and public intellectual , was barely six years old, and living in the small town of Sulechów, when the Polish students protests of 1968 erupted. Her father's family were refugees from a part of Poland that is now in Ukraine. Both parents were teachers who "lived in an island of leftwing intellectuals, but not communists".
Although trained as a psychologist at the University of Warsaw, Olga, upon graduation took a hospital job as a specialist in addiction, married a fellow psychologist and gave birth to a son. But after five years, she decided she was too fragile to continue at the hospital. "I was working with one of my patients and realised I was much more disturbed than he was."
She left her job and published a collection of poetry, quickly followed by a novel; The Journey of the People of the Book – a parable set in 17th-century France – which won a prize for best debut. Though the books, and the prizes, kept rolling in, in her mid 30s, Tokarczuk hit a crisis and decided she needed to take some time out to travel. She became particularly noted for the mythical tone of her writing as she has published several novels, as well as other books with shorter prose works.
Today, OlgaTokarczuk has been described as one of the most critically acclaimed and commercially successful authors of her generation.With her declaration as the winner of the 2018 Nobel prize coupled with the 2018 winner of the Man Booker International Prize for her novel; Flights, she becomes the first Polish writer to do so.
A mother, and wife to Roman Fingas, when she was hotly tipped to win the Man Booker International prize last year, Olga Tokarczuk considered herself " very naive"as she talked about facing controversy at home and the armed bodyguards hired to protect her.
A literary star in Poland, Olga's sixth novel; Flights, could best be described by any one as her stepping stone to greatness. Not as though Olga had not featured any work translated in English language, Flights highlighted her as probably one of the greatest living writers any scholar would love to meet.
Adam Mars-Jones, once wrote a highly complimentary review of Flights in the London Review of Books. "It could almost be an inventory of the ways narrative can serve a writer short of, and beyond, telling a story," he said. "The book's prose is a lucid medium in which narrative crystals grow to an ideal size, independent structures not disturbing the balance of the whole."
Tokarczuk prefers an astronomical metaphor, explaining that, just as the ancients looked at stars in the sky and found ways to group them and then to relate them to the shapes of creatures or figures, so what she calls her "constellation novels" throw stories, essays and sketches into orbit, allowing the reader's imagination to form them into meaningful shapes.
She is currently best known in Poland for a 900-page historical epic called The Books of Jacob published in 2014. The Books of Jacob tells the story of Jakub Frank, a Jewish-born religious leader who led the forcible conversion of fellow Jews to Catholicism in the 18th century. The novel itself was well received, selling 170,000 copies in hardback and winning her a second Nike award, known as "the Polish Booker".
In her naivety, thinking she would be able to discuss the dark areas in Poland's history, Tokarczuk was branded a 'targowiczanin', an ancient term for traitor when she outraged rightwing patriots by saying that, contrary to its self-image as a plucky survivor of oppression, Poland itself had committed "horrendous acts" of colonisation at times in its history. A reason for which her publisher had to hire bodyguards for a while to protect her.
She has long been one of Poland's highest profile writers, a vegetarian feminist in an increasingly reactionary, patriarchal country, and a public intellectual whose every utterance can make news headlines.
Call her an intelligent, brilliant or controversial artiste, Olga Tokarczuk has not only made her mark in the literary world, she has boosted the ego of women as a worthy ambassador of the folk.
Sylvia ThankGod-Amadi
NGO To Train Women In Rivers
The Founder; Impact Her Vocational Training, a Non-Governmental Organization ( NGO), Barr Efe Ukala, has said that her organisation has concluded plans to get over 300 women trained in various skills and entrepreneurship programmes in Rivers State.
Ukala disclosed this in an exclusive interview with The Tide Thursday in Port Harcourt.
She said part of the ideas behind her action was to help women close the gap between them and their male counterparts in the areas of skill acquisition and entrepreneurship.
According to her, the training would also help to bring investors in order to boost women's businesses.
Her action she said, was further informed by the high statistics of African women whom she said were far behind their male counterparts.
Part of her success story, she revealed, was the aid given to some women whose businesses had risen to an enviable height.
Concerning the contribution of the Rivers State Government, she hinted that the government under Governor Nyesom Wike, has been supportive.
She narrated how the government had helped in the training of over 300 women who can now boast of their own personal business.
Also speaking, one of the trainees, Mrs Charity Chukwu, who admitted the positive impact of the programme since July this year, said it has so far exposed her to the entrepreneurship world.
Chukwu, explained how her experience acquired from the programme brought about a wide scope of her understanding of business and its management.
One of such skills gained, according to her, was how to prepare and export cassava flour, which she said was rewarding.
Another trainee, Amarachi Eboyi, also eulogised the NGO over what she described as an eye-opener to the business environment.
Eboyi told The Tide that with the assistance of the NGO, she had successfully concluded her business registration with the Corporate Affairs Commission ( CAC).
The Tide gathered that the organization had trained several women in 34 African countries,which Rivers State would have about 300 of such trainees by this weekend.
Dealing With Domestic Abuse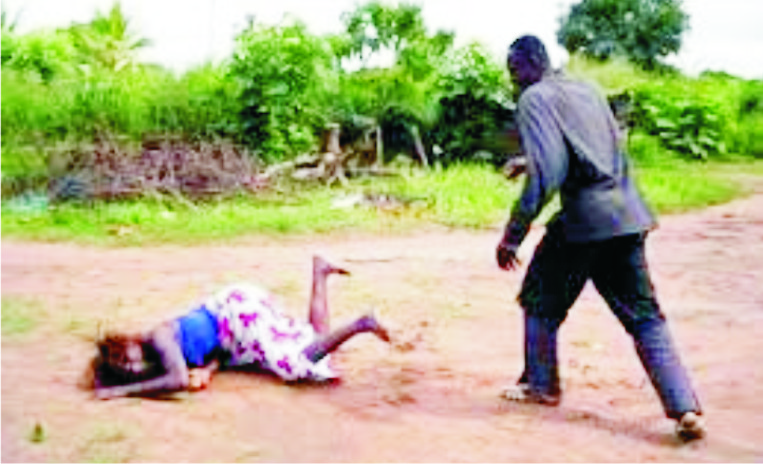 We are tired of cases of people maiming, beating and subjecting to hunger, or all manner of hardship, people they are obligated to love and protect. Some cases appear so bizarre that one is forced to ask if the perpetrators were actually in the right frame of mind at the time of the act.
When people talk about domestic abuse,they often focus on domestic violence. Domestic abuse has to do with any attempt by one party in an intimate relationship, or marriage, to dominate and control the other. According to Dr Humphrey Amadi of ' Help Guide To Mental Health And Welness', whether abuse or violence, the purpose is basically to gain and maintain total control over the other.
An abuser uses fear, guilt and intimidation to wear down a victim and keep same under control. While abuse remains no person's portion, it occurs across all ages, ethnic backgrounds and all social levels as well as all sexes, especially verbal or emotional.
From threat and verbal assault, an abuse could escalate to violence. Physical injury poses the most obvious danger, this is worsened by the emotional and accompanying psychological consequences.
Abusive relationships do not only lead to anxiety and depression, it also destroys self worth, leaving victims lonely and helpless. Prof. Nkem Agbaso of the Department of Guidance and Counseling, University of Uyo, once declared that ' no one wishes to endure such kind of pain'.
For Dr. Nikki Williams, a psychologist, when a partner becomes unussually fearful of the other, to the point of feeling like walking on egg shell around him, constantly watching what to say or do in order to avoid being attacked, it is indicative of a relationship prone to abuse.
Dr Williams enjoins couples to look out for occasions when a party in a relationship begins to despise the dignity of a mate, to the point of exerting supremacy, and a feeling of self loathing, helplessness and desperation. It could also take the form of being afraid of one's partner, avoiding certain topics for fears of annoying a partner. She warned.
According to the psychologist, being a victim or merely witnessing a scene of domestic abuse in childhood, can turn one aggressive in life. Such behavior could as well be learned while growing up in a family with abusive parents or relatives.
It is important to note that stress and aggression occasioned by economic problems, often lead to domestic violence. A high level of unemployment contributes to the point that people quarrel in families due to lack of basic needs.
Again, alcohol and narcotics have also been fingered as factors triggering domestic abuse. Most people who are addicted to the above hardly control their abusive instinct. Unfortunately, alcohol and other related drugs are wide spreading in Nigeria, a reason why domestic abuse and violence have become common.
Even where alcohol and other drugs are in short supply, some pockets of psychological disorder as a result of long period depression, could still produce violence. This is why it is important that people care about what family members or partners in relationship go through.
Excessive suspicion, distrust and jealousy cannot be exonerated from the catalysts of domestic abuse. Most break-ups in relationship today, are courtesy of it. Above all Dr. Williams warned that whoever wishes for a lasting happy relationship, must in addition to being wary of all so- outlined, guide against anger.
Dr. Angella Amadi, a psychologist, identified physical violence amongst couples in Nigeria as most worrisome. It includes beating, slapping, rape, murder, kicking, rejecting to eat, not willing to shoulder responsibilities, and denying partners sex at will. She also identified acid baths as a form of violence which has received a lot of attention in Nigeria. Sexual violence in Nigeria largely goes unreported because of the burden of proof necessary for conviction as well as social stigma it brings. The common loss of Women's rights upon marriage in sub-Sahara Africa and the implicit obedience and deference towards men is socially encouraged in the society.
Dr. Angella stated that infertility is a serious problem as over 40 percent of women who visited her for counseling often complain bitterly about their husbands unruly behavior in relation to infertility. The perceptions of domestic violence varies based on religion, and class. The Tivs see wife battery as a sign of love " that should be encouraged. She said: "if you are not yet beaten by your husband, then you do know the joy of marriage, meaning you are not yet married." All the major ethnic groups in Nigeria have a strong patriarchal societal structures that lead to justification of domestic violence as inherent right of a husband. In her study in the nation's capital Abuja, she explained that while domestic violence is a violation of fundamental human rights which the Nigerian constitution is against, there are still provisions that tend to legalise it. The provision of the Penal code application in the Northern part of Nigeria specifically encourages violence against women. Underneath its provisions, the beating of a wife for the purpose of correction is legal by the use of (section 55 (1) (d) of the penal code.
Dr. Martins Oyeyidah, a medical consultant proffers solutions to reduce domestic abuse and violence in Nigeria. "The first step to action is to familiarize individuals and the community with the possible signs and indicators of domestic violence." These signs can vary and do always come with physical symptoms because domestic violence is not just limited to physical attacks such as beatings. Domestic abuse also affects every level and demography in society. So there is no typical victim despite the stereotypes. Someone who may not appear to be a victim of domestic violence may well be suffering in silence.
Nigerian women should rise to the occasion and support the home by engaging in activities that will bring productivity in the home. More than one-third of women and one in 10 men have experienced intimate partner violence in their life time, according to the National intimate partner and sexual violence survey.
Sometimes violence begins early in a relationship and other times it takes months or years to appear. It could be the jealous type, being jealous of your friends or time you spent outside.
"The lack of discussions of domestic issues creates a space in which an ostensibly socially unacceptable behaviour becomes allowable and even common place. Because conversations about domestic violence are off limit. Many women do not share abuse incidents with anyone. The taboo surrendering domestic violence discussion and accurate data reporting. It will be necessary to remove the stigma around domestic violence", Dr Martins maintained.
He further suggested that this can be achieved through the creation of government -sponsored community programmes that directly address physical and psychological violence.
Mr. Frank Domino, a psychologist at a health Centre in Rumuigbo, Port Harcourt, observed social structure as the disparate status between men and women, as men have higher status in Nigeria than women. He stated that women should break out of traditionally engrained gender roles and expectations. With an increased sense of status, Nigerian women will no longer be bound to expected roles acquiescence. Given a voice, women will be able to challenge the established differences in status between men and women.
Igbe is a Freelancer in Port Harcourt.
Emeka Igbe