Insurance Operators Decry Poor Industry Returns
The insurance sector of the nation's economy has been described as performing below its potentials as the companies in the sector released the financial results to the public.
According to capital market operators the sector has not lived up to expectation despite high hopes by the shareholders during the recapitalisation exercise in the industry.
However, they believe that the sector still has more to offer as it is still performing below its potential on the Exchange in terms of capital appreciation and returns on investment to its shareholders.
Yomi Osunrinde, the General Manager of Integrated Trust and Investment Limited, stated that the poor performance of insurance companies is a reflection of what is happening in the economy.
Osunnde added that the global economic meltdown seriously affected the sector. He pointed out that the consciousness level of insurance in the country is still low, stating that by the time the need for insurance is made compulsory by the government the level of their profitability will go up and they will be able to generate a lot of income. He foresees bright prospect in the industry in the nearest future.
Also speaking, the Managing Director of Laksworth Investment & Securities Limited, Mr. Kayode Awotite, noted that insurance services cannot be likened to that of the banks.
Awotite agreed with Osunnde's view that insurance companies should embark on enlightenment campaign to change the age-long perception that insurance companies find it difficult to remit premium as and at when due.
However, Mr. Emma Eze, a broker with DBSL Securities Limited, described insurance stock as penny stocks which are associated with low dividend payout.
He noted that all of them are kin a stable colum because their dividend and bonus is constant even though it may not be impressive.
Recently, Regency Alliance and Staco Insurance Plc released their audited results ended December 31, 2008.
Regency Alliance posted a turnover of N1.71 billion as against N1.21 billion representing an increase of 40.91%. the company's profit after tax stood at N312.06 million compared to N237.54 million in 2007.
While Staco Insurance's result showed a turnover of N4.38 billion as against N2.82 billion; its profit after tax was N543.42 million, down fromN758.01 million in 2007, indicating 28.44% drop.
Board of directors of both companies recommended a dividend of N0.02 and a bonus scrip issue of new share for every 10 shares held by shareholders.

5 Tips for Getting Your Credit Utilization Rate in Check
You may have heard the expression, "Just because you can doesn't mean you should." These words of advice are definitely applicable when it comes to credit cards — just because an account's upper limit is higher than its current balance doesn't mean it's wise for the cardholder to keep spending until they max it out.
Why? Because utilizing more than 30 percent of your available balance on any individual card — or across all of your cards — makes you appear riskier to lenders. It gives the impression you may be depending on credit cards to get by. This measure is called your credit utilization rate and having a high percentage of credit in play can start to drag down your credit score.
Here are five tips for getting your credit utilization rate in check if it starts to creep northward of 30 percent or so.
Make Payments More Than Once Per Month
Adjusting your credit card payment schedule from once per month to every two weeks can help. This simple action helps bring your balance down more quickly, and lower balances tend to lower utilization rates. As Experian notes, utilization rate is actually the second biggest factor lenders consider when calculating credit rating.
If you're used to paying $300 once at the end of the month, try instead paying $175 or $200 twice per month. This may require jostling around your budget to come up with the extra funds, but this slight increase will slash your debt faster and help pull your utilization back into the safe zone, too.
Ask for a Credit Line Increase
Another way to go about optimizing your utilization rate is to ask for an increase on one or more credit lines. First, check to see whether your lender has already approved you for a higher limit. If no automatic increase has been granted to your account, you'll have to put in a request. You'll have a better chance of hearing a "yes" from lenders if you've made timely payments in the past.
It's important to keep in mind this strategy only works if you avoid running up your balance, even with a higher limit in place.
Pay More Than the Minimum Due
Paying more than the minimum amount due is another way to chip away at balances more quickly, especially if most of your minimum payments are going toward interest fees rather than tackling the core balance.
However, as many Freedom Debt Relief reviews note, many cardholders are unable to pay more than the minimum — or may even fall behind on minimum payments — following financial hardship like divorce, medical bills or layoffs. If your credit utilization is high because you're unable to keep up on credit card payments, it's time to revisit your budget and speak with a credit counselor qualified to offer advice on how you can get back on track.
Avoid Closing Old Credit Accounts
While closing old credit accounts you haven't used in a while may feel like cleaning house, it can adversely affect your credit utilization — and thus your score. Shrinking your available pool of credit means your utilization percentage will rise, even if your balances remain the same.
As long as there's no annual fee on old accounts, it usually doesn't hurt to keep them open. In fact, it'll help your credit in terms of lengthening your history, too.
Open a New Credit Card
Last, but perhaps riskiest, is opening a new credit account. However, it's only prudent to do so if you can keep spending very low on this card. This can do more harm than good if you're tempted by the allure of an available balance.
It's worth looking into what you can do to lower your credit utilization rate. Keeping it below 30 percent will help your credit score; while exceeding this cap can start to negatively affect it.

COVID-19: Dockworkers/Seafarers Are Essential Workers, Exempted From Travel Restrictions, Says NIMASA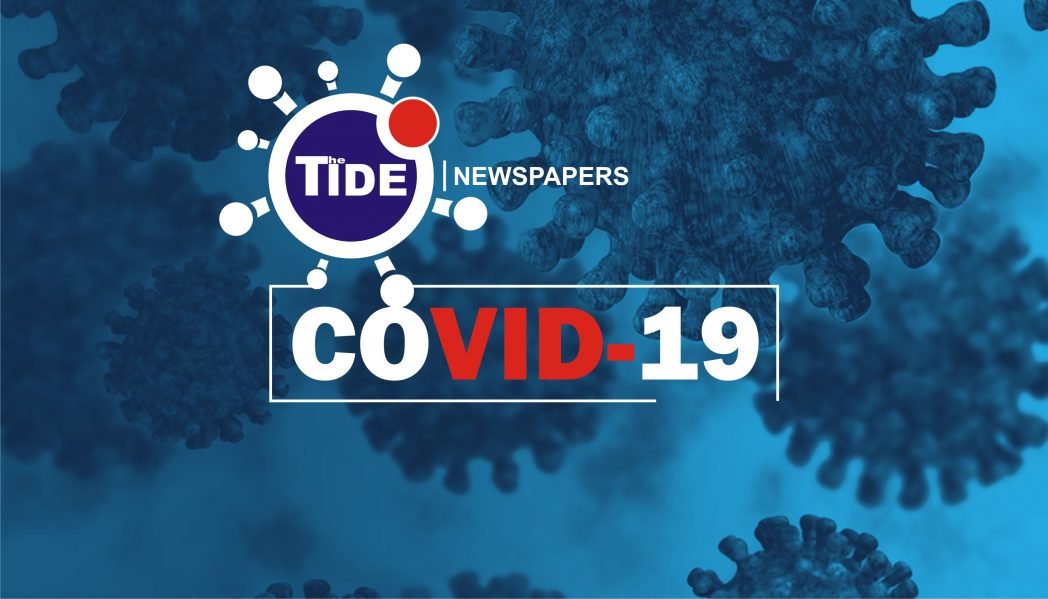 ? As Agency Unveils Guidelines for Terminals, Jetties.
In line with the newly endorsed protocols by the International Maritime Organisation (IMO] designed to lift barriers to crew changes, amid the coronavirus pandemic, the Management of the Nigerian Maritime Administration and Safety Agency (NIMASA] has designated Seafarers and Dockworkers as essential workers who should be exempted from travel restrictions.
The exemptions are contained in a new guideline developed and published by the Agency to support essential services in Nigeria's shipping sector. The guideline states that the jobs of dockworkers at the country's seaports, terminals, and jetties are essential to the national economy and, therefore, dockworkers should be granted passage between their places of abode and the seaports/terminals and jetties to perform their duties.
The advice also declares that seafarers are on essential duty and as such exempted from the curfew and travel restrictions, which may hinder necessary movement for crew change. It directs companies employing the services of seafarers to provide special and dedicated means of transportation to convey the seafarers, adding that such transport system must be disinfected within the recommended minimum hours.
The guideline specifically provides for the mandatory use of facemasks within all terminals and jetties, mandatory temperature check on all staff before access to terminals, and denial of entry to persons who present temperature above 38°C. It makes it mandatory for all dock labour employers to develop risk assessments and safety intervention guidelines for all personnel and operations in the areas of vulnerability within their maritime operations that can be affected by the COVID-19 pandemic, including cargo handling, access control, and rostering procedures.
Dock labour employers are also to devise methods of ensuring that dockworkers absent from their duties for issues relating to COVlD-19 are quarantined and compensated for the suspension of earnings they suffer as a consequence. Furthermore, all dock labour employers are to ensure that buses deployed during the COVID-19 pandemic carry a 50 per cent maximum capacity in line with Federal Government directives, and all passengers wear facemasks. Such buses must have hand sanitisers for all drivers' and passengers' use and be frequently disinfected.
Director-General of NIMASA, Dr. Bashir Jamoh, said the latest advice was meant to contain the coronavirus pandemic while also supporting the continuation of the economy. 
Jamoh stated, "Like President Muhammadu Buhari said, no economy can survive total lockdown. If you look at it critically, maritime is an essential duty, with the major actors being seafarers and dockworkers. This is why we continually come up with guidelines to ease their operations so that activities in our ports will not suffer."
The DG emphasised the prohibition of loitering around port premises and charged dock labour employers to ensure social distancing of two meters is maintained between people in the workplace and other public spaces within and around port terminals.
The guideline is in sync with those issued by the United Nations agencies, including the World Health Organisation (WHO) and International Labour Organisation (ILO), as well as the Nigeria Centre for Disease Control (NCDC).

ICT Skills'll Deliver Economic Independence To Nigerian Girls – NITDA
The National Information Technology Development Agency (NITDA) has said that if Nigerian girls are taught relevant Information and Communication Technology (ICT) skills at a young age, they will be set up for economic independence in future.
The Agency who made this remark through a press release signed by its Head, Corporate Affairs and External Relations, Mrs Hadiza Umar, joined the global community to mark the "Girls in ICT Day." The day which is marked annually on the fourth Thursday in April falls on the 23rd April this year.
In the statement, Mrs Umar said that the Agency is highlighting the need to promote technology career opportunities for girls and women in ICT, the world's fastest growing sector.
She said, "During this year's celebration, NITDA is drawing attention to the critical need for more girls and women to participate actively in the ICT sector of our economy. The International Telecommunications Union (ITU) had estimated skills shortfall of over two million jobs in the ICT sector within the next few years. This opens a huge opportunity for girls and young women who have the ability to learn Coding, Apps Development, Computer Science and other ICT related courses.
"This will not only make them ready for a successful career in the ICT sector, but ICT skills are rapidly becoming a strong advantage for students in just about any other field they might choose to pursue. With technology playing vital role in all manner of careers, from Arts to Social Sciences, and from Law to History, to Graphic Design, learning ICT skills at a young age will set girls up for economic independence. Furthermore, the ICT sector needs more girls and women and celebrating a day like this reminds us that ICT helps to improve the lives of people everywhere.
"It contributes significantly towards better healthcare, better environmental management, better communication, and better educational systems that transform the way children and adults learn. NITDA, in its proactive manner and in line with the National Digital Economy Policy and Strategy as well as in furtherance of bridging the gender imbalance in ICT in Nigeria, has embarked on series of Capacity Building programmes for women and girls across the country. Girls with ICT skills can expect to earn good wages and enjoy huge career opportunities.