May & Baker Doubles Net Earnings To N418m
May & Baker Nigeria Plc recorded significant growths in sales and profitability in 2008 with net earnings rising by 101 percent to N418 million.
Key extracts of the audited report and accounts of May & Baker Nigeria for the year ended December 30, 2008 released at the weekend showed that turnover rose by 40 per cent to N5.44 billion in 2008 as against N3.86 billion in 2007.
The report showed that net earnings doubled from N208.3 million in 2007 to N418 million in 2008. The board of the company has however decided to distribute N280 million as cash dividends for the 2008 business year. The company however had dipped into reserves to partly finance payouts for the 2007 business year.
Directors of the healthcare company said they have recommended a dividend per share of 40 kobo for the 2008 business year. May & Baker had increased cash payout by 33 per cent from 30 kobo per share distributed for 2006 business year to 40 kobo for the 2007 business year.
Mr Joseph Odumodu, managing director, May & Baker Nigeria Plc, recently said the company has adopted a new vision to be among the top 10 conglomerates in Nigeria by 2020.
He said the company has decided to grow its pharmaceutical business significantly with a turnover target of 3.4 billion in order to ensure t hat its various businesses are in good positions to contribute maximally to the overall turnover.
Segmental profit analysis showed that the pharmaceutical business was the highest contributor to profitability.
Gross profit margin in the pharmaceutical business stood at about 49 per cent in 2007. Compared with 19 per cent and 27 per cent in the food business and water business respectively.
He noted that although the top 10 vision might be challenging, the company would work with all stakeholders to achieve this top position.
May & Baker had also witnessed major jump in sales in 2007 as the gains of recent diversification begin to impact on the overall performance of the company.
Audited report and accounts of May & Baker Nigeria for the year ended December 31, 2007 showed substantial growths in sales and profitability, which trickled into better returns to shareholders.
However, high cost of operations has continued to moderate strong growth in the top-line. This has also undermined the company's underlying performance strength, with last audited report showing key indices of the downside.
Total turnover rose by 71 per cent in 2007 to N3.86 billion as against an increase of 13 per cent to N2.25 billion in 2006. Profit before tax stood at N398.1 million in 2007 compared with N266.2 million in 2006, representing an increase of about 50 per cent.
However with 24.7 per cent rise in tax provisions from N54.72 million in 2006 to N189.76 million in 2007, net earning melted to N208.32 million in 2007 compared with N211.47 million in 2006.

IPPIS: Oil Workers Threaten To Shut Down, Sunday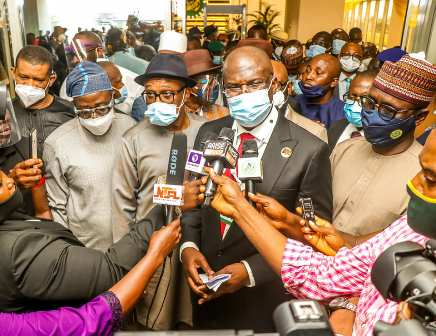 Senior oil workers under the aegis of the Petroleum and Natural Gas Senior Staff Association (PENGASSAN) and Nigeria Union of Petroleum and Natural Gas Workers (NUPENG) have threatened to shut down all oil operations by Sunday, if the Federal Government failed to pay their salaries latest today.
The oil workers, who had embarked on a peaceful warning protest since Wednesday issued the threat when they gathered at the Petroleum Training Institute (PTI), Effurun in the continuation of the agitation, yesterday.
The protesters, who adorned red T-shirts carried assorted placards with inscriptions such as "No To Forceful Enrollment into IPPIS"; "Release Our Salaries Now or No Dialogue"; and "We Are Not Against IPPIS but Create Another Platform That Address Our Peculiarities", amongst others.
Addressing the protesting workers, the Vice Chairman, Warri Zonal Council of PENGASSAN and Secretary of Regulators Forum, Prince Audu Oshiokhamele, warned that "if the salaries are not released by Friday, then all oil operations will be shut down by midnight of Sunday."
He declared, "I want to assure you, our union members, that if our salaries are not released before Friday (tomorrow), by 12 midnight, on Sunday we will shut down the whole nation. What we are just doing now is a warning protest but by Sunday, the music will change".
Also addressing the protesters, Oshiokhamele, who was in company of Mr. James Esiomor, PTI branch Chairman of PENGASSAN and Mr. Ejokirhie Jahpurpose, Chairman of PTI branch of NUPENG, expressed surprise that the Federal Ministry of Finance claimed ignorance of non-payment of their salaries in the last three months.

Rivers Commissioner Harps On Petroleum Prices Stability
The Rivers State Commissioner for Energy and Natural Resources, Dr Peter Meede, has stated the need for the Federal Government to ensure stability in the pump price of petrol in the country.
Meede said this while addressing the head of Port Harcourt Zone of the Petroleum Product Pricing Regulatory Agency (PPRA), Mr Ikien Sika, who paid him a visit in his office in Port Harcourt.
The commissioner said the instability in the pump prices of Petroleum products was responsible for the sharp practices some marketers engaged in.
He noted that the ministry would not tolerate the activities of dishonest marketers in the state, adding that it was not good for economic planning
According to him, "a situation where today we have a different price, next month we have a different price, the other month again you have a different price is not good for planning. We will not allow them to take advantage of Rivers people in terms of under dispensing of products, selling fake products that would undermine the security, safety and lives of Rivers people.
"I want you to collaborate with the ministry, let the people operating this industry in Rivers State understand that the ministry is alive and ready to support them to do their business but in a situation where they will compromise the standard of the product, we will not take that."
He furthermore, said that the state governor, Chief Nyesom Wike, had ensured a conducive environment for doing business in Rivers State, which he pointed out would benefit petroleum marketers and warned that any attempt to short change Rivers people would not be tolerated.
He said, "you can hear that there is problem in Lagos and other states, but th-e sector in Rivers State here is relatively safe, but we need that collaboration. You can see that we're partners in progress and we would appreciate that you continue to support us. A situation where people demarket Rivers State is over, the days where people would say 'don't go to Rivers state, is over. His Excellency has worked so hard to ensure that the environment of Rivers state, security of Rivers State, the economy of rivers state is on the front burner, that's why you see the best we were doing in ensuring that peace and other forms of businesses thrive in Rivers State.''
Responding, the head of Port Harcourt Zone of the Petroleum Product Pricing Regulatory Agency (PPPRA), Mr Ikien Sika said the agency was pleased with the peaceful co-existence between petroleum marketers and the state.
"We have to commend the governor and then of course the honourable commissioner, but there is still something and we have to tell ourselves the truth. In my house today I cannot open the windows, because of the soot. These are some of the things which I have noticed, but other things I was told that has actually reduced to a large extent", he said.
He observed that the fluctuation of pump prices in petrol is an indication that the federal government will soon deregulate the petrol sector.
On his part, the Zonal Chairman of the Petroleum Product Retail Outlet Owners Association of Nigeria, Prince Sunny Ugbe, said that federal government was wrong to allow petroleum product marketers to determine the price of petroleum products in the country.
Prince Ugbe also noted that the PPPRA recently increased Ex-depot price of petrol and left the marketers to fix the retail price
He called on the federal government to fix the moribund refineries across the country as part of measure to ensuring a smooth process of deregulation of the petroleum sector
By: Tonye Nria-Dappa

FG To Deduct Illegal Mining Fees From States' Allocations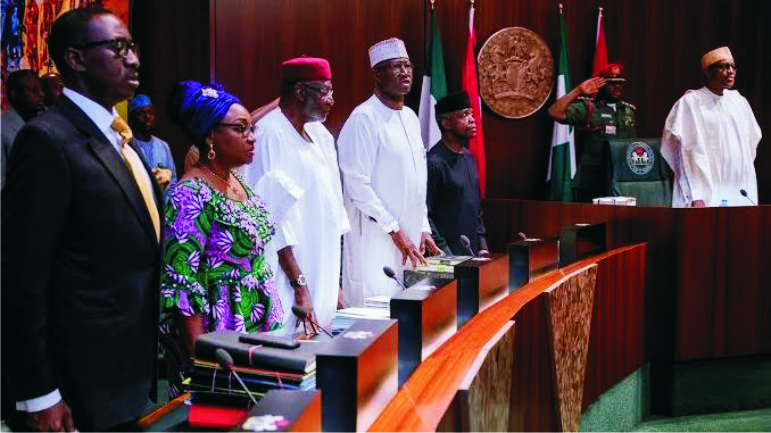 The Federal Government on Wednesday resolved that henceforth, it would be deducting any illegal fees imposed on mining companies by state governments from the allocation of such states.
It has therefore directed the Minister of Finance, Budget and National Planning, Zainab Ahmed, to begin to implement the directive.
The decision was reached at a meeting of the Federal Executive Council presided over by the President, Major General Muhammadu Buhari (retd.).
The Minister of Information and Culture, Lai Mohammed, disclosed this to State House correspondents at the end of the meeting held at the Presidential Villa, Abuja.
Mohammed said the decision was taken to eradicate double taxation in the mining sector and also gain investors' confidence.
He said, "On the issue of double taxation whereby mining companies are taxed by local and state governments, two decisions were taken.
"One is that the council directed the Minister of Finance, Budget and National Planning to deduct directly from federal allocations of states which have deprived Federal Government of Nigeria's revenue due to it by imposition of illegal taxes and levies on mining companies in their states.
"In other words, if a particular state engages in double taxation, you are imposing illegal taxes on a duly registered mining company, and it is reported to government, the Ministry of Finance, Budget and National Planning will deduct that money from your allocation.
"The intent is to ensure that we don't scare away investors, be they local or foreign. This will go a long way to reassure the investors that Nigeria is a safe place to invest now."
The minister added that FEC also directed the National Economic Council to dialogue with the state governors in order to make them understand that states can participate in mining as corporate bodies by registering companies.
He reiterated the position of the law that the Federal Government had the exclusive right to mine and manage all mineral resources.
Mohammed added that the Minister of Mines and Steel Development, Olamilekan Adegbite, who presented a memorandum to the council, also identified insecurity in certain parts of the country as one of the major challenges facing the mining sector.
He noted that in the North Western part of the country, mining had been suspended because of the activities of bandits and kidnappers.
He added that the industry was also faced with the problem of collision between some stakeholders, sometimes the traditional rulers.
He also reported certain decisions of past government in the area of storage of explosives that were used for mining.
Mohammed said, "Before now, the position is that any miner that wants to use explosives for mining must store them in either the military barracks or police facilities.
"So, he (Adegbite) asked for special dispensation to build special facilities at least one in each of the geo-political zones of the country. He also complained about extortion, the position of community development agreement, and the issue of many illegal miners."
The minister said the council noted that insecurity and illegal mining had led to a huge loss of money and directed the National Security Adviser, Babagana Monguno, to set up a special unit domiciled in Abuja to carry out targeted operations at identified and confirmed illegal mining sites nationwide.