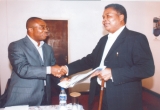 A medical doctor who was kidnapped Sunday evening by some hoodlums at Ojoto Street, Mile 2 Diobu, Port Harcourt had been freed by a special police team.
Confirming the incident, Rivers Police Spokeswoman, Mrs. Rita Inoma-Abbey said Dr Imoh Abasumoh was rescued by the police in the early hours of Monday following a tip-off.
The police team was said to have cordoned off the abductors den in one of the water fronts in the city. Sensing that the police was on their trail, the kidnappers, according to Inoma-Abbey, took to their heels leaving their victim behind.
The police spokeswoman, however, noted that the doctor's kidnap must have been a case of mistaken identity.
"They were asking the doctor to give them part of the money found on contract he handled, but the doctor was surprised to hear such because, according to him, he never executed any contract."
In a related development, two sons of an Anglican priest in the Niger Delta Diocese, Rev. John Jaja had been kidnapped in Port Harcourt.
Reliable sources informed The Tide that the two kids were kidnapped a week ago by unknown gunmen and that a ransom of N30 million had been placed on them by their abductors.
When the police was contacted on the matter yesterday, spokeswoman of Rivers State Police Command, Mrs. Inoma-Abbey said they are yet to be informed about the incident.
But family sources told The Tide that the priest who is a member of one of the boards set up by the government had resorted to spiritual help to free his two kids.
Meanwhile, the police has assured members of the public not to panic following gun shot heard in some parts of the city's waterfronts on Monday.
Mrs. Inoma-Abbey assured that the police is on top of the situation and is doing everything to protect lives and property in the state.