SEEDAN Decries Dearth Of Govt Credit Facilities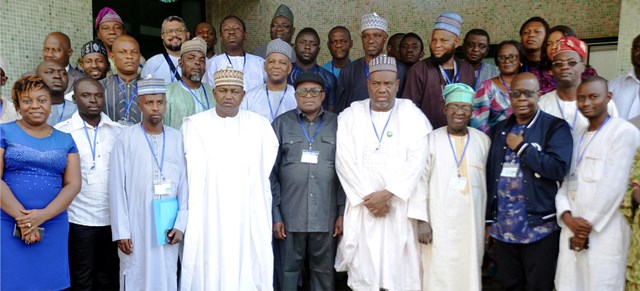 The Seed Entrepreneurs Association of Nigeria (SEEDAN) on Wednesday decried the exclusion of its members in government funding to reposition seed companies in the country.
SEEDAN President, Mr Yusuf Ado-Kibiya, who said this during  his maiden news conference shortly after his election in Abuja, said about 420 seed companies were affected.
According to him, inconsistent government policies and lack of access to credit facilities are stifling the growth and productivity of seed companies in the country.
He alleged that many government agencies in charge of contracting seed procurement gave it to their cronies and contractors who mopped up the grains in place of seeds in local markets, thereby starving the seed companies of patronage.
Ado-Kibiya said agriculture remained the backbone of every economy, while seeds remained the foundation of crop farming.
He called on government to pay attention to seed production, saying the average Nigerian seed gave a yield of 10 tons per hectare.
"Agriculture has been the backbone of every economy worldwide and seed is the most important factor in agricultural development.
"When you talk about development or economic growth worldwide, agriculture has been the foundation, but regrettably in Nigeria, we have been having problems of inconsistencies in government policies over the years.
"Seed has not been given the attention it deserves. Without good seeds, you cannot succeed; all other inputs are partners in the process of developing the plant", he said.
While acknowledging seeds as a big business, Ado-Kibiya urged the government to support research institutes as they formed the basis for producing quality seed for agriculture.
"Seed is not a small business, it includes a lot of works along the chain of production, and there are a lot of activities, commitment and job opportunities.
"The research institutes in Nigeria are not supported, government should do something because research is the fundamental base where you produce success especially in agriculture, so government should support research and seed companies.
"Farmers are not being educated to buy seeds from competent companies, companies will produce seeds, there is no market to sell.
"They end up selling the seeds as grains because the government agencies don't patronise seed companies",  SEEDAN President added.
Company, Consumers' Taxes Gulp N6.19tn In 9 Months – NBS
The National Bureau of Statistics (NBS) has said Taxes from companies and consumers, rose by 59.07 per cent to hit N6.19tn in the first nine months of 2023.
Data from the NBS revealed that in the first three quarters of 2023, the total amount paid as Company Income Tax (CIT) and Value Added Tax in the country rose to N6.19tn from N3.89tn in the corresponding period of 2022.
According to the data report, VAT increased by 34.45 per cent to N2.44tn from N1.81tn and CIT increased by 80.58 per cent to N3.75tn from N2.08tn, signifying a significant increase in tax collections despite a challenging year for the nation's economy.
In the VAT report for the third quarter of 2023, the NBS said, "On the aggregate, Value Added Tax for Q3, 2023 was reported at N948.07bn, showing a growth rate of 21.34 per cent on a quarter-on-quarter basis from N781.35bn in Q2, 2023.
"Local payments recorded were N522.08bn, Foreign VAT payments were N204.58bn, while import VAT contributed N221.41bn in Q3, 2023", it stated.
The manufacturing, information and communication, and the financial and insurance sectors were three largest contributors to VAT, according to the data.
On the aggregate, Company Income Tax for Q3, 2023 was reported at N1.75tn, indicating a growth rate of 14.27 per cent on a quarter-on-quarter basis from N1.53tn in Q2, 2023.
From the report, foreign firms are contributing more to CIT than local firms, and in Q3, Local payments received were N651.63bn, while Foreign CIT Payment contributed N1.10tn in Q3 2023."
The biggest contributors to CIT in the third quarter were the information and communication, manufacturing, and mining and quarrying sectors, the data report stated.
By: Corlins Walter
CITN Tasks Members On  Ethical Compliance, Professionalism
The  Chartered Institute of Taxation of Nigeria (CITN) has tasked its members to uphold ethical standards of the taxation profession in their dealings with the public.
National President and Chairman in Council of the institute, Mr Samuel Agbeluyi, gave the charge in Yenagoa, the Bayelsa State capital, recently, at the investiture ceremony of of the 5th Chairman, Yenagoa and District Society of the institute, Mr Bestman Ayabeke Azebi.
Represented by the Southern Nigeria Vice Chairman of the institute, Mr Nengimote Ayerite, the National President noted that upholding ethical and professional standards of the institute is imperative as the growth of the nation's economy depends partly on the activities and functions of the profession in getting funds for the annual budgetary allocations.
Agbeluyi, who also commended the executives and members of the Yenagoa and District society of the institute, observed that the District and society was improving in membership strength, and also improving immensely in its professional and ethical conducts in the profession.
Earlier, in his welcome address, outgone Chairman of the Yenagoa and District Society, Sir Robert Lokoson, commended the state's members of the institute for their contributions and support in making the organization better.
He lauded the State Governor, Senator Douye Diri, for approving plots of land for the building of a State Secretariat for the institue, noting that when the building is completed it would add as a morale booster for members of the institute in the discharge of their duties.
In his acceptance speech, newly inaugurated Chairman of the Yenagoa and District Society, Mr Bestman Ayabeke Azebi, promised to consult with the newly inaugurated executives of the institute and other members to foster the development of the organization in the state.
He said the institute was willing to collaborate with sister organisations in the state to improve on the economy, noting also that the Yenagoa and District Society of the institute of the CITN under his stewardship would leverage on the progress already made by his predecessors.
Those inaugurated alongside the chairman as members of the 5th executives of the Yenagoa and District Society of the CITN include, Mr Oyinkarebi Akpe (Vice Chairman), Mrs Ebiware Esther (Deputy Vice Chairman, Mr Ayebaenemi Jumbo (General Secretary), and Ayogoi Simon Ayogoi (Assistant General Secretary).
Others are, Mrs Pinawei Ineyeseigha Ingbaifegha (Financial Secretary), Mrs Bumiegha Kenneth (Treasurer), Mr Maka Odigha Kikirikwei (Social and Publicity Secretary), Barr. Nnaemeka-Nwonu Uzochukwu (Legal Adviser), Mrs Tracy Azibabhomu Egbo (Membership Secretary), and Mr March Ogbuduikian, who is the Technical Secretary.
By: Ariwera Ibibo-Howells, Yenagoa
Funds Transfers: Banks To Disconnect Non-Deposit Institutions
Banks and other financial institutions have been directed to disconnect switches, payment solution service providers, and super agents from its Instant Payment Outwards System (fund transfer channels).
The Nigeria Inter-Bank Settlement System (NIBSS) disclosed this in a circular dated December 5, 2023, with Ref: NIBSS/BD/NI/PO/005/051223 to Deposit Money Banks, merchant banks, switches, mobile money operators, payment service banks, microfinance banks, and mortgage banks, among others.
The NIBSS circular, obtained on Friday, explained that listing of non-deposit taking financial institutions as beneficiaries, contravenes the Central Bank of Nigeria (CBN) guidelines on electronic payment of salaries, pensions, suppliers and taxes in Nigeria dated February 2014.
"Directive to disconnect switches, Payment Solution Service Providers (PSSPs) and super agents (SA) from NIBSS Instant Payment (NIP) Outwards System.
"This is to bring to your attention that listing non-deposit taking financial institutions such as switching companies (Switches), PSSPs and SA as beneficiary institutions on your NIP funds transfer channels contravenes the CBN Guidelines on Electronic Payment of Salaries, Pensions, Suppliers and Taxes in Nigeria dated February 2014.
"For clarity, Switches, PSSPS and SAs may process outward transfers as inflows to banks, but are not to receive inflows as their licenses do not permit them to hold customers' funds", it stated.
This means that financial technology companies (Fintechs) that appear on the NIBSS Instant Payments platform as banks receiving deposits by generating reference numbers that mimic bank accounts, and by utilizing core-banking applications, will no longer carry out such  practice.
Consequently, the name of any account created by Fintechs will not appear in the lists of banks when a customer attempts to credit such an account. However, outward fund transfer will remain operational.
It further explained that the directive does not affect those Fintechs that partner with banks, and that such collaborations allow them to generate dedicated accounts that carry the bank's name.
By: Corlins Walter