Upscaling National Asset Protection
The Office of the National Security Adviser (ONSA) and the Nigeria Security and Civil Defence Corps (NSCDC) convened a meeting to reinforce the policy for safeguarding Critical National Assets and Infrastructure (CNAI) within Nigeria.
The validation exercise involved key collaborators who examined the draft Critical National Assets and Infrastructure National Protection Policy and Strategy (CNAI-NPPS 2023). Speaking after the meeting, the chief host and Minister of Interior, Rauf Aregbesola, maintained that security stakeholders must ensure appropriate safeguard of Nigeria's critical assets and infrastructure.
According to the Minister, the terminology, CNAI was vast and varied, and as such, stakeholders should deliberate on its policies. He affirmed that it was judicious to enhance the roles security agencies and collaborators played in securing the CNAI hence, the need to know how to implement strategies regulating CNAI safety.
Similarly, the National Security Adviser, Babagana Monguno, lamented about the torrent of attacks on critical governmental assets across the six geopolitical zones of the country. This is even as the Commandant-General of the NSCDC, Ahmed Audi, acknowledged that the country had lost an estimated $200 billion to threats to strategic assets since 1999.
Indeed, the discoveries emitting from the CNAI meeting should be of immeasurable concern to the authorities and all Nigerians. Given the situation, there is a need to explore the role security agencies and stakeholders can play in securing the CNAI. It is essential to know what plans security operatives have in their effort to implement strategies guiding the CNAI security.
This is because the economic losses engendered by CNAI vulnerabilities are unquantifiable in monetary terms. The loss is attributed to terrorism, insurgency, banditry, militancy, vandalism, the End-SARS protest, the COVID-19 pandemic, among others. This is happening in a country with an appraised infrastructure shortfall of over $3 trillion. While Nigeria strives to traverse this gap, threats to CNAI take the nation one step forward and several steps backwards.
Nigeria's crucial assets have come under sustained attacks in virtually every part of the country. In the North West, bandits and terrorist groups target transport infrastructure and educational institutions. They replicate this in the North East and North Central. The presence of these groups, specifically near the Kainji and Shiroro dams, somewhat imperils the region.
In the South East, attacks on infrastructure such as police stations, and security checkpoints are presumed to be carried out by members of the Eastern Security Network. In the South West, spectacular threats to critical national assets and infrastructure have emerged from armed robberies targeted at banks and financial institutions. In addition, there has been wanton annihilation of national infrastructure following public turbulence.
Militant activities stimulate attacks on resources and infrastructure in the South-South, including pipeline vandalism and oil fraud. Piracy poses yet another challenge in the Nigerian coastal territory, which straddles the zone. The menace virtually undermined the aquatic transport supply line as shipping premium insurance increased in response to piracy considerations. It is rather bolstering that the Nigerian Navy and other maritime partners have considerably hampered the hazard.
National assets are precious because, as we know, the survival and preservation of every nation and the quality of life of its citizens depend on the functionality of its critical national assets and infrastructure. Accordingly, any attack on these assets and base will alter national security. The Federal Government must supply funds for intelligence gathering equipment and gunboats for the Civil Defence Corps and other security agencies.
Contemporary concerns for public assets' security became more prominent in the aftermath of the 9/11 terrorist attack on the United States of America. Since that appalling assault, the United States and many other countries have taken the necessary steps to identify critical national assets and infrastructure. They have designed appropriate policies and strategies to protect them. Nigeria cannot be an exception.
United Nations Security Council Resolution 2341 places a premium on countries to prioritise strategic national assets and infrastructure. The Federal Government has to live up to this task by equipping the Nigeria Civil Defence Corps for efficient and limited physical security operations. The citizenry's cooperation in assisting the formation in the fight against these atrocities is fundamental.
The government must take measures towards promoting the skills and competency of the NSCDC personnel by collaborating with relevant stakeholders, sister agencies, and pertinent government establishments. They must partner with international organisations to assist in training and efficiency development of the personnel, particularly in surveillance and intelligence gathering to upscale their competence and proactiveness.
Civil Defence and security personnel should implement a sequence of prompt measures to curtail the impudence and boldness exhibited by criminal elements in their illegal activities. It is imperative that they meticulously assess the nation's public infrastructure and take action where deemed necessary to combat such abhorrent acts.
WED: Reducing Plastic Waste Generation
More than 150 nations took part in the commemoration of the 2023 World Environment Day (WED) on the 5th of June, a day that witnessed millions of individuals engaging in both physical or virtual events. Annually, on the 5th of June, countries and establishments globally observe the occasion with a theme that fosters awareness on environmental challenges and encourages recommendations aimed at safeguarding our ecosystems.
This year's World Environment Day is centred around the potent theme of "Beat Plastic Pollution." It serves as a reminder that individual actions towards plastic pollution hold immense significance and highlights the need for viable solutions through the #BeatPlasticPollution campaign. Celebrated since 1974, WED stands as a United Nations endorsed international day, aimed at promoting global awareness and initiatives towards environmental protection.
The world is currently experiencing a surfeit of plastic. According to reports, the annual production of plastic exceeds 400 million metric tons, with 50 per cent of it created to be utilised solely once. Moreover, less than 10 per cent of plastic is recycled. A projected 19-23 million metric tons wind up in bodies of water, such as lakes, rivers, and seas. At present, plastic disrupts landfills, seeps into water bodies, and transforms into dangerous smoke when incinerated. It is clear that plastic pollution poses a serious threat to the earth.
Microplastics have the capacity to permeate the food we consume, as well as the water and air we inhale. Plastic products contain dangerous additives that have the potential to endanger our well-being. The scientific community has developed remedies to tackle this problem. However, it is necessary that the public exerts pressure on governments, corporations, and other stakeholders to accelerate and hasten their efforts in eradicating this crisis. This highlights the transcendence of WED in driving action and engagement from all corners.
Plastic pollution poses a serious threat to human health, economic stability, and the environment and must not be disregarded. Immediate action must be taken. In addition, the world needs genuine, effective, and robust solutions. Within the framework of several plastic policies, countries must demonstrate unwavering dedication to reducing the production and usage of single-use plastic, which should be replaced with durable and sustainable alternatives.
In Nigeria, unregulated disposal of waste, inadequate oversight, and disproportionate employment of plastic are resulting in unprecedented levels of pollution. The deleterious effects of plastic are detrimental to the environment and public wellbeing in the nation. Given that plastic waste is non-decomposable, it endangers the aquatic and fauna ecosystems, water supplies, and cultivable lands. So, it can be inferred that plastic waste has an injurious impact on both the environment and its denizens.
The Federal Government has reportedly instituted a 10 per cent tax on single-use plastics, also known as disposable plastics, commonly used for packaging, in anticipation of the nation's proposed ban on plastics set for 2028. These plastic products are used only once before being disposed of or recycled and include a range of items such as nylon carry bags, grocery bags, food packaging, bottles, straws, containers, cups, and cutlery.
As the most populous country in Africa, Nigeria bears the brunt of plastic waste generation, leading to it becoming a hotbed of waste pollution. A report by Voice of America in 2019 revealed a staggering 2.5 million tonnes of plastic waste being generated per year. Furthermore, the World Economic Forum reported that approximately 200,000 tonnes of plastic waste is discharged into the ocean each year. Disturbingly, Nigeria's annual plastic production was anticipated to rise to 530,000 tonnes by 2022.
Regrettably, Nigeria currently lacks a national policy on plastic waste management. Although a bill was passed by the House of Representatives in May 2019 to ban plastic use, it was not signed into law by former President Muhammadu Buhari. In January 2021, the country announced its decision to join the World Economic Forum's Global Plastic Action Partnership. However, despite these efforts, there has been little noticeable change in the situation.
To eliminate plastic waste, Nigeria must join the global movement. Actions need to be scaled up if the country hopes to combat the menace of plastic waste pollution. We must look at legal frameworks at the local and international levels. At the local level, a bill to ban plastic use should be passed into law. At the international level, a global plastics treaty that promotes a holistic approach to plastic waste is the way to go.
Targeted programmes could be encouraged to tackle plastic pollution, particularly those linked to the oceans. Specifically, this calls for programmes aimed at improving waste disposal behaviour. Stakeholders in the plastic recycling sector have stressed the importance of positive consumer behaviour towards waste disposal. This is if plastic pollution is to be resolved in the country.
All hands must be on deck. Both the public and private sectors must be involved in the process and must be willing to work together. Plastics may be an environmental challenge, but they are also a path to immense opportunities. They can be a source of many jobs, and they are reused as raw materials for the production of other goods. Collaboration is indispensable in the fight for sustainability.
Water sachets and bottles have proliferated in Nigeria following a lack of potable water in many homes. The government needs to educate the public about the dangers of discarding these sachets and bottles in the environment. And it must ensure access to clean water. People who visit beaches, riverbanks, parks, and waterfalls frequently dump their plastic bottles carelessly, despite the dangers such plastics pose to the environment.
The Nigerian government should impose a substantial fee on plastic bags distributed at malls and markets. This measure will dissuade individuals from disposing of them after a single use. It is the responsibility of citizens and leaders to ensure a sustainable environment for future generations. Several countries, including Kenya, Uganda, Tanzania, and Rwanda, have already taken steps to combat plastic pollution. Nigeria must follow suit and take immediate action to protect our environment.
Disturbing Carnage On Nigeria's Highways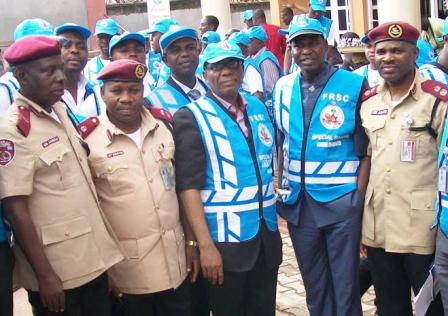 A significant number of Nigerians are losing their lives in preventable road accidents. Recent statistics released by the Federal Road Safety Corps (FRSC) indicate that from January to March this year, 1,441 individuals have died in 2,733 automobile crashes across Nigeria. Dauda Biu, the FRSC Corps Marshal, explained these figures at a stakeholders meeting in Abuja, where policies on the pre-installation of speed limiting devices in both locally assembled and imported vehicles were discussed for implementation.
According to Biu, 8,339 individuals sustained injuries in the aforementioned crashes. The corps marshal emphasised the role of over-speeding in road fatalities worldwide. He further stated that vehicle design and manufacturing can improve mobility and reduce crashes on Nigerian roads. Biu stated that high road accident rates had led to global campaigns and actions aimed at mitigating the problem.
Traffic accidents on our roads are daily occurrences and result in alarming levels of lethality. This issue requires urgent attention from the federal and state authorities. To address this, all tiers of government must renew their efforts in road safety and traffic management. The FRSC must enforce existing traffic rules without partiality to effectively reduce traffic accident deaths, which pose a serious public safety issue.
Data from the National Bureau of Statistics (NBS) states that 41,709 people died in road crashes in Nigeria between 2013 and 2020, with 3,574 fatalities in 2020 alone. Despite the FRSC's reported 54 per cent reduction from 1987 to 2021, road accidents remain a major concern, with 13,027 crashes recorded in 2021. The World Health Organisation's (WHO) 2015 report revealed that one in four car crash deaths in Africa occurred in Nigeria. Additionally, between 2009 and 2013, 18,353 road accidents were reported.
WHO estimates that Nigeria accounts for 2.82 per cent of global road accident deaths, resulting in 41,693 mortalities. The World Bank ranks Nigeria 54th in road accidents. Road accidents in the country drain approximately 3.0 per cent of GDP, as reported by WHO. A study conducted in 2010 estimated that road accidents cost Nigeria N80 billion annually in property lost or damaged, medical treatment costs, and lost productivity.
The FRSC has identified over-speeding, judgement errors when overtaking, violations like facing oncoming traffic ("one-way"), and untrained drivers as the major causes of crashes in Nigeria. Seat belt non-use has also been found to be costly. In the United States, 38 per cent of children who died in car crashes in 2013 did not use seat belts, the US Centre for Disease Control stated.
Distracted driving is a major issue on our dilapidated roads. This includes texting, answering phones, eating, drinking, and talking with passengers. According to a 2013 WHO report, lax regulations and weak enforcement are the main causes of accidents in developing countries, which is true for Nigeria. Untrained and inebriated drivers are prevalent on our roads, and the FRSC's inability to enforce the law only exacerbates the problem.
Comparatively, Nigeria's road traffic deaths and injuries are among the highest globally. The International Transport Union reports a global average of 17.4, with Africa's average at 26.6 per 100,000 inhabitants. Norway has the safest roads with a 2.0 casualty rate per 100,000. Zimbabwe has the highest road death rate in the world at 74.5 per 100,000, according to the ITU.
The NBS attributes crashes in Nigeria to various factors, including speed violations, wrongful overtaking, use of mobile devices while driving, dangerous overtaking, and others. Speed violations account for 47 per cent of accidents, while wrongful overtaking contributes to 10 per cent. However, it is necessary to note that most highways in Nigeria are poor, with many filled with craters. This has led to a distracted, weak, understaffed, and underequipped FRSC.
A major problem that the FRSC has consistently failed to address is the issue of articulated trucks on the roads. These trucks often lack rear lights, making them difficult to spot when breaking down. Additionally, they emit black smoke and are often equipped with worn-out tyres, wobbling dangerously. Tanker drivers speed recklessly, while trucks carry unlatched containers. Unfortunately, these containers sometimes fall on smaller vehicles, resulting in fatalities and injuries.
Sadly, the FRSC's focus on revenue generation has resulted in high road accident and casualty rates in Nigeria. Despite remitting billions to the government, the country recorded 5,400 catastrophes in 12,077 road accidents in 2015. It is crucial for the Corps to prioritise saving lives over self-adulation and revenue generation. Creative solutions and strict enforcement can significantly reduce accidents. Life is irreplaceable, and the FRSC must ensure Nigerian citizens' safety on the roads.
Though the Road Safety agency has enforcing seatbelt use and sanctioning mobile phone utilisation by drivers, it has neglected the engineering aspect of road safety. This is a pressing issue that requires urgent attention. The FRSC status report on the United Nations Decade of Action for Road Safety (2011-2020) highlights a lack of coordination among road traffic management agencies, which must be addressed immediately. Collaboration between federal and state agencies is necessary to fill this critical gap.
It is imperative that the Presidency and state governments provide sufficient funding and resources to federal and state law enforcement and traffic agencies. These agencies should operate with a strong emphasis on professionalism and service. The incorporation of technology, such as CCTV on all highways and mobile courts, would greatly enhance their ability to quickly and effectively handle traffic offences.
The implementation of the Safe System Approach has led to a notable decrease in the occurrence of crashes, injuries, and fatalities in various countries, namely Canada, Singapore, Belgium, and Ghana. Nigeria would benefit from adopting this approach, provided that its underlying principles are strictly adhered to. Ensuring the consistent upkeep of existing roads, along with the construction of new ones, will undoubtedly result in safer highways. It is vital to enforce regulations that prohibit the use of non-roadworthy vehicles on the roads going forward.
May 29: Dawn Of A New Era
There have been issues with the National Assembly's performance index since 1999. Opinions on the positive impact of the members on governance and citizens' welfare are divided among Nigerians and other interests. The legislative arm is viewed as prioritising the welfare of its members over the citizens. Moreover, it is perceived as fostering a compromised relationship with the executive arm of government, which undermines independence and democracy.
The executive's actions have caused controversy following their overbearing posture and lack of respect for the legislature and judiciary, disregarding the principle of separation of powers. This attitude has fueled calls for restructuring and power devolution to return Nigeria to a true federal entity. Despite the importance of these demands for the country's stability, the executive has shown no seriousness or commitment towards addressing them, which is a concern shared by many Nigerians.
Some Nigerians believe that the current structure is unfair to most ethnic groups, causing much of the country's conflicts. They argue that the structure lacks equity, justice, fairness, and balance, leading to various forms of violence such as insurgency, banditry, kidnapping, and other criminal activities. These issues have plagued the country for years and continue to pose a significant threat to the nation's security.
President Muhammadu Buhari's eight years in office were marked by a thriller of terrifying years for many citizens. During his tenure, ethnicity and religion were used as tools by self-centered individuals to divide the nation. This has resulted in the shedding of innocent blood and the reign of a power cabal that prioritises its own interests. Sadly, the outgoing President has chosen to remain silent and feign ignorance in the face of these troubling developments.
It is delightful that the incoming Tinubu/Shettima administration aims to run a competent and quality government for the people. To achieve this, the administration must prioritise security and youth employment, and formulate policies to reduce security challenges to the barest minimum. It is hoped that economic programmes will target young people. The President-elect has emphasised the momentousness of competence, and we trust that he will follow through on his promise.
Nigerians eagerly await early results from Tinubu, even those who did not vote for him. However, he will face a significant challenge in building more refineries and ending fuel subsidies. Despite Nigeria's oil riches, the country cannot refine enough crude to meet local demands, resulting in the need to import petroleum products. These products are then sold at a government-set price, which is often lower than the import price. Accordingly, the government pays the difference, which is taking a considerable toll on the country's dwindling public finances.
Nigeria's next administration faces the challenge of increasing revenue, which can be achieved by collecting more taxes or expanding the tax base. Tinubu, a strong supporter of federalism, must demonstrate his commitment to true federalism, considering his past actions. It is crucial for him to avoid repeating the mistake of ethnic irredentism in Nigerian politics. Also, he should pay attention to the foreign exchange regime.
Today, 28 governors-elect will be taking their oath of office, alongside the President-elect and Vice President-elect. In Rivers State, Governor Nyesom Wike will be handing over to his successor, Sir Siminialayi Fubara, after overseeing state operations for the past eight years. The preparations for the handover to the incoming governor are in full swing in the state. It is important to note that only individuals with honourable character and knowledge can fill the significant void that the governor is leaving behind.
Wike's tenure in office has passed so rapidly. Throughout the years, he has remained steadfast in his commitment to selfless and patriotic service, displaying unwavering bravery, determination and fearlessness. In the aftermath of the challenges that arose after May 29, 2015, the Rivers State Chief Executive rolled up his sleeves and set to work on revitalising the state's democracy and restoring its sectors to full functionality.
Since his inauguration in 2015, Governor Wike has been actively constructing and rehabilitating roads and building flyovers, reorganising institutions and establishments, and opening up previously closed-off areas like the judiciary. He has bravely tackled the challenge of repairing a broken, dysfunctional, dystopian, and purposefully abandoned state. He has effectively silenced his critics and laid out a roadmap for the reconstruction and rehabilitation of the state in his inauguration address on May 29, 2015.
Thankfully, his successor is a well-experienced technocrat who has had a long and distinguished career in the state civil service. He was born on January 28, 1975, in Opobo Town in the Opobo/Nkoro Local Government Area of Rivers State. Fubara worked his way up through the ranks and was appointed as the state accountant-general in 2020. He is a graduate of the University of Port Harcourt Business School, holding a Master of Science in Finance and a Master of Business Administration degree. Despite being serene, he maintains social ties with all facets of society.
Siminialayi's success hinges on following in the footsteps of his predecessor by adopting a constituency-wide approach to governance in Rivers State. To achieve this, he must prioritise clearing up promotion arrears, pension arrears, and gratuities owed to civil servants. Additionally, he must focus on resuscitating state-owned enterprises to create more job opportunities. Agriculture, human capital development, and education are crucial areas that require attention. Siminialayi should also incorporate tourism and infrastructure development into his plans to ensure the state's overall growth and development.
Fubara is a committed democrat with a decade-long involvement in the political arena. He fervently upholds the power of the people and has continuously exhibited concern for the underprivileged. Because of his exemplary work in the civil service and extensive pursuit of diverse opportunities, he has emerged as the most suitable candidate for the gubernatorial succession of Governor Wike.
The Tide heartily congratulates him as he steps into office to provide the much-needed service and leadership to the good people of the State.