African Leaders Commit To Implementing Macro-Economic Output Report
African leaders have pledged to take immediate action to integrate recommendations from the newly released Africa's Macro-Economic Performance and Outlook report into their national development plans.
The leaders made the pledge at the on-going 36th African Union (AU) Summit in Addis Ababa.
In a statement issued on African Development Bank's (AfDB) website, they spoke during presentation of the bank's Macroeconomic Performance and Outlook Report.
Zambian President, Hakainde Hichilema, said the study, conducted by the AfDB group, provided an impetus for the continent's leaders to forge ahead with needed reforms.
Hichelema, represented by his Minister of Finance and National Planning, Dr Situmbeko Musokotwane, described the report as a significant milestone in the quest for evidence-based knowledge.
According to him, the report will inform policymaking for a more prosperous and sustainable future for Africa.
"The findings of this important report, therefore, provide us with a set of concrete policies that we must urgently implement to sustain the recovery and build resilience in Zambia and on the continent.
"Although, Zambia was not spared from global shocks, the country's economy has shown resilience," he said.
Hichelema acknowledged the impact of Zambia's heavy debt burden on the country's fiscal stability.
He said his administration had inaugurated reforms that would spur economic growth to 4.0 per cent in 2023 and 4.3 per cent in 2024.
The Tide source reports that the AfDB group released the inaugural Africa's Macroeconomic Performance and Outlook report on January 19.
It has since attracted significant interest among decision-makers in Africa and globally.
The bi-annual report offers policymakers, global investors, researchers, and other development partners up-to-date, evidence-based assessments of the continent's recent macroeconomic performance.
It also provides a short-to-medium-term outlook.
The AU Commission Chairperson, Moussa Mahamat, said the report would be presented to heads of state at the African Union Summit to help steer national planning.
"Knowledge is power. The report, to be published twice a year, is a wealth of knowledge with deep insight into what is going on in Africa in the macroeconomic sphere.
"It identifies challenges and opportunities for the good of our continent.
"If governments, the private sector, and other stakeholders adopt the report, they will be better placed to make informed decisions.
"The report calls for timely structural reforms to enhance government-enabled private-sector industrialisation in key areas," Mahamat said.
Nigeria's Minister of Finance, Budget, and National Planning Zainab Ahmed said the issues in the report also affected Nigeria.
Ahmed said, "We have steered the country toward pre COVID-19 era, but we still face some challenges.
"We have been asking for a liquidity facility as part of the SDRs (Special Drawing Rights) to act as a cushion for us. We have also asked multilateral development banks to give us longer-term financing.
"Nigeria has shown a lot of resilience. We just need that support to enable us to take the full potential."
AfDB President, Dr Akinwumi Adesina observed that although African economies had shown impressive resilience, global support was needed to help the continent navigate financial burdens and its security challenges.
"In spite the slowdown occasioned by multiple shocks, Africa demonstrated continued resilience in all but one country.
"And maintained a positive growth rate in 2022 with stable outlook in 2023 and 2024. African economies are indeed resilient," Adesina said.
He called for strong and collective support to Africa to help the continent navigate the challenges it faced, especially debt burden and debt vulnerabilities.
The bank president said, "Africa cannot run up the steep hill carrying a bag of debt on its back.
"The channeling of the additional 100 billion dollars of Special Drawing Rights will make a huge difference.
"We must join hands to harness the enormous opportunities in Africa. There is no doubt that we will make good progress.  However, we must work fast, be inclusive, and be competitive."
Also speaking, Assistant Minister of Finance for Policies and Economic Affairs of Egypt, Dr Mohammed Ibrahim, said the report was helpful.
Ibrahim said it would enable African policymakers and researchers as a timely databank of sound and evidence-based projects for development and planning.
In a presentation, the Director, Centre for Sustainable Development, Columbia University, Prof. Jeffrey Sachs, said that Africa had the capacity to achieve seven to 10 per cent yearly growth.
Sachs observed that Africa could take advantage of its population to grow a robust single market, citing examples like China and India.
"Building a single market will enable Africa to position among the three largest global marketplaces.
"The continent has the greatest growth potential. And I urge African leaders to build vital regional infrastructure and close the infrastructure gaps over the following decades," he said.
The director urged governments to lead a revolution to bring about affordable access to health care and education.
Sachs called for greater financing for the continent to place it on sustainable growth, observing that the AfDB was critical to meeting the continent's financial needs.
"The African Union needs to become a permanent of the G-21," he said.
Acting Chief Economist and Vice President of AfDB, Prof. Kevin Urama, highlighted the importance of Africa's Macroeconomic Performance and Outlook 2023.
Urama said, "as we gather here today, global macroeconomic conditions have become increasingly uncertain due to multiple overlapping shocks that make policymaking and investment decisions very challenging.
"Countries need regular diagnostics and focused policy actions to address these recurring and overlapping shocks."
The professor affirmed that Africa remained the place to invest in spite suffering global shocks.
According to the report, African economies, following two years of global shocks, will overcome various domestic and global shocks and return to a path of economic recovery, stability, and growth.
It said lingering effects of COVID-19 pandemic, the ravages of accelerating climate change, and impact of rising geo-political conflicts and tension slowed Africa's growth to an average of 3.8 per cent in 2022.
It further said to sustain growth, Africa's economies would require comprehensive information and insights to navigate a labyrinth of intertwined global risks, the report said.
The source reports that the bank will release the report in the first and third quarters of each year to complement its flagship Annual African Economic Outlook.
The AfDB is the first institution to release a macroeconomic outlook for Africa for 2023.
A'Ibom Doles Out N132m For Hospital Maintenance
The Akwa Ibom State Government has released N132 million for the maintenance of General Hospitals across the 31 Local Government Areas of the state in the last one year.
The State's Commissioner for Health, Prof. Augustine Umoh, disclosed this during an Inter-Ministerial Briefing, tagged, "Tracking the Promise" in Uyo, recently.
Umoh said Governor Udom Emmanuel is committed to effective healthcare delivery service in the state.
He noted that the State Government is aware of shortage of Nurses and Midwives in the health sector, adding that the shortfall of medical personnel has been addressed through employment of over 300 Doctors and Nurses in hospitals .
The Commissioner, however, said the number of recruited medical personnel was not enough, and government planned to bring back retired Midwives, who are still strong to support existing ones in the healthcare service.
"We will soon bring back retired Midwives who are still strong into the state hospital service. Government will pay them stipends to encourage them in contributing through their acquired experiences in the health sector.
"However, more health personnel would be employed to ensure efficient healthcare delivery in the state", Umoh said.
He reeled out achievements of the Governor in the health sector in the last eight years to include renovation of hospitals and construction of new ones.
He listed the remodeled hospitals in the state to include; General Hospitals in Ikot Abasi, Eket, Anua and the procurement of medical equipment.
Earlier, the Commissioner for Information and Strategy, Mr Ini Ememobong, said it became necessary to sensitise the public on the true position of government's projects, programmes and activities.
Ememobong said it was worrisome that after seven and half years of governance with numerous record of achievements in all sectors, some sordid and disparaging news items are still being spread around.
"We have, therefore, brought every section of the society together here to find out the reason the stories and reports sent out do not correspond with what we have on ground in the State.
"Governor Emmanuel has constructed numerous roads in the State, such as the Uyo-Etinan-Ndon Eyo Road and Ikot Oku Ikono flyover, among others but someone will write that there is no road in Akwa Ibom State," he said.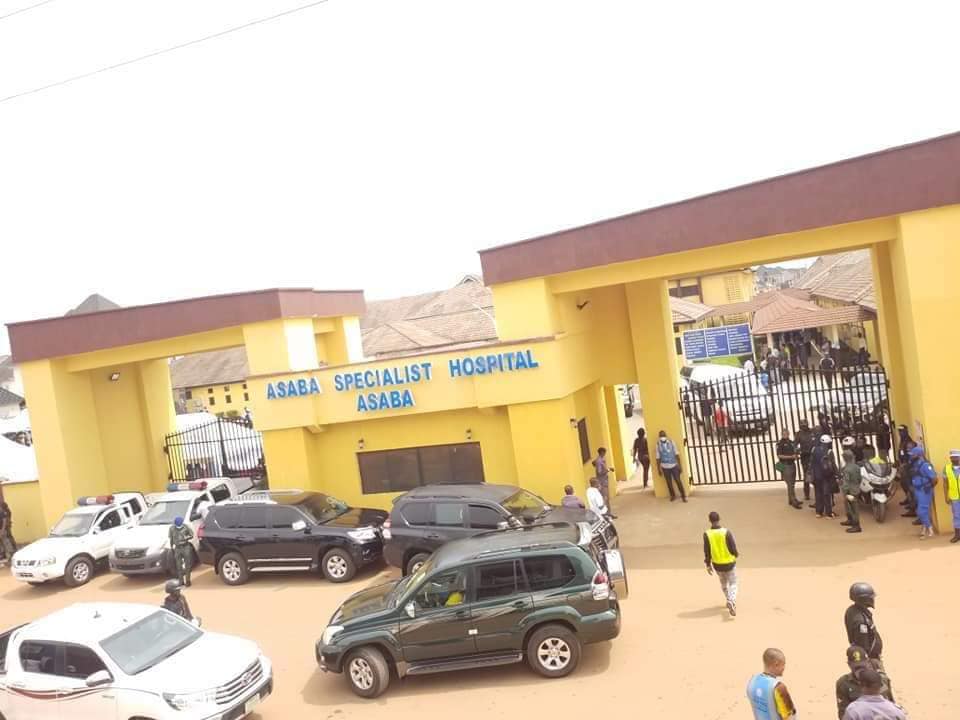 The management of the University of Benin Teaching Hospital (UBTH) has expressed grief over the death of Prof. Michael Ibadin, a former Chief Medical Director (CMD) of the hospital.
In a statement made available to The Tide's source in Benin yesterday, the CMD, Dr Darlington Obaseki, said the deceased succumbed during a brief illness.
Obaseki described the late Ibadin as a quintessential leader and a mentor to many.
He said his demise was a big loss not only to his family, but also to the hospital community and the medical world.
"With a deep sense of loss and pain in our hearts, we submit to the will of the Almighty God on the passing into the celestial realm of our former CMD, Prof. M.O. Ibadin after a brief illness.
"Until his death, he was a Professor of Paediatrics, a Consultant Pediatric Nephrologist and an astute health administrator.
"He was also a mentor who introduced several persons into hospital administration and management, including myself.
"We commiserate with his immediate family at this time and pray that God himself will console them and grant them the fortitude to bear this irreplaceable loss," he said.
Reverse Illegal Sack Of Workers, Obaseki Tells AAU Mgt
Edo State Governor, Godwin Obaseki, has directed the management of the Ambrose Alli University (AAU), Ekpoma, to immediately reverse all recent disengagement letters issued to some staff of the institution.
The government directive is contained in a statement by the Special Adviser on Media Projects to the Governor, Mr Crusoe Osagie, and made available to newsmen in Benin.
Obaseki, in the statement, said the sack notices issued earlier to some staff of the university were illegal, null and void.
"The management is to retrieve any such illegal letters if they were ever issued and reinstate the affected staff.
"I have ordered an in-depth investigation into what led to the sporadic issuance of illegal sack letters and ensure that anyone found culpable will be brought to book", the Governor said.
Obaseki reiterated his commitment to the welfare of members of staff, adding that he was working to find solutions to all lingering issues affecting workers in the state-owned institution.