Rivers Consolidation, Continuity Budget Scales First Reading At Assembly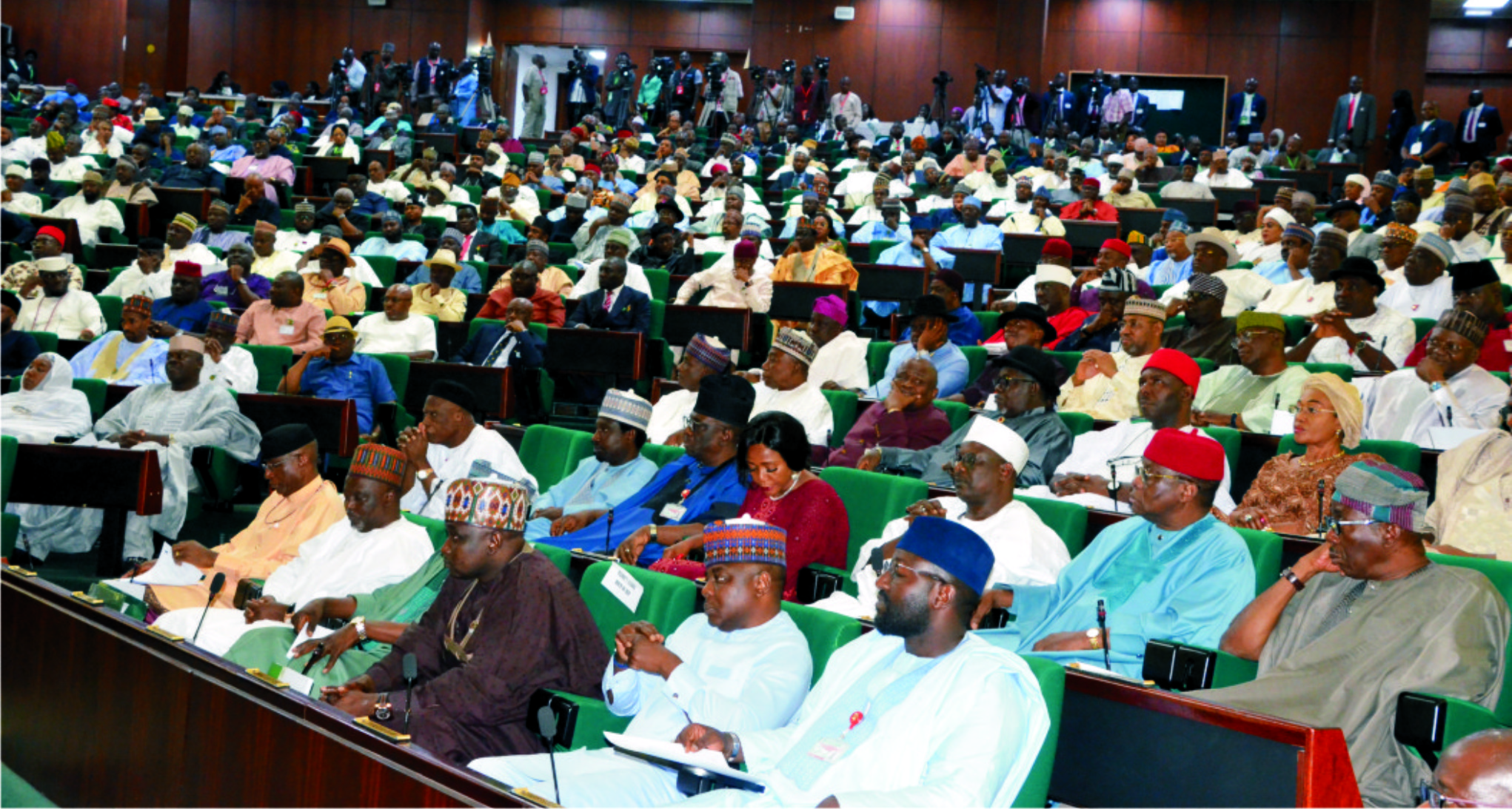 The 2023 Appropriation Bill, presented by the Rivers State Governor, Chief Nyesom Wike, yesterday, scaled the first reading on the floor of the state House of Assembly.
The state lawmakers had decided to expeditiously and conscientiously deliberate on the fiscal spending legislation in the next sitting of the House.
Earlier, the Rivers State Governor, Chief Nyesom Wike, had presented an Appropriation Bill of N550, 666,987,238.00 for the 2023 fiscal year to the state House of Assembly for consideration.
Wike while giving a breakdown of the budget, said the projected recurrent expenditure is N175, 249, 692, 497, which represents about 36.8percent of the total budget, while the projected estimates for Capital Expenditure is N350, 977, 495, 537, representing about 63.2percent of the total budget.
The governor said the policy thrusts for the 2023 budget proposal christened, "Budget of Consolidation and Continuity," would focus on delivering economic growth, additional infrastructure and prosperity for citizens.
He noted that the 2023 budget was based on the framework of the state's Medium Term Expenditure Framework (MTEF), the State's Economic Strategy Paper (SESP), the national economic outlook and the state's economic growth projections pegged on the assumptions of crude oil benchmark of $70 per barrel, national crude oil production estimates of 1.7million barrels per day, currency exchange rate of $435.57 to the Dollar, a gross domestic product growth rate of between three per cent, an inflation rate of 13.1per cent and state economic growth projection between 4 and 4.5percent.
He explained that the budget would be funded from FAAC receipts, 13percent oil mineral derivation fund, IGR, Value-Added Tax (VAT), Federal Government's bridging facility and refunds, commercial bank loans, sale of state assets and grants from international development agencies.
Wike emphasised that the projected recurrent expenditure would be deployed to meet government's administrative obligations on salaries, pensions and gratuities for civil servants and overheads for the day-to-day operations of the government and Ministries, Departments and Agencies (MDAs).
The governor pointed out that the 2022 capital expenditures posted impressive performance as capital receipts were judiciously utilised to fund infrastructure projects, including roads, bridges, and flyovers as well as investments in human capital development in the areas of education, healthcare and citizen's security.
According to him, "New projects may not be awarded in 2023, except where such is considered very significant.
"My administration will galvanise efforts and resources to complete all ongoing projects so that the new government can start on a clean slate, unencumbered", he noted.
He also pointed out that adequate provisions would be made on all aspects of the administration's priorities, including law, order, security and justice; sustainable physical infrastructure, such as roads, bridges and jetties; and human capital development – education, healthcare, skill acquisition, business development, job creation, women and youth empowerment, agriculture and poverty reduction.
Wike acknowledged the unity of purpose, togetherness and support accorded his administration by the state House of Assembly over the last seven and half years, and assured of his administration's commitment to use the 2023 budget to deliver more transformative infrastructure and other strategic projects and services to move the state closer to the point of self-sustainability.
In his remarks, the Speaker of the State House of Assembly, Rt Hon Ikuinyi-Owaji Ibani, noted that Wike, had through prudent allocation of resources, put in place a roadmap for the development of the state.
Ibani, who commended the governor for his achievements in the past seven years, noted that his numerous infrastructure projects, would impact positively on the development of the state in future, and assured of speedy consideration of the budget.
By: Ike Wigodo
Ikwerre Set To Deliver Two Projects Per Ward
The Chairman of Ikwerre Local Government Area of Rivers State, Engr. Samuel Nwanosike, has noted that his administration was ready to commission two projects in every ward before the end of January, 2023.
Nwanosike stated this when he received in audience the Rumuepirikom Kingdom Council Executive at his office, Isiokpo.
According to him, "My President did mention that we have done projects in all the political wards. I can announce to Mr. President that before the end of January, it will be clear that we have completed two projects in each of the 13 political wards.
"So, we have passed the stage of saying one project per political ward. As we speak, if not that we have entered the electioneering period, we would have had five projects lined up for commissioning".
Nwanosike, while describing the courtesy visit as the most important since he assumed office on June 18, 2018, as chairman of Ikwerre LGA, thanked Governor NyesomWike for grooming and giving him and his team the opportunity to change the narrative of their people by managing their affairs.
He, however, narrated the achievements of his administration via the five-point agenda unveiled during his campaigns to the executive members of Rumuepirikom Kingdom Council.
The Ikwerre LGA chairman listed the achievements as building and furnishing of health centres, return of peace and sanity through the help of the Governor of the state, Chief NyesomWike, and the security agents, sending the farmers back to farm, sending the youths back to school, building of police station at Ubima, building of markets at Elele, Omerelu and Apani, construction of more than 1.5km drainage at Elele, building of town halls at Isiokpo and Omagwa, building and furnishing of schools at Aluu and Omademe, among others.
He added that many more projects were under construction and would be delivered in due time, especially NYSC members Lodge at Isiokpo, etc.
"We don't just talk; we do what we say we will do. Because if you don't do it, the people will not understand that there is work to be done", he said.
On the other hand, Nwanosike praised Wike for choosing a technocrat like Sir SiminialayiFubara to succeed him and continue the NEW Rivers Vision, reiterating that Ikwerre Local Government was already SIMplified.
He promised to assist in the renovation of Rumuepirikom Kingdom Civic Centre by giving his entire December imprest.
Speakingearlier, the Chairman of Rumuepirikom Kingdom Council Executive, Chief Emma Okas-Wike, said they were in Ikwerre to pay the chairman a courtesy visit on behalf of the Paramount Ruler and Nyewe Eli Rumuepirikom, Eze Barry OparaOwabie, in order to identify with him as one of their own and specially thank him for always supporting their son, ChiefNyesomWike.
Okas-Wike said, "It might not be easy for somebody to talk about the footsoldiers of our leader, the Governor of Rivers State, Chief NyesomWike, without mentioning your name because when this fight started about 2007, we did the first fight, did the second fight, you were one of those that were inside caucus, inner caucus of those fights.
"I want to thank you that you did not abandon our leader and our brother and our son. That's why we felt that it is proper for us to come and pay you this courtesy call".
He used the opportunity to congratulate Nwanosike on his infrastructural development, political and academic achievements, especially the acquisition of doctorate degree.
"Information available to us, not just us but to the public, shows that you have, just like the governor is doing, you have affected almost all the whole wards in Ikwerre Local Government. And when we look at the record, we find out that the projects you are executing are not just minor projects that will just be something that somebody will say what is this one, is it not what somebody can do? No. These are landmark projects and we want to commend you for that", the chairman of Rumuepirikom Kingdom Council Executive avowed.
While saying that Nwanosikewas part of Rumuepirikom Kingdom, Okas-Wike encouraged him to do more in order for his name to be spoken more within and outside Rivers State.
He appealed for his financial assistance in the renovation of Rumuepirikom Kingdom Civic Centre.
Those present during the courtesy visit were the Vice Chairman of Rumuepirikom Kingdom Council Executive, Chief Raymond Owabie; the Secretary, Sir Chief AllwellEgwurugwu; the PRO, Engr. Kingdom A. Johnson; the Legal Adviser, BarristerAmadi G. Nyebuchi; the Rumuepirikom Youth President, Engr. Samuel John Amadi; amongst others.
Highlight of the visit was a tour of some projects, including the NYSC Lodge being constructed by his administration at Isiokpo.
CDC Chairman Warns On Likely Crisis In Rumuagholu
Community Development Committee (CDC) Chairman of Rumuagholu in Obio/Akpor Local Government Area of Rivers State, Comrade Amadi Okechukwu, has warned that there could be a breakdown of law and order in the community if the actions and utterances of certain individuals were not checked.
Okechukwu, who gave the hint while addressing journalists in Port Harcourt, yesterday, called on the Rivers State Governor,Chief Nyesom Wike, and security agents to call one NyegwaKiniganwo, to order to avoid breakdown of law and order in Rumuagholu.
Amadi said this had become necessary following recent radio announcement wherein Nyegwa addressed himself as Rumuagholu paramount ruler, while the matter was still pending in court.
The CDC chairman noted emphatically that Nyegwa's actions could create serious crisis, if not checked.
Amadi said on no account should Nyegwa parade himself as a chief, let alone Rumuagholu paramount ruler.
He hinted that Nyegwa's recent falsehood and blatant lies followed steps taken by the three communities that make up Rumuagholu to share some part of their land.
Amadi said the three communities: Rumuochukwuoke, Rumuowolu, and Rumuochukwualu, as a sign of indivisible entity, decided to work together to dispose some of their ancestral land.
The CDC chairman reiterated that Nyegwa's action amounted to contempt of court, having been served court document to stop parading himself forthwith as a paramount ruler.
He said there was a court order instituted by Eze Bekwele Atam, stopping the accused from parading himself as paramount ruler, adding that until such orders are vacated, his actions and activities in respect of the land amounted to contempt of court.
Amadi warned the general public to desist from transacting business concerning the community with Nyegwa forthwith, and pointed out that anybody who transacted with him on behalf of the community did so at his peril.
He further hinted that such businesses should be channeled to him as the constitution empowered him as the CDC chairman to oversee the affairs of the community, including land issues.
He said Rumuagholu people were peace-loving but warned that such should not be taken for granted by Nyegwa and his cohorts, especially during this annual wrestling season which holds this week.
By: Chidi Enyie
FG Saves $300m Annually From Ban On Barite Imports
The Federal Government has said its ban on importation of Barite, an essential mineral in oil drilling, has saved the country $300million (about N195billion) annually.
The Minister of Mines and Steel Development, Mr Olamilekan Adegbite, disclosed this in Abuja at the ninth edition of the President Muhammadu Buhari's Administration Scorecard 2015 to 2023 series organised by the Ministry of Information and Culture.
The scorecard series was launched as part of the efforts of the ministry to showcase the numerous achievements of the administration.
Presenting the scorecards of his ministry, Adegbite said the ban on barite importation was part of the efforts of the Federal Government to ensure the downstream mineral policies took effect.
"When we came into office in 2019, we realised that the oil and gas industry use barite in their oil drilling and they were importing the mineral from Morocco to the tune of $300million every year.
"We also realised that the country has abundance of barite deposits but the problem was that we were not processing it.
"So, the ministry took it upon itself as a project and in 2021, we were able to produce made in Nigeria Barite with American Petroleum Institute (API) standard.
"Now, nobody is importing barite in to Nigeria anymore saving the country $300million annually that was being spent on imports of barite to the country,'' he said.
The minister said within a year of production, Nigeria had attained excess capacity of barite and making plans to export the mineral into places like Ghana and South Africa.
"These are places that have just discovered oil and of course they need barite as well.
"We will ensure they can get it cheaper to buy from Nigeria than to go to northern part of Africa,'' he said.
The minister also disclosed that his ministry had discovered new minerals that they did not know existed in the country.
According to him, the minerals included nickel, cobalt chromium and tracks of lithium.
He said the newly discovered minerals were called the "Future metals'', adding "this is where the whole world is headed''.
The minister also disclosed that they were auctioning bitumen blocks to 26 serious investors which had shown interest in its mining.
Adegbite said the process would culminate in concession of some of the blocks to the investors which would be given fairly limited time to start producing in Nigeria.
He said the process would make the country sufficient in bitumen, lower the cost of building roads and create import substitution.
According to the minister, Nigeria has sufficient quantity of bitumen deposit in Edo, OgunOndo and Lagos states.