FG Warns Politicians Against Inciting, Inflammatory Utterances …Says Buhari To End Undemocratic Culture With 2023 Polls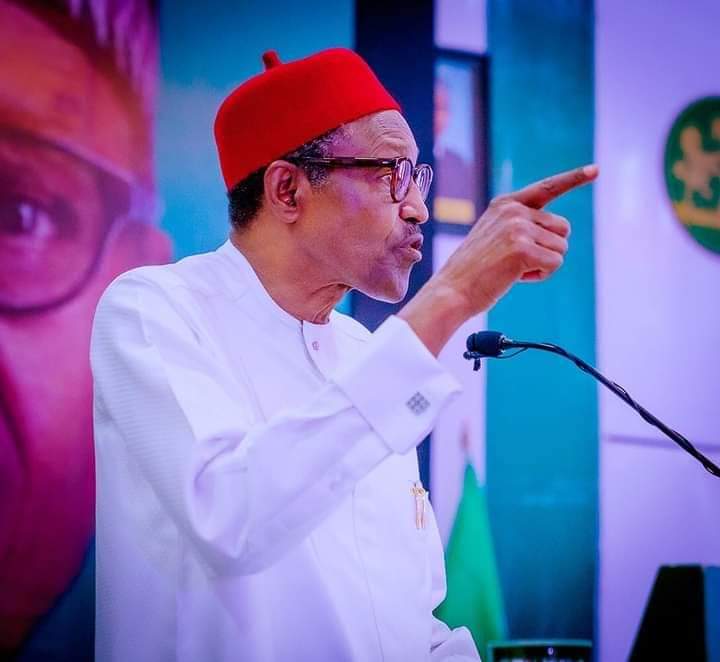 With the 2023 general election drawing closer, the Federal Government has cautioned politicians in the country to desist from making inciting, inflammatory and unguarded utterances capable of fanning embers of discord amongst the populace.
Attorney General of the Federation and Minister of Justice, Abubakar Malami, sounded the note of warning, yesterday, when he said the Federal Government is leaving no stone unturned towards ensuring a hitch-free election in 2023.
Malami noted that supporting a fair, credible and violence-free electoral process in the country was one of the cardinal themes of the Federal Ministry of Justice National Policy on Justice 2017.
The policy, which was still in force, Malami said, was signed on September 20, 2017.
He said it expresses worries about and seeks to address the impunity for crimes regarding some election-related violence and malpractices especially the failure to hold perpetrators accountable.
"Let us join hands in making sure that all campaign utterances are humane and in conformity with global best practices, thereby contributing to a violence-free electoral process", the AGF said.
Malami spoke at a 2-day seminar on the 2022 International Day to End Impunity for Crimes against Journalists, with the theme: "Media, Civil Society and Violence-free Election in Nigeria".
The AGF stated that as the 2023 general election in the country approach, the role of journalists in the democratic transition cannot be over emphasised.
He said President Muhammadu Buhari-led Federal Government was committed to bringing to an end these undemocratic and uncultured activities with the coming 2023 elections.
Malami hinted that the feat would be achieved through the administration of legally justifiable approaches to the perpetrators to serve as deterrence to others.
More than 500 media practitioners from various media organisations in the country are participating in the 2-day event.
He noted with happiness that the federal and some state governments have taken precautionary and proactive steps in taming the tides of undemocratic culture and activities.
He renewed his call on those still involved in the electioneering process to appreciate the fact that political activities are to be observed in accordance with the provisions of the Electoral Law.
Malami requested them to join hands in making sure that all campaign utterances are humane and in conformity with global best practices, thereby contributing to a violence-free electoral process.
"As the 2023 election campaign gathered momentum, we chose the theme of this celebration to revolve around 'Media, Civil Society and Violence-free Election in Nigeria'.
"This proactive engagement has the objective of enlightenment to shun electoral offences with the sole intention of making healthier processes at all levels of electioneering campaigns.
"It is important to note that recent developments in Nigeria proved that the Federal Government has laudable initiatives to end impunity for crimes against Nigerian citizens.
"Committee to Protect Journalists (CPJ) report says Nigeria was the only country to get off the index of nations with impunity for crimes against journalists in 2020.
"The 2020 global index for impunity for crimes against journalists by the Committee to Protect Journalists (CPJ), released on Wednesday, November 28, 2020, indicated that Nigeria is the only country that came off the index from 2019.
"This achievement is not unconnected with deliberate and committed efforts of the President MuhammaduBuhari-led Federal Government through the implementation of many reforms in the Nigerian justice sector to include increased access to justice, speedy justice dispensation, decongestion of Nigeria's correctional centres and judicious implementation of the Criminal Justice Act.
"Let me express our appreciation to our partners; the Management Conflict in Nigeria (MCN) programme of the European Union supervised by the British Council and the Kano State Government under the able leadership of Governor Abdullahi Umar Ganduje for their support to this programme".
The AGF urged the participants to make the best use of what they stand to gain by the careful selection of eminent scholars, practitioners and experts in various related fields, adding that his office would expect recommendations from the policy dialogue for use.
Ikwerre Set To Deliver Two Projects Per Ward
The Chairman of Ikwerre Local Government Area of Rivers State, Engr. Samuel Nwanosike, has noted that his administration was ready to commission two projects in every ward before the end of January, 2023.
Nwanosike stated this when he received in audience the Rumuepirikom Kingdom Council Executive at his office, Isiokpo.
According to him, "My President did mention that we have done projects in all the political wards. I can announce to Mr. President that before the end of January, it will be clear that we have completed two projects in each of the 13 political wards.
"So, we have passed the stage of saying one project per political ward. As we speak, if not that we have entered the electioneering period, we would have had five projects lined up for commissioning".
Nwanosike, while describing the courtesy visit as the most important since he assumed office on June 18, 2018, as chairman of Ikwerre LGA, thanked Governor NyesomWike for grooming and giving him and his team the opportunity to change the narrative of their people by managing their affairs.
He, however, narrated the achievements of his administration via the five-point agenda unveiled during his campaigns to the executive members of Rumuepirikom Kingdom Council.
The Ikwerre LGA chairman listed the achievements as building and furnishing of health centres, return of peace and sanity through the help of the Governor of the state, Chief NyesomWike, and the security agents, sending the farmers back to farm, sending the youths back to school, building of police station at Ubima, building of markets at Elele, Omerelu and Apani, construction of more than 1.5km drainage at Elele, building of town halls at Isiokpo and Omagwa, building and furnishing of schools at Aluu and Omademe, among others.
He added that many more projects were under construction and would be delivered in due time, especially NYSC members Lodge at Isiokpo, etc.
"We don't just talk; we do what we say we will do. Because if you don't do it, the people will not understand that there is work to be done", he said.
On the other hand, Nwanosike praised Wike for choosing a technocrat like Sir SiminialayiFubara to succeed him and continue the NEW Rivers Vision, reiterating that Ikwerre Local Government was already SIMplified.
He promised to assist in the renovation of Rumuepirikom Kingdom Civic Centre by giving his entire December imprest.
Speakingearlier, the Chairman of Rumuepirikom Kingdom Council Executive, Chief Emma Okas-Wike, said they were in Ikwerre to pay the chairman a courtesy visit on behalf of the Paramount Ruler and Nyewe Eli Rumuepirikom, Eze Barry OparaOwabie, in order to identify with him as one of their own and specially thank him for always supporting their son, ChiefNyesomWike.
Okas-Wike said, "It might not be easy for somebody to talk about the footsoldiers of our leader, the Governor of Rivers State, Chief NyesomWike, without mentioning your name because when this fight started about 2007, we did the first fight, did the second fight, you were one of those that were inside caucus, inner caucus of those fights.
"I want to thank you that you did not abandon our leader and our brother and our son. That's why we felt that it is proper for us to come and pay you this courtesy call".
He used the opportunity to congratulate Nwanosike on his infrastructural development, political and academic achievements, especially the acquisition of doctorate degree.
"Information available to us, not just us but to the public, shows that you have, just like the governor is doing, you have affected almost all the whole wards in Ikwerre Local Government. And when we look at the record, we find out that the projects you are executing are not just minor projects that will just be something that somebody will say what is this one, is it not what somebody can do? No. These are landmark projects and we want to commend you for that", the chairman of Rumuepirikom Kingdom Council Executive avowed.
While saying that Nwanosikewas part of Rumuepirikom Kingdom, Okas-Wike encouraged him to do more in order for his name to be spoken more within and outside Rivers State.
He appealed for his financial assistance in the renovation of Rumuepirikom Kingdom Civic Centre.
Those present during the courtesy visit were the Vice Chairman of Rumuepirikom Kingdom Council Executive, Chief Raymond Owabie; the Secretary, Sir Chief AllwellEgwurugwu; the PRO, Engr. Kingdom A. Johnson; the Legal Adviser, BarristerAmadi G. Nyebuchi; the Rumuepirikom Youth President, Engr. Samuel John Amadi; amongst others.
Highlight of the visit was a tour of some projects, including the NYSC Lodge being constructed by his administration at Isiokpo.
CDC Chairman Warns On Likely Crisis In Rumuagholu
Community Development Committee (CDC) Chairman of Rumuagholu in Obio/Akpor Local Government Area of Rivers State, Comrade Amadi Okechukwu, has warned that there could be a breakdown of law and order in the community if the actions and utterances of certain individuals were not checked.
Okechukwu, who gave the hint while addressing journalists in Port Harcourt, yesterday, called on the Rivers State Governor,Chief Nyesom Wike, and security agents to call one NyegwaKiniganwo, to order to avoid breakdown of law and order in Rumuagholu.
Amadi said this had become necessary following recent radio announcement wherein Nyegwa addressed himself as Rumuagholu paramount ruler, while the matter was still pending in court.
The CDC chairman noted emphatically that Nyegwa's actions could create serious crisis, if not checked.
Amadi said on no account should Nyegwa parade himself as a chief, let alone Rumuagholu paramount ruler.
He hinted that Nyegwa's recent falsehood and blatant lies followed steps taken by the three communities that make up Rumuagholu to share some part of their land.
Amadi said the three communities: Rumuochukwuoke, Rumuowolu, and Rumuochukwualu, as a sign of indivisible entity, decided to work together to dispose some of their ancestral land.
The CDC chairman reiterated that Nyegwa's action amounted to contempt of court, having been served court document to stop parading himself forthwith as a paramount ruler.
He said there was a court order instituted by Eze Bekwele Atam, stopping the accused from parading himself as paramount ruler, adding that until such orders are vacated, his actions and activities in respect of the land amounted to contempt of court.
Amadi warned the general public to desist from transacting business concerning the community with Nyegwa forthwith, and pointed out that anybody who transacted with him on behalf of the community did so at his peril.
He further hinted that such businesses should be channeled to him as the constitution empowered him as the CDC chairman to oversee the affairs of the community, including land issues.
He said Rumuagholu people were peace-loving but warned that such should not be taken for granted by Nyegwa and his cohorts, especially during this annual wrestling season which holds this week.
By: Chidi Enyie
FG Saves $300m Annually From Ban On Barite Imports
The Federal Government has said its ban on importation of Barite, an essential mineral in oil drilling, has saved the country $300million (about N195billion) annually.
The Minister of Mines and Steel Development, Mr Olamilekan Adegbite, disclosed this in Abuja at the ninth edition of the President Muhammadu Buhari's Administration Scorecard 2015 to 2023 series organised by the Ministry of Information and Culture.
The scorecard series was launched as part of the efforts of the ministry to showcase the numerous achievements of the administration.
Presenting the scorecards of his ministry, Adegbite said the ban on barite importation was part of the efforts of the Federal Government to ensure the downstream mineral policies took effect.
"When we came into office in 2019, we realised that the oil and gas industry use barite in their oil drilling and they were importing the mineral from Morocco to the tune of $300million every year.
"We also realised that the country has abundance of barite deposits but the problem was that we were not processing it.
"So, the ministry took it upon itself as a project and in 2021, we were able to produce made in Nigeria Barite with American Petroleum Institute (API) standard.
"Now, nobody is importing barite in to Nigeria anymore saving the country $300million annually that was being spent on imports of barite to the country,'' he said.
The minister said within a year of production, Nigeria had attained excess capacity of barite and making plans to export the mineral into places like Ghana and South Africa.
"These are places that have just discovered oil and of course they need barite as well.
"We will ensure they can get it cheaper to buy from Nigeria than to go to northern part of Africa,'' he said.
The minister also disclosed that his ministry had discovered new minerals that they did not know existed in the country.
According to him, the minerals included nickel, cobalt chromium and tracks of lithium.
He said the newly discovered minerals were called the "Future metals'', adding "this is where the whole world is headed''.
The minister also disclosed that they were auctioning bitumen blocks to 26 serious investors which had shown interest in its mining.
Adegbite said the process would culminate in concession of some of the blocks to the investors which would be given fairly limited time to start producing in Nigeria.
He said the process would make the country sufficient in bitumen, lower the cost of building roads and create import substitution.
According to the minister, Nigeria has sufficient quantity of bitumen deposit in Edo, OgunOndo and Lagos states.