Firm Launches Platform to Improve Agric Value Chain
In a bid to cover the entire agriculture value chain and support farmers in the country, Oxford Green Farms Group (a new business conglomerate and an agro-allied industry in Africa) has launched an innovative platform known as AgroLyfe, recently in Lagos.
The platform, which leverages farming and real estate, will afford farmers and subscribers the opportunity to create consistent income-earning opportunities as well as generate stable and reliable rental income through farmland acquisition.
Subscribers on the platform can purchase farmlands for as low as N100,000 to N2,000,000, and earn rental income on it every three months, stressing that it has immediately flagged off with four farm locations, including Ijaka in Aiyetoro, Ogun State, Itele in Ijebu, Ogun State, Imala Town, Oke-Ogun, and Ibadan, Oyo State while plans are underway to add 20 more locations to the scheme within the next 30-60 days.
Speaking on what AgroLyfe stands to offer, the CEO, Oxford Green Farms Group, Dr. Goodluck Olatunde Precious, said, "At Oxford Green Farms Group, we want to support the Federal Government's drive towards self-sustainability in food production.
"Therefore, we are working towards acquiring 10million acres of farmland and onboarding 10,000 farmers on our platform within the next five years.
"We would give farmers we are onboarding access to grants and off-takers for their farming to boost capacity and output. We believe this would add up to a 20percent boost to Nigeria's overall food production capacity."
"To this end, our research team has been relentless in designing an innovative product that is market-fit, appeals to everyone, and creates consistent income-earning opportunities for everyone interested. This is what birthed the product we are launching today – AgroLyfe.
"AgroLyfe is that child delivered when you marry Agriculture with Real Estate – it is a product that leverages farming and real estate to generate stable and reliable rental income for customers through farmland acquisition. Think of it like this: Buy land, rent out to farmers for farming, and earn rental on these farms at short intervals. Smart, right? That is exactly what AgroLyfe is."
He said: "With AgroLyfe, you can purchase farmlands from as low as N100,000 to N2,000,000, and earn rentals on it every three months. We immediately flag off with four farm locations, including Ijaka in Aiyetoro, Ogun State, Itele in Ijebu, Ogun State, Imala Town, Oke-Ogun, and Ibadan, Oyo State. And we are adding 20 more locations to this scheme within the next 30-60 days. There is also a flip side of this new product that we will be announcing soon, the Farmers' Cooperative Society.
"We are setting up a cooperative society for farmers across the 36 states of Nigeria, through which we can easily plug them into our Agro-Allied business. Our mission is to cover the entire agriculture value chain – from farming to harvesting, processing, storage, transportation, and up to the end-users.
"In this case, this would also include exporting agro products. The goal is to acquire up to 4million hectares of arable land across the 36 states of Nigeria and beyond while having more than 10,000 active farmers on this platform. I'd leave your imagination to what is possible with that," Olatunde-Precious concluded.
N1.8bn Discovery: Recall Buratai For Investigation, PDP Tasks Buhari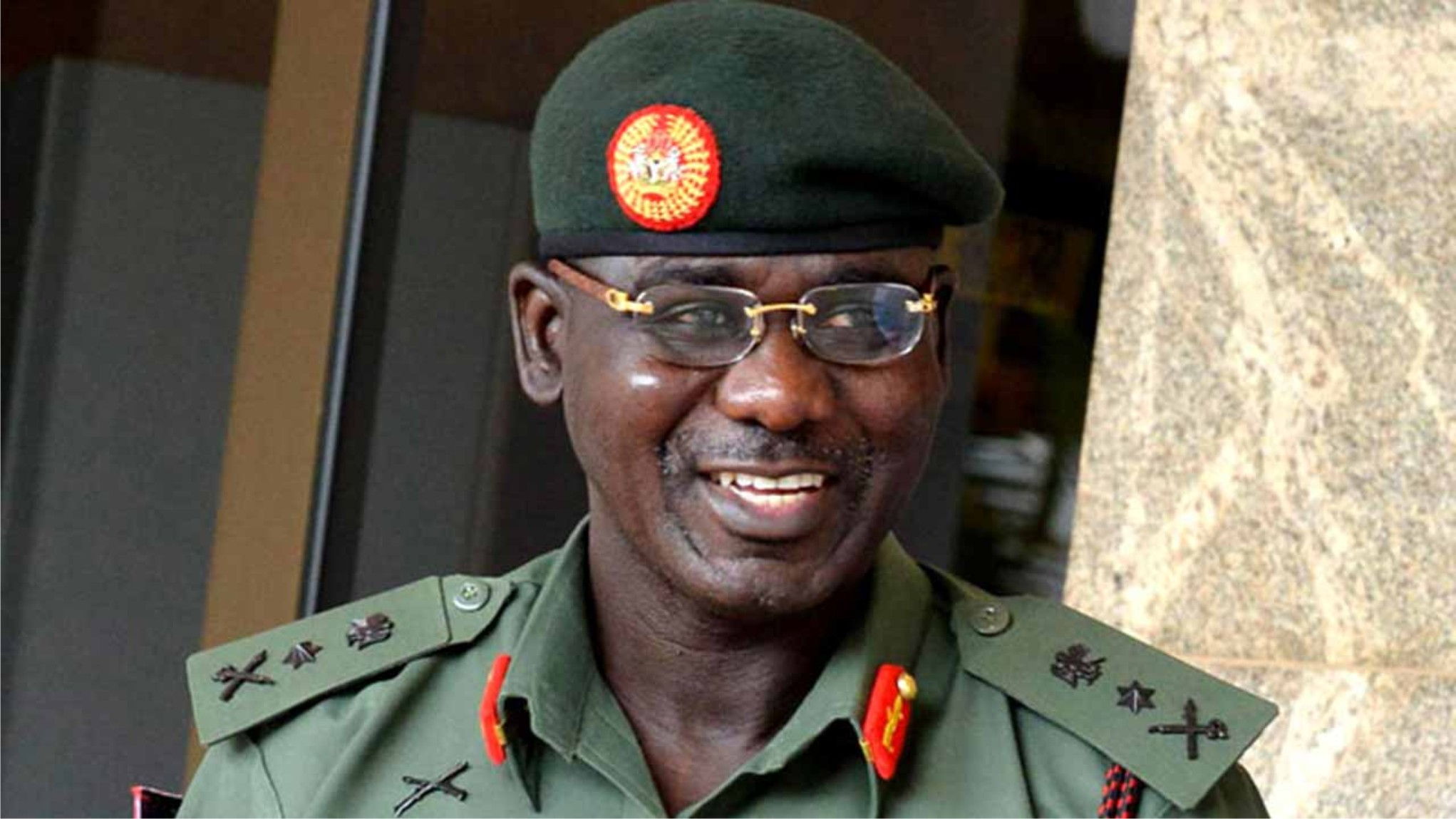 The Peoples Democratic Party (PDP) has called on President Muhammadu Buhari to recall the former Chief of Army Staff (COAS) and Ambassador to Benin Republic, Lt.-Gen. Tukur Buratai (rtd), to face investigations over an alleged connection with the N1.8billion recovered in a property in Abuja.
The Independent Corrupt Practices and Other Related Offences Commission (ICPC) recently recovered N1.8billion worth of property owned by a military contractor in Abuja.
The opposition party, in a statement by its National Organising Secretary, Hon. Debo Ologunagba, yesterday, demanded the recall and investigation of Buratai.
PDP said its demand was predicated on the alleged missing $1billion meant to purchase arms to fight terrorism.
It added that corruption under President Muhammadu Buhari's APC-led administration has led to the upsurge in unhindered terrorism attacks, mass killing of citizens, and loss of many of our gallant fighters.
The statement partly read, "It is therefore of serious interest to Nigerians when reports that the ICPC discovered the sum of N1.8billion in various currencies, expensive cars, and jewellery secreted in a property in Abuja allegedly linked to the former COAS broke out.
"There are already apprehensions that the discovered money is part of the security fund that was criminally diverted. This is especially against the backdrop of the frenzy and spirited efforts by certain quarters linked to the APC to suppress investigation and free flow of information, politicise the matter and sweep it under the carpet.
"Nigerians will recall that our Party has on several occasions alerted that the looting of our treasury is officially sanctioned and enabled by the APC administration with its refusal to prosecute those who were alleged and found to have been involved in massive corruption.
"It would also be recalled that the PDP drew attention to plans of the APC to create a slush fund account from monies fraudulently drawn from the national treasury to finance their plot to rig the 2023 general election."
According to the PDP, the APC test runs their 2023 rigging plot in the Ekiti State governorship election with massive use of money to prosecute a vote-buying scheme.
The opposition party insisted that the reports of alleged massive looting under Buhari's watch further confirm the APC administration as a haven for treasury looters.
"Moreover, the recently exposed looting of N80billion by the suspended Accountant General of the Federation, Ahmed Idris, which investigation has now gone cold is suspected to have been engineered by the cabal at the very high level of the APC administration," it added.
The PDP maintained that Buratai should return to the country and be made to face investigation.
According to the party, this is important because any allegation bordering on the looting of funds meant for the fight against terrorism is of grave national concern and consequence.
PDP requested that Buratai be thoroughly investigated and if found wanting must be made to face the full weight of the law.
King Jaja, Alapu-In-Council Receive Rivers PDP Guber Candidate In Opobo …Say Fubara's Emergence Represents Riverine Communities' Yearnings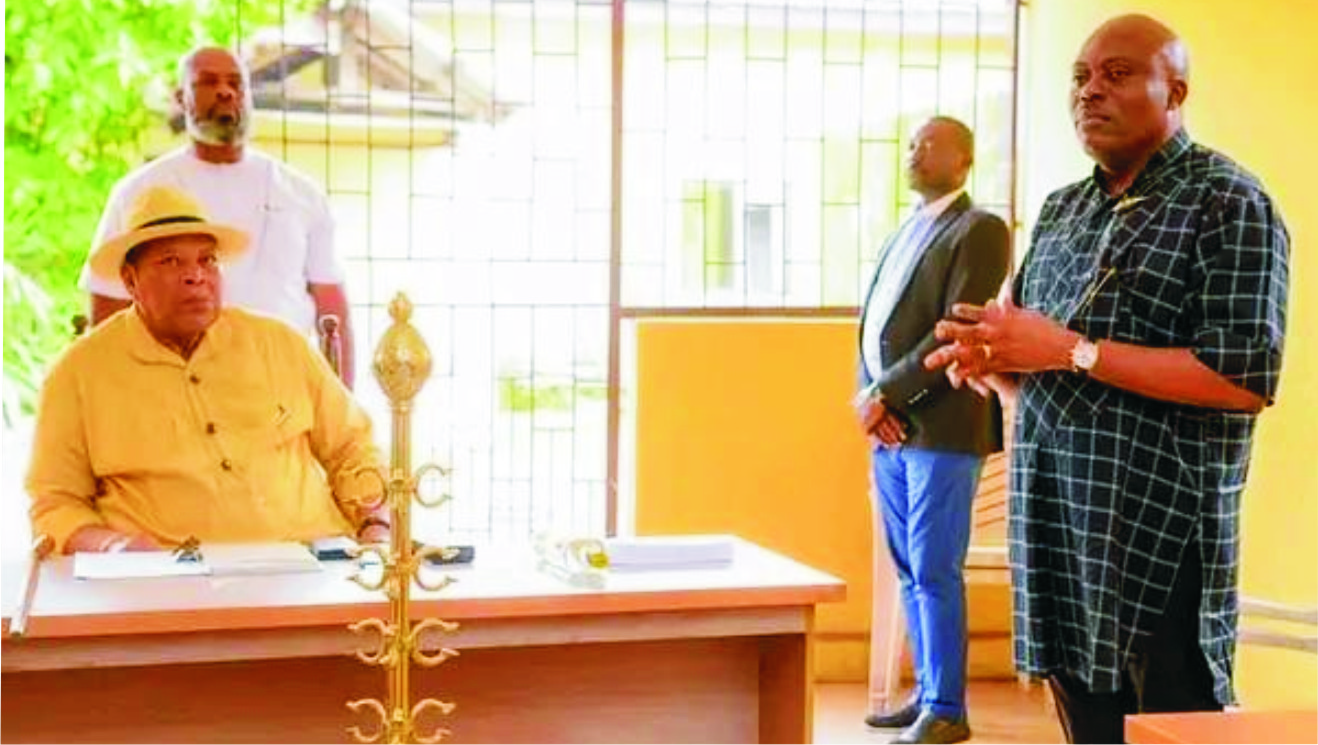 The Chairman of Rivers State Council of Traditional Rulers and Amanyanabo of Opobo Kingdom, King Dandeson Douglas Jaja, alongside the Alapu-In-Council, last Saturday, received the Rivers State gubernatorial candidate of the Peoples Democratic Party (PDP) for the 2023 general election, Sir Siminialayi Fubara in Opobo, the headquarters of Opobo/Nkoro Local Government Area of Rivers State.
While receiving the candidate, King Jaja said Fubara's emergence represents the long yearnings of the riverine communities to produce the governor of the state since creation, and prayed that God perfects his victory at the elections.
The Amanyanabo noted that the kingdom would not take the opportunity of his emergence for granted as he expressed the undying gratitude of his kingdom to Rivers State Governor, Chief Nyesom Wike, who supported the emergence of their son as the candidate of the ruling party.
He urged his people to leave no stone unturned in supporting Fubara to victory in 2023.
Speaking earlier, the PDP flag bearer, Sir Siminialayi Fubara,had told the Amanyanabo and the Council of Chiefs that his visit was to intimate them of his emergence as the gubernatorial candidate of the PDP in the 2023 elections, and to seek their blessings as their son.
He said he considered it proper to do this before party campaigns commence, especially in seeking their prayers and blessings.
Fubara noted that his victory at the primary was not by his effort but grace of God at work, and enjoined the kingdom to join him in applauding Governor Nyesom Wike for supporting his emergence.
He further commended the governor for his developmental strides in Opobo and across the state.
The standard bearer visited the Amanyanabo and Alapu-In-Council along with party stalwarts and elders of Opobo/Nkoro extraction.
Insecurity: Northern Group Backs Matawalle On Self-Defence Order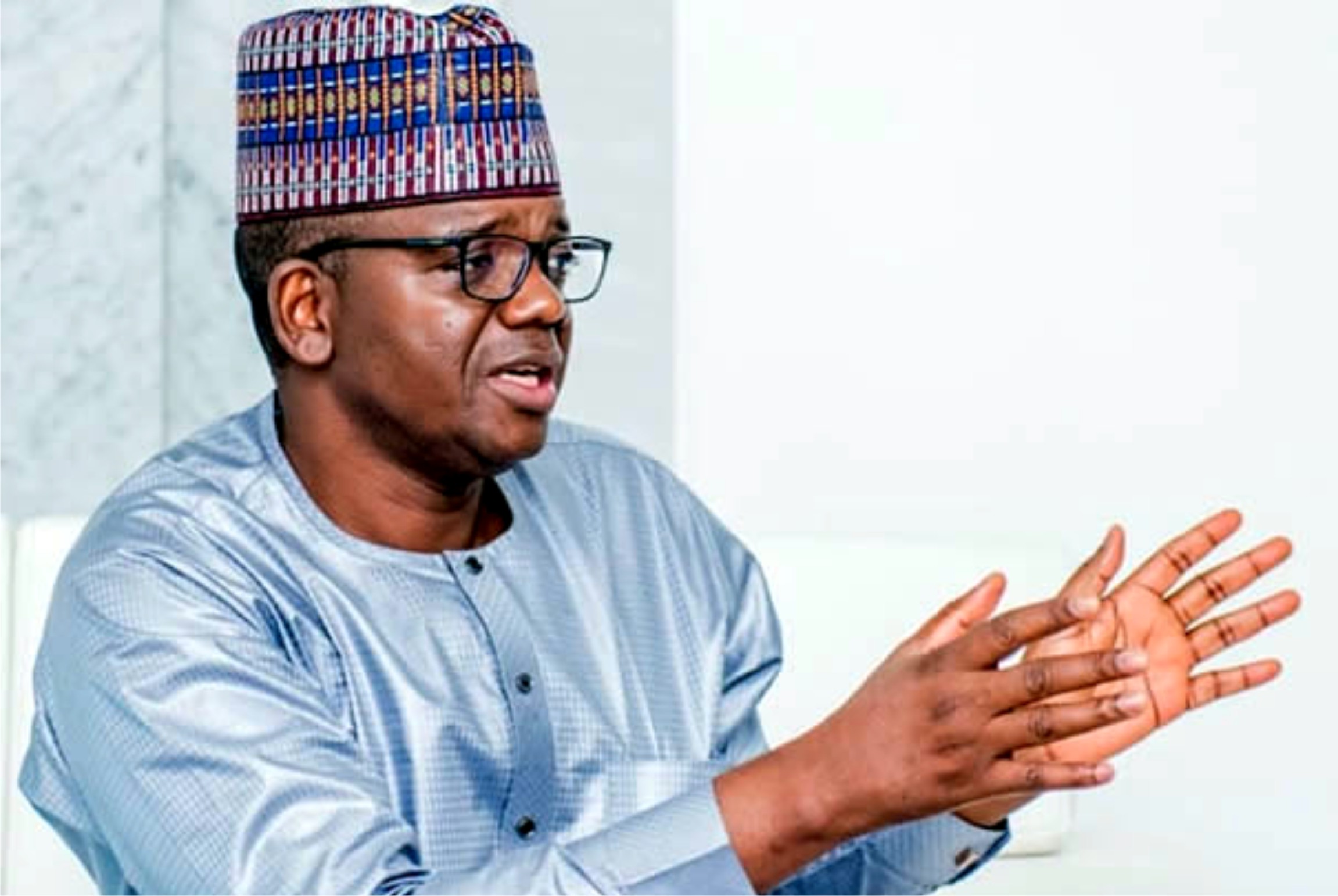 A northern group, Arewa Development Forum for Peace and Justice (ADFPJ), has said the directive by the Zamfara State Governor, Bello Matawalle, that residents in the state should bear arms to defend themselves was in order.
This, the group, while rising from an emergency meeting held in Kaduna, yesterday, said was because the people of the North-West part of the country had suffered so much from banditry activities over the years.
They, therefore, noted that any lawful measure taken by the state to stop the rampaging terrorists that had consistently invaded the state, was in order.
Consequently, a statement released by the Executive Chairman of the group, Alhaji Zubairu Mustafa, also urged governors from the North-West to emulate the Zamfara State's helmsman by issuing similar directives to their citizens.
The North-West comprises Kaduna, Katsina, Kano, Kebbi, Jigawa, Sokoto and Zamfara states.
The group also knocked the Chief of Defence Staff, Gen. Lucky Irabor, and other elites for hastily rebuking and condemning the governor's order, adding that they were just being economical with the truth over the spate of insecurity in Zamfara State and other parts of the country.
According to them, the insecurity has festered across the country because there was no serious strategy in place by security agencies to end the challenge.
They added that with Matawalle's order, the insecurity in his state would cease because if citizens were armed, bandits or terrorists or other criminal elements, would rethink before striking.
The statement read in part, "The Northern Elements Group, known as AREWA Development Forum for Peace and Justice, has risen from an urgent meeting of general concern in Kaduna with the resolution to support the idea of Zamfara State Governor, Bello Mohammed Mutawall, on giving permission to citizens to acquire and use weapons for protection against invading bandits in their communities.
"The group pleads with the state governors in the North-West region to set up machinery and measures for the Joint Task Force of able youths as community-based vigilante volunteers in order to complement the efforts of security operatives in the fight against criminal activities in the region like that of the Community Protection Guard (CPG) launched in Zamfara on Saturday.
"The group faulted negative reactions over the suggestion of Zamfara State Governor and bemoans at hurried comments of discouragement by the Chief of Defence Staff, General Lucky Irabor, and other elites who are economical with the truth of happening on the recent kidnapping, killings and attacks of the communities in North-West region and environs by suspected bandits.
"From Zurmi to Tsafe, from Bakura to Maru to Shinkafi, these bandits have continued with their deadly and dastardly attacks against innocent people because security agencies are overwhelmed with inadequate manpower, precision equipment and logistics facilities to nip the nefarious activities of these blood-thirsty terrorists, insurgents and bandits in the bud.
"In this case, Governor Matawalle is the man wearing the shoe and knows where it hurts, hence, our call on all meaning Nigerians to support his call on locals to legally acquire arms to protect and defend their communities against any form of criminal invasion.
"Therefore, we are supporting any leader that seems to have agreed and made a clear and acceptable decision within the ambit of law to bring lasting peace and security to the lives and properties of citizens.
"Nothing is more important than a leader in playing his role of saving lives and properties of his people than attending funerals or making a sympathy visit and lamentations after attacks.
"Proactive measures that include supporting military & Police operations, provision of logistics and giving communities' rights of self-defence, are more important and best options for bringing a lasting and assured peace, cohesion and security to people in dire situations like now."