Call For Buhari's Resignation: Kaduna Bishops Back Northern Elders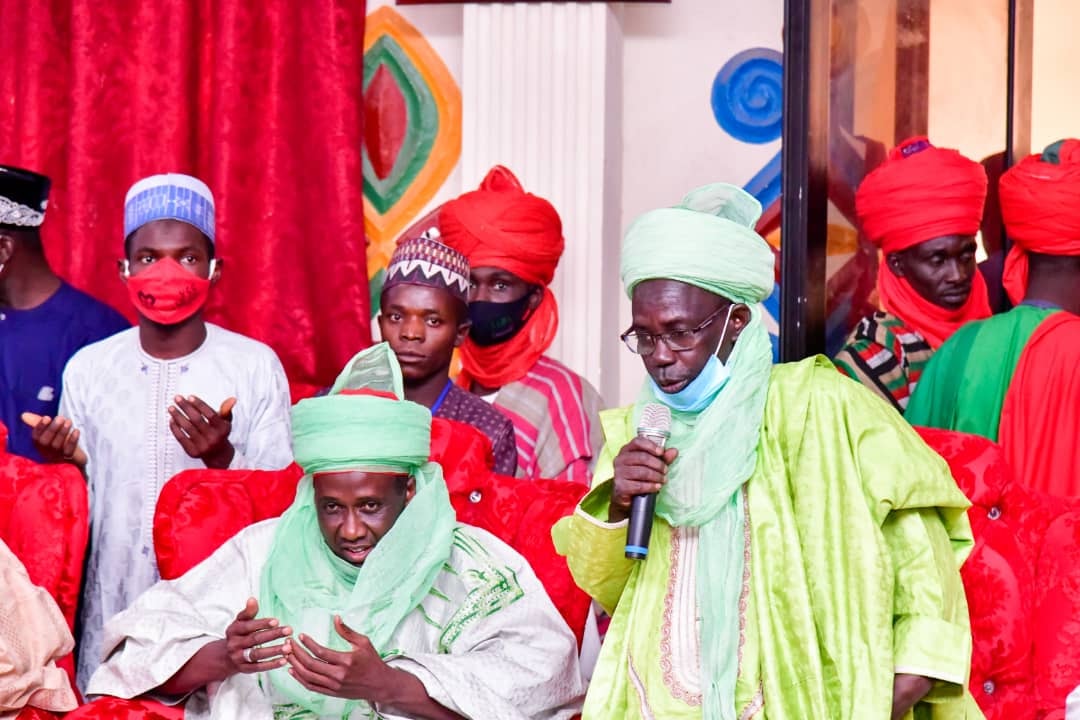 Bishop, Diocese of Kaduna, Anglican Communion, Timothy Yahaya and Bishop of Kaduna Catholic Archdiocese, Matthew Manoso Ndagoso have respectively thrown their weights behind Northern Elders recent call for the resignation of President Muhammadu Buhari over raging insecurity in the country.
This was contained in their separate Easter messages to the nation.
However, the presidency had since replied the northern elders, describing them as failed politicians seeking cheap publicity.
Bishop Yahaya said the right thing to do by a leader who cannot deliver is to bow out of office, adding, however, there is hope for Nigeria as a nation.
On his own part, Bishop Ndagoso said it was hard to disagree with Northern elders' position on the need for Buhari to resign from office over killings in the country.
He noted that the only thing the people got each time scores of Nigerians are killed, maimed and abducted, were empty assurances and reassurances of security by political leaders.
Bishop Yahaya said, "My Easter message is that there is hope for every individual in this country, there is hope for Nigeria as a nation. I know what we are going through, it is a dangerous and perilous time. But I tell you the only tonic of tomorrow is hope.
"I don't want to join issues with the Northern elders because I am not a politician. But the truth about leadership is that there is morality in leadership. If you cannot deliver as a leader in a civilised clime, the right thing and best thing to do is to bow out. But what gives me concern seriously is that I am not sure if the President knows that his name is going down in history as thePresident knows that his name is going down in history as the President that is supervising the killing of his people, as a President who is the petroleum Minister, today in Kaduna we don't have petrol for how many months. As the President who is supervising the nation, ASUU have closed down universities, the future generation is bleak.
"As a President who supervises where you hear billions of naira being budgeted and you don't see anything verifiable for it. So for me I am not talking as a politician, am talking as a citizen of this nation, I am talking with the voices of the masses, I talk with the reality on the ground.
I don't know, those of you around Mr. President, all you want to do is to rub his name from the glory of the future. I hope it is not the bestthing you are doing because I don't know if they are shielding you from information.
"Look at the railway attack, our brothers and sisters are in captivity. And we are not hearing from Mr. President himself. The Spokesman can speak for the President that the citizens of this country are in the hands of terrorists. Mr. President should sit up.
Even if somebody is speaking for him, he is telling lies. In other clime, the President will not sleep, and heads will roll because somebody is responsible for the laxity that led to this train attack.
"For me, Mr. President needs to do an x-ray of his leadership in the past seven years because by next month he will be seven years fully on the saddle.
Has he done very well? How much was Dollar when you took over power? How much was petrol when you took over power? How was insecurity when you took over power? Where was education whenyou took over power? Where was the name of Nigeria when you took over power? Today we hear money being budgeted for a Turn Around Maintenance of refineries, where are the refineries? And how do you want me to believe that corruption is being fought in Nigeria?".
you took over power? Where was the name of Nigeria when you took over power? Today we hear money being budgeted for a Turn Around Maintenance of refineries, where are the refineries? And how do you want me to believe that corruption is being fought in Nigeria?".
"Therefore, let's go to our Prisons and begin to apologise to the prisoners. You cannot set free those who stole patrimony of the people and sent to prison to languish those who stole five thousand naira or one hundred thousand naira in this country. Are you telling me that what is good for the Goose is not good for the Gander? Ate you telling me that it is animal farm that we have as Nigeria?.
"As far I am concerned, I have said it before, Nigeria is at war, soldiers are being killed, citizens are being killed. If you take the statistics of the number of soldiers and police that are being killed you will know that Nigeria is at war. Infrastructures are being attacked and vandalised.
"There should be national emergency to recall ex servicemen and recruit young men to fight insurgents if possible because desperate time needs desperate measure. Begin to train young people in all the 36 States. In a state where we have less 50,000 soldiers we are not ready for this war. Also technology should be deployed. This is war, it is a very serious war. The fact that they were able to attack the airport, the train, I hope the Villa is safe".
For the Catholic Bishop Ndagoso," Given where we are right now in terms of insecurity and the government's handling of the situation thus far, it is hard for one to disagree with BulamaBukarti's assertion that, "the Buhari government is incompetent, inept and careless", and the Northern Elders' Forum (NEF) that "his leadership has proved spectacularly incapable of providing security over Nigerians.
"Our predicament today especially in the northwest region of our country and particularly in Kaduna state is akin to that of the two runaway disciples with high hope prior to 2015 that someone will rescue us from the grip of terrorists, bandits, kidnappers, armed robbers, cattle rustlers, marauding herders and such like.
"All we get are empty assurances and reassurances of security by our political leaders each time scores of Nigerians are killed, maimed and abducted as witnessed recently in the mass killings and abductions in Agunu, Kagoro, KoronTsohuwa area, attacks on Kaduna international airport, the Abuja-Kaduna bound train that led to the killing of eightpeople, injury of scores and the abduction of more than 150, the killings of our gallant soldiers and vigilantes in the notorious BirninGwari axis and most recently the Plateau, Benue and Taraba mass killings have left most Nigerians with little or no trust and confidence in those charged with the constitutional responsibility of securing their lives and property.
"To say the least, the seeming incompetence and the lack of political will to face the ever increasing insecurity head-on has left most Nigerians in a state of quandary to the extent that some members of the national assembly and other well respected individual Nigerians are publicly calling on the citizens to bear arms in order to defend themselves. Do we need any further signs of a failed state? Your guess is as good as mine".
Ex-Minister, Senator Emerge PDP Senatorial Candidates In Kwara
Former Minister of Sports, Malam Bolaji Abdullahi, has emerged the People's Democratic Party's (PDP) candidate for Kwara central senatorial district.
Abdullahi was elected through affirmation by delegates at the PDP's senatorial primary at Mariam Event Centre, Ilorin.
The national officer that conducted the primary, Hashim Jimoh, announced Abdullahi as the winner, having been returned unopposed.
Also a former Senator, Rafiu Ibrahim was elected as the PDP's candidate for Kwara south senatorial district.
Ibrahim also emerged through affirmation at the primary in Omu- Aran in Irepodun local government area of the state.
Chairman of PDP in Kwara south, Comrade Bisi Fakayode raised up Ibrahim's hand after his unanimous election.
Speaking with reporters after his emergence, Abdullahi thanked the PDP stakeholders and delegates for confirming him as Kwara central's candidate.
He also thanked journalists for their support, adding that :" I do not take your support and that of the PDP's stakeholders for granted.
Abdullahi assured the people of his constituency of quality representation at the Senate.
PDP Primary: Two Ondo Senators Fail To Secure Return Tickets
Two sitting senators from Ondo State, Ayo Akinyelure, and Nicholas Tofowomo, have lost their bid to return to the upper chamber of the National Assembly.
They lost in the primary of the Peoples Democratic Party, PDP, held on Monday in the state.
Akinyelure is representing Ondo Central Senatorial District while Tofowomo represents Ondo South Senatorial District.
In the primary held in Akure, the state capital, Akinyelure came second, polling 58 votes behind Mr Ifedayo Adedipe, SAN, who scored 82 votes.
On the other hand, Tofowomo scored 74 votes behind a former Deputy Governor of the state, Mr Agboola Ajayi, who polled 78 votes in the exercise that held in Okitipupa, in the Okitipupa Local Government Area of the state.
In the Ondo North Senatorial District, Mr Adetokunbo Modupe, defeated his opponent, Mr Foluso Adefemi, with 124 votes as against 93 votes.
Speaking with journalists after the election, Akinyelure attributed his loss to the influence of the former Governor Olusegun Mimiko, who did not support him.
Akinyelure said, "As a ranking Senator and with all I have done for them in Ondo Central Senatorial District, the three ad- hoc delegates that favour Olusegun Mimiko, they gave instructions for them to vote me out. I am happy about this but I know my God will never fail.
"I know what I am talking about. We have six local governments in the central, by the grace of God I am still a sitting Senator. The election was so transparent but I know that with the volume of what I have done for the Ondo Central Senatorial District, I did not expect to be paid this way. But I have a destiny that nobody can stop."
The winner of the Ondo Central primary, Adedipe, said it was the first time he would be contesting for elective office, calling all members of the party to support him to win the main election in 2023.
He said, "The exercise has been peaceful and very free. It is the PDP that has won and not Ifedayo. It is the party that conducts a free and fair election. My fellow aspirants should see this as a vote for all of us."
Rivers Dep Gov, Others Win Senatorial Tickets
Rivers State Deputy Governor, Mrs Ipallibo Harry Banigo, has won the Peoples Democratic Party (PDP) ticket for the Rivers West Senatorial District election.
Ipalibo, who hails from Degema Local Government Area, scored 264 votes to clinch the party's ticket for Rivers West.
The senatorial primaries, which held across the three senatorial districts, also produced Allwell Onyesoh as the candidate of the PDP for Rivers East.
Onyesoh, who hails from Etche Local Government Area, was said to have scored 270 votes to earn him the senatorial flag of the party.
The party also gave its ticket for the Rivers Southeast Senatorial District to a former House of Representatives member, incumbent senator Barinada Mpigi.
The state Publicity Secretary of PDP, Sydney Tambari Gbara, who described the exercise as peaceful, said consensus method was used in some areas to elect the candidates.