Rising Food Prices Fuelling Inflation In Nigeria, Others  – IMF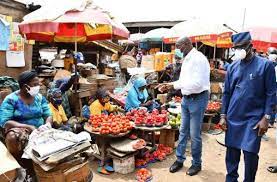 The International Monetary Fund (IMF) says rising food prices is the major factor fuelling inflation in Nigeria and other Sub-Saharan African countries.
IMF made this known in a blogpost on Monday, saying inflation is rising around the world, but because food accounts for about 40 per cent of the SSA's consumption basket, it plays a major determining role in inflation.
According to the body, "Food inflation increased throughout 2019, on average, across 25 countries in the region where monthly food price data are available.
"After remaining stable around seven to eight per cent (year over year) since the beginning of the pandemic, food inflation started to rise again from April this year to some 10 per cent in October. The chart shows how food inflation is outpacing and contributing to the pick-up in overall consumer price inflation in sub-Saharan Africa, which rose to about eight per cent in October, up from around five per cent in 2019".
The global body attributed the recent increase in food inflation to rising oil prices (which raise fertilizer prices and transportation costs), droughts and export restrictions imposed by some major food exporters, and stockpiling in some countries.
It said, "In addition, pandemic containment measures disrupted production and imports of seeds and fertilisers and caused labour shortages during planting seasons.
"Importantly, there is diversity across the region—food inflation in Chad is near zero but around 30 per cent in Angola. This suggests that domestic factors such as weather and exchange rates are important contributors to food inflation in sub-Saharan African countries".
IMF added that food inflation and consumer price index inflation could moderate if commodity prices eased and pandemic-induced global supply chain disruptions were solved.
The international fund body said on the average, inflation would continue to rise in 2021 before dropping in 2022 depending on commodity prices and the resolution of supply-demand mismatches.
It said higher food inflation would worsen the situation for countries already facing food insecurity and shortages, and largely impact poor households.
"The number of undernourished persons in the region is projected to have increased by 20 per cent in 2020, encompassing 264 million people.
"Fighting food insecurity through targeted social assistance and insurance can help populations cope. Avoiding trade barriers and improving access to finance, seed stocks, insecticide, fertilizer, anti-erosion measures, and irrigation are also important", IMF said.
Crude Hits Seven-Year High On Recovery Hope … Equity Rally Runs Out
Crude oil hit a more than seven-year high yesterday on optimism that the global recovery will ramp up demand.
However, concerns about the end of long-running central bank support and rising Treasury yields saw most equity markets reverse early gains.
After an almost uninterrupted rally from the early days of the COVID-19 pandemic, world markets are showing signs of levelling out as global finance chiefs shift from economy-boosting largesse to measures aimed at reining in inflation.
Still, there is an expectation that equities will enjoy further gains this year as countries reopen and people grow more confident about travel, especially as studies suggest the more prevalent Omicron coronavirus variant appears to be milder and as vaccines are rolled out.
Analysts are also watching the corporate earnings season that is underway, with hopes that firms can match their stellar performances last year.
But while Asian markets started the day brightly after Monday's travails, traders returned to selling, with US Treasury yields surging on expectations the Federal Reserve will have to unveil several interest rate hikes to tackle a worrying spike in inflation. Wall Street was closed Monday.
Tokyo, Hong Kong, Sydney, Seoul, Singapore, Taipei, Mumbai, Bangkok and Jakarta all fell.
There were gains in Shanghai in hopes of fresh economy-boosting measures, while Wellington and Manila also edged up.
London, Paris and Frankfurt all fell at the open.
But oil built on its early promise, with Brent climbing to $88.13 a barrel and WTI hitting $85.74, both levels not seen since October 2014.
The gains came thanks to demand optimism as the world reopens and concerns about Omicron ease. The loosening of travel restrictions in several countries has seen jet fuel costs soar.
Hopes for more monetary easing by major consumer, China, to reinforce its stuttering economy were also seen as key support for the oil market.
NPA, MWUN, Others Synergise On Labour
President General of Maritime Workers Union of Nigeria (MWUN), Comrade Adewale Adeyanju, has reaffirmed commitment to ensuring smooth working relationship with  management, Tin Can Island Port Complex (TCIPC) of the Nigerian Ports Authority (NPA) on labour related issues.
Adeyanju, who made the commitment during a working visit to the Port Manager, TCIPC, Mr. Buba Jubril, in Lagos, noted that the union will continue to promote industrial peace and harmony in the  operational activities at seaports.
Noting that synergy among all the maritime stakeholders was key for port efficiency, he hinted that the union has changed the narrative from being tagged as hooligans to a more responsible and civil Institution in the maritime industry.
Earlier, the Port Manager, TCIPC, Buba Jubril, thanked the  PG of MWUN for the systematic approach on labour related issues at the port level
Disclosing that the PG has been instrumental to the existing peace in port operations, Jubril assured on the existing synergy the port authority and all the unions.
Jubril further said that " Myself and the President General MWUN has come a long in the industry.
"I have known him (PG) for over 33years and that will tell you that he is my friend and friend to management of the Nigeria port authority", he said.
Osinbajo Wants More Stakeholders' Involvement In Blue Economy … Inaugurates Committee
Vice President Yemi Osinbajo has sought for wider participation of relevant stakeholders in the blue economy project to deepen participation and benefits of Nigerians from the country's marine resources.
Making the call at the  inaugural meeting of an Expanded Committee on Sustainable Blue Economy in Nigeria at the Presidential Villa yesterday, the Vice President said "a viable blue economy project will offer vista of opportunities not only for littoral states where there are bodies of waters, but for the entire country".
He identified areas to be exploited to include ports, terminals, fishing, training, environment, tourism, power,oil and gas.
While identifying possible challenges of sustainability, the VP urged all the ministries, departments and agencies to strengthen their collaborations in an atmosphere of inter ministerial working groups and advised all members to attend the meetings faithfully for maximum results.
Osinbajo , who formally inaugurated the expanded committee, identified the need for a legal framework that will be more robust than other international maritime conventions on blue economy, which Nigeria has been signatory to.
He said the scope and participation of the committee will be further improved upon to accommodate more members from government agencies and relevant private sector stakeholders
"There is no doubt that the blue economy is a new frontier for economic development and a means of diversifying the economy through the use of resources from oceans, seas, rivers and lakes for the well being of the people.
"It also provides positive contribution to the achievement of the Sustainable Development Goals(SDGs) 2052 Africa Integrated Maritime Strategy (2052AIM) and the UN 2030 agenda
"This concept for economic diversification is promoted by the international community and provides friendly means of livelihood in line with this administration's agenda on job creation', he said.
He continued that "the ocean economy as an emerging economic frontier applies to ocean-based industry activities and the assets, goods and services of marine ecosystems.
"Countries have to define the scope of their blue economy based on their priorities. For example, in Bangladesh, the ocean economy consists of the following broad and growing economic sectors; living resources, minerals, energy, transport, trade, tourism and recreation, carbon sequestration and coastal protection.
"These industries and ecosystem services do not develop in isolation, but rather interact as an economic ecosystem", the VP said.
Earlier in his remark,Transportation Minister, Rotimi Amaechi said the blue economy is capable of improving government revenue, create employments and grow the gross domestic product of Nigeria.
Amaechi, who was represented by the Permanent Secretary of the ministry, Dr Magdalene Ajani, also expressed optimism in the benefits derivable from a well exploited marine environment
Speaking at the event,  Dr. Paul Adalikwu, Secretary General of Maritime Organisation of West and Central Africa (MOWCA) lauded the initiative of the expansion while recommending inclusion of financial institutions such as the Central Bank of Nigeria (CBN) and African Development Bank (AfDB), as well as key financial institutions that will contribute meaningfully to realizing Nigeria's Blue Economy objective.
In addition to  maritime agencies such as the Nigeria Ports Authority, Nigerian Maritime Administration and Safety Agency, and Maritime Academy of Nigeria, the expanded committee also include ten state governors.
They the Governors of Rivers, Lagos, Delta, Akwa Ibom, Borno, Ogun, Ondo, Cross River, Bayelsa and Edo States.
Other members are Ministers of Foreign Affairs, Power, Finance, Environment, Trade and Investment, Agriculture and Water Resources , Chief of Naval Staff, Comptroller General of Customs, Lake Chad Basin Commission, Nigeria Economic Summit Group, etc.
By: Nkpemenyie Mcdominic, Lagos