No Agreement On Severance Package With NFF – Rohr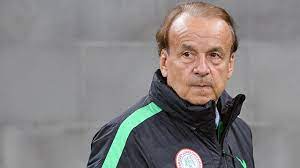 Super Eagles Coach, Gernot Rohr, has exclusively told newsmen that he is yet to agree on a severance package with the Nigerian Football Federation.
Several online platforms had reported that the Franco-German had agreed an N370 million severance package to step down as Eagles coach.
The reports also revealed that NFF and the sports ministry would meet this week to finalise details concerning Rohr's disengagement as well as the new man to lead the national team.
When asked, Rohr told Tidesports source that he had agreed a deal to leave his post as Eagles coach, the 68-year-old who had earlier told said that he was still in charge of the team but revealed the NFF wanted him to quit the team replied, "There is no agreement for the moment."
He also remains hopeful of leading the Eagles to the Africa Cup of Nations in Cameroon.
"Hopefully, we will be in charge to lead the team to the AFCON."
Nigeria have been drawn alongside Egypt, Guinea Bissau and Sudan in Group D.
The Eagles will face Egypt in their opening game on January 11 in Garoua before taking on Sudan four days later.
Rohr has come under heavy criticism following the Eagles' lacklustre 1-1 draw against Cape Verde in their final Group C World Cup qualifier in Lagos.
The three-time African champions, finished top of Group C with 13 points to qualify for the World Cup playoffs next March but there have been calls for Rohr's sack after another disappointing display by the Eagles, who have struggled against lesser opposition in recent times.
Rohr, who is currently being owed two months' salary by the NFF has one year left on his current deal.
He was appointed in 2016 and has recorded 28 wins, 13 draws and 13 defeats in the 54 games he has been in charge of the team.
Scholarships Up For Grabs For 10 Winners At MTN Champs
The grand finale of the MTN Champs will commence from today and end on Sunday at the Moshood Abiola National Stadium, Abuja where 10 winners will bag scholarship and financial benefits.
MTN CHAMPS is a program in Nigeria that aims to unearth and foster athletics talent across the country.
It is modeled after the Jamaican High school CHAMPS and is poised to become the primary platform for identifying and nurturing promising athletes who could go on to represent Nigeria in prestigious international competitions such as the Olympics and World Championships.
Before the finals in Abuja, the track and field event was held in three different regions namely: Uyo, Benin and Ibadan where over 7,000 athletes have competed and 42 finalists emerged.
Speaking at the MTN Champs Press Conference held on Wednesday in Abuja, the General Secretary of the Athletics Federation of Nigeria, Rita Mosindi appealed for the introduction of anti-doping lectures for the young athletes.
" I want to appeal for the introduction of anti-doping lectures for the kids to educate them on the side effects of taking dope substances.
"These are raw talents that we can manage and nurture them to stardom.
"My advice is to do seminars concerning this just as we have started doing as a federation to reduce doping cases in Nigeria."
Founder and CEO of Making of Champions (MoC), Bambo Akanni, who is the brain behind the MTN Champs revealed that 10 young athletes from the championship will get special scholarship in the USA and Jamaica.
"MTN Champs involving Secondary School Championship is to discover future Olympians for the country, building youth to excel in sports and academics. This is in line with MTN history of supporting local athletes for global aspirations.
NBPL Final Four: Winning Tournament Excites Rivers Hoopers Player
Rivers Hoopers of Port Harcourt player Effiong Abel has expressed joy for winning the just concluded Nigeria Basketball Premier (NBPL) League Final Four in Port Harcourt.
According to him, the game was not an easy one, adding that they were going through a hard training before the competition.
Effiong disclosed his excitement last Saturday in an exclusive interview with Tidesports shortly after Rivers Hoopers defeated Nigeria Customs basketball team 77-57 in the final game of the four of the NBPL in Port Harcourt.
He stated that it was a team work that saw them through, adding that he was very happy winning the tournament in the front of his fans.
" I feel very excited today for winning the Nigeria Basketball Premier League Final Four in Port Harcourt.
" It was not an easy one because of the type of training we were undergoing to ensure we get victory in the tournament.
"I give kudos to my teammates and the coaching crew, they were awesome.
" Also kudos to the fans, they came out in numbers to support us" Effiong said.
Effiong personally took charge at some point of the game delivering three pointers which eventually created a lee way for a sumptuous finale.
By: Kiadum Edookor
MOC Makes Appeal Over Age Cheats
Organisers of the ongoing school athletics competition, MTN Champs, Making of Champions (MoC), have appealed to all athletes who have participated in the three legs of the championship, as well as their schools, parents, coaches and everyone connected to them to support the body in its efforts to eradicate the systemic age cheating in Nigeria's athletics by committing to use their real ages at the Abuja grand final and in future.
"MTN has provided a historic opportunity for Nigeria to finally tackle the pressures that our athletes have long faced to cut their ages," MoC said in a statement made available to news men.
"Never in our nation's history has there been a nationwide series of championships that has provided three age groups cutting across ages 11 to 19, to give everyone possible opportunity to compete fairly in their own age groups, and we have even relaxed the junior age group from U-20 to U-23.
The grand finale will hold in Abuja from December 1 to 3.
The MoC statement added: "Despite the fact that appropriate age groups have been provided for everyone, we have seen widespread age discrepancies across all three age categories – Cadet (U-14) and Youth (U-17) categories, which are strictly for secondary schools only and juniors (U-20), which is open to all other teenagers.
"For example, we have seen a systematic pattern of an unusually high number of SS2 and SS3 students claiming to be 13 and 14 years old respectively. We have seen athletes who were 14 in 2021 claiming to still be 14 now, 18-year-olds who have finished secondary school already claiming to be 13 so that they can run against the cadets, and we have seen many athletes competing for schools they are not part of and in the wrong age categories as well.
"One of such schools, which was biggest offender in this area, is currently in the process of being disqualified, which will be announced shortly."