NITDA, NEPC Partner On $4.7tn Digital Service Exportation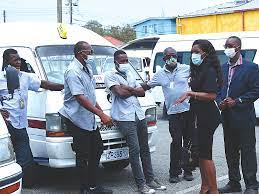 The National Information Technology Development Agency (NITDA) and Nigerian Export Promotion Council (NEPC) have forged an alliance that could enable Nigeria to benefit from the yearly $4.7 trillion exportation of digital service.
This alliance was in line with the Digital Innovation and Entrepreneurship Pillar of the NITDA's 2021-2024 Strategic Roadmap and Action Plan (SRAP) recently launched.
This was made known at a press briefing by the outgoing NEPC Executive Director, Mr Segun Awolowo, to commemorate the consolidation and partnership between the two organisations.
The NITDA Director-General, Mallam Kashifu Inuwa, who was represented at the event by the Acting Director, Corporate Planning and Strategy, Dr Aristotle Onumo, said that the partnership was aimed at facilitating the exportation of digital services.
He pointed out that more partnerships of such nature from the public and private sectors would bring out synergy, exchange of ideas and knowledge sharing among them.
Inuwaemphasised that the digital innovation and entrepreneurship pillar of SRAP would enable  NITDA to collaborate with relevant stakeholders in the exportation of indigenous services.
"It would not have been so for NITDA to collaborate with sister agencies that have similar visions to drive the digital economy to its rightful place in Nigeria", he said.
Another respondent, whose name was given only as MrAwolowo, noted that the partnership has provided about N150 million support grants to innovation hubs across three geopolitical zones in the country.
"We are also providing support to drive advocacy to ensure that Nigerian Start-up Bill is passed by the end of the year", he added.
He said further that due to the level of inter-agency collaboration between NITDA and NEPC, they had been able to attend to all areas of services, from regulatory challenges to access to market and finance, skills gaps, and most importantly digital infrastructure.
Some of the achievements of the partnership include the Outsource Nigeria Initiative, financial interventions for six start-ups, support to three innovation hubs, setting up of skills acceleration centres and advocacy support for the Nigerian Start-up Bill.
Virtual Learning, Setback To Accommodation Investments –Report
Advent of the 6th Generation Network (6G) technology would hamper accommodation investments globally, especially the student accommodation, a report of new Estate Intel has indicated.
The report, titled, "The next frontiers of growth in African real estate, 6G, and alternative asset classes", noted that the advent of 6G by the end of this decade would spur more schools to migrate from physical classrooms to virtual learning, which would have adverse impact on student accommodation investments.
"If we look at student accommodation in developed countries, such as the United Kingdom, or the United States of America, we would see great developments in the last 30 years.
"But today, the world is different and tomorrow would even be far more different. With the advent of 6G by the end of this decade, holograms will become a reality.
"And, therefore, teaching mode will be very different from the one we know today, where we will move from a physical mode to a virtual mode. This will have an impact on student accommodation.
"We all know in key markets such as Nairobi, Lagos, Abidjan, Senegal, among others, there are growing numbers of students locally and regionally as these cities are hubs in their respective regions.
"But then, the question I have is what will be the future of student accommodation with education being done in the Metaverse", the report stated.
It further claimed that environment, social and governance, 6G, and alternative asset classes were the next growth frontier for commercial real estate globally, adding that Africanising the 6G agenda was very essential.
Speaking on office spaces in the future, the Estate Intel asserted that gone are the days when massive office spaces were needed, describing that this can be seen happening internationally, where remote work wiped US$450bn (the size of Nigeria's GDP)off office real estate.
"We in African cities should pre-empt so that we don't create an oversupply of offices. Again, it will be stress that the advent of 6G in a short while, will radically change the way we work", the report urges.
By: Corlins Walter
Firm Calls For Partnership With FG On Bridge In Real Estate 
A Nigerian Tech Firm, PX PropertyHub, has called for partnership with the Federal Government in order to showcase its efforts to bridge the gap in the real estate sector.
The General Manager, Operations/Legal of the company, Barr. Nonye Nwabueze, made the remark during the official unveiling of the firm's innovative online real estate platform in  Abuja, recently.
Nwabueze said there was a need for collaboration with the Federal Government to help Nigerians build long lasting wealth through Real Estate, leveraging on technology and experience.
"The Federal Ministry of Works and Housing is doing so much in this regard, trying to create several mortgage financing activities.
"We are calling for partnership to showcase what the Federal Government is equally doing in the sector to provide affordable housing for Nigerians and checkmate the activities of fraudsters in the sector", she said.
She noted that the new technological-driven option by PX PropertyHub stands out, saying that it was  a massive and fast-growing digital platform.
"The platform showcases available property to everyone resident in and anywhere in the world. It is a global platform and we are not stopping at this.
"We also have what we call 'PX Stay', where we equally showcase hotel owners, apartments, car rentals and others. Jt is actually a listing platform for anyone who wants to buy, sell or rent genuine properties," she said.
Chief Charles Ndudim, a beneficiary of the platform, said the issue of housing must be treated as a fundamental basic right of every citizen in the country.
He said the Federal Government and the corporate world must collaborate to deal with the issues and challenges in the real estate sector just as is being done in other climes.
"In other developing countries such as Nigeria, to deal with the issue of housing, we have to see it as a fundamental human basic right of every Nigerian.
"Every man under the sun needs a roof over his head, but there are economic implications and challenges in the sector as not everybody can afford it.
"However, what other developing countries have done is to find ways of creating intervention programmes for the poor people, especially in the rural areas", he said.
"So, government and the corporate world must come together and collaborate in such a way as what PX PropertyHub is doing to aggregate all these houses and make them visible to meet the needs of all Nigerians.
"I, therefore, encourage everyone to take advantage of this revolutionary platform that is making life easier like Amazon and the likes," he said.
Managing Director and Chief Executive Officer of the firm, Chuka Okafor, said he is a young entrepreneur who saw a gap in the real estate sector and decided to proffer solutions to the issues and challenges in the sector.
He stressed the need for investors to take advantage of the hassle-free and convenient platform to rent and purchase their house dreams.
Okafor said the platform can also connect holiday makers with preferred hotel and any tourist destination.
"PX PropertyHub is a modern Real Estate Platform, connecting buyers, sellers and owners with the industry's top professionals through technology that empowers you by making all things Real Estate simple, intelligent and seamless.
"We have built our Real Estate Hub to serve as a platform that streamlines the tedious process of selling, buying, renting, managing, and financing property", he said.
Delta Poly Invents Smart Campus, Solicits For Funds
Delta State Polytechnic, Ogwashi-Uku (DSPG), has developed a prototype of a "Smart Campus" expected to operate with technological systems, regulate movement and ensure digitisation.
The Rector of the institution, Prof. Emmanel Achuenu,  while elaborating on how the smart campus works, said the institution was technologically-driven with research results and development in Abuja during the week.
Using their campus as a case study, Achuenu said they deployed solar energy to power the model campus.
"We decided to deploy solar energy in increasing the provision of energy to a model campus like this. In our campus, we have a solar laboratory where students are supposed to be trained on how solar functions and the installation, but we have gone ahead to run an institution like this with solar generators", he said.
Achuenu added that they also tried to put a security system in place to monitor movement within the campus using smart Identity cards configured for each student and staff at the entry point of the institution.
"For you to be able to secure this system, every student and staff in the environment is supposed to have a smart ID card we configured according to the need.
"To enter the gate, all you need to do is swipe your card in the smart system provided there and you gain access", he said.
He, however, solicited funding from agencies of the government to support the institution to be able to move all their ideas and technologies beyond prototype.
"We are asking for any funding agency to come to our support so that we can mass produce the majority of what we have here. If we can have our automatic detectors in every environment, it will help check on our security challenges", he said.
The Tide's Source recalled that DSPG participated at the just-concluded Science, Technology and Innovation expo and had other products on display.
The other products included: Juice extractor, peanut coating machine, ice block making machine, automatic hand washing machine, ventilator and melon shelling machine.