African Ministers To Support, Track Nigeria's WASH Commitment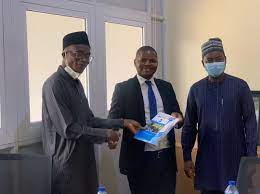 African Ministers' Council on Water (AMCOW), has pledged commitment to support Nigeria in actualising its Sanitation And Water For All (SWA) with a view to improving sanitation and hygiene by 2025.
AMCOW's Acting Executive Secretary, Mr Thomas Banda, said this while receiving members of the Society for Water and Sanitation (NEWSAN) in Abuja.
The Tide source reports that the Federal Government, through the Minister of Water Resources, Suleiman Adamu, had in 2019, pledged the creation of a $122 billion Water, Sanitation and Hygiene (WASH) fund to meet the country's target.
Banda urged member states to align its National sanitation policies in line with the sustainable development goals.
He said that the newly released African Sanitation Policy Guidelines (ASPG) was a continental guideline that prescribed the benchmark on what a sanitation policy should look like.
"We urge our member states to sit back and review their sanitation policies that are already in place, From our statistics, most of these sanitation policies that were reviewed were done during the MDGs.
"But now that we are talking about the SDGs, for us to achieve the SDG six on accelerated access to sanitation, we really need to make sure that these sanitation policies are very much focused on the SDGs and not the MDGs.
"We also noted that there are quite a lot of gaps in existing policies in the countries, a lot of countries do not have sanitation policy guidelines at all.
"So, we developed the continental ASPG to provide some guidelines to member states, so that they can come up with their own tailor-made sanitation policies," Bandan said.
He commended NEWSAN on its activities towards supporting the country in scaling up access to improved sanitation and hygiene and pledged to continue to advocate continentally.
He noted that AMCOW's mandate was continental and Nigeria's mandate was just one out of its 55 member states, saying the continental progress report done annually showed that Nigeria had some positive trends that showed it was moving in the right trajectory.
"We have heard about the Clean Nigeria campaign, it is a very good initiative and many other indicators that show that it is moving well, but just like any other member states, there are still some challenges.
"A lot of investment gaps, if we are to achieve our water and sanitation related goals in the SDGs, we still have a lot of things to achieve by closing the investment gaps.
"It has been quite a positive visit, ideas have been exchanged, AMCOW as a continental organisation can put in a voice to member states' aspirations domestically".
Mr Benson Attah, NEWSAN's National Coordinator, said the visit was an advocacy to support government's effort and track commitments made to the Sanitation and Water for All in 2019 which it proposed the establishment of a WASH fund for the country.
40m Nigerians Engage In Fuelwood Collection, Charcoal Production -Report
Forty million Nigerians are engaged directly in fuelwood collection and charcoal production, says the report launched by the Food and Agriculture Organisation (FAO) of the United Nations.
This is contained in a report entitled; "2022 State of the World's Forests," released at the ongoing 15th World Forestry Congress (WFC) in Seoul, South Korea.
The report said that these engagements provided an estimated 530,000 full-time equivalent direct jobs for the citizens.
It said that an additional 200,000 people – mostly also full-time – provided transport services for retail and wholesale trade in the fuelwood and charcoal production in the country.
It said that large numbers of livelihoods in other sub-Saharan African countries also depended on the fuelwood and charcoal economies.
The report, however, raised environmental concerns about the further use of wood biomass for bioenergy production associated with greenhouse gas emissions, soil-quality degradation and biodiversity loss.
In many developing countries, the transition to improved energy access and modern renewables may have implications for livelihoods.
"Therefore, there is a need for environmental, economic and social sustainability in bioenergy production, which can be assessed through a set of multicriteria indicators, and life-cycle assessment can be used to explore environmental performance.
"Although the full impact of wood fuel on climate change is disputed, there is little disagreement that benefits can be maximized by applying sustainable forest management practices and increasing the operational efficiencies of combined-heat-and-power plants and biorefineries," the FAO's report said.
Plastic Waste And Creative Art
In the search for a global solution to the problem of plastic waste pollution, an indigene of Rivers State, Dr. Benjamin Ejiohuo, says recycling of plastic waste to produce art work remains the solution.
Plasticwaste has become a source of concern to environmentalists, governments and scientists across the world.
Report by Wikipedia had it that plastic waste account for over 70 percent pollution both on land and sea.
According to the report, 52 trillion macro and 51  trillion micro plastic waste litter the ocean.
It says 79 percent of plastic waste is sent to land or the ocean, nine percent is recycled, and 12 percent incinerated.
This report shows a dismal performance in plastic recycling globally.
Now coming back home, the situation is even worse.
Plastic waste litters everywhere.
In the streets, there are millions of plastic waste and some are later washed into drains and gutters by rains.
The result is the death of fishes and other marine organisms. On land, plastic waste pollute underground water thereby constituting dangers to man.
Both macro and micro organisms are also attacked in the soil leading to reduction of nutrients for crops.
But as effort towards finding a global solution intensifies, Dr Ejiohuo who is an artist, says plastic waste can be recycled to produce art work.
Ejiohuo hails from Run dele, Emohua Local Government Area of Rivers State.
He is into creative work and for the past 20 years, he has been involved in the conversion of plastic waste and wood to art work for societal usage.
He told The Tide in an interview the most efficient way to curb plastic pollution is to recycle them.
Ejiohuo said plastic waste recycling can solve many problems facing the society.
He listed some of the problems to include pollution, job creation, skill impartation and others.
"It is a solution to pollution.What I  am doing is giving life back to waste," he said.
Explaining how he does it, he said, ' 'we bring dead wood and plastic waste together, refined them to produce art work.
"This is another medium of waste recycling".
Ejiohuo said since plastic takes hundred years to decay,it has become imperative that the system be encouraged especially in this part of the world.
He said mass enlightenment and industries need to be built while people like him need to be encouraged to impart the knowledge to the youth.
"Government is just not concerned about most of the important things.
"The government should empower me to teach this knowledge to the youths," he intened.
He added that government knows what to do but has refused to do it.
He boasted that if empowered, even those who throw plastic away will benefit as they will be made to sell them for recycling.
"It will have multiplier effect on the society.
''First, it will reduce pollution, second it will impart skills and knowledge to the youth and lastly it will be a source of income for millions of households.''
He also decried low patronage of art work in Rivers State, saying that the situation has driven most of his colleagues to Lagos and Abuja.
Conclusionvely, it has become imperative for government to look into this sector to curb unemployment.
"Private sector is also invited to invest in plastic recycling with a view to creating jobs for the youth," he said.
By: John Bibor
Stakeholders Call For Mass Tree Planting Campaign
Some stakeholders in the environment sector have called for mass tree planting campaign with a view to combating the ravaging effect of soot on the environment.
This was contained in a resolution at the end of the air quality monitoring training programme in Port Harcourt.
The programme was organised by the  Rivers Network of NGOs (RINNGOs) and the Centre for Development Support Initiative (CEDSI) under the Climate Action for Sustainable Environmental Protection (CASE) and sponsored by the British Council, the European Union and the Agents for Citizens Transformation.
The stakeholders also urged the various local government councils to install trackers in their various councils to monitor air quality in cities and major towns in Rivers State while government at all levels should provide a recycling plant to manage waste instead of burning them.
They also called for an assent to the Soot Bill recently signed by the Rivers State House of Assembly to effectively fight the soot menace.
The stakeholders called for massive youth advocacy to protect the environment while the youth should see themselves as agents to propagate clean air quality.
The resolution also commended the state Governor, ChiefNyesom Wike for the campaign to end the soot in the state,and called for the effort to be sustained in the state.
The stakeholders also commended the state for being the first in the country to domesticate the Climate Change Act in the country and called for environmental clubs in schools in the state.
Speaking with newsmen, the State Coordinator of  RINNGOs Dr.(Mrs) Mina Ogbanga said clean and quality air is the right of the citizens, adding that government should make effort to ensure the citizens get access to quality air.
By: John Bibor & Oribim Ibama