Udi Wants Ex-S'Eagles To Coach NPFL Teams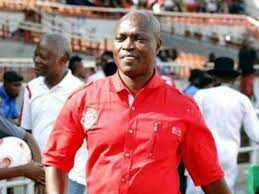 Former Super Eagles star, Duke Udi has advised ex-internationals to take coaching role in Nigeria Professional Football League, instead of waiting for Super Eagles job.
The former Shooting Stars and Grasshopper of Switzerland midfielder made the disclosure while speaking with Tidesports source on Friday.
He said some ex-internationals intend to coach the Super Eagles without coaching pedigree and advised them to prove their worth at a club level.
Udi said: They think they are good enough to replace Gernot Rohr, because they were fantastic in their playing days, but where is the coaching experience and pedigree?,
"Some of them said, they are coaching teams in Europe, but it's a lie. If you check, they are only coaching U10 or U13, where they just pay €700 or €1000 to help Black men."
"Check their CV, none of us worked as head coach in Europe, apart from Oliseh who managed in Dutch second division. So how are they qualified to coach the Super Eagles?" he told Tidesports source. 
The former Giwa FC Head coach added that, he turned down the opportunity to manage Nigeria's U17, because he wasn't ready for the position at the time and wanted to focus on his development.
"I was offered the opportunity to coach the Golden Eaglets when I arrived from United States of America and was doing well with Giwa FC, but I told them to let be, because I wasn't ready and wanted to focus on the job at hand," he said.
He concluded that, former Super Eagles players should start applying for coaching job in the Nigeria Professional Football League, in order to gather more experience.
Rivers FA Cup: 15 Clubs To Battle For Glory
A total of 15 clubs  are participating in this year's Aiteo Cup Competition in Rivers State, despite the fact that two clubs are to represent the state at the national level, as Rivers Angels do not have an opponent in the female category.
This year the number of registered clubs was far below the previous year's, where the number of registered Clubs got up to 30 or more. This may not be unconnected with the short time given for registration by Nigeria Football Federation (NFF).
Earlier, the Acting Chairman of Rivers State Football Association (RSFA), Ibigoni Benjamin Akobo, has called for  the readjustment of the time table.
According to him, the deadlines given to State FAs to register clubs, preparation of licences,  commencement of the  competition and conclusion were really short and tasking.
" For them to have waited from January, for only last week to make a statement and send timetable for the competition was a near failure.
We are not expected to commence registration without given a go ahead" Akubo said.
He equally said that this was exactly what happened last year and finally came up to say that states should submit one team each.
" Last year too, they came up with this delay manner and ended up saying that states should produce one team each" he stated.
By: Tonye Orabere
Edo Set To Host NWFL Super Six
All  is now set for Edo State to host the best of the Nigeria's Women Football League, the Super Six Tournament, billed for Monday, May 16 to Sunday, May 22,  2022.
Six giants in the fast developing women league will battle for the sole ticket to represent Nigeria at the regional second edition of the CAF Women Champions League .
The six participating  teams  are host state team, Edo Queens , defending champion, Rivers Angels, Bayelsa Queens, new comers, Naija Ratels, Nasarawa Amazons and runners up in the first edition,  Delta Queens .
The teams qualified from two groups, based on their placement in each group in the regular season.
While Nasarawa Amazons, Edo Queens and Naija Ratels emerged the three best teams from their group, Bayelsa Queens, Rivers Angels and Delta Queens, outwitted other teams to pick the three available tickets from their group .
Edo Queens, who narrowly lost the top spot by a point to Nasarawa Amazons at the conclusion of the 2021/2022 regular season is poised to clinch the top prize going by  preparations , motivation by the state government and support by the home fans in Benin.
The Samuel Ogbemudia Stadium and the University of Benin Sports Complex are the two venues with three matches  scheduled daily .
Two games will be played simultaneously  by 10am and 4pm respectively.
The hosting of the Nigeria Women Football League  Super 6 is a pointer to the fact that Edo State is a sports hub and preferred destination for stakeholders as well as investors in the sports industry, with state of the art facilities .
No wonder , the state successively hosted   the Aiteo Cup for male and female categories, the Betsy Obaseki pre-season women football  tournament , the 20th National Sports Festival and now set to host the 2nd edition of the Super 6.
Eguma Blames Players Over 2-0 Loss Against Heartland
The Technical Manager of Rivers United Football Club of Port Harcourt, Stanley Eguma has blamed his players for the defeat of the team by Heartland Football Club of Enugu. Heartland had defeated Rivers United 2-0 at the weekend, in match day 28 of the ongoing Nigeria Football Professional League (NFPL).
"We would have gotten two goals before the end of  first half but my players could not convert their chances,  but  Heartland made use of theirs," Eguma said.
He further attributed the loss to the poor state of the pitch, saying that his players could not pass the ball effectively due to the poor nature of the pitch.
Eguma said this in a post match interview with sports writers. However, he stressed that the technical crew will go back and work on the grey areas.
" I commend Heartland, they won two zero, that is football, you don't take chances," he stated.
In his response, the chief coach of Heartland, Erasmus Onuh said the team will continue to improve in every match.
" As I came, one of things I requested was to relocate the team from Orlu and the result has started coming.
I  am under pressure but later I will explain that," Onuh said.
By: Tonye Orabere