New Movie, '69' Disrupts Yoruba Movie Scene
It is almost unheard of to have a Yoruba movie rated '18' and above. Yoruba films are mostly conservative and basically conventional, but the duo of budding actress, Shola Subair and veteran actor, Victor Ibrahim Chatta, are tilting the balance in a new flick, set for release from next week titled '69'.
    The producer of the movie Pretty Shola Shubair, has been busy on her Instagram page, posting clips from the movie. Most of the clips are so sexually explicit and very sensually daring that even Instagram had to take them down and threatened to shutdown her page. But the unrelenting actress has opened a backup page just in case Instagram follows up with their  threat. Interestingly, the new page garnered over 600 followers in an hour.
    The movie is about a young pretty lady, who happens to be every guys dream, but she is hard to get because she has everything at her beck and call. She believes nothing in this world can entice her until good sex came calling and her heart was a mess. She reveals.
      On why the film is rated 18, she said, "it has raw content not suitable for anyone under 18. It is titled 69 because life is 69, whatever goes around comes around, if you turn 69 upside down, it give you the same thing", she said of the title.
      Shola Subair is not exactly a rooky producer, she has five other films apart from 69, namely: Fatima, Same Girl, Osumefa, Igbeyin and Apeke Ojurepepe to her credit.
The film stars other actors like Tope Adebayo, Peter Ijagbemi, Akin Olaiya and many others.
NGA PH To Hold Synposium, Arts Exhibition Against Female Victimization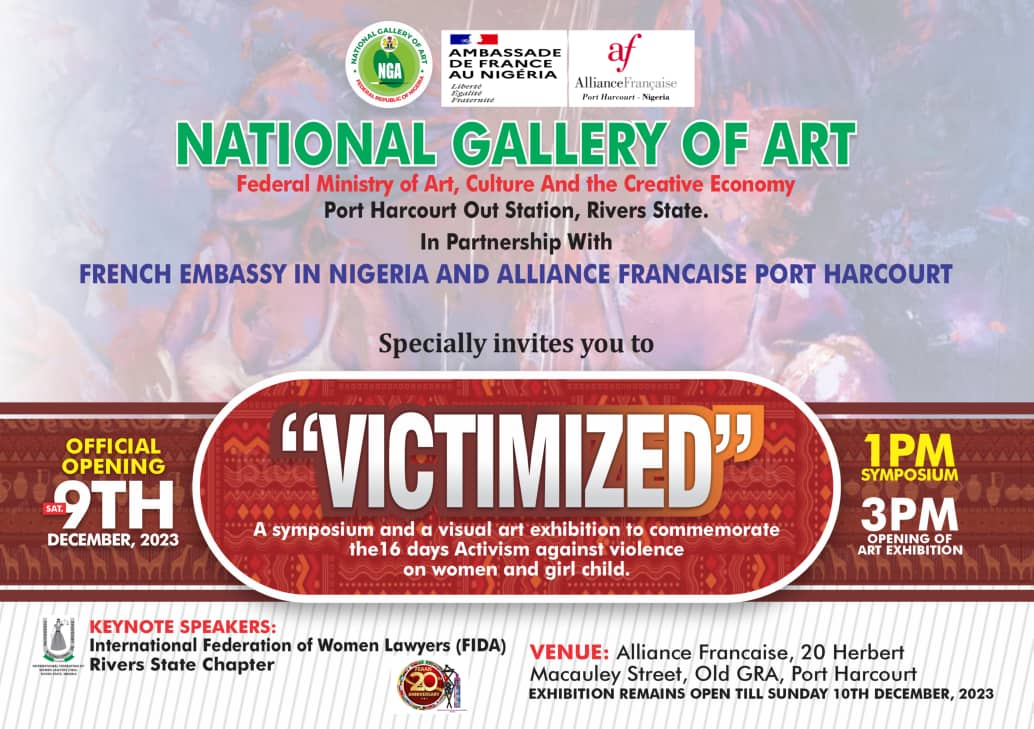 National Gallery of Arts, ( NGA) Port Harcourt, Rivers State in partnership with French Embassy in Nigeria and Alliance Francasie in Port Harcourt says arrangement have been concluded to organise a two day synposium and Visual Arts Exhibition.
The event with the theme " Victimized" is expected to exhibit art works to preach against woman and the girl child victimization both at home, office etc equally a synposium that will speak on ways to eradicate female violence. The topic is expected to be delivered by International Federation of Women Lawyers ( FIDA) Rivers State chapter.
Head of station/cuator National Gallery of Art, in Port Harcourt, Mrs Uwaoma Ideli Agudosi, said this yesterday while briefing newsmen in of respect of the forthcoming Arts Exhibition in Port Harcourt.
According to her, the event was scheduled to commence 9th through 10th December 2023, at Alliance Francasie building Herbert Marculay Street Old GRA in Port Harcourt and its the major aim was to bring incessant women violence and victimization to the bearest minimum in our society.
" Our focus was bring to bring incessant victimization experienced by women to the barest minimum in all ramifications. We are to let the society know that even though we are seen as weaker vessels, that doesn't mean we should be trampled on. We should have a voice and men cannot do without us.
" I want to say that we are doing it in line with the United Nations (UN) directive to set aside this season to say No to this monster in our society because we all know that women are mostly molested and victimized in festive season that is close" she said.
National Gallery of Art has been in existence for 30 years now, it was established as a parastatal by Decree No. 86, 1993, and the 2004 amendment act.
This was in fulfillment of the provision of the Nigerian cultural policy launched in 1988 in accordance with the recommendations of the committee of patrons of the world decade for cultural Development (WDCA) and currently having offices in 29 States and has its headquarters in Abuja.
" We have invited women , girls , men and boys mostly between the age of 15 to 45 to attend the event. We will use the visual art as a tool to speak out against this scourge in our society.
" I want say this medium is basically to promote peaceful coexistence among the male and female folks and advice men to stop violence against females" she added.
'Hello Mr Right 2023': Winner Expresses Gratitude To PMAN, Others
Winner of the second edition of the recently concluded reality TV Show, tagged "Hello Mr. Right', Danny Tee has expressed joy over the successful hosting of his home coming party by the Performing Musicians and Employers Association of Nigeria( PMAN).
Danny Tee, an artiste and member of the PMAN who disclosed this yesterday to The Tide Entertainment said that he was excited about the warm and loving reception party hosted to celebrate him by his colleagues and members of the PMAN.
According to him, it was heart-warming, and thanked the executives of the PHALGA Unit, the Rivers State chapter of the body and the "Big G Entertainment" who sponsored his participation in the show for their display of love and support, saying that he was humbled by the massive turn out and show of love towards him.
" I am humbled, l never expected it to be that much, but it happened and l deeply appreciate the show of love towards me", he said.
The event which was held at the Flashpoint Bar Lounge, Borikiri Port Harcourt Tiwnship saw members of the body turned out in Mass to celebrate with their own on his recent win as 'Mr. Right'.
The Secretary, Rivers State Chapter, PMAN, Hon Ezekiel Benibo who was also present at the event, said that the home coming party was put in place by the 'Big G' Entertainment, a record label under who's platform Danny Tee got the sponsorship to participate in the reality TV show and the PHALGA unit of PMAN.
It is the second edition of the show which saw Tee cart home a N5million cash prize ," he said.
By: Nancy Briggs
PHALGA PMAN To Host Entertainment Showcase
Performing Musicians Employers Association of Nigeria – PMAN, PHALGA Unit, says it has concluded, plans to organise a weekend's event tagged 'Entertainment Showcase in Port Harcourt City, Rivers State.
The activity is targeted towards creating an enabling environment for entertainers in the unit to improve their crafts in line with global standard.
The Public Relations Officer of the body, Christopher Sokari Briggs who is popularly called Don Christo the missioner, who revealed this to The Tide Entertainment yesterday said that the event is expected to hold every Friday.
According to him, the Chairman, PMAN PHALGA Unit, Vinning Simeon also known as V6 stated this at the monthly meeting of the unit held last month at Benhary Bar, Port Harcourt.
The chairman said he will get this done by commencing the Weekly Entertainment Showcase event which is aimed at seeing various performances from members of the units.
V6 further noted that a committee has already been inaugurated in charge of the Entertainment Club event which is expected to commence today.
He noted that the State Public Relations Officer of PMAN, King Isaac Albert, who was in attendance of the monthly meeting of PMAN, PHALGA Chapter, also known as Solo Blanky during the meeting urged the unit executives to work towards organising an entertainment summit aimed at educating members of the unit about the pros and cons of the entertainment business and to improve on their crafts.
Various ideas and contributions from members to chart a way forward for the new PMAN PHALGA executives were also entertained during the meeting.
The meeting recorded a good number of turnouts of Port Harcourt entertainers and its environs.
Meanwhile, the body recently held the Season 2 of its monthly event christened 'PHALGA Industry Night" in the Garden City.
The Tide Entertainment reports that the 'Entertainment Showcase' is an activity put together to build the entertainment industry at the unit level, as the event is an open one for all entertainers in the industry, ranging from artiste, DJs, dancers, poets to comedians coming together to socialise and improve their crafts.
The PHALGA Industry Night is a platform where the upcoming artistes in the unit are given the opportunity to showcase their God-given talents.
The event which also paves way for hospitality business owners in the area to build their businesses was a huge success, having recorded a massive turn out from entertainers and spectators
It would be recalled that the season 1 of the event ( PHALGA Industry Night) was held last month in Port Harcourt.
By: Nancy Briggs