Four Directors, 22 Others Seek Voluntary Retirement In NIMASA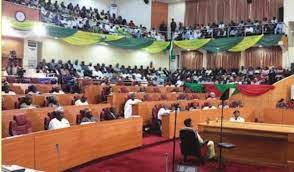 No fewer than four directors and 22 senior staff of the Nigerian Maritime Administration and Safety Agency (NIMASA) are seeking for voluntary retirements from the agency.
The voluntary retirement which is optional is also known as Golden handshake aimed at retiring earlier from the service before the due date.
The scheme, The Tide gathered, is part of the agency's condition of service for staff on grade levels 15 to 17 with less than five years in service.
"The practice of golden handshake is not new in NIMASA. It has happened twice during the tenure of the immediate past NIMASA Director General, Dakuku Peterside and during Patrick Akpobolokemi's tenure, where officers that have a particular number of years or less to exit service are advised that if they are interested in the voluntary retirement, they can indicate in writing and so many people wrote.
"Quite a number of senior staff also wrote recently. It is to allow for progression. If the top is weeded, it allows those under to grow," a source at the NIMASA said.
The Tide also gathered that scores of staff in NIMASA had indicated interest in voluntary retirement through letters.
It was learnt that any employee that opts for voluntary retirement gets 45 days salary for each completed year of service or monthly emoluments at the time of retirement, multiplied by the remaining months of service before his or her retirement date, including provident fund and gratuity.
By: Chinedu Wosu
CBN Partners NPA, Customs In Non-Oil Exports Challenge 
Towards improving Non-oil exports in Nigeria, the Central Bank of Nigeria (CBN) is partnering the Nigerian Ports Authority (NPA) and the Nigerian Customs Services (NCS) in tackling the  challenges in the sector.
The Bankers Committee, led by the CBN, NPA, and the NCS have resolved to form a working group to identify and implement measures to address constraints to non-oil exports.
This was the major highlight of the maiden edition of the biannual non-oil summit organised by the Bankers Committee in Lagos.
Among other things, the working group is to take measures to tackle logistics and documentation challenges in the non-oil export value chain.
The decision to set up the working group follows appeals by the CBN Governor, Godwin Emefiele, to NPA, Customs and other stakeholder groups in the export value chain to support the achievement of the Race-to-$200 billion (RT200) non-oil earnings programme of the apex bank.
"Achieving the $200 billion non-oil exports earnings requires partnership and support of all the government agencies and stakeholders.
"My hope is that this would be a problem-solving gathering. A summit that will guarantee that for every complaint, problem, issue, challenge or difficulty that is presented or identified, there will be one or several agencies or practitioners that can articulate options for solving that problem.
."I strongly believe that the ideas harnessed from this maiden summit would be invaluable in helping us reach our ultimate goal of $200 billion in non-oil exports over the medium term.
"I want to appeal to the Managing Director, Nigerian Ports Authority and the Nigeria Customs that we establish a working group comprising the Bankers Committee, NPA, the Nigeria Customs and maybe a shipping line to resolve two issues.
"We have heard of people who want to export their goods queuing for weeks or months before their goods can go out.
"We need those export proceeds badly. It is sad that because of the problem of finding an easier route for goods to be exported out of the country.
"Nigerian exporters prefer to transport by road or sometimes in barges from Lagos to Accra or Republic of Benin to export from there.
"Doing these, we lose the opportunity to earn export proceeds. Customs and NPA in the working group; we want you to look at the long run and the short run", Emefiele said.
NIMASA Receives Armoured Vehicles, Others To Boost Maritime Operations
The management of Nigerian Maritime Administration and Safety Agency (NIMASA) has taken delivery of additional mobile assets for enhanced maritime security under the deep blue project.
The agency received two unmanned aircraft system, nine interceptor patrol boats and 10 armoured vehicles added to the existing assets earlier procured by the federal government and commissioned by President Muhammadu Buhari in June 2021.
Director General, NIMASA, Dr. Bashir Jamoh, said the additional equipment will improve on the gains recorded in securing the Gulf of Guinea (GOG) and Nigerian maritime domain.
Jamoh, who described the recently held Gulf of Guinea Maritime Collaboration Forum (GOG-MCF/SHADE) in Abuja as a success in rallying international support in the suppression of maritime insecurity, said Nigeria's commitment in regional maritime security will be sustained.
He thanked President Buhari for his sustained support in the fight against sea piracy and other maritime crimes.
Jamoh recommended the Suppression of Piracy and other Maritime Offences (SPOMO) Act emplaced by Nigeria as a robust statute that supports maritime law enforcement, which other countries are considering to replicate.
"Nigeria is improving on her capacity to fight maritime crime by procuring state-of-the-art technology, upgrading human capacity for effective service delivery and deployment of the assets for round the clock patrol, interdiction and reconnaissance with the support of Nigerian Navy and other security agencies with which we signed MoU.
"Indeed we are further encouraged by President Muhammadu Buhari's support all the time to ensure adequate security of crew members, vessels and cargoes within and around our waters.
"These newly procured assets would assist us in building on the gains already recorded in the fight against piracy, sea robbery, oil theft, kidnapping, illegal fishing activities and others," Jamoh said.
The main objective of the deep blue project is to secure Nigerian waters up to the Gulf of Guinea.
The project has three categories of platforms to tackle maritime security on land, sea, and air.
The land assets include the Command, Control, Communication, Computer, and Intelligence Centre (C4i) for intelligence gathering and data collection; 16 armoured vehicles for coastal patrol; and 600 specially trained troops for interdiction, known as Maritime Security Unit.
Before the recently procured platforms, the deep blue project had sea assets including two Special Mission Vessels and 17 Fast Interceptor Boats.
While the air assets comprised of two Special Mission Aircraft for surveillance of the country's Exclusive Economic Zone (EEZ); three Special Mission Helicopters for search and rescue operations; and four Unmanned Aerial Vehicles amongst others.
Nigeria Imports 2.4m Metric Tonnes Of Frozen Fish Annually – FG
Federal Government says Nigeria imports about 2.4 million metric tonnes of frozen fish yearly.
This, the government lamented, is taking a toll on the country's foreign exchange reserves
Minister of Agriculture and Rural Development, Wastes Mahmood, stated this during the  Internal Coordination Meeting of Implementation of Fisheries Governance Project Phase 2 in Abuja,
Mahmood said Nigeria's annual fish demand was 3.6 million metric tonnes, but only 1.2MMT was produced domestically.
Represented by Director, Fisheries and Aquaculture, Federal Ministry of Agriculture and Rural Development, Ime Umoh, Manhood said, "Nigeria is a very large country and we need about 3.6MMT per annum but we are able to produce only 1.2MMT through the artisanal, industrial and aquaculture.
"The deficit is being supplemented by frozen fish importation, which is being used to bridge the gap.
"It is not actually that we are going to have 2.5 million metric tonnes brought into the country, but we have a situation that we supplement with frozen fish imports", he explained.
In the cost implications of this, he replied, "I will not be able to quantify the cost, but I know that it is a toll on our foreign exchange.
"However, it is being regulated by the Central Bank of Nigeria (CBN) because only the CBN Governor issues Form-M to anybody who wants to bring frozen fish into the country. So that monetary toll in terms of foreign exchange used in importing frozen fish is to be given by the CBN".
The minister also assured that the imported frozen fish was safe to be eaten.
"Before it is brought into the country we have to certify where it is coming from, what is the health status, how is it being stored and others.
"We inspect the cold rooms and we have inspectors in Lagos, Abuja and in other locations who inspect the fish to ensure that it is brought in very good condition", he stated.
He further stated that the federal government was supporting the local production of fish in various ways.
"We train those in the artisanal sector, provide them with inputs and sometimes we boost our rivers with fingerlings. In terms of aquaculture, we establish fish farm estates for youths and women. We also provide them  feeds", he said.