Diri Solicits S'Korea's Partnership On Agric, Infrastructure Dev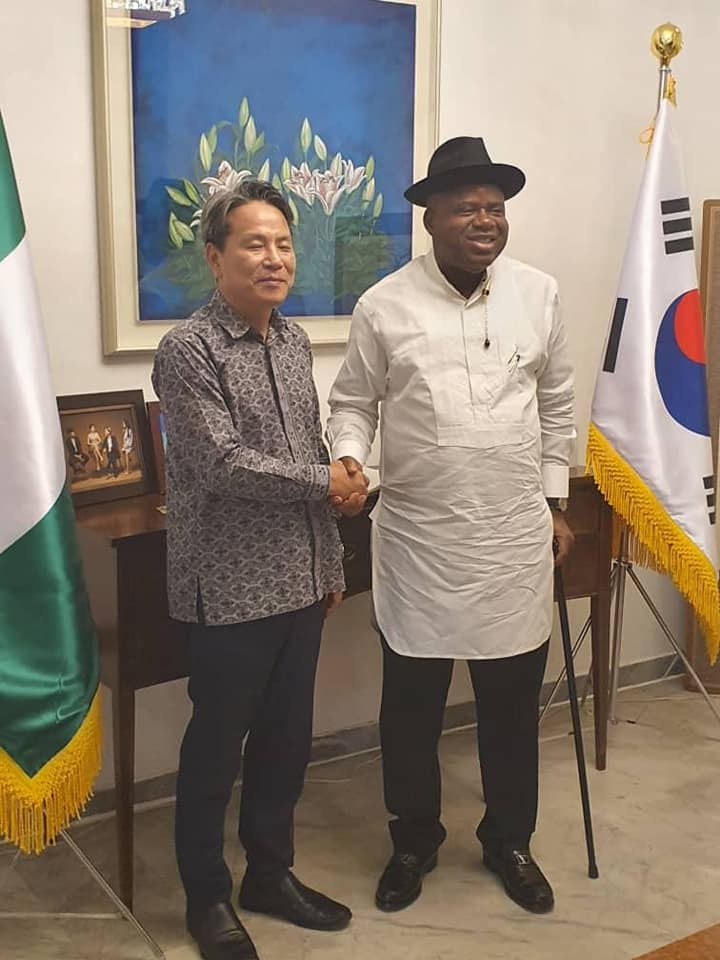 Bayelsa State Governor, Senator Douye Diri, has sought the partnership and support of South Korea in areas of agricultural, maritime and infrastructure development of the state.
At a meeting with the South Korean Ambassador to Nigeria, Kim Young-Chae, in Abuja, Governor Diri said given its maritime similarity with Bayelsa State, the state also needed the South Korean expertise and partnership in developing deep-sea fishing, aquaculture and rice cultivation.
His Chief Press Secretary, Mr. Daniel Alabrah, in a statement, quoted the governor as saying that the state was equally interested in partnership in education, science and technology as well as in oil and gas.
He said his administration pays serious attention to the issue of security as top priority and has conscientiously worked with the security agencies to make Bayelsa and its maritime domain safer than before.
"The purpose of this meeting is to explore areas of economic partnership and seek the expertise of South Korea in developing our state and its economy.
"Bayelsa has huge potential in agriculture and marine resources. We seek foreign investment in aquaculture and deep-sea fishing. Our terrain is good for aquaculture to thrive as well as rice cultivation and production with the large expanse of land already in Peremabiri and Sampou. We are trying to revive the culture of farming in our state. The government is interested in commercial farming as against the culture of subsistence farming that a lot of our people engage in", he said.
"The South Korean expertise is also required in the production of plastics, in science and technology and the oil and gas sector. Our administration is taking deliberate steps to open up the state. This can be done through massive road construction and development of infrastructure, including how to control the perennial flooding in our state. We seek your partnership and expertise too in this area", he added.
Governor Diri noted that such partnership would help in empowering youths of the state that would be given training in order to check youth restiveness and militancy.
By: Ariwera Ibibo-Howells, Yenagoa
Diri Assures Timely Completion Of Nembe-Brass Road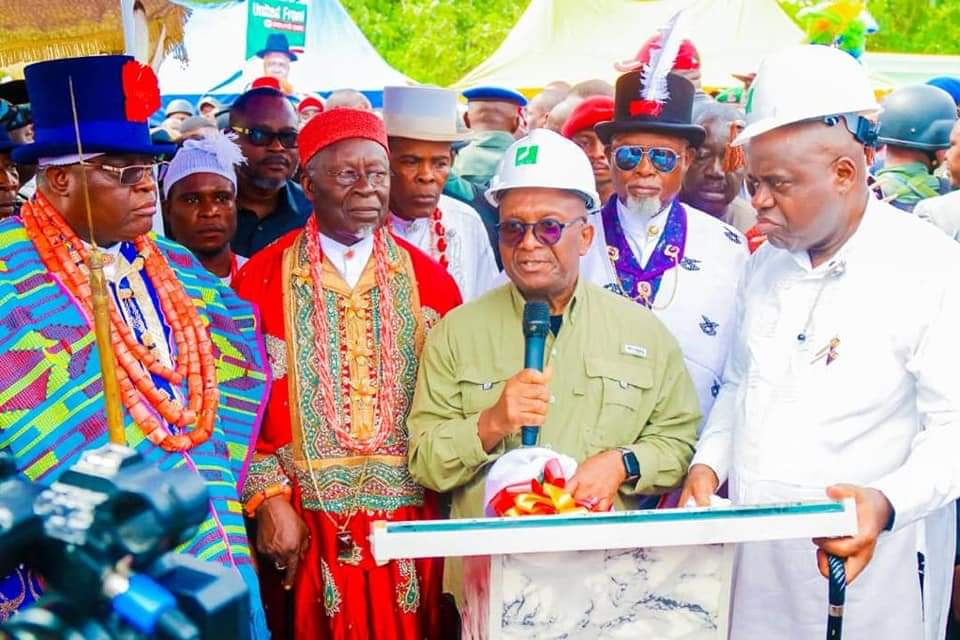 Bayelsa State Governor, Senator Douye Diri, has assured people of the state of his administration's irrevocable commitment to complete Phase One of the Nembe-Brass Road project before the end of his first term in office.
Governor Diri, who gave the assurance on Wednesday at the 79th State Executive Council meeting in Government House, Yenagoa, said his administration was poised to prove naysayers wrong with the timely completion of the multi-million naira project.
Represented by his deputy, Senator Lawrence Ewhrudjakpo, the Governor thanked Bayelsans, especially the chiefs and people of Nembe and Brass areas for turning up en masse to accord him and his entourage a rousing welcome at the flag-off ceremony last week.
He pointed out that the Nembe-Brass Road is very important not only to the people of the state but also the entire country because of the strategic national assets and resources domiciled in that part of the state.
Governor Diri remarked that when he said his administration would undertake construction of the Bayelsa East Senatorial Road project, many had thought it was just an empty political statement.
"We want to thank Bayelsans, particularly the people of Nembe and Brass, and of course the entire Bayelsa East Senatorial District, who turned up en masse to give the Governor and his entourage a rousing welcome.
"When we said we were going to undertake this project, people thought it was political. For the Prosperity Administration, we are committed to every talk we talk. We don't make empty promises.
"It is better to begin with a step to go in the right direction than not to take a step at all. We are convinced that before the twilight of the first tenure of this administration, that project will be completed. That is our target.'
Governor Diri, who pointed out that the main wealth of the state was in the sea, said government was determined to open up the state to the Atlantic Ocean from three flanks, noting that substantial progress were being made on the ongoing Bayelsa West and Central Senatorial Roads.
He diclosed that asphalt had been laid up to Ayamasa, and in a few weeks' time, Aleibiri in Ekeremor Local Government Area would be linked up to ensure smooth drive from Toru-Orua, where the present administration took up the project.
"As you are aware, our wealth is in the sea and our desire is to take us and ensure that we get to the Atlantic from the three flanks. We are making good progress on the Bayelsa West Road.
"As we speak, asphalt has been laid up to Ayamasa and beyond. In a couple of weeks, we should be able to link to Aleibiri and you will have smooth drive from Toru-Orua from where we resumed construction, up to Amanagbene where our asphalt is sitting and working hard to get to Ekeremor main town", he said.
"We are very sure that with the resources that are coming our way, we should be able to take the next phase that would take us from Ekeremor to Agge", he added.
The Bayelsa Chief Executive used the opportunity to commend and encourage the state male and female Basketball teams participating in this year's Nestle Millo National Basketball tournament for secondary schools holding in Lagos.
He expressed delight that both Saint Jude's Girls Secondary School and the Bishop Dimeari Grammar School (BDGS) teams have qualified for the finals and would definitely make the state proud again by coming up tops in their different categories.
Speaking on the protracted power outage in the state, Governor Diri said it was not the fault of the State Government, clarifying that the generation, distribution and transmission of electricity in Nigeria through the national grid was on the Exclusive List.
While empathizing with the people over the worrisome development, he appealed to them to show understanding and not to point accusing fingers at the state government, adding that his administration was closely with relevant Federal agencies to solve the problem.
Senator Diri also used the opportunity to remind the youths of Bayelsa to direct their energies to productive ventures, by investing their time in activities that would not link them to crime and criminality.
He advised them to take full advantage of the various opportunities that government has created for them, disclosing that no fewer than 150 youths were currently being trained in the second batch of beneficiaries of the Diri Digital Entrepreneurship Empowerment Programme (D-DEEP).
By: Ariwera Ibibo-Howells, Yenagoa
Police Kill Two Robbery Suspects, Recover Arms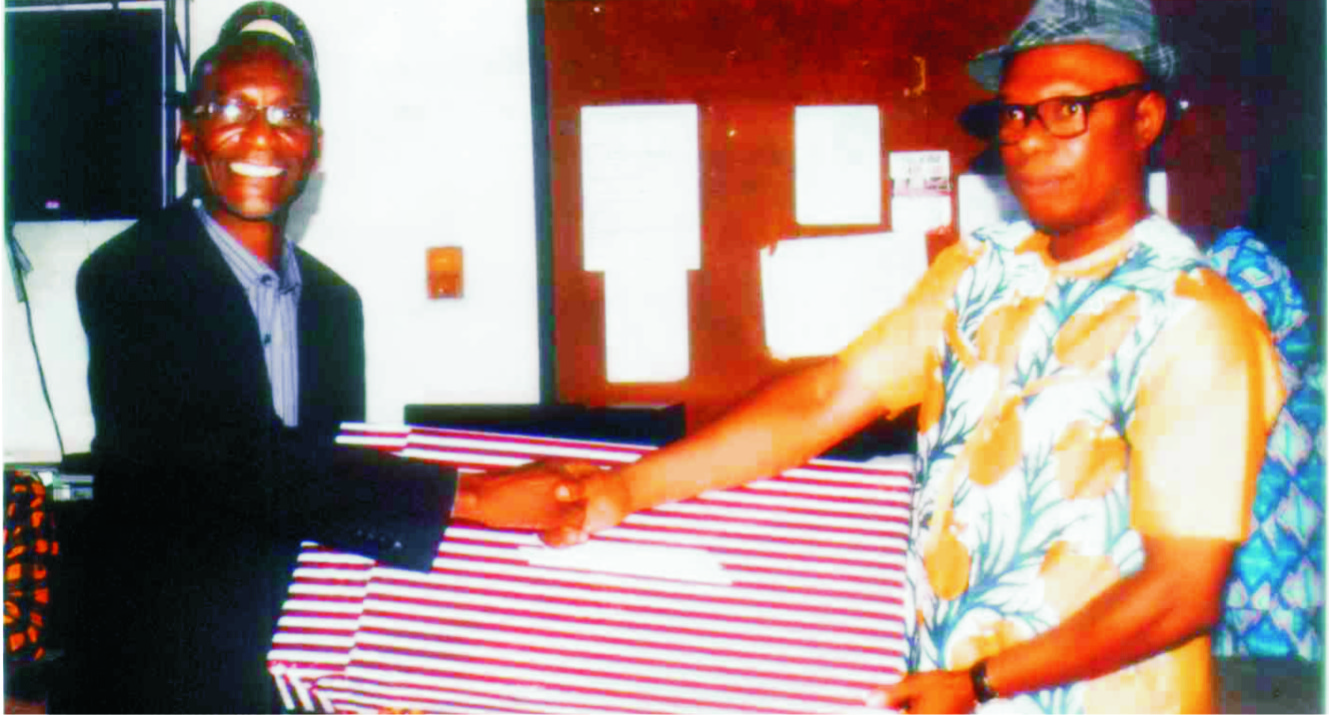 The Edo State Police Command says its personnel recently killed two suspected armed robbers and recovered weapons in Benin.
This is contained in a news bulletin released by the Command's Deputy Spokesperson, ASP Jennifer Iwegbu.
Iwegbu said the suspects were part of a gang of armed robbers that attacked Rubec Oil and Gas Station, located off Murtala Mohammed Way in Benin, in the early hours of Sunday.
"On receipt of the information, the Commander, Police Crack Team, immediately mobilised a team of police operatives and vigilantes to the scene.
"The armed robbers were later successfully trailed to a different location where they were carrying out another armed robbery operation.
"On sighting the team of security operatives, the armed robbers opened fire on them which led to a gun duel.
"In the process, the superior fire power of the security operatives hit two of the armed robbers while others escaped with various degrees of bullet injury.
"The two suspected armed robbers were taken to the Police Cottage Hospital in Benin city where they were confirmed dead by the doctor and their bodies deposited at the mortuary," she said.
The police spokesperson said one locally-made pistol and three live cartridges were recovered.
She said the Commissioner of Police in Edo, Mr Abutu Yaro, has directed that more efforts be made to arrest and prosecute the fleeing members of the robbery gang.
Reiterating his commitment to reduce criminal activities in the State, the Commissioner appealed to the public for timely information on the movement of criminals.
Navy Urges Youths To Embrace Education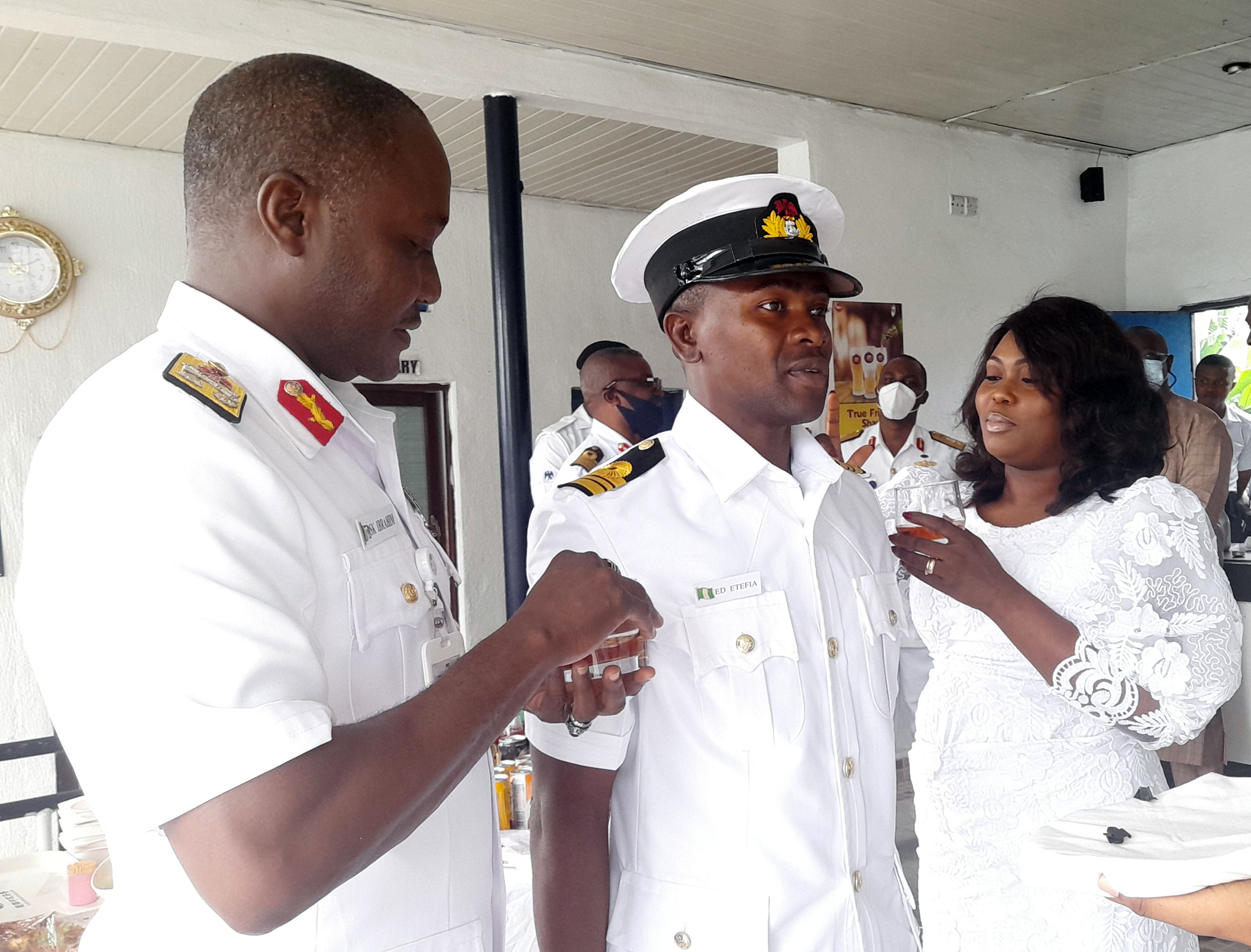 Chief of Administration, Naval Headquarters, Abuja, Rear Adm. Jason Gbasa, has urged young people to embrace education, as the sure way for better life, not the quick wealth syndrome in the society.
The Senior Naval Officer gave the advice on Sunday in Igbedi, Kolokuma/Opokuma Local Government Area of Bayelsa, during the funeral of his mother in-law, Mrs Margaret Pere.
Noting that quick money does not last, he charged youths to embrace education, saying that it is the sure and legitimate way to achieve greatness.
"The youth should not turn their backs on wise counsel, because it would never disappoint them", he said.
The naval Chief of Administration said youths must listen to counsel, either from the community or elders, because anyone that did not have it had missed the way.
Gbasa emphasized that while quick wealth would not last, it could destroy easily, and that one could not make it overnight, adding that it would only take a process of hard work to make one to be influential in the society.
On his late mother in-law, he said she meant a lot to him, as he described her as his Public Relations Officer.
"While I want to shy away from publicity, she will boast about her son-in-law. She always provides and supplies my kitchen with fresh palm produce, fufu, both in Lagos and Abuja.
"She was a prayer warrior, my intercessor, she always kneels and calls on God on my behalf for safety and prosperity.
"There was a personal relationship between me and the children; we will surely miss her, she was a special woman to all that came in contact with her.
"Another thing I admire about her is her honesty. She was very blunt in all she does, very straightforward.
"She was not diplomatic: when she sees a thing, she says it the way it is. If you get angry, that's your own, but the next day she comes and laughs again. But when she sees something wrong she still says it," he said.
Gbasa said she played a major role in his career, that her experience led to his success.
On her part, the first daughter and the wife of Chief of Administration Naval Headquarters, Mrs Ebinipre Gbasa, described her mother as a very straightforward person and caring mother to all around her.
She described her as a unifying factor to the whole family.