Adesanya Is The Best Middleweight Fighter – Usman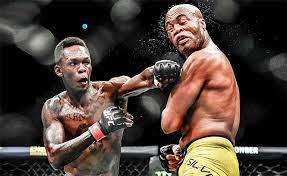 Kamaru Usman, has hailed Israel Adesanya as the best fighter in his division, after his latest victory.
Adesanya retained his middleweight title when he defeated Marvin Vettori in the main event of UFC 263 last Sunday.
It was Adesanya's first fight in the division after he failed to capture a second title in his bid to become light heavyweight champion.
Assessing Adesanya's dorminant performance against Marvin Vettori, Kamaru Usman who is known as Nigerian nightmare, said Adesanya is the best fighter in his category and wasn't surprised he won.
"Israel Adesanya is the best in his division, and I don't see anyone stopping him."
"I woke up to catch up with the fight, and Isreal was the better fighter in the entire division and I'm so proud of him" he told Lagos based radio, Beat 99.9 FM on Monday.
Usman is the UFC welterweight champion, he set a new record in the division after knocking out Jorge Masvidal to retain his welterweight title at April's UFC 261 event.
Kamaru Usman, known as the Nigerian Nightmare returned to Nigeria for the first time in 26 years and he received quite the memorable homecoming.
The UFC welterweight champion made his way back home for the first time since brutally knocking out Jorge Masvidal to retain his welterweight title at April's UFC 261 event.
Nigeria's Sports Journalists Amongst Best In World – Sports Minister
The Minister of Youth and Sports Development, Sunday Dare, at the weekend, felicitated with sports journalists across the country and beyond, as this year's International Sports Journalists Day was celebrated worldwide.
Dare, a journalist, said that the profession is a noble one reserved for hardworking personalities, who work round the clock, all year-round, to give sports the needed reportage.
"This day deserves to be celebrated, as I am a sports journalist myself, and I know the efforts and passion they put into their job daily.
"Today, I celebrate sports journalists, who have made immeasurable, sacrifice for sports across the globe, especially in Nigeria," he said.
He added, "in Nigeria, they rank very high among professionals, who put so much passion into their work, no matter what they face.
"You have not paid attention to the hazards of the job, but instead you have chosen to be partners in the development of sports. This, in itself, calls for celebration and I join in this celebration."
The 2022 event themed: "Securing a Sustainable and Peaceful Future For All," is being celebrated by sports journalists, media organisations and related industries across the world since 1994.
AITEO Cup: Coach Expresses Disappointment Over Change Of Venue
The Head coach of Police Crime Busters FC of Port Harcourt, ASP Douye Ghomorai, has expressed sadness over the change of venue for the final of this year's AITEO Cup from Sharks Football Stadium.
He explained that the orgnisers had not given any reason why they changed the venue to Adokiye Amiesimaka Stadium, saying that Sharks football Stadium has been the traditional host of the AITEO Cup finals.
ASP Ghomorsi said this in a telephone interview with Tidesports shortly after the Rivers State Football Association, (RSFA), announced the shift of venue to Adokiye Amiesimaka Stadium last week.
According to him, the shift of venue will adversely affect fans of his team, especially, in terms of transporting themselves to attend the match.
"We are not happy over the change of the venue because our fans may not be there to cheer their team to victory.
This is not fair with us because it is not going to be easy for our supporters and fans" ASP Ghomorai said.
He appealled to the leadership of the State FA to rescind their decision, noting that though football could be played on any pitch, the spectators should be considered first.
"We are going to play the game but I am appealing because we want a situation where we will have more people to watch the game"
The final match of this year's Rivers state AITEO Cup will take place on Wednesday at the Adokiye Amiesimaka stadium between Rivers United FC and Police Crime Busters FC by 3pm.
By: Kiadum Edookor
NPFL: Rivers United Receive Commendations Over Title Win
Rivers United FC of Port Harcourt have continued to receive commendations following their impressive performance this season and subsequent emergence as winners of the Nigeria Professional Football League (NPFL) this season with three matches left.
The latest came from Head coach of New Guner FC of Gokana Local Government Area, in Rivers State, Legbara Gentle, who said that it is a good thing that has happened to the State and football.
Gentle made the assertion in a telephone interview with Tidesports at the weekend.
According to him, if the Pride of Rivers State, as Rivers United are known, maintain their current form, they can win the CAF Champions League.
"If Rivers United FC can maintain their current form, they can even win the continental trophy next season.
As a coach I know it is not easy to win the NPFL title because competition is very high as every club wants to win the League" Gentle said.
He further commended the management team of the club led by Barrister Christopher Green and technical crew, for their efforts and commitment to achieve success.
By: Kiadum Edookor