Why Rivers Rules Nigeria's Entertainment Enclaves
It is no gain saying that Rivers state occupies an enviable position in Nigeria. Apart from being the hub of oil and gas activities in the country and the treasure base of the nation, the state is also the heart beat of the country's entertainment enclave.
      The historic exploits in music, movie, beauty pageants tourism, Arts and culture have attracted a humongous number of foreign and local investors, tourists and all classes of fun lovers to the state. The legendary hospitality, enviable security network, enabling environment and peaceful coexistence have turned the state to a save haven and home away from home for the numerous visitors.
MUSIC: In music, Rivers state boasts of a vibrast music industry that is globally acclaimed its artistes are putting out great music and for a longtime had quite a number of them pushed to national and even global acclaim. Recently Rivers state born award winning music super star, DaminiOgulu popularly known as Burna Boy made Nigeria and Africa proud by winning the highly coveted Global music Album award at the 61st edition of the Grammy awards held in Los Angeles, USA.
       Other Rivers State award winning stars making waves in Nigeria and beyond include Duncan Mighty, Frank D' Nero, Lexy M, Oba Omega, Ajebo Hustlers, Omah Lay, Mercy Chinwo, Mr. 2Kay, Wakonzy, Idahams, Dan Dizzy, Muma Gee, Dr. Barz, Soti (the malaria crooner), Sky B, Bukwild-Da Ikwerre man and Deinbofa Nana Okoto (aka Korkormikor) among others.
Movie: Rivers state is also known for producing leading actors and actresses in Nollywood whose achievements in the make belief industry have attracted global attention with various local and international awards to show for their exploits in the industry. Some of these stars are brand ambassador to multinational companies and organisations.
    Rivers state born beauty queen and organizer of the Miss Earth beauty contest Ibinabo Fiberesima was one time National president of the Actors Guild of Nigeria (AGN) under her watch, the umbrella body of actors and actress in Nigeria recorded unprecedented achievements and members enjoyed an open door policy and sense of belonging.
  Other A-List stars in Nollywood who are from Rivers state include: Sam Dede, Columbus Irosoanga, Gentle Jack, Walta Anga, Alaso Wariboko, Late J.T. Tom West and Tonto Dike, as well as Monalisa Chinda, Maurine Ihua and Ada Eme.
     These veterans have contributed in taking Nollywood to the next level of greatness and global recognition and have also generated revenue to the country amongst other achievements.
Comedy: The Rivers state entertainment landscape also includes the comedy clan. The state also parades veteran comedians who call the shots in the comedy industry in Nigeria. Among the humour merchants of Rivers state origin who have achieved legendary milestones through their hilarious joke are: Julius Agwu, Dan D' Humerus, Angel D' laugh, Prince Hezekiah the Rugged Pastor and a host of others.
TOURISM: This is another entertainment sector where Rivers state has recorded enviable history in terms of tourist attractions. Some of the historic site that abound in the state at second to non in the country. Some of the famous tourist attractions include the beaches such as Ifoko beach, Kono beach, Port Harcourt tourist beach and Finima beach etc.
      There are other tourist favourites, like the Port Harcourt Zoological Garden Port Harcourt, Port Harcourt pleasure park, World class hotels, cinema houses, amusement park and several other locations for relaxation and sight seeing.
Arts/Culture: Arts and culture play complimentary role to the tourism sector in the state as an entertainment outlet. The national museum in the state contains artifacts related to the various ethnic groups in the state including bronze, pottery, masks, historic household equipments, old currencies etc.
    The Rivers state cultural centre is a famous tourist attraction that serves to educate visitors on the rich cultural diversity of the state, there is a theatre, a stage and auditorium for live performance of cultural dance and plays which holds a huge attraction for tourists.
Nightlife: Nightlife Is Another area Rivers state stands out, Apart from Lagos, Rivers state is the state to beat in terms if quality, undiluted entertainment. Before the advent of covid 19 pandemic and Government restrictive policies, the state used to bubble from sdusk to dawn with wining, dining and dancing amid fun, glitz, glamour and razzmatazz.
  Though the covid 19 saga has whittled down the enthusiasm of fun seekers, night crawlers and clubbers, the entertainment industry still bounces ahead. Before now, in virtually all major street in the Garden City, you find drinking spots and other hangouts with Naija Jams blaring from giant speakers from 8:00pm and some time till dawn.
      It is difficult to tell which is a night club in this city because these drinking parlours and hangouts operate as night clubs even some restaurants and carwash do too. Girls of easy virtues in the state charge thrice the amount any of their colleagues in other states charge, because in Port Harcourt, girls are in class of their own.
    A typical night life in the garden city starts fun lovers and their partners start storming the cinemas, some of the popular ones are Silverbird cinema's, Genesis Deluxe cinema, film one at Port Harcourt shopping mall, Port Harcourt pleasure park cinema etc, from the movies houses to bars and eateries and eventually end up at the nightclubs to listen to Dee Jays (DJs) performing live and dishing out the latest club bangers.
    Most of these nightclubs are located at the GRA phase 2 axis of the city and other parts of the metropolis they include: MendianOgoyi place, Tombis a street, GRA Phase 2. Edizwinebar, Emeyal street, GRA phase 2, platinum, Hotel Presidential GRA phase 2 Casablanca nightclub and Karokee, GRA phase 2 others are the Grib, William Jumbo street, Liquid lounge and Bar, Onne Road, Morella, Amadi flats Lesuka, Peter Odili Road, The Hub, Odili Road Port Harcourt among others.
    Nightlife in the city has also brought brisk business to those in the fast food and suya business as most times guys and their babes rush out of the clubs to have quick meals. Taxi drivers are also not left out as they hang around these clubs and bars to take passengers home after a night full of fun.
By: Jacob Obinna
NGA PH To Hold Synposium, Arts Exhibition Against Female Victimization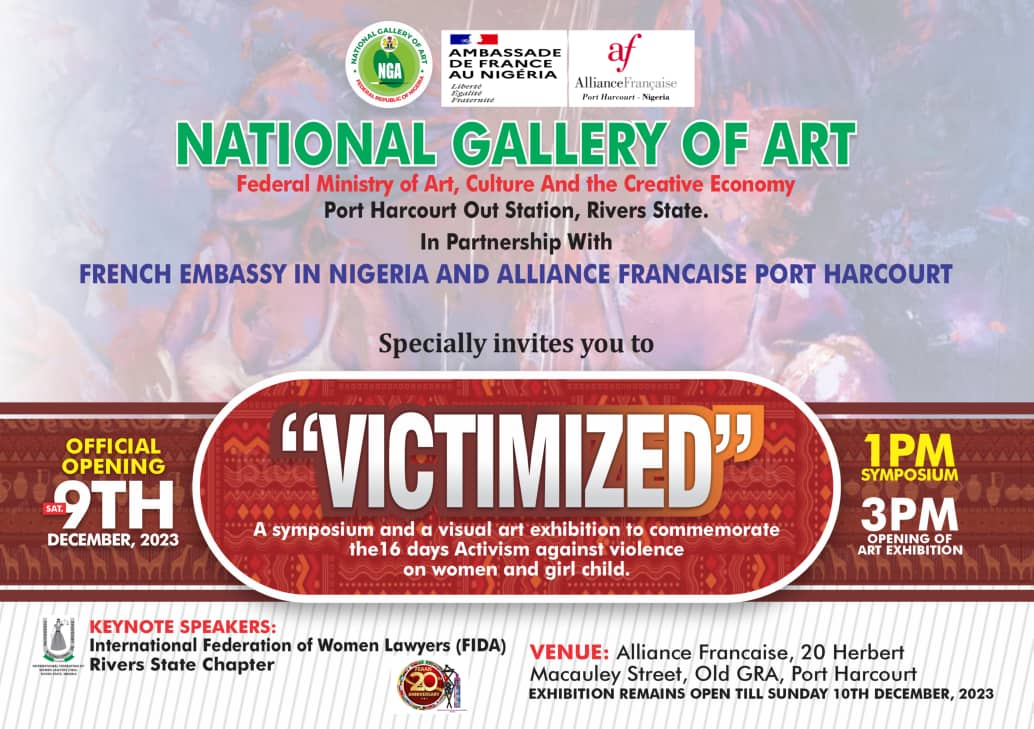 National Gallery of Arts, ( NGA) Port Harcourt, Rivers State in partnership with French Embassy in Nigeria and Alliance Francasie in Port Harcourt says arrangement have been concluded to organise a two day synposium and Visual Arts Exhibition.
The event with the theme " Victimized" is expected to exhibit art works to preach against woman and the girl child victimization both at home, office etc equally a synposium that will speak on ways to eradicate female violence. The topic is expected to be delivered by International Federation of Women Lawyers ( FIDA) Rivers State chapter.
Head of station/cuator National Gallery of Art, in Port Harcourt, Mrs Uwaoma Ideli Agudosi, said this yesterday while briefing newsmen in of respect of the forthcoming Arts Exhibition in Port Harcourt.
According to her, the event was scheduled to commence 9th through 10th December 2023, at Alliance Francasie building Herbert Marculay Street Old GRA in Port Harcourt and its the major aim was to bring incessant women violence and victimization to the bearest minimum in our society.
" Our focus was bring to bring incessant victimization experienced by women to the barest minimum in all ramifications. We are to let the society know that even though we are seen as weaker vessels, that doesn't mean we should be trampled on. We should have a voice and men cannot do without us.
" I want to say that we are doing it in line with the United Nations (UN) directive to set aside this season to say No to this monster in our society because we all know that women are mostly molested and victimized in festive season that is close" she said.
National Gallery of Art has been in existence for 30 years now, it was established as a parastatal by Decree No. 86, 1993, and the 2004 amendment act.
This was in fulfillment of the provision of the Nigerian cultural policy launched in 1988 in accordance with the recommendations of the committee of patrons of the world decade for cultural Development (WDCA) and currently having offices in 29 States and has its headquarters in Abuja.
" We have invited women , girls , men and boys mostly between the age of 15 to 45 to attend the event. We will use the visual art as a tool to speak out against this scourge in our society.
" I want say this medium is basically to promote peaceful coexistence among the male and female folks and advice men to stop violence against females" she added.
'Hello Mr Right 2023': Winner Expresses Gratitude To PMAN, Others
Winner of the second edition of the recently concluded reality TV Show, tagged "Hello Mr. Right', Danny Tee has expressed joy over the successful hosting of his home coming party by the Performing Musicians and Employers Association of Nigeria( PMAN).
Danny Tee, an artiste and member of the PMAN who disclosed this yesterday to The Tide Entertainment said that he was excited about the warm and loving reception party hosted to celebrate him by his colleagues and members of the PMAN.
According to him, it was heart-warming, and thanked the executives of the PHALGA Unit, the Rivers State chapter of the body and the "Big G Entertainment" who sponsored his participation in the show for their display of love and support, saying that he was humbled by the massive turn out and show of love towards him.
" I am humbled, l never expected it to be that much, but it happened and l deeply appreciate the show of love towards me", he said.
The event which was held at the Flashpoint Bar Lounge, Borikiri Port Harcourt Tiwnship saw members of the body turned out in Mass to celebrate with their own on his recent win as 'Mr. Right'.
The Secretary, Rivers State Chapter, PMAN, Hon Ezekiel Benibo who was also present at the event, said that the home coming party was put in place by the 'Big G' Entertainment, a record label under who's platform Danny Tee got the sponsorship to participate in the reality TV show and the PHALGA unit of PMAN.
It is the second edition of the show which saw Tee cart home a N5million cash prize ," he said.
By: Nancy Briggs
PHALGA PMAN To Host Entertainment Showcase
Performing Musicians Employers Association of Nigeria – PMAN, PHALGA Unit, says it has concluded, plans to organise a weekend's event tagged 'Entertainment Showcase in Port Harcourt City, Rivers State.
The activity is targeted towards creating an enabling environment for entertainers in the unit to improve their crafts in line with global standard.
The Public Relations Officer of the body, Christopher Sokari Briggs who is popularly called Don Christo the missioner, who revealed this to The Tide Entertainment yesterday said that the event is expected to hold every Friday.
According to him, the Chairman, PMAN PHALGA Unit, Vinning Simeon also known as V6 stated this at the monthly meeting of the unit held last month at Benhary Bar, Port Harcourt.
The chairman said he will get this done by commencing the Weekly Entertainment Showcase event which is aimed at seeing various performances from members of the units.
V6 further noted that a committee has already been inaugurated in charge of the Entertainment Club event which is expected to commence today.
He noted that the State Public Relations Officer of PMAN, King Isaac Albert, who was in attendance of the monthly meeting of PMAN, PHALGA Chapter, also known as Solo Blanky during the meeting urged the unit executives to work towards organising an entertainment summit aimed at educating members of the unit about the pros and cons of the entertainment business and to improve on their crafts.
Various ideas and contributions from members to chart a way forward for the new PMAN PHALGA executives were also entertained during the meeting.
The meeting recorded a good number of turnouts of Port Harcourt entertainers and its environs.
Meanwhile, the body recently held the Season 2 of its monthly event christened 'PHALGA Industry Night" in the Garden City.
The Tide Entertainment reports that the 'Entertainment Showcase' is an activity put together to build the entertainment industry at the unit level, as the event is an open one for all entertainers in the industry, ranging from artiste, DJs, dancers, poets to comedians coming together to socialise and improve their crafts.
The PHALGA Industry Night is a platform where the upcoming artistes in the unit are given the opportunity to showcase their God-given talents.
The event which also paves way for hospitality business owners in the area to build their businesses was a huge success, having recorded a massive turn out from entertainers and spectators
It would be recalled that the season 1 of the event ( PHALGA Industry Night) was held last month in Port Harcourt.
By: Nancy Briggs