Rivers United Has A Point To Prove – Austin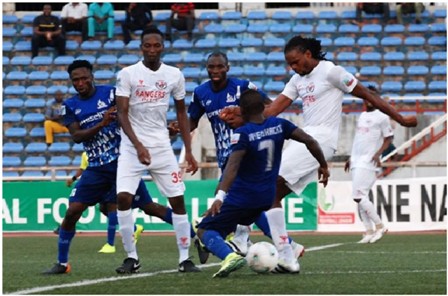 Stanley Eguma will have a squad of players ready to fight for their places as they prepare to begin their CAF Confederation's Cup campaign in about two weeks time.
With the acquisition of players like Theophilus Afelokhai, Ifeanyi Anaemena, Godwin Aguda and Destiny Ashadi, the landscape of the Rivers United squad is very different compared to their last time out on the continent.
Rivers United captain, Festus Austin, in a chat with the club's media team says the players know they must forget about their names, what they have all achieved in the past and play football.
"Rivers United this time is a strong side and what we need is just for us to forget our names and let's play football. Let's think of now and not what we have achieved in the past."
"Being with this set of players, we are going to go a long way if we work so hard. I will play my role to see how I push everybody to work positively for the team".
The club will travel to Equatorial Guinea to confront Futuro Kings FC in the CAF Confederation's cup preliminary round 1st leg tie later this month.
ICC U-19: Nigeria Battles Big Wigs In Abuja
Nigeria was presented the tough task of battling with Rwanda in the opening game of the International Cricket Council's (ICC) U-19 Men's World Cup Africa Division 2 Qualifiers, which began at the twin-ovals of the MKO Abiola National Stadium, Abuja, yesterday.
The One Day International (ODI) format championship also had in contention such tough nations as Kenya, Botswana, Malawi, Mozambique, Ghana and Sierra Leone. They were all trying to be among the top-three nations to move from the qualifiers to the next level.
Ahead of the competition, Ghana and majority of Bostwana's team arrived late Thursday night, which development caused slight changes in the tournament fixtures.
According to the Chairman of the Local Organising Committee (LOC), Ogbonnaya Okogeri, the big win for Nigeria is being able to put up the standard required for hosting this international event.
"This is the second ICC event that Nigeria will host, but this is unique in that it is on a higher level because of the quality of facility and personnel required to pull it off.
"So far, we have been able to meet up on so many fronts and as the event gets off the ground formally, our joy will be to coast home smoothly with a successful hosting."
ICC Global Developmental Manager, William Glenwright, who was around earlier in the week, had said the country's feat in cricket developmental index has been impressive and has earned a look in from the global body for more support.
Nigeria between 2018 and 2019 scaled the U-19 World Cup ticket for her maiden appearance on the global stage at the World Cup in January 2020 in South Africa, an achievement Nigeria's team handler, Daniel Gim, has assured they have set as benchmark.
"We have put in the hard work and I am sure, as a team, we are hungry to scale to the next stage and above all return to the World Cup," he ahead of today's opener. The tournament will end on October 9.
Globacom Unveils Amusan As New Ambassador
Telecommunications services provider, Globacom, has unveiled current African, Commonwealth and World 100m hurdles champion, Tobi Amusan, as its latest brand ambassador.
Tobi became the first Nigerian world champion in an athletic event, when she won the gold medal in metres hurdles at the 2022 World Athletics Championships. She set a new world record of 12.12 seconds in the semifinal, and followed this up with 12.06 seconds (wind aided) in the final to take the gold medal.
Speaking at the event, Globacom's Regional Manager, Sales, Lagos, Lawrence Odediran, said the company's decision to make Amusan its ambassador was not just to reward her for her sterling accomplishments, but also to help the growth of sports in Nigeria. Odediran also said the endorsement would encourage the country's teeming youths to aspire toward realising their dreams by looking up to the new ambassador as mentor.
"At Globacom, we are very proud of what Tobi Amusan has achieved in her athletics career. She is an embodiment of the Nigerian spirit of resilience, hard work and enterprise, which enabled her to excel irrespective of the enormity of the challenges she encountered in her quest for success. These are qualities that Globacom identifies with," Odediran stated.
He explained that Amusan has become a testimony to the famous saying by Malcolm X that "the future belongs to those who prepare for it today," adding, "she prepared very hard in the previous years and today belongs to her.
"Tomorrow is also waiting for other determined Nigerian and African youths who begin their preparations today. We, therefore, urge them not to be discouraged by present challenges, but to continue to strive to realise their dreams."
Gusau Emerges NFF President
Alhaji Ibrahim Musa Gusau has been elected the new President of Nigeria Football Federation (NFF).
He was elected yesterday at the NFF's 78th Elective Congress in Benin, the Edo State capital.
In the first ballot, Gusau polled 21 votes to finish first ahead of former Ist Vice President, Barrister Seyi Akinwunmi who got 12 votes while the erstwhile League Management Committee (LMC) Chairman, Shehu Dikko got just six votes. Peteside Idah and Abbah Yola got one vote each.
While the trio of Akinwunmi, Dikko, Yola opted out of a possible rerun since Gusau did not get the mandatory 22 votes to win in the first ballot, Idah pressed for a rerun and it was conducted by the electoral body.
In the ensuing rerun, Gusau polled 39 votes while Idah got one vote, while one was voided.
With that, the former Chairman of Chairmen in the last board led by Amaju Melvin Pinnick becomes the 40th man to lead Nigerian football.