HIV Prevention: Group Wants FG To Include PrEP In NHIS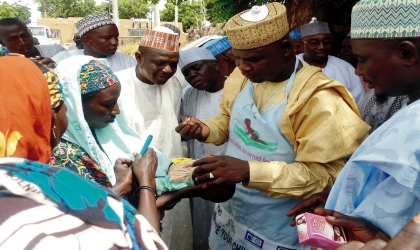 The New HIV Vaccine and Microbicides Advocacy Society (NHVMAS) yesterday urged the Federal Government to include oral Pre-exposure prophylaxis (PrEP), a HIV prevention drug, in the National Health Insurance Scheme (NHIS).
Mrs Florita Durueke, Executive Director, NHVMAS, made the call during a weekly online training for journalists on HIV prevention research.
Durueke said that including PrEP in the services of NHIS would reduce the cost and promote easy access to the drug to prevent HIV infection.
She described oral PrEP as a pill taken by an uninfected or HIV negative patient daily to prevent infection.
According to her, the drug offers protection or reduces the risk of HIV infection by 96 per cent when used consistently and correctly.
According to her, PrEP works for high risk persons such as people with multiple sexual partners, female sex workers, men who have sex with men, partners of infected patients and sexually active adolescents.
"Nigeria is still struggling with PrEP access for those at substantial risk of HIV infections.
"The main challenge with PrEP is that it is expensive; one month supply of PrEP costs about N500,000 or more.
"African countries such South Africa, Kenya, Uganda, Zimbabwe and Tanzania have thousands of persons taking PrEP because they have PrEP Access Programmes in place.
"However, in Nigeria where about 1.9 million people are living with HIV, only an estimated 400 to 600 people at high risk of infection are currently taking PrEP, " she said.
Durueke said that the situation placed Nigeria at the bottom of African countries that recommended PrEP in national guidelines.
"It is contributing to the burden of HIV in the country," she said.
Durueke urged the Federal Government to consider public financing or partnership with local and foreign donors for PrEP access.
She urged that the cost should be subsidised for those at a very high risk of HIV infection.
"If we can also push it into NHIS, the cost burden will not be much on patients.
"This will increase community demand for PrEP from people at risk of infection," she said.
Also speaking, Mr Oluwatosin Alaka, Programme Coordinator at NHVMAS, said the national roadmap on PrEP access in Nigeria was still at the draft stage as at May 2019.
"Nigeria needs to move fast to get PrEP access and roll it out to target population, so that we are not left out in the fight against HIV prevention response," he said.
The News Agency of Nigeria (NAN) reports that in 2014, the World Health Organisation (WHO) first recommended offering PrEP to only men who have sex with men.
However, based on further evidence of the effectiveness and acceptability of PrEP, in September 2015, WHO recommended that people at substantial risk of HIV infection should be offered PrEP as an additional prevention choice, as part of comprehensive prevention.
Association Denies Members' Involvement In Hard, Fake Drugs
National Association Of Patent and Proprietary Medicine Dealers (NAPPMED) has denied rumuors that its members are dealing on fake and hard drugs.
State President of the association, Warisenibo Cyril Pollyn, said this in an interview with newsmen in Port Harcourt, shortly after the  association's National Summit in Port Harcourt.
The summit, which took place at the convocation areana of the Rivers State University, has as its theme: Eradicating Malaria, the role of PPMVS.
Warisenibo Pollyn said the association has always trained its members to maintain the ethics of the profession noting that the members are doing well despite some challenges.
He also gave thanks to God for a successful summit in the State, despite the effort of some disgruntled members that wanted to disrupt it.
Also speaking, National President of the association,  HRH, Joel Odoh said the event, which holds annually, provides opportunity for members to educate themselves as well as strategize for the betterment of the association.
He said that the 7th National summit has proved that NAPPMED cannot be left out in the eradication of malaria in the society and commended the Rivers State chapter for the success of the event.
The National President also advice the NAPPMED members in Rivers State to be united and focus to enable them achieve the desired objectives and commended members for the opportunity given him to serve them for the next three years promising not to disappoint.
By: Oribim Ibama
Rivers Health Summit Poised To Promote Wike's Milestones
The upcoming Rivers State Joint Health Summit will promote  milestones of Governor Nyesom Wike in the health sector and boost tourism, organisers have said.
Chairman of the Organising Committee, Mandah Chijioke, made clarification at the weekend in a chat with newsmen.
According to Dr Chijioke, the summit, which is expected to commence on 22nd of August, is a week-long event to showcase and brainstorm on health sector transformation with the aim to improve  health services and accessibility to the public.
While lauding the state governor for some landmark achievements in the health sector, the chairman of the Rivers State Joint Health Summit stated that the Dr Peter Odili Cancer and Cadiovascular Disease Diagnostic Treatment Centre is one facility that stands the Wike administration apart as it would improve medical tourism and reduce fatalities from terminal diseases.
Aside that, he emphasised that the summit would also improve on emergency health care delivery as there would be training and display of modern up to date medical equipment.
During the summit, he hinted that stakeholders will confer on how best to address and tackle medical wastes and other health care challenges besetting the sector.
Futhermore, the summit is expected to provide platform for a joint health care effort in incoporating alternative health care methods with the aim of improving the life of the Nigerian public.
By: Kevin Nengia
FG To Prosecute Food Vendors Using PCBs
The Federal Government is making plans to prosecute users of PolyChlorinated Biphenyl (PCBs), popularly known as transformer oil, in frying "akara" (bean cake), plantain chips, chicken and other food items.
Prof. Babajide Alloy, a Consultant to the Federal Ministry of Environment, made the disclosure yesterday in an interview with newsmen on the sidelines of a workshop in Calabar.
According to him, the consumption of food prepared from the chemical substance will expose the public to cancers of the lungs, heart, kidney and liver diseases.
"For a long time, PCBs was the cooling liquid used in electricity transformers, until the world found out that this oil was toxic ,and is trying to phase it out
"Jail term awaits those caught using PCBs to fry akara, chicken and plantain chips at road side to sell to the public because the oil is toxic and carcinogenic.
"We found out that it is all over the place in Nigeria, dump-sites, and in old National Electric Power Authority (NEPA) compounds," he said.
Alloy said a survey carried out by the ministry revealed that the oil was currently being used in making food like akara.
The consultant added that the unsuspecting public were being deceived by the likeness of the  oil to the commonly used groundnut oil.
"Some food vendors now mix  PCBs with groundnut oil to fry akara and sell  to the general public.
"Of course, they may not know how hazardous what they are doing is. This exercise is to sensitise policy makers and everyone of this malaise.
"It is important to note that spillage of PCBs is always a danger when equipment is to be transported; it should, therefore, be transported only in sealed containers," he said.
The workshop was organised for state councils, regulatory bodies, power operators and custom officers on application of PCBs regulations and guidelines for Environmentally Sound Management (ESM) of PCBs.