HIV Prevention: Group Wants FG To Include PrEP In NHIS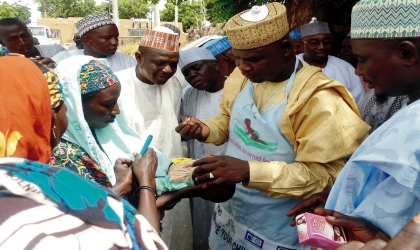 The New HIV Vaccine and Microbicides Advocacy Society (NHVMAS) yesterday urged the Federal Government to include oral Pre-exposure prophylaxis (PrEP), a HIV prevention drug, in the National Health Insurance Scheme (NHIS).
Mrs Florita Durueke, Executive Director, NHVMAS, made the call during a weekly online training for journalists on HIV prevention research.
Durueke said that including PrEP in the services of NHIS would reduce the cost and promote easy access to the drug to prevent HIV infection.
She described oral PrEP as a pill taken by an uninfected or HIV negative patient daily to prevent infection.
According to her, the drug offers protection or reduces the risk of HIV infection by 96 per cent when used consistently and correctly.
According to her, PrEP works for high risk persons such as people with multiple sexual partners, female sex workers, men who have sex with men, partners of infected patients and sexually active adolescents.
"Nigeria is still struggling with PrEP access for those at substantial risk of HIV infections.
"The main challenge with PrEP is that it is expensive; one month supply of PrEP costs about N500,000 or more.
"African countries such South Africa, Kenya, Uganda, Zimbabwe and Tanzania have thousands of persons taking PrEP because they have PrEP Access Programmes in place.
"However, in Nigeria where about 1.9 million people are living with HIV, only an estimated 400 to 600 people at high risk of infection are currently taking PrEP, " she said.
Durueke said that the situation placed Nigeria at the bottom of African countries that recommended PrEP in national guidelines.
"It is contributing to the burden of HIV in the country," she said.
Durueke urged the Federal Government to consider public financing or partnership with local and foreign donors for PrEP access.
She urged that the cost should be subsidised for those at a very high risk of HIV infection.
"If we can also push it into NHIS, the cost burden will not be much on patients.
"This will increase community demand for PrEP from people at risk of infection," she said.
Also speaking, Mr Oluwatosin Alaka, Programme Coordinator at NHVMAS, said the national roadmap on PrEP access in Nigeria was still at the draft stage as at May 2019.
"Nigeria needs to move fast to get PrEP access and roll it out to target population, so that we are not left out in the fight against HIV prevention response," he said.
The News Agency of Nigeria (NAN) reports that in 2014, the World Health Organisation (WHO) first recommended offering PrEP to only men who have sex with men.
However, based on further evidence of the effectiveness and acceptability of PrEP, in September 2015, WHO recommended that people at substantial risk of HIV infection should be offered PrEP as an additional prevention choice, as part of comprehensive prevention.
Getting Trimmed Naturally
There are a lot of misconceptions about weight gain.
The first is that weight gain comes from extra calories we do consume that we do not expend. Experts say we eat too much and exercise little. So if one get fatter, then, surely he or she must be eating too much.
The other misconception is that once we cut our food, then, we will naturally become trimmed. All these are hinged on the diet theory, which only works for some time.
Over the past 40 years, studies have shown that you can not get clinically significant effect from cutting down on your calories. Even though experts are saying that sloth is responsible for weight gain- they overlook one basic truth that dieting only works for a short period.
The new study that seems to break those myths about body fat is now revealing some stunning facts. The kind of food we eat makes us fat. Two scientists at University of Pennsylvania, Mitchell Lazar and Cardiologist Allan Sniderman at McGill University, all in the United States have shown that food that we eat often makes us pack in flesh. These include bread, plain baked potatoes, and plain pasta, rice, sweet corn. They confirmed that fatty foods are not the enemy but easily digested carbohydrates, while steak, burgers, cheese or sour cream help us lose weight and keep our heart healthy.
This sounds ironical, but it has been discovered that those who do diet and avoid those foods end up getting hungry. What happens is that when you conserve energy or burn less energy, you are bound to add more flesh. Many public health authorities want us to practise energy balance, which is a new way to say that you should not take more calories than one expends.
No matter how one counts what he or she eats, it is impossible to determine calories and know when we are over board. No matter how good you are at counting calories, you can't do it. So its couple of sips of soft drinks and few bites of humburger that can make you add weight. That means it at the point when we eat extra than the body want that the body store excess as fat.
The myth of exercising to reduce weight is really making waves. Exercise is helpful but it is not the main ingredient for fat burning. The funny truth is that the two things we tell people to do in order to lose weight-eat less and exercise more- are the exact two things that make one more hungry. Thus, there is need for balance. If one must exercise, then it should be done moderately so as to allow the body to recover the strenght.
The reality is that insulin is the primary hormone that makes one to add weight, especially one eats food that spikes insulin like bread, biscuits, sweets, soft drinks. It is refined carbohydrates that raise insulin levels in the body. Explained in simple terms, your fat tissue is more like your wallet, and your meals are like going to the ATM. You know how you use the ATM: You put the cash in your wallet and gradually spend it, and when you get too low on cash, you go back to the ATM. It is the insulin that locks the money in your wallet, so you keep going to the ATM, and your fat cells are getting fatter and fatter. More often, you become hungry and you eat again because the insulin can not get at the fatty acids leading to weight gain.
Low carb diet is key if you are to get trimmed. In Africa where stables are more of carbohydrate it is best to choose those with fibre. It is difficult to follow the Atkins diet like eating skinless chicken and green salad, melted mozzarella cheese and all those western diet.
An example of a workable diet is to include eggs more often and cut down on processed foods, especially processed carbohydrate. Complex carbohydrate, and vegetables have more fibre and make you get filled quickly. Instead of Irish potato, go for sweet potatoes, oats that have more fibre. I advise people to eat garri than processed plantain and wheat meals. By the way, processed wheat can worsen the body ails.
By: Kelvin Nengia
Eye Expert Cautions On Rays From Electronics
An optometrist, Dr. Matthew Daniels says many Nigerians are suffering from refractive eye problem which can be corrected.
Besides, he disclosed that most of the eye problems common these days come from rays from long use of electronic devices.
The one time Chairman of Business Development Committee of the Nigeria Optometery Association(NOA) explained that rays emitted from electronic devices such as phones, television, computers have effects on the eyes.
He urged for caution and toning down of light from phones and computers so as to reduce eye irritation and other eye maladies that may affect sight.
In a chat with The Tide, Dr. Daniels said the refractive eye error maybe long sight or short sight which can be corrected.
However, he decried that most Nigerians do not take the health of their sight seriously and as such, suffer from eye defects which could have been treated without much expenses.
Commenting on the planned program me by the Federal Government to provide eye glasses to Nigerians, Dr Daniels observed that it may be difficult to provide free eye glasses to five million Nigerians.
For him, what the people need is more eye clinics and hospitals at the grassroots, as he lamented that most eye sight challenges are common in the rural areas.
By: Kevin Nengia
WHO Raises Alarm Over Increased Incidence Of TB, Others
The World Health Organisation(WHO) has raised alarm over increased incidence of tuberculosis, HIV and malaria as it charged member countries to make health an urgent matter of  policy focus.
Dr. Tedros Adhanom Ghebreyesus, WHO Director-General made the charge at the 78th session of the United Nations General Assembly (UNGA 78) in New York stressing need to put health for all on the highest political agenda.
WHO's DG appeal comes as the world faces multiple humanitarian and climate-related crises which are threatening lives and livelihoods around the world.
The world health  apex body observed that progress in reducing infant and maternal mortality has stagnated (in some regions, while progress in tackling infectious diseases like HIV/AIDS, tuberculosis (TB) and malaria has also declined.
It noted that many parts of the world are also witnessing rollbacks in sexual and reproductive health and rights, as
access to life-saving tools is becoming uneven across the world, with millions unable to afford or obtain needed care.
In addition it said  no communicable diseases and mental disorders, which account for over 70% of deaths globally, threaten social and economic development across the world.
"Ill health robs individuals, families, communities and entire nations of opportunities to grow and flourish," Dr Tedros said.
The body decried  that billions of people cannot access or afford essential health services and as such are exposed to poverty, abd other preventable and treatable diseases like TB.
WHO's call to accelerate the achievement of health targets comes ahead of the Sustainable Development Goals Summit (SDG Summit) and an unprecedented number of health-focused high-level meetings at UNGA, aimed at strengthening pandemic prevention, preparedness, and response, delivering universal health coverage (UHC) and ending TB.
As government leaders gather to make commitments around three major health issues, they have a chance to demonstrate that health is an investment, not a cost, and is fundamental to thriving, resilient families, societies and economies.
"If COVID-19 taught us nothing else, it's that when health is at risk, everything is at risk," WHO DG said .
Recalling the effect of the Covid19 pandemic, he lamented the  enormous economic, social and political upheaval, and effect on progress towards the health-related targets in the Sustainable Development Goals.