A Statewide Broadcast By His Excellency Nyesom Ezenwo Wike, CON, GSSRS, POS, To Mark The First Year Of His Second Term In Office …My Dear Good People of Rivers State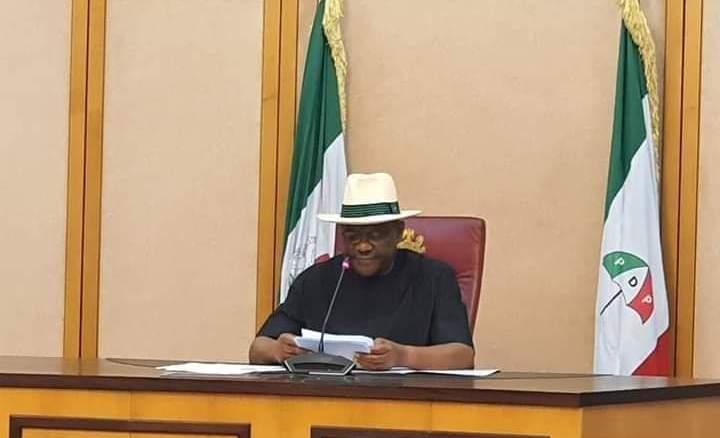 Today marks the 1st year anniversary of our 2nd term in office. Normally, we should be celebrating this important milestone with the commissioning of completed projects and correlated social activities.
2. But these are abnormal times and moments like this call for subdued feelings and thankful prayers to God for His abundant grace and mercy upon our State and on our lives.
3. As at today, we've painfully lost twelve persons, and probably more, to the death pangs of the coronavirus. For us, every life matters; and every life lost is a monumental tragedy, not only to the immediate families, but also, to all of humanity.
4. While we therefore pray for the peaceful repose of these innocent souls whose lives and dreams were cut short by this vicious enemy, our hearts and sympathies go to their families, dependants, friends and colleagues for the irreparable loss.
5. In the last six months, the coronavirus has wrought nothing but pain, sorrow and destruction on humankind.  And it is most unfortunate that the speed and vigour of our emergency response measures have not succeeded in stopping this virus from spreading in our State.
6. The reality therefore, is that we must all accept to live with this virus and its consequences until an effective vaccine is discovered.
7. We pray for the quick success for the global search for vaccines and therapeutics, but until then, the responsibility is still on every one of us to strictly and effectively comply with the established mitigating measures.
8. Regrettably, we have observed that the advisories, directives and regulations on social distancing and the compulsory wearing of face masks are being ignored at alarming proportions in the State, much to our collective discomfort and peril.
9. So many people are moving about on our streets and into other public places without face masks. We have sighted businesses, including banks and shopping centres attending to customers without face masks or maintaining physical distancing.
10. We have also seen people on our streets buying and selling without face masks or observing social distancing in clear disregard of the ban on clustered trading activities and unauthorized social gatherings.
11. These are all very irresponsible and risky behaviour in the face of the invisible and ravaging pandemic and the enormous threat it poses to public health and the safety of human lives.
12. Those who continue to exhibit or encourage such callous behaviour or trivialize the fatal power of this virus or still live in denial of its existence are either insane or the worst enemies of mankind.
13. Believe it or not, the transmission of this pandemic depends on our own individual behaviour, actions or inactions.
14. We must therefore all strive to help ourselves, our families, our communities and our State by complying religiously with the laid down regulations and advisories on social distancing and wearing of face masks.
15. Let me therefore, warn us again, that enough is enough. We shall bring the full weight of the law to bear on every recalcitrant person, business or institution, irrespective of status or station who decides to treat the existing orders and regulations for mitigating the spread of covid-19 in our State with contempt.
16. While we have reserved the recourse to total lockdown for obvious reasons, it appears we may be forced to reinstate this drastic measure, sooner than later, if members of the public continue to flout, disregard and or abuse the established regulations on social distancing and the compulsory wearing of face masks in the State.
17. Fellow Rivers people,
18. Let us continue to renew our faith in God's abundant grace and collectively adjust to the new reality with abiding hope in the brightness of our future despite what has befallen us at the moment.
19. Exactly one year ago, we signed the peoples' social contract, released our development blue-print for our second term in office, and reiterated our commitment and determination to work and serve our people as if we were on our first term.
20. One year into our second term, we are happy and proud to say that God has helped us to fulfil most of the promises that we made in our inaugural address.
21. The urban renewal programme in the capital city is progressing as the restoration works, including underground drains, sidewalks, green areas and street lights on most of the roads in both the old and new Government Reservation Areas are at very advanced stages of completion.
22. The construction of the multi-billion-naira three flyover projects at Rebisi, Okoro-nu-odo and Rumuogba is progressing simultaneously and expected to be delivered within schedule by Julius Berger Nigeria Limited.
23. Work on the construction of the 4th flyover bridge across GRA junction and accompanying dualization of Ezimgbu (Mummy B) road are also underway.
24. The dualization of Tombia Extension, GRA to link Ikwerre road is progressing satisfactorily and will be delivered on schedule.
25. The dualization of Kira – Sapkenwa – Bori – Kono, straddling three Local Government Areas in Ogoni heartland has reached 92 per cent completion.
26. Construction of Oyigbo (Mbano camp) to Iriebe, linking Oyigbo and Obio/Akpor Local Government Areas of the State, has been completed.
27. Also completed virtually, are Alesa- Agbonchia – Oyigbo road linking Eleme and Oyigbo Local Government Areas of the State; and the Rumuakunde and Isioudu communities' roads in Emohua Local Government Areas of the State.
28. Similarly, the 2nd phase of Isiokpo community internal roads in Ikwerre Local Government Areas has been completed.
29. Construction works on the 16.85 kilometers Rumuji – Ibaa – Isiokpo road in Emohua and Ikwerre Local Government Areas have reached 90 percent completion level, while the dualization of the 23 kilometers Omoku – Egbema road in Ogba/Egbema/Ndoni Local Government Area has progressed beyond 50 per cent.
30. Also, the 21.3 kilometers Odufor/Akpoku/Umuoye road in Etche Local Government Area has crossed 70 percent construction level, while the Aker-base road in Obio/Akpor Local Government, the Ula Ehuda-Odioku-Anwunugboko-Ubeta-Ihuechi-Odiereke road, the Odiokwu internal road network in Ahoada West Area as well as the Abonnema ring road in Akuku Toru Local Government Area, and the Umuma road in Omuma Local Government Area, and the Sime – Eteo – Nonwa road connecting Tai and Eleme Local Government Areas, have all progressed to between 80 and 85 percent completion.
31. By God's special grace we have almost delivered on our promise to complete the long-abandoned roads to the coastal communities of Opobo and Andoni in Opobo/Nkoro and Andoni Local Government Areas of the State with appreciable work already done on the Ogoni – Andoni – Opobo (Unity) road.
32. Indeed I feel highly elated and fulfilled to have led the Government that have actualized the age-long yearnings of the indigenes and residents of these local government areas to connect and access the rest of the State by tarred road.
33. Apart from roads, we also made significant progress in the last one year on the progressive delivery of healthcare and education infrastructure and services.
34. The mother and child hospital is virtually completed, fully furnished, equipped and only undergoing necessary testings and preparations for commissioning. Also completed is the comprehensive health centre at Odiokwu in Ahoada West Local Government Area.
35. We fully built, completely equipped and converted the former Braithwaite Memorial Hospital to the Rivers State university Teaching Hospital, which is reckoned as one the best in the country, leading to the accreditation of the programmes of that facility for the training of medical students by the Medical and Dental Council of Nigeria.
 36. Furthermore, the regional referral hospitals in Degema and Bori in Degema and Khana Local Government Areas respectively are presently being furnished and equipped, while structural work is continuing on the ones located in Omoku and Okehi in Ogba/Egbema/Ndoni and Etche Local Government areas.
37. All across the State, our strategic intervention in the restoration, upgrade and expansion of secondary schools across the State continues to deliver remarkable results and improvements in the quality of public education system.
38. We have released funds for the comprehensive restoration and upgrade of scores of dilapidated secondary schools across the State, including: Enitonna High School and Government Comprehensive High School, Borikiri in Port Harcourt Local Government Area, Obama High School, Degema and Model Secondary School, Tombia, all in Degema Local Government Area, as well as Community Secondary School, Omuanwa in Ikwerre Local Government Area, Kalabari National College, Buguma in Asari Toru Local Government Area, Community Secondary School, Kugbo in Abua/Odual Local Government Area, Community Secondary School, Obeakpu in Oyigbo Local Government Area, and Community Secondary Schoo, Eteo in Eleme Local Government Area, which is 85 per cent completed
39. The construction of students' hostels for the Real Madrid Football Academy is progressing very well and the academy will soon open its doors for simultaneous academic and football and related training and mentoring programmes.
40. And in line with our promise to refocus on agricultural development, we are at the verge of completing the Datco cassava processing plant, with guaranteed off-taker opportunities for over 3000 local cassava farmers, and inspiring capacity to stimulate the cassava revolution in the State and related industries and create thousands of direct and indirect jobs for our people.
 41. In the last one year of our second tenure, we have kept our promise, worked hard and achieved more with less resources, provided first-class socio-economic infrastructure and kept our State and businesses safe, secure.
42. As we continue on this progressive trajectory into the second year, we can only promise to recommit ourselves to work harder and deliver greater development to our people.
43. We know it is not going to be easy given the very poor state of the national economy and the spinoff effects on ours.
44. But, tough times like this call for unity of thought, unity of purpose and unity of actions; believing in ourselves and in our ability to overcome all the challenges that confront us as a State and as a people.
45. Yes, we can, if we resolve to downplay our individual differences and work together for the common good of our heritage, our lovely State, our communities and our people.
46. As a government, we welcome constructive and frank criticisms devoid of politics and mischievousness, because they serve to make us better performers.
47. At any rate, this is a time for governance, not for politics, and we welcome everyone onboard to enable us to create an environment that promotes balanced economic growth, thriving private investments and good jobs; to build a State of shared prosperity; a place of boundless opportunity for all residents; and a State we can truly call our native home, our pride, our heritage, while looking into the future with optimism.
48. For us, nothing matters more than Rivers State, our people, our interests, our treasures, our enormous resources and assets, our accomplishments and our greatness.
49. And so, as we look forward to the next twelve months, all I can say is that we are inspired by your continuous support and prayers to believe that our best days are ahead of us, and working together, we will surely do more to move Rivers State forward.
50. Finally, let us not forget that coronavirus is real. Let us all be responsible, stay safe and be alive to fulfil the promise of God in our lives.
51. Thank you and may God continue to bless us all and bless our dear Rivers State.
Fubara Inaugurates 10th Rivers Assembly, Inspects Projects
The Rivers State Governor, Siminalayi Fubara, on Monday inaugurated the 10th state House of Assembly.
The governor, during the inauguration at the hallowed chamber in Moscow Road, Port Harcourt, said it was in exercise of his constitutional powers.
According to a statement signed by his Senior Special Assistant on Media, Boniface Onyedi, the governor said, "My duty this morning is officially to dissolve the 9th Assembly and inaugurate the 10th Assembly, so that you can commence your first session.
"Whereas it is provided in Section 105 (3), of the Constitution of the Federal Republic of Nigeria 1999, as amended. That the person elected as governor shall have the power to issue a proclamation for the holding of the first session of the state Assembly immediately after being sworn in.
"Therefore, I, Siminalayi Fubara, Governor of Rivers State, in exercise of the powers bestowed upon me by Section 105(3) as aforesaid, and of all other powers enabling me in that behalf, hereby proclaim that the first session of the 10th Rivers State Assembly holds at 10:00am on this day, Monday the 5th of June, 2023, in the Rivers State House of Assembly Complex, Port Harcourt."
Soon afterwards, the members of the 10th Assembly uninamously elected former House leader and the lawmaker represnting Obio/Akpor Constituency 1, Martins Ameawhule, as new Speaker of the 32-member House.
Also, the member representing Gokana Constituency and former Chairman, House Committee on Environment, Dumle Maol, was elected Deputy Speaker.
Meanwhile, Fubara paid an unscheduled visit to the ongoing construction of the convocation arena at the University of Port Harcourt.
Speaking after inspecting the facility being built by the Rivers State Government, Fubara stated that the project was dear to the government because of its importance to education and youth development.
He charged the contractor handling the project to match words with action by completing the project within the next 60 days as promised, warning that failure to deliver will attract consequences.
Fubara used the opportunity to warn other contractors handling state government projects to step up their works as he will not condone any delay but would expect prompt delivery on projects.
He said, "From what I'm seeing here, the contractor is also assuring that in 60 days he can deliver.
"We will give him the benefits of doubt. But I need to say clearly that if in 60 days, I visit this project, I don't see it completed, it's not going to be easy for the contractor, that's the truth.
"But I believe from what I have seen the extent of job that they are doing, I think they're a bit serious compared to what we saw about two months ago."
"The reason why this project is important to us is this: It has to do with education and youths. You can't separate education from the youths and one of the objectives of our projects is development of the youths and advancement of education. So, our coming here is to see it, assess it ourselves and not only from the reports from the ministry, but for me to see it.
"It is not business as usual. I had a meeting with them the other day and I told them that even though this contract is not new that does not mean that you go home and sleep. You can see that I'm a very punctual person. If I give you 9:0 clock, it will be 9:0clock. So, my word to the contractor today is that you've assured me that in 60 days you're going to deliver. There will be serious consequences if I come here by 60 days from today and this job is not ready", he concluded.
TUC Demands N200,000 Minimum Wage For Workers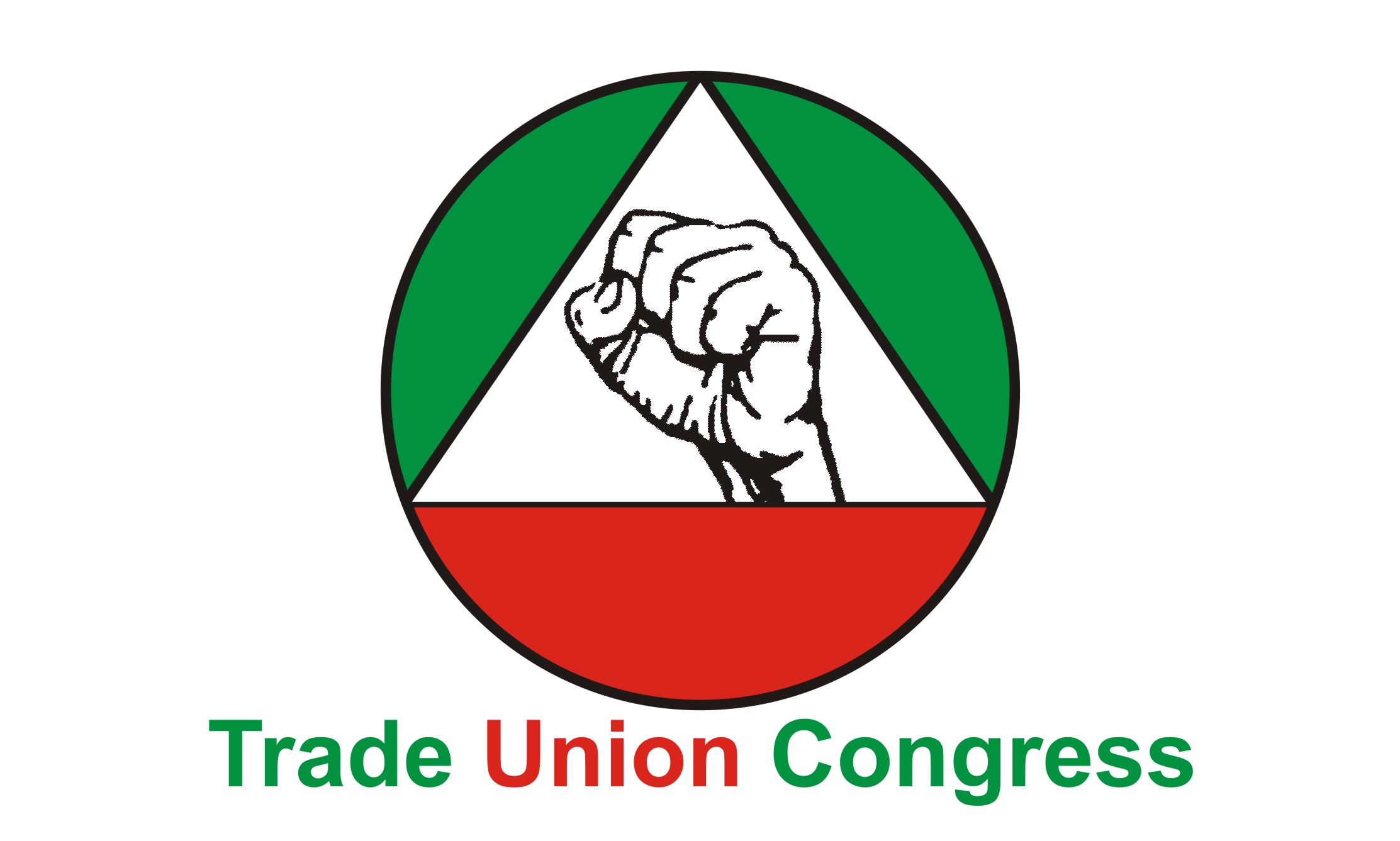 The Trade Union Congress of Nigeria, (TUC), on Monday demanded payment of a new minimum wage of N200,000 monthly for Nigerian workers.
It also demanded that the government reverted to the old N185 pump price of petrol per litre to allow for a conducive environment for negotiation.
The union, in a statement by its President and Secretary General, Festus Osifo and Nuhu Toro, respectively, said: "For immediate implementation: Status quo ante of PMS pump price should be maintained while discussion continues. The minimum wage should be increased from the current N30,000 to N200,000 before the end of June 2023, with consequential adjustments on the cost of living allowance, COLA, like feeding, transport, housing, etc.
"A representative of state governors will be party to this communiqué and all the governors must commit to implement the new minimum wage.
"Tax holiday for employees both in government and private sector that earn less than N200,000 or 500USD monthly whichever is higher. PMS allowance to be introduced for those earning between N200,000 and N500,000 or 500USD to 1,200USD whichever is higher.
"The exchange rate for retailing PMS in the country must be kept within a limit of two per cent for the next 10 years where the fluctuation is more than two per cent, the minimum wage will automatically increase at the same rate.
"Setting up of intervention fund where the government will be paying N10 per litre on all locally consumed PMS. The primary purpose of this fund is to solve perennial and protracted national issues in education, health and housing. A governance structure that will include labour, civil society and government will be put in place to manage the implementation.
"Federal government should provide mass transit vehicles for all categories of the populace. State governments should immediately set up a subsidized transportation system to reduce the pressure on workers and students. The framework around this will be worked out.
"Immediate review of the National Health Insurance Scheme to cover more Nigerians and prevent stock of drugs.
"Visitation of the refineries that are currently undergoing rehabilitation to ascertain the state of work and setting up a timeline for its completion.
"The president should direct whoever will be labour minister to immediately constitute the National Labour Advisory Council, NLAC. This platform will be used by the government, labour and employers to discuss issues and policies of the government that may affect workers and all other mandates as specified in the law.
"Provision of subsidy directly for food items, the $800million could be a first step. The existing National Housing Fund, NHF, should be made accessible to genuine workers; the framework on this must be discussed and agreed."
TUC also said the medium term would include the "deployment of Compressed Natural Gas (CNG) across the country, in line with the earlier promise made by the government. The framework and timeline will be developed and agreed by both parties.
"Labour and government to design a framework that will be geared towards the reduction of cost of governance by 15 per cent in 2024 and 30 per cent by 2025.
"A framework should be immediately put in place to maintain roads and expand the rail networks across the country. Government must design a framework for social housing policy for workers through a rent-to-own system.
"The state of electricity in the country must be appraised and an action plan should be defined with timelines on how to get this fixed."
Rivers Chief Judge Swears In 16 New Magistrates …Tasks Them to Adhere To Oath Of Office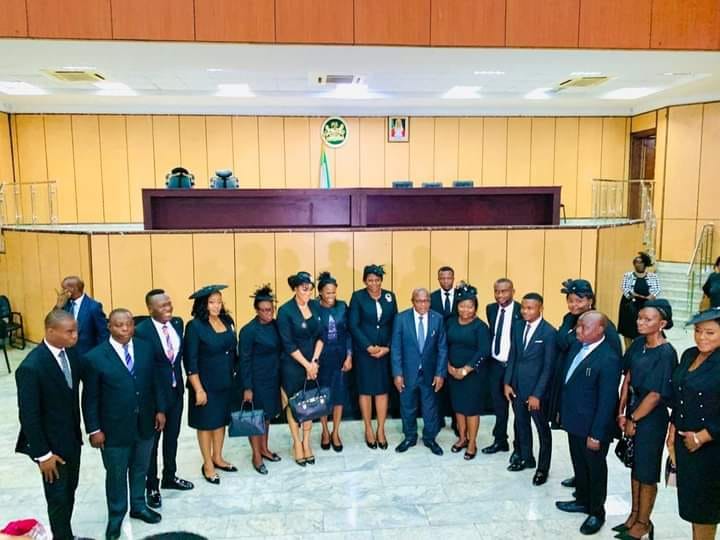 Rivers State Chief Judge, Justice Simeon Chibuzor-Amadi, has charged the 16 newly appointed Magistrates in the State Judiciary to abide by their oath of office and take seriously the task of justice delivery in the State.
Justice Amadi gave the advice while swearing in the 26 new Magistrates at the Ceremonial Court Hall at the state High Court Complex in Port Harcourt at the the weekend.
He also advised the new magistrates to guard against the temptation of making quick money but should be ready for serve the State judiciously.
He stressed the need for the new Magistrates to comply with constitutional provisions and also isolate themselves from friends, family members and members of the public considering the nature of their job.
"Let me remind you all that to succeed, you must design your priority including studying harder to know the law and rules of the criminal justice to enable you discharge your duties efficiently and effectively", he added.
The Chief Judge warned that frivolous excuses would not be tolerated especially from those that will be deployed to rural areas, insisting that they must be ready to serve at all times.
Those sworn in as Magistrates include AWUSE LILIAN-NGBECHI, AKAH OKWUDIRI, AKANI WOBIA-CRISTABEL, VICTOR-IHUNWO QUEENNETH-OGBONDA and
IBANICHUKA SAMUEL, while CONSTANCE KELVIN-CHINAKA, MARTYNS YELLOWE-DOKU, AMADI ISREAL-ISIGUZORU, AKPU OBISIKE-CHARLES and BRIGGS KINGSLEY were sworn in as Senior Magistrate Grade 1
Others are NDUKWU THANKGOD, HART ALEX ISOUALA and NWINEE HAROLD BARISIP sworn-in as Senior Magistrate Grade Two and WIKE LESLEY-BELEMA, EPELLE EMMANUEL-SONNY and AKEODI OYAGHIRI as Magistrate 11.
By: Amadi Akujobi