Ighalo, Living His Dream At Man Utd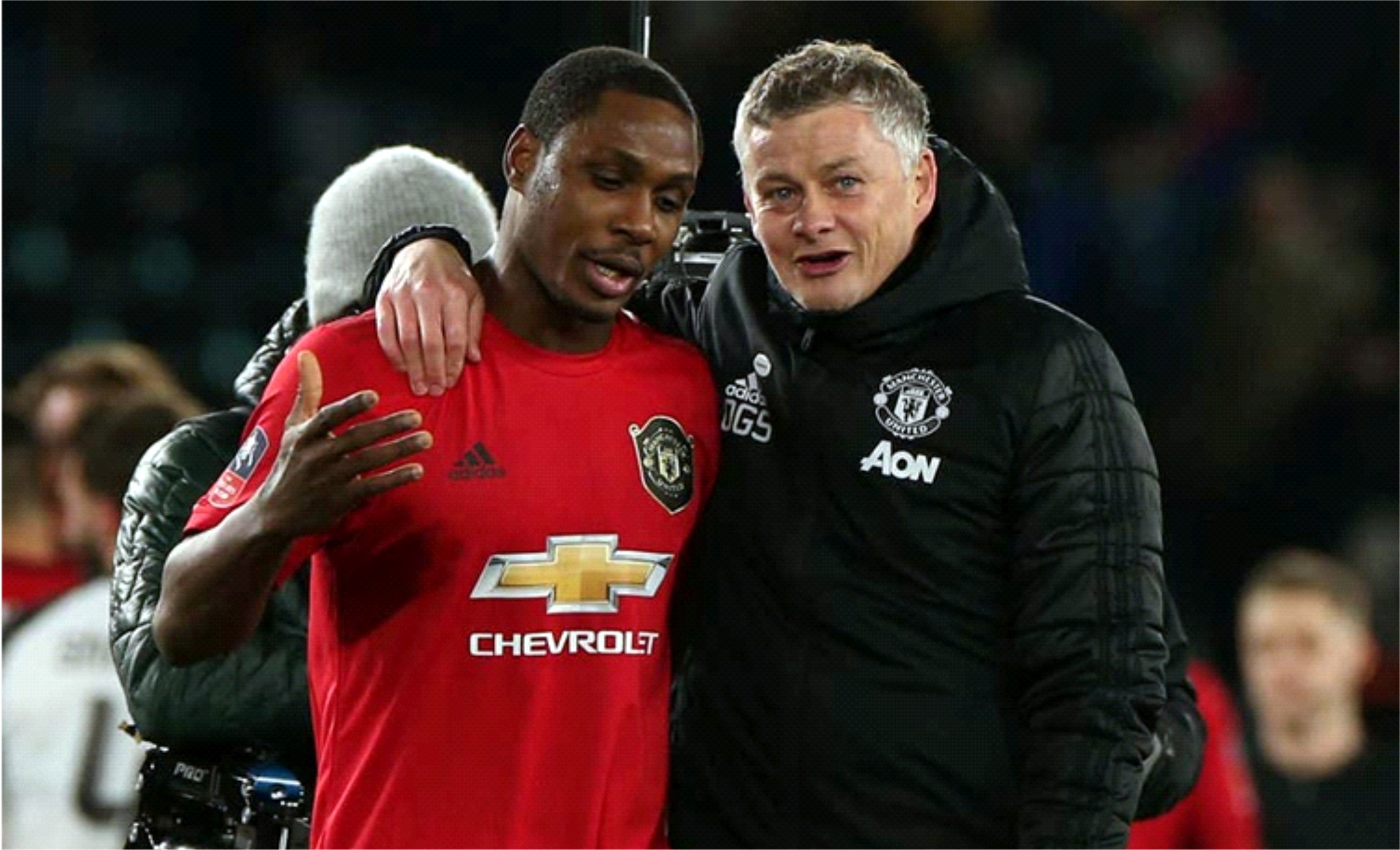 As a young boy growing up in Nigeria, Odion Ighalo had to save up his lunch money in order to watch his beloved Manchester United on TV at the weekend.
Now 30, he is a United player, having signed for his boyhood club on loan until the end of the season from Chinese side Shanghai Shenhua in January.
Since then, Ighalo has scored three goals in eight appearances for Ole Gunnar Solskjaer's side, and enjoyed his first Manchester derby victory on Sunday.
In a wide-ranging interview with the BBC, he discusses growing up as a united fan, the panic to make his move from China possible and the impact team-mate Bruno Fernandes can have.
When I was growing up, I knew a lot about football because I saw some of my grown-up siblings watching football on TV and they supported Manchester United.
Sometimes you would listen to commentary on the radio. Sometimes you would go out to watch at the viewing centre because some of us didn't have the opportunity to subscribe or pay to watch.
During the week, you had to save every day from Monday to Friday to be able to do that, so I'm happy I did that because my life was all about football. I played football and I watched my team and it was one of those things I cherished every weekend.
You'd get ready, wash your jersey and go out and support your darling team. You had to save for it because without, you can't watch.
Sometimes you would just go there and see, if you were lucky, if someone would pay for you or sneak you in, but sometimes it wasn't possible. Sometimes you would just hear if they scored – when they shouted "goal" when Man Utd scored – and you would wait outside until the game finished, you got the result of the game and then you would go home happy.
To be the first Nigerian to play for Manchester United is a great achievement for me which I am going to cherish for the rest of my life because it's not easy to dream something and it comes true. It's a great feeling.
I never believed it was going to happen because the time difference from China to the UK is crazy and with the coronavirus that is going on in China.
But dreams do come true. I prayed about it and it happened. When my agent told me about it I was hoping and longing, but I was having doubts in my mind because I was in China. How was I going to fly to the UK? Am I going to beat this coronavirus to get in and united have another striker they are looking at?
I was happy my name was being mentioned but I did not put my mind on it 100% because I thought it was not going to happen because of the situation in China.
When my agent called me and told me Manchester United wanted to do this deal I said "are you serious?" and "how am I going to speak to the director because he doesn't speak English?".
I had to go to the translator and bang on his door. He had to go to the director to talk. I was talking to the translator and he was translating to the director, there were three-way calls with my agent and Man Utd were talking too. I didn't get to sleep until 6am.
It still feels like a dream sometimes. But I don't want to get carried away with too much emotion so that I am able to concentrate on training well and playing well. I know I am playing for the biggest club in the world.
Before the game, we knew it was going to be tough because we were playing against a good side, but we are United. We are capable of beating any team if we play to our standard and play very well, which we did.
You could see everyone was buzzing from the first minute. Everybody from the first minute to the last minute gave everything they had, even those who came on from the bench.
This form can be sustainable because it's hard work, belief and determination. The group are together working towards one goal.
I'm not saying we're not going to lose games – sometimes we will. But we are sticking together, fighting together, and our belief is there. I think we have what it takes to do even better than we are doing now.
Ighalo and Bruno Fernandes both signed for United on transfer deadline day in January
It's not my first time playing with Bruno. I played with him at Udinese back in 2010.
He's a great player. He has vision. He's the guy who wants the ball because he can do something fantastic with it if you give him space. He's a good passer of the ball and he's what this team needs to score goals.
You're still going to see more and better from him because he is still getting used to the Premier League. When he's finally settled Bruno Fernandes is going to do well in this team.
Before I came here I knew Manchester United were looking at him and I was hoping they would get him because he is a good player and I knew he was going to change the dynamic of the team.
He's not going to have the best game every time but what he is going to bring to the team is going to be unbelievable.
Napoli To Offer Osimhen €7m Yearly Contract
Napoli is prepared to break their wage structure to keep Victor Osimhen at the club and offer him a much bigger salary than he earns now, Tidesports source reports.
The Nigerian striker is having a great season at Napoli and has scored 14 times in 19 appearances in all competitions in the ongoing campaign.
He has been heavily linked with a move away from the Serie A giants next season, with multiple clubs across Europe believed to be interested in him.
According to reports in Italy, as reported by AreaNapoli, it has been claimed that Napoli are ready to break their wage structure to keep the striker beyond next summer.
They have a maximum salary limit of €3.5m per year for any player, but Napoli are prepared to make an exception for Osimhen.
The club are set to meet the forward's representatives and offer him a contract worth up to €7m per season and Napoli believe it could help them convince Osimhen to stay on for at least one more season.
Although it is a huge contract offer by Serie A standards, Manchester United, who are keen to sign the Nigeria international, are in a position to offer him a lot more than that and Osimhen will surely want to test himself in the Premier League.
However, if he wants to leave, Napoli are likely to accept offers in the region of €120m for him next summer and with the remarkable form he is showing this season, there will be no shortage of suitors once the transfer window opens.
It is no surprise that the biggest clubs in Europe are eyeing the striker, as he is powerful, has pace and is a superb finisher with a career record of 80 goals in 171 outings, which is only expected to keep rising as he is still only 24.
Delta 2022: Bayelsa Offers Automatic Employment To  Medallists
Bayelsa State Governor, Senator Douye Diri, has announced a reward package for athletes that represented the state at the 2022 National Sports Festival held at Asaba, Delta State.
Bayelsa placed a historic second behind Delta, surpassing its earlier best position of third recorded at the 2020 festival hosted by Edo State in 2022.
Governor Diri, who received the state's contingent on Wednesday inside the Executive Council Chambers of the Government House, Yenagoa, recalled that Bayelsa won 109 gold, 104 silver and 87 bronze medals.
This was contained in a statement by his Chief Press Secretary, Mr. Daniel Alabrah, and made available to Tidesports source , the governor announced N1 million each to individual gold medallists and N750, 000 each for team gold.
He also rewarded individual silver medallists with N500, 000 and N300, 000 went to team silver medallists, while individual bronze medallists got N300, 000 and N150, 000 for each team bronze medallist.
Coaches and secretaries of gold medal teams got N500, 000 each, while their assistants got N300, 000 each. Those in silver category got N300, 000 each and their assistants N200, 000.
The governor also rewarded non-medallists with N50, 000 each.
He also announced automatic employment for those yet to be employed in the state sports council and directed the Ministry of Youth and Sports to work out the modalities.
We'll Turn The Table Around In Subsequent Games – Nasarawa Coach 
Nasarawa United Chief Coach, Abubakar Arikya, has assured fans and people of the State that they will turn the table round in their subsequent games in spite of their unimpressive performances in recent times.
The Solid Miners, as they are fondly called, lost 3-0 to visiting Akwa United on Sunday at the ongoing abridged 2022/2023 Nigeria Professional Football League (NPFL) Week three game,  at Jos International Stadium, Plateau State.
Coach Arikya said this in his post match interview with sports journalists and made available to Tidesports through the club's Media Officer, Eche Amos, shortly after his side lost to Akwa United.
According to him, he accepted the outcome of the game in good faith and hoped to turn around the situation for better in subsequent matches.
"It's never our making to lose any game, however, we accept the outcome in good faith with the hope of turning around the situation for better in subsequent games.
"The boys (players) played very well in the first-half and we had a lot of chances but could not convert them.
"But the game changed towards the closing stage of the first half and the second half wasn't good for us.
"In all, it's a day we have to forget in a hurry and move on," Coach Arikya said.
As it is, Nasarawa United has suffered   three straight loss in NPFL, as they lost to Enyimba, Abia Warriors and Akwa United but the technical crew still believed that they will record winnings in future.
Nasarawa United will Saturday pay visit to Gombe United to play one of the week four games in NPFL scheduled to hold at  different match venues in the country.
By: Tonye Orabere